"Throwers do not have finish lines." Joe Kovacs, an American field and track athlete competing in the shot put, lives with this quote.
Likewise, he has been competing and dominating against records made by contemporaries and himself.
His personal best record is 21.46 m indoors and 22.91 m outdoor. In addition, Kovacs is considered to be one of the best shot put athletes across the glove.
Kovacs is a two-time world champion winning gold medals at the World Championship in 2015 and 2019. Similarly, he won a silver medal at the 2017 World Championship.
He is a two-time Olympics participant, winning a silver medal in the 2016 Olympics at Rio. He is all prepped for the Olympic Games 2021 happening in Tokyo.
Today, we will be diving deep into Joe Kovacs's story without missing anything worth mentioning that has ever happened in his personal and professional life. Let's get started!
Quick Facts about Joe Kovacs
Full name
Joseph Mathias Kovacs
Popularly known as
Joe Kovacs
Nickname
Joe
Birthdate
June 28, 1989
Birthplace
Nazareth, Pennsylvania, United States
Nationality
American
Horoscope
Gemini
Age
33 years old
Father's name
Joseph Kovacs
Mother's name
Joanna Kovacs
Sibling
None
Education
Pennsylvania State University
Marital status
Married
Wife
Ashley Muffet Kovacs
Children
None
Height
6 feet (183 cm)
Weight
134 kg (295 lbs)
Body type
Athletic
Eye Color
Brown
Hair Color
Brown
Profession
Athlete
Sport
Track and Field
Event
Shot Put
College Team
Penn State Nittany Lions of the Pennsylvania State University
Coached by
Ashley Muffet Kovacs
Personal best records

22.91 m (75 feet 1+3⁄4 in) outdoors
21.46 m (70 feet 5 inches) indoors

Medals and Achievements

Silver medalist at Rio 2016
Gold Medalist at the 2015 World Athletics Championship
Silver Medalist at the 2017 World Athletics Championship
Gold Medalist at the 2019 World Athletics Championship
Silver Medalist at the 2019 Toyota USATF Outdoor Championships
Silver Medalist at the 2019 Toyota USATF Indoor Championships
Gold Medalist at the 2015 USATF Outdoor Championships
Bronze Medalist at the 2014 USATF Indoor Championships
Gold Medalist at the 2014 USATF Outdoor Championships
Bronze Medalist at the 2014 Continental Cup
Bronze Medalist at the 2011 USATF Outdoor Championships

Net worth
$1 – $5 Million
Social media Handles
Merch
Track & Field Equipments
Last Update
February, 2023
Joe Kovacs – Early Life and Family
Joe Kovacs was born on June 28, 1989, in Nazareth, Pennsylvania, United States. He was the single child of parents Joseph Kovacs and Joanna Kovacs.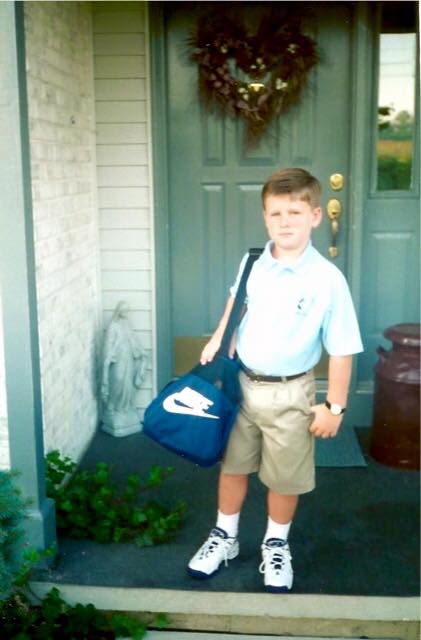 Joseph and Joanna were both school teachers. Joanna was also an athlete who played a tremendous role in her son's career as a supporter and coach.
You might be interested in reading: Tomas Walsh Bio: Shot Put, Olympics & Family >>
The Athletic Mother-Son Duo
Joanna was also into field and track. She was, in fact, a 12-time district throwing champion in the shot put, discus and javelin.
Likewise, her mother was also into hockey and basketball while studying at Pennsylvania's Nazareth High School.
Joanna was a fantastic athlete who even won the school's Ideal Female Athlete award in 1983.
She then went to East Stroudsburg University, where she met Joseph Kovacs. The couple fell in love and married in December 1985.
When Joanna observed her son throwing incorrectly, she started coaching him. She did not want her son to play the sport she once mastered in incorrectly.
The Family Tragedy
Joseph Kovacs was diagnosed with colon cancer which the family discovered when he was just 33. He underwent surgery to discover later that the cancer had already spread further.
He lived for fewer than six months from this period. All the family savings went into his alternative treatment available only in Mexico or Germany.
The family went to Germany, influenced by Joanna's partial Bavarian roots when their son Joe was only seven years old.
Along with their son, the Kovacs couple went to mass every day to spend time with German priests before going to the hospital.
No efforts worked; no money treated Joe's father. He succumbed to cancer on July 14, 1997, after being in a coma for two months.
Joe remembers not being to figure out what exactly was happening. He knew about his father but always thought he would return.
Joe and Joanna left Germany the next morning only to hear that Joanna's mother left the world owing to complications caused by a heart attack that she had earlier. It was hard for Joe to process all of that at such age.
Joanna did not remarry for more than 15 years, giving her time, attention, and resource to her only child.
She believes that her child got the competitive gene from her.
Grooming Joe
Joe's mother believed that her son needed male figures around him to learn things from a different perspective than what he got from his mother.
She was cautious of raising her child in the right environment. Joe's three maternal uncles, men from Church and Glenn Thompson, who later became a throwing coach, took him to football matches and fishing and mentored him.
Most importantly, Joe and Joanna have always shared a bond so pure and beautiful.
Joe Kovacs – Schooling and Sports
Joe went to Bethlehem Catholic High School, where he indulged in many kinds of sport. He used to be a decent football lineman.
He was also in Pennsylvania Junior Academy of Science, where he played all-state track and all-state football.
Moreover, Joe was a quick learner and an excellent student. He won four blue ribbons in a science competition at the Pennsylvania science fair, which his mother preserves till the date.
When Joey graduated from high school in 2007, he used to be the school champion in the discus and shot put. Moreover, he wrote history for the Bethlehem Catholic, winning two gold medals.
Also, when Joe was at high school camp, he got the chance to be around shot put champion Reese Hoffa. Hoof suggested to Joe that since he was too short of gliding, he should spin instead.
Joe followed Hoofa's suggestion and transitioned his technique.
You might also be interested in reading: Andre De Grasse Bio | Injury, Olympics & Net Worth>>
University
Kovacs attended Penn State University. There he majored in Earth Science and Finance and graduated in 2011. As a university student, he saw himself going into any of these two fields but not shot putting.
While at university, Joe was a four-time All-American. Danna Wagner coached him during his freshman year. He also got to be mentored by T.J. Crater at Penn State University.
Joe was at the 2012 US Olympics trial, wearing his Penn State jersey. He threw his personal best and got fourth.
Unfortunately, he could not make it to the team but recalls the moment referring to himself as the happiest in the room.
Joe Kovacs – Professional Career
Joe then started learning from legendary UCLA coach Art Venegas whom he met in late 2012. Finally, he arrived at the Chula Vista Olympic training center in January 2013.
His coach specifically chose the training center considering its ideal facilities, accommodation, nutrition plans, weight room, sports science, and the staff.
Joe and Art clicked with each other instantly, and their partnership turned out to be a great hit. Joe increased his PR from 69 feet to 74 feet with Art's mentorship.
He has many other feats while le learned with Art. For example, he became the gold medalist at the 2015 IAAF World Championships. Similarly, he won the 2015 Diamond League Championship.
Watch Joe Kovacs Rio Olympics' Performance Right Here >>
Joe also won a silver medal at the 2016 Rio Olympic and 2017 IAAF World Championship.
Similarly, Kovacs broke the 22-meter mark for the first time, winning the 2014 United States Championship held on the California State Capitol grounds in Sacramento, California.
He became the only thrower in the world to reach 22 meters in the year 2014. Moreover, he improvised to 22.35 in the year 2015.
Joe won the World Athletics Championships again in 2019, after his 2015 victory. He had also won a silver medal in the 2017 World Championship.
Joe Kovacs – Ashley Muffet Kovacs: Wife, Lover & Coach
Ashley Muffet worked as a coach at the Ohio State University. Joe moved to Columbus, Ohio, in the fall of 2017, planning to train there.
He proposed to Ashley in the following few months, to which Ashley agreed. The couple then got married in November 2018 in Ashley's hometown North Canton, Ohio.
Ashley, herself a coach, played a big role in Joe's training. But fate had bigger plans and made Ashley Joe's official coach.
Ups and Downs
Eight months before Joe went to compete at the 2019 World Championship in Doha, Qatar, he considered quitting shot put.
He gathered his family that consisted of Ashley, his mother Joanna, and his step dap and contemplated the thought. Finally, the family said that they would support his decision if he is sure of quitting.
The family meeting happened in February 2019, when Joe had recently thrown a 19.52m at a meet in Ohio. They got concerned about Joe's throwing and his well-being in general.
Everyone thought that Joe needed a new coach. This time it had to be someone who knew when and where to push and lay off and someone who understood Joe at a granular level.
The boy who his mother first coached needed a coach with the same level of affection and understanding. This could be no one but his wife.
Ashley said that she never intended to be Joe's coach while virtually talking with the Tokyo 2020. To her, it is more of a partnership than a trainer-trainee thing.
Joe Kovacs – Olympics 2020 (in 2021)
When the Olympics 2020 got postponed to 2021 because of Covid-19, the Kovacs couple figured their tactics more clearly. The major objective was to stay in shape.
They did not talk about throwing for a few months initially and had fun playing golf. The couple then finally made a serious transition, prepping for the Olympics in the best manner possible.
They observed Joe's silver medal that he won at Rio as a motivator to get him into working harder than ever.
Joe remembers the time when he came home with a silver medal. However, he was not satisfied as he acknowledged that he was very much capable of gold but missed it.
In the last few months before Olympics 2021 started, all Joe had in mind was his objective of winning gold this time.
Likewise, Joe and his coach/wife Ashley hope that they get to return with a gold medal from Olympics in 2021.
We wish all the luck to Joe Kovacs. May the best one win!
I want to to compete against the best when their at their best, not when they have been training under unsuitable circumstances. Smart decision by the IOC to postpone The Olympic Games. For now, let's focus on reestablishing the worlds health and safety 🙏🏼#Tokyo2021 #StayHome pic.twitter.com/Z3LlWiH1Bw

— Joe Kovacs (@JoeKovacsUSA) March 24, 2020
Joe Kovacs – Net Worth
Kovacs has a decent American lifestyle which he lives alongside his wife, Ashley. He has worked very hard, and the hard work has indeed paid off.
Joe Kovacs's net worth is estimated to be around $1 to $5 Million.
Joe Kovacs – Social Media Presence
Kovacs is active on his social media handles. You can follow the shot put athlete via the following links:
You might want to read: Clayton Murphy Bio: Wife, Olympics & Net Worth >>
Common Queries about Joe Kovacs
Where does Joe Kovacs train?
Joe Kovacs trains in Columbus, Ohio. He is trained by his wife Ashley, who is a throwing coach at Ohio State University.
Is Joe Kovacs Hungarian?
Joe Kovacs is an American national who is of Hungarian descent.