Joey Galloway is the man with the many perks, whether it is making records as a wide receiver or more. The former wide receiver played professional football for the National Football League(NFL) from 1995 to 2010. The Seattle Seahawks eighth overall drafted him in the 1995 NFL Draft.
Aside from starting his professional career with the Seahawks, Galloway also got the opportunity to play with other prominent teams such as Dallas Cowboys, Tampa Bay Buccaneers, New England Patriots, Pittsburgh Steelers, and Washington Redskins.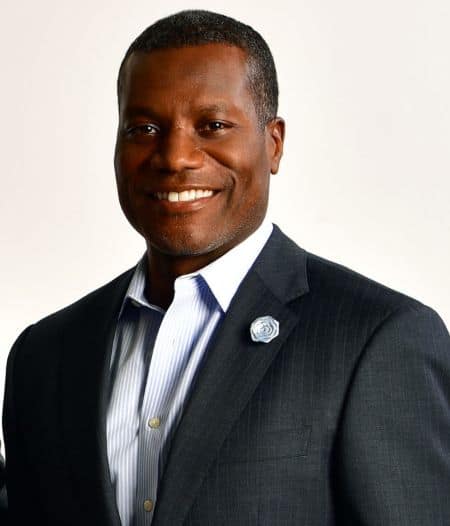 Likewise, Joey was also the first in the Buccs franchise to cover 1000 yards in three consecutive seasons. Well, at the moment, he is active as a college football analyst for ESPN.
Surely, Joey's professional life is worthy of talking about, but how about his personal life? Well, this former player has kept his personal life such a mystery that many of his fans are curious about it. So, shall we reveal all about his personal life?
Joey Galloway: Quick Facts
| | |
| --- | --- |
| Full Name | Joseph Scott Galloway |
| Birth Date | November 20, 1971 (aged: 49 years old as of July 2021) |
| Birth Place | Bellaire, Ohio, US |
| Now known as | Joey |
| Religion | Unknown |
| Nationality | American |
| Ethnicity | Black |
| Education | Ohio State University |
| Horoscope | Scorpio |
| Father's Name | James Galloway |
| Mother's Name | Carolyn Galloway |
| Siblings | Unknown |
| Age | 51 Years Old |
| Height | 5 feet 11 inches(180 cm) |
| Weight | 89 kgs(197 lbs) |
| Build | Athletic |
| Profession | Former NFL Player and Current Analyst |
| Active years | 1995-2010 |
| Position | Wide receiver |
| Team | Washington Redskins |
| Network | ESPN |
| Marital Status | Undefined |
| Spouse/Girlfriend | Unknown |
| Salary | $100,000 |
| Net Worth | $10 million |
| Social Media | Instagram, Twitter |
| Merch | Football card, Rookie card |
| Last Update | November, 2023 |
Who is Joey Galloway?
Joe Galloway is a legend in American football history. Now 48, the American footballer is a former wide receiver in the National Football League(NFL).
After getting drafted by the Seattle Seahawks in the first round and eighth, Galloway started his professional career.
Since then, Joey had played for teams like Dallas Cowboys, Tampa Bay Buccaneers, New England Patriots, and more.
Also, Joey has the leading score regarding the NFL's receiving yards and receiving touchdowns. Sadly, he was never selected for a Pro Bowl despite his impressive stats.
Early Life and Family- Where did Joey Galloway go to college?
Joseph Scott Galloway, who is better known as the "Joey Galloway," is an American-born former football player. He played as a wide receiver for the NFL since his draft back in 1995. This stellar player was born in Bellaire, Ohio states in US.
Likewise, he is the son of James Galloway and Carolyn Galloway, whose further information is unknown to the media. The same is the case when it comes to his siblings as well.
As for his education, Galloway went to Bellaire High School in Bellaire, Ohio, his hometown. Later Joey attended Ohio State University, where he also pursued his football career.
Also, Joey is American by nationality, while his ethnicity is black. Other things like his religious belief and political standing are kept secret at the moment.
Age and Height
When it comes to going professional, only passion and determination fall short. In a way, every athlete needs to be physically and mentally sound. Likewise, Joey was born with speed and agility. Also, his tall stature of 5 feet 11 inches (180 cm) helped a lot as well.
Along with that, Galloway weighed 89 kgs (197 lbs) and had a well-built body. Added to that, his years of training and running around the field meant Galloway had control over his body movements.
Even after his retirement, it seems Joey could run a yard and more if he tried. It is hard to believe that this legend is already 49 years old.
Yes, Joey was born on November 20, 1971, under the star sign of Scorpio. They are known to be passionate, loyal, and mysterious among the bunch.
If you are interested in the autographed items of Joey Galloway, click the link to follow.
Early Football Career
Talking about his football career, Joey had been playing since his high school days at Bellaire High School. During his senior year, Galloway caught 52 passes for 1208 yards with eight touchdowns.
Aside from that, the young Joey was an All-Ohio choice in basketball and even won the state championship in both the 100 and 200-meter dash in track.
After graduating, Joey enrolled at Ohio State and continued playing football, where he received numerous honors. Likewise, Galloway finished in the top five all-time in many of Ohio State's receiving records.
Also, in his junior year, Galloway caught 47 passes for 946 yards and tied with a school-record 11 touchdowns with Cris Carter.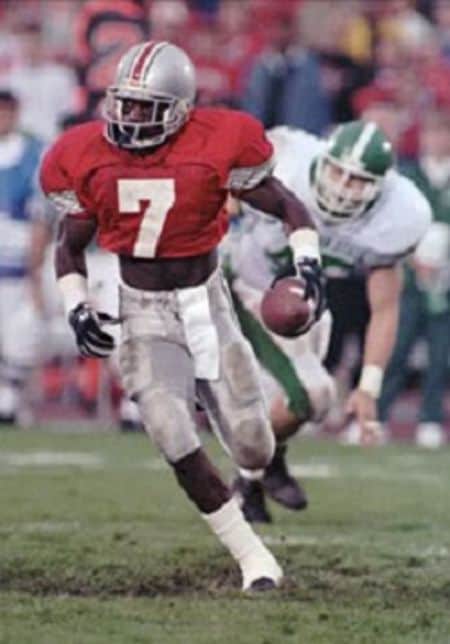 Without a doubt, his impressive play earned Galloway First-Team All-Big Ten Conference honors as a junior. Continuing on, Galloway made 44 receptions for 769 yards, including seven touchdowns in his senior year.
By the end of his college year, Joey came fourth in both career receptions with 108 and receiving yards with 1,494; and second in touchdown receptions right behind Cris.
Beginning of Professional Career- Seattle Seahawks
Looking at his impressive junior and senior years at Ohio State, there was no doubt about Joey being drafted. As expected, the Seattle Seahawks picked him eighth overall in the 1995 NFL Draft.
Upon his entry at the team, Galloway set the season records for a rookie with 97 receptions, 1,067 receiving yards, and three 100-yard games.
Not to mention, Galloway also found success as a punt returner, where he returned 36 punts for 360 yards and a touchdown.
Likewise, Galloway started his second season by leading the team in receptions with 57 receiving yards with 987 and touchdowns with seven.
Also, the following year he made 72 receptions for 1,049 yards and 12 touchdowns. That year, Joey reached double-digit receiving touchdowns for the second consecutive year with ten. By the end of the season, Galloway had recorded 65 receptions for 1,047 yards.
However, for the 1999 season, Joey only played in eight games due to a contract dispute and a holdout that lasted for 101 days. Even after his return, Galloway was able to make 22 receptions for 335 yards and only one touchdown.
Hence, by the end of his Seahawks career, Galloway recorded 238 receptions for 4,457 yards and 37 touchdowns in 71 games.
Following that the Seahawks traded Galloway to the Dallas Cowboys on February 12, 2000. In return, they got their first-round selections in the 2000 and 2001 NFL Drafts.
Career Progression with other teams
Being a competent wide receiver, the Cowboys were looking to compensate for the loss of their quarterback Troy Alkman, and Michael Irvin on the verge of retirement after his career-ending injury.
Hence, Galloway joined the team and became the second-highest-paid wide receiver in the league at the time.
Likewise, Joey teamed up with Raghib Ismail in hopes of guiding the Cowboys in the right direction. Unfortunately, Galloway played only one game in the first season because of his ACL tear in his left knee against the Philadelphia Eagles.
This meant Galloway finished the game with only four receptions for 62 yards and a touchdown.
But the following year, he rebounded and started in all 16 games where he finished second on the team in terms of receptions. He also recorded 72 receptions and 699 receiving yards with three touchdowns.
For the 2002 season, Galloway was more than prepared as he played for all 16 games and recorded 61 receptions for 908 yards and six touchdowns.
Moreover, the following year, Joey made 34 catches for 672 yards and two touchdowns and led the NFL with a 19.8 yards-per-catch average. Likely, Joey finished his career with Dallas with 151 receptions for 2,341 yards and 12 touchdowns.
With this, Joey was then traded to the Tampa Bay Buccaneers for Keyshawn Johnson on March 19, 2004.
New Teams and New Records
As stellar as he was with the Cowboys, Joey could not perform like his usual with Tampa. In his season opener, Joey suffered a groin injury in the match against the Washington Redskins which made him sit out for the rest of the season.
As a result, Galloway only played in ten games and made 33 receptions for 416 yards and five touchdowns.
But he did have the best season in 2005 where Joey caught a career-high 83 passes for 1,287 yards with ten touchdowns. The following season, Joey made 62 receptions for 1,057 yards, including seven touchdowns.
He also made history by being the second player in Bucs to go over 1000 yards receiving mark in back-to-back seasons. Of course, the first player was now traded, Keyshawn Johnson.
In 2007, Joey became the first player in franchise history to register three consecutive 1000-yard receiving seasons with 57 receptions for 1,014 yards and six touchdowns.
However, with his foot injury the next season, Galloway finished with only 13 receptions for 138 yards. With this, Joey ended his terms with the Buccs on February 25, 2009.
Right after his release, Joey signed a one-year deal with the New England Patriots on March 14, 2009. Sadly, being inactive for weeks along with a lack of productivity and inability to cope with the Patriot's offense, Galloway was released sooner that year.
A month later, Joey signed with Pittsburgh Steelers as a free agent filling up the spot of Limas Sweed. Unfortunately, he was not re-signed by the team again.
Then in early 2010, Galloway signed with the Washington Redskins but was soon waived after being replaced by another wide receiver, Terrence Austin. It was also around this time that Joey decided to end his NFL career.
Where is Joey Galloway now?
After his successful NFL career, Joey now serves as a college football analyst for the nation's best sports network, ESPN. With his decade-long experience as a professional player, Galloway has given enough insight while examining the plays.
Aside from this, Galloway also co-owned the Arena Football League team Columbus Destroyers from 2003 to 2008.
Joey Galloway's Personal Life- Wife remains a mystery as he becomes dad!
When you are a celebrity and public figure, it becomes hard to control your personal life. The same is the case with Joey! Even though he retired ten years ago, many people still show interest in his personal life.
Well, it seems Joey is aware of that and has kept everything about his personal life private! Yes, at the moment, Galloway could be single, but we have no proof or evidence for it.
Likewise, there are no past records of him dating anyone either. Fair enough, he was one of those players who stayed afar from malicious rumors as well. Looking at it, Joey deserves every bit of respect and recognition for keeping his life out of the media.
However, on August 14, 2015, the quiet football player announced his first child's arrival. He posted a tweet that simply read, "I'm a Dad now!"
With just four words, Galloway surprised his fans and followers. But he was careful not to reveal much detail that includes his wife and child, of course. Maybe in the future, we can see the whole family together.
How much is Joey Galloway worth?- Net Worth and Income
By now, it is no secret what Joey Galloway has achieved as a professional football player. During his over decade-long career, Galloway played with many prominent teams and built up his repertoire as a capable man on the field.
Not only that, but this helped Joey gain a significant amount in the form of income as well.
At the moment, Joey Galloway has an estimated net worth of $10 million. Likewise, his earnings just for the 2004 season were reported to be around $6.31 million. And we are sure over the years; the amount only kept on increasing.
However, now 48, Galloway has long retired from the professional football scene and pursued a career on television. Right now, he is active as a college football analyst for ESPN.
It was reported that as an analyst, Galloway would make around $100,000 per annum. And with time and effort, we are sure it would grow to be much more.
Social Media Presence
Twitter– 46.2k Followers
Instagram– 25.7k Followers
Joey Galloway | FAQs
What are Joey Galloway's career statistics like?
At present, Joey Galloway features career statistics of 10,950 receiving yards, 701 receptions, 77 receiving touchdowns, and 5 return touchdowns.
Is Joey Galloway in the Hall of Fame?
Joey Galloway is the 1994 Hall of Fame of the National Football Foundation.
Which jersey number does Joey Galloway feature in?
Joey Galloway wears jersey number 13 for
New England Patriots. Well, he wears 84 for Washington Football Team, Seattle Seahawks,
Tampa Bay Buccaneers, and Dallas Cowboys.