You may have heard the name Johanna Konta in tennis many times in 2019. It is because the 29-year-old was a sensation in the French and US Open last year.
She is a British professional tennis player. However, she used to represent her birth nation Australia until 2012.
Konta may not have clinch any of the four Grand Slam titles yet. But she has bagged three singles titles on the WTA tour, impressing every tennis enthusiast with her playstyle.
Besides, she had hit the ITF Women's Circuit with 11 titles in singles and four in doubles.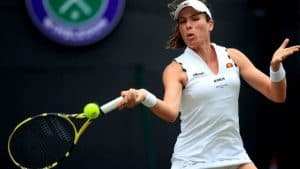 Besides, she was in the top 5 list of women tennis players worldwide in July 2017. Konta has an aspiring success story. Her life journey started in Australia, and she began her tennis career there.
But in 2012, she switched her adherence to Great Britain with English citizenship. Let's unwrap a talented and entertaining player's journey since her birth and the dawn of her career.
Quick Facts
| | |
| --- | --- |
| Full Name | Johanna Konta |
| Birth Date | May 17, 1991 |
| Birth Place | Sydney, New South Wales, Australia |
| Residence | Eastbourne, England |
| Nickname | Johanna Konta |
| Religion | Christianity |
| Nationality | British, Australian |
| Ethnicity | White |
| Education | Sanchez Casal Tennis Academy |
| Horoscope | Taurus |
| Father's Name | Gabor Konta |
| Mother's Name | Gabriella Konta |
| Siblings | One half-sister |
| Sister | Eva Konta (Half-Sister) |
| Age | 32 Years Old |
| Height | 5 feet 11 inches (180 cm) |
| Weight | 70 kg (154 lbs) |
| Shoe Size | 10 (US) |
| Dress Size | 4 |
| Bra Cup Size | 34B |
| Build | Athletic |
| Favorite Tennis Player | Roger Federer |
| Eye color | Green |
| Hair Color | Dark Brown |
| Profession | Tennis Player |
| Playing style | Right Handed (Two-Handed Backhand) |
| Active years (Senior Career) | 2008 – present (professional player) |
| Highest Ranking (Singles) | No. 4 (July 2017) |
| Current Ranking (Singles) | No. 13 (October 2020) |
| Association | Women's Tennis Association |
| Sexual Orientation | Straight |
| Marital Status | Unmarried (In a relationship) |
| Boyfriend | Jackson Wade (Photographer) |
| Past Relationships | Kether Clouder (Rumors) |
| Children | None |
| Favorite Food | Fruits |
| Net Worth | $4 million |
| Salary | $700 thousand |
| Endorsements | Babolat, Natural Valley, Ellesse, Radley |
| Social Media | Facebook, Twitter, Instagram |
| Merch | Poster |
| Last Update | December, 2023 |
Johanna Konta: Early Life, Family, and Education
Konta was born in Sydney, Australia. She is the daughter of Gabor and Gabriella Konta. Her father is a hotel manager, while her mother is a dentist. Both of her parents were originally from Hungary.
They met each other and married in Australia. Tamas Kertesz, one of Konta's grandfathers, was a professional football player.
He was also a coach of the Ghana national football team. Konta's father had a daughter from his previous marriage. Accordingly, Eva Mumford is her half-sister.
Konta spent her childhood in Collaroy, a suburb in the Northern Beaches of Sydney. She was involved with tennis as early as the age of eight.
Likewise, she joined the Sanchez Casal Tennis Academy in Barcelona. There she sharpened her skills for 15 months at the age of 14.
Johana Konta: Professional Career
Early Titles
Konta won her first ITF singles in the first year of turning professional. It came at a $10k tournament in Mostar of Bosnia and Herzegovina.
Again, in 2009, she bagged another ITF title, the $25k. The title came with a victory over Heidi El Tabakh at the WOW Challenger in Ontario.
Upgrading herself, Konta snatched the $50k title on the green clay courts of North Carolina in 2010.
Similarly, in the same year, she won a $10k title at an event in Belgium. Besides, she made a debut in the WTA Tour event in the same year.
Decline in Performance
The year 2011 brought some bitter defeats to her. She could not qualify to either of Charleston, Fes, and Strasbourg.
Notably, she reached the WTA Tour's main draw but was eliminated in the first round. The title came late to her that year at the Aegon GB Pro-Series in Woking against Laura Robson. Also, she bagged the title at a $10k event in Madrid.
Grand Slam events
In early 2012, Konta clinched a $25k title at Rancho Mirage. The year too, she qualified for the WTA Tour event. However, she could advance only to the second round. She received British citizenship in May 2012.
Consequently, she had a wild card entry at the Wimbledon main-draw event. However, she was beaten by Christina McHale in her opening tie. Again, her Grand Slam appearance came at the US Open.
There she won only in the first round. Also, she ended the year 2012 at the 153rd position. In 2013, she was selected to represent Great Britain at the Fed Cup.
England had eventually lifted the cup. Karolina Pliskova defeated her at the Aegon Trophy semifinals.
Entrance to the top 100 and top 50
Konta lifted a $25k trophy in Winnipeg, Manitoba, with a win against Samantha Murray in 2013. Again, she went on to win the Odlum Brown Vancouver Open. She had a wild card entry at Aegon International in 2014.
Consequently, she saw herself in the 89th position following the tournament. In 2015, she defeated the then-No—8 Ekaterina Makarova at an event in Eastbourne. Konta won the title at an ITF event Challenger Banque Nationale de Granby.
Similarly, she clinched both the singles and doubles titles at the 2015 Western & Southern Open event.
Also, she had a win against Naomi Osaka in her qualifying journey at the US Open. Venus Williams eliminated her from the 2015 Wuhan Open in the quarterfinals. Following the event, she reached the 49th spot in the top 50 list.
The Top 10 spot and WTA title
Notably, Konta defeated Venus Williams in the opening round of the 2016 Australian Open. However, her amazing run was put to an end by Angelique Kerber in the semifinals. Again, she was eliminated by Julia Goerges at the French Open's opening round.
Similarly, Eugenie Bouchard saw her off the Wimbledon from the second round.
Notably, Konta again beat Venus Willams in the Stanford Classic's final to win the WTA title. Similarly, she reached the quarterfinals in singles of the 2016 Summer Olympics.
She qualified for the WTA finals for the first time in her career. Furthermore, she advanced to the finals of the China Open. This brought a spot in the top 10 list for the first time in her career.
Konta played in the 2016 WTA Elite Trophy, where Elina Svitolina defeated her in the semifinals. Besides, she ended the season comfortably in the 10th position.
The next year, she won the Apia International Sydney's Women's Singles title. Also, she reached the quarterfinals of the 2017 Australian Open defeating Caroline Wozniacki on the way. However, Serena Williams eliminated her.
Miami Open Champion
Johanna defeated Caroline Wozniacki in the final of the 2017 Miami Open. That saw her lift the greatest title in her career.
Similarly, she reached the semifinals at the Wimbledon singles. Accordingly, her rank peaked at the career highest position of 4.
Degrading form
Konte suffered the early exits at The Sydney International and the Australian Open. Ashleigh Barty beat her in the final at the 2018 Nottingham Open.
That was followed by a couple of second-round defeats at Eastbourne and Wimbledon. Similarly, Caroline Garcia showed her the exit at the opening round of the US Open.
Again, she had a first-round defeat at the Wuhan Open and a second-round defeat at the Pan Pacific Open.
Similarly, she was eliminated in the second round of the 2019 Australian Open. Also, Kiki Bertens saw her off in the third round at the Indian Wells.
Back in form and Grand Slam successes
Konta reached the final of the 2019 Morocco Open. But she could not lift the trophy as Maria Sakkari defeated her. Again, she went on to the finals at the Madrid Open, defeating Venus Williams on the way.
But this time, too, she was upset by Karolina Pliskova in the final. Furthermore, she competed at the semifinal of the French Open that year.
Also, she played a losing match against Elina Svitolina at the 2019 US Open quarterfinals. Besides, she reached the quarterfinals at Wimbledon.
Barbora Strycova showed her the exit at the tournament. Overall, she finished the year at No. 12 positions.
Johanna Konta: Achievements and Titles
Johanna is the top woman tennis player from England. Furthermore, she has been the British Tennis number one since 2015. She has spent over 12 years of her life playing professional tennis.
Sadly, during this course, she has yet to clinch any of the four Grand Slam titles. However, she has won three WTA Tour titles, including a Miami Open trophy.
In the International Tennis Association Women's Circuit, she has bagged 11 singles and four doubles titles.
Besides, Konta had been awarded the 2016 WTA Most Improved Player. However, she came second favored for the award in 2015. Also, in 2017, BBC nominated her for the Sports Personality of the Year.
Controversial Interviews
It is a written rule that every athlete has to go through series of interviews, and at times, the very interview becomes the source of the controversy. Likewise, Johanna Konta is not a stranger to it.
2017 Interview
In 2017, Johanna Konta had an interview with John Humphrys on the Today Programme. During the discussion, John asked a question to Konta asking about her nationality.
Apparently, he asked why she wasn't being said "win for Aussie" while she was from Australia and not from Britain.
During the time, Konta was starring as the World No.4 and had reached the semifinals at Wimbledon. Thus, she had become the fourth British woman in history to crack the top-five.
Regarding the situation, John made a question, therefore, asking why she was called British. As a fact, Konta has been in the UK since 2005 and has earned citizenship there.
For the question, Konta had simply replied she had been growing that country, and she is a proud representation of it.
2019 Wimbledon Interview
Back in 2019, during the Wimbledon quarterfinals, Konta attended the interview after she loses the singles match against Czech star Barbora Strycova in 2 sets 7-6, 6-1. However, she instantly fell into the pit that rose controversial ground for her.
To illustrate, after the game, as Konta attended the mandatory press conference, things were in a smooth turn.
But as one journalist raised a question about her feelings towards the match, things got pretty different.
To elaborate, a journalist questioned what went wrong during the game and what she should have done to avoid her mistakes.
Right then, Konta was a humble loser who appreciated how tough the opponent played. However, the journalist stated if she needed to look towards her gameplay and not appreciate the opponent.
Effects
Altogether, Konta replied that the journalist was "patronizing and disrespectful."
"I don't think you need to pick on me in a harsh way… Please don't patronize me. You are [patronizing me] in the way you asked your question. You're being quite disrespectful and patronizing me. I'm a professional competitor who did her best today, and that's all there is to that."
-Johnna Konta
Altogether, the interview was quick to pick up two-sided controversies, in and off the favor with Konta.
Johanna Konta: Injury
On 8 February 2021, Konta was playing for the Australian Open challenge just a few days ahead.
However, after the first-round against Slovenia's Kaja, Juvan Konta faced an abdominal injury.
To illustrate, Konta faced an injury while during her second service game when she stretched for a smash towards the end of the opening set. Thus, she had to retire early from the game after her injury got excessively painful.
Johanna Konta: Net Worth and Salary
Johanna has been on the summit of British tennis for years. Besides, it is the 13th year she has played as a professional career.
Accordingly, she has earned $9.5 million as prize money only. According to sources, she has an annual income of around 700 thousand.
Johanna Konta has a net worth of $4 million as of 2023.
Asics was Johanna's clothing sponsor until last year. Currently, she is sponsored by Ellesse. Besides, she endorses Babolat and is the ambassador of Natural Valley cereal bars.
Also, she is involved in the marketing campaigns of the accessories brand Radley. Thus, it can be understood that she is making a pretty good sum of money.
Johanna Konta: Relationships
Johanna is known for maintaining a private life. According to sources, she has been dating Jackson Wade since 2017. Wade is a professional photographer.
Also, he was hired as a video and photography manager by the Lawn Tennis Association in 2016.
Furthermore, Konta has publicly said that Wade encourages her to push herself towards the peak.
Also, there were a lot of gossips in the media about Johanna dating Kether Clouder. She was with her before 2017.
Clouder works for a technology company. Also, he was Johanna's trainer once. However, there is not much information about their relationship.
Johanna Konta: Social Media Presence
Johanna prefers to keep a low private life. But she is well active on social media sites. Currently, she uses Facebook, Twitter, and Instagram as her regular social media handles.
Facebook handle (Johanna Konta): 93 thousand followers.
Twitter handle (@johannakonta): 103.1 thousand followers
Instagram handle (@johannakonta): 152 thousand followers
Johanna Konta: FAQs
What is between Ilie Nastase and Johanna Konta?
Between Ilie Nastase and Johanna Konta, it is a grudge and criticism that has been filled. However, the story dates back to 2017, when Nastase criticized Konta for her statement after the game in Constanta.
Who is Johanna Konta's coach?
Johanna Konta's coach is Thomas Hogstedt. He had previously coach players like Maria Sharapova, Caroline Wozniacki and Victoria Azarenka.