Dominican baseball player Johan Rojas and his wife-to-be Viarmin Gomez are another couple goals in the MLB.
The year 2023 brought a series of bliss to the Phillies outfielder- first with his engagement to his longtime girlfriend, Viarmin, in May, and then his MLB debut in July.
Ever since the up-and-coming MLB figure confirmed that he & his girlfriend are now fiancees, fans are going crazy to know the details of their relationship. Moreover, there is increasing scrutiny about Rojas' future wife.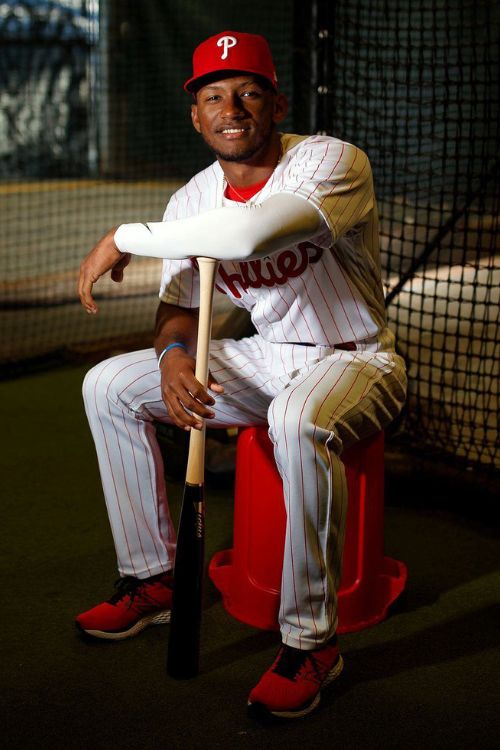 Born on August 14, 2000, Johan, 23, took a voyage from Dominic Republic to the United States at 18, after signing with the Philadelphia Phillies as an international free agent.
He debuted with the Dominican Summer League Phillies in 2018 and batted 0.321 with two home runs, four triples, 12 doubles & 31 RBI.
From then on, he's been on a progressive move from single-A affiliate, Clearwater, to High-A affiliate, Jersey Shore, and then to Double-A affiliate team, Reading Fightin Phils.
The 2023 season got him promoted to the MLB team, Philadelphia Phillies, replacing injured Cristian Pache on the 26-man roster. Since his MLB debut on July 15, Rojas has not looked back.
He plays alongside Zack Wheeler, Bryce Harper, Garrett Stubbs, and Trea Turner, to name a few.
On August 16, Johan scored his first home run against the Twins, and later, on September 26, 2023, he hit a walk-off single that clinched the Phillies to the playoffs.
Johan Rojas Wife-To-Be Viarmin Gomez: Engagement Details
The Dominic Republic-born baseball player kept his relationship status under wraps for years until the late Spring of 2023. On May 20, 2020, Rojas surprised fans with an announcement of his engagement with his girlfriend via Instagram.
In his IG post, the Phillies outfielder tagged his sweetheart, Viarmin Gomez, as they posed for a photo where Gomez was flaunting her diamond ring.
He wrote, "Te amo mi postre" with a ring emoji (translated to "I love you my dessert"), to which his new fiancee commented, "My dream prince."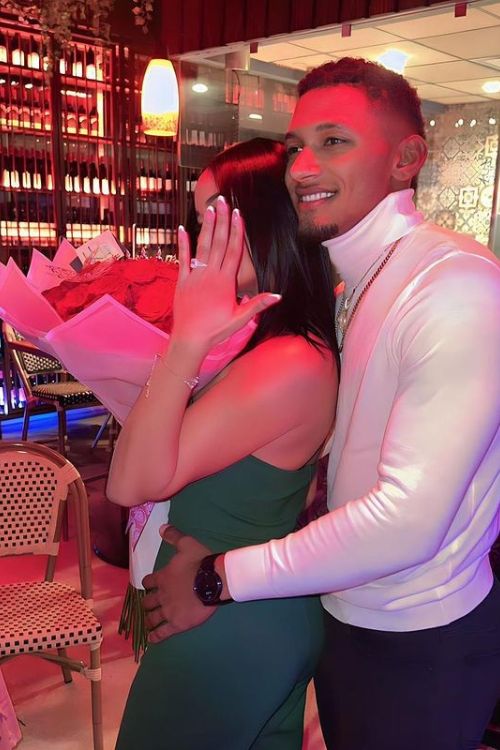 Amid the fan gossip about their future wedding plans, some were quick to notice that the MLB player shared the news of his engagement a bit later than his girlfriend.
Well, his significant other, Viarmin, had shared the clips of their engagement in her TikTok account a couple of days earlier, on May 18, 2023.
The duo were seemingly at a dinner with their friends as Johan got down on his knees & presented the ring.
They are yet to get married, but online sources are already claiming them as husband & wife.
When Did Johan and Viarmin Begin Dating?
There is no specific date when the relationship between Johan and Viarmin began. But it is evident that the two are longtime lovers.
Surfing through Gomez's TikTok profile, it can seen that she first shared a video with the MLB star in January 2021. Since then, every now & then, she mentions her beau or features him in her TikTok videos.
Although not confirmed, sources allege that the MLB player met Viarmin, a resident of New York, after he moved to the United States to pursue a baseball career.
What Does Johan Rojas' Girlfriend-Turned-Fiancee Do?
Rojas' fiancee, Viarmin Gomez, lives in New York and pursues her career as a doctor. On her Instagram (gomez_viarmin_) profile, which she switched to private, Gomez mentions "Dr. Do" in her bio.
The "Dr. Do" is an abbreviation for doctor of osteopathic medicine.
Besides that, it seems she is quite famous on TikTok as well. She has more than 27.9K followers on her TikTok handle @viarmingomez1.
Rojas And Viarmin Gomez Share A Son Together
The MLB player and his soon-to-be wife, Viarmin, are parents of their son, Johan Rojas Jr. Their son was born on July 23, 2022, at 1:35 AM in NewYork-Presbyterian Hospital, which she confirmed via her TikTok video on July 29 that year.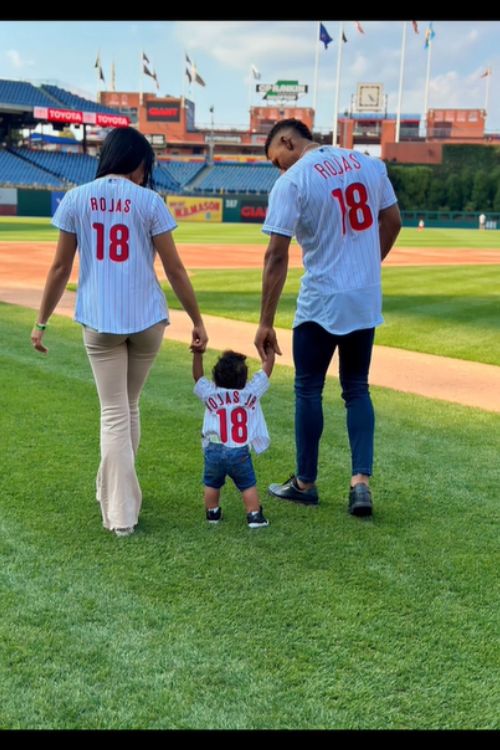 Back on January 30, 2022, she confirmed her pregnancy and did a gender reveal video a day later. Seems Gomez uses her TikTok to tell stories of her personal life.
Viarmin Often Attends Johan Rojas' Games
Gomez has always been Johan's #1 fan, besides being a supportive girlfriend (now fiancee). According to her social media posts, she's been attending her boyfriend's (to-be husband's) games ever since he was in the minor leagues.
On July 15, 2023, as Rojas made his MLB debut in a season opener against the San Diego Padres at their home Citizens Bank Park, his lover, Viarmin, 11-month-old son Johan Jr., and his brother were in attendance.
Johan Rojas' first walk-off hit in the big leagues is a big one. pic.twitter.com/VYMGH9qZoH

— Todd Zolecki (@ToddZolecki) September 27, 2023
Later, on September 26, 2023, Viarmin Gomez & her son would join Johan's parents, Juan and Yaniris, in a game against the Pirates. In that game, Rojas hit his first walk-off in the 10th inning as the Phillies clinched the post-season games.