John Daly-a determined and fierce professional golfer from the U.S, nicknamed "Long John" for his driving distance off the tee, turned pro in 1987 at The Missouri Open. His most notable accomplishments were the 1991 PGA Championship "zero-to-hero" victory and his 1995 Open Championship playoff.
He has been successful in multiple businesses and owns a golf course design business. Additionally, Daly has written and recorded music and released two albums.
He is an American Golfer who plays for the Professional Golfer's Association (PGA) Tour and PGA European Tour.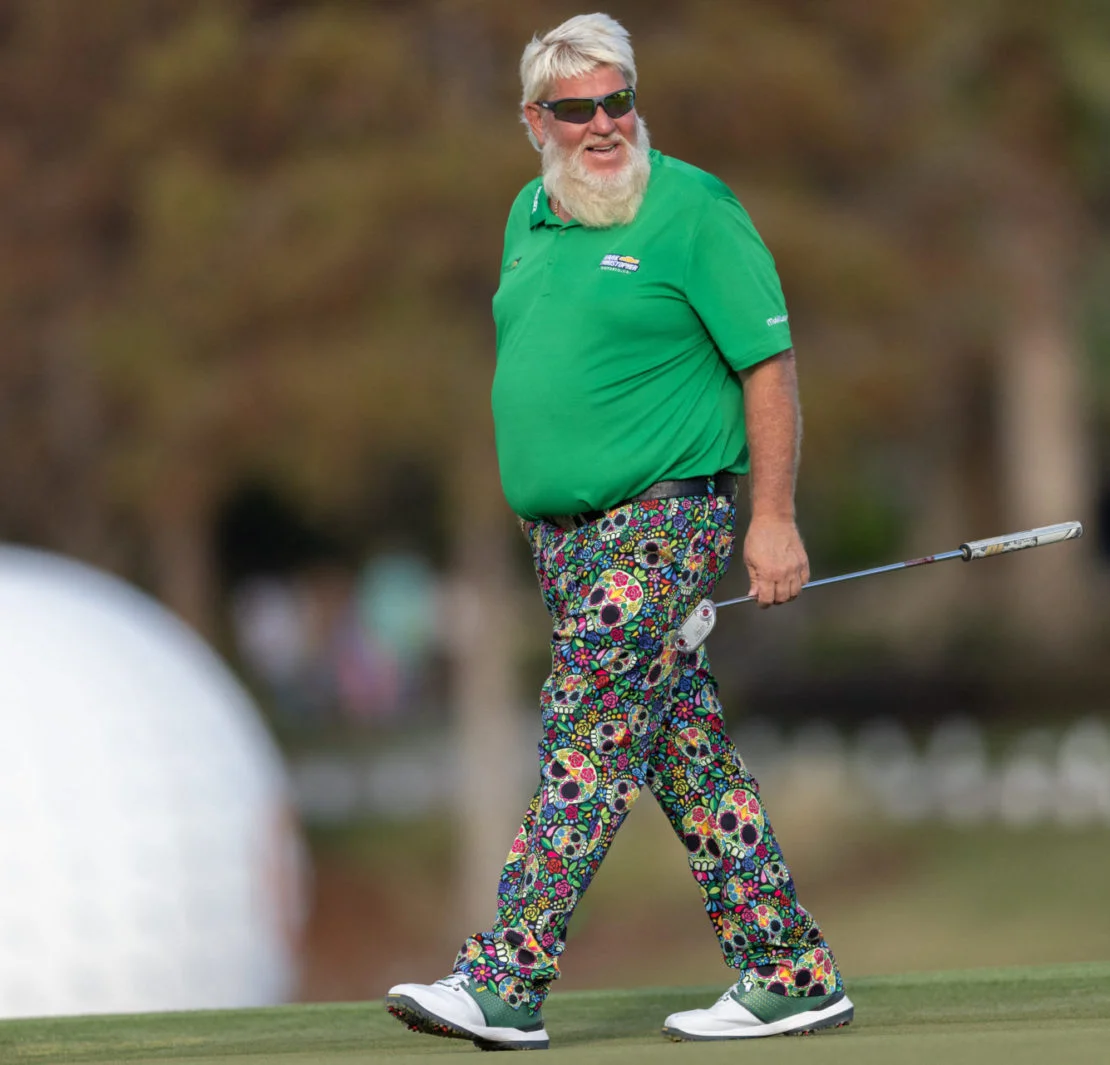 Daly has won accredited pro competitions in South Africa, Swaziland, Scotland, Germany, South Korea, Turkey, and Canada, in addition to his triumphs on American soil.
Although being such a talented golfer, John always faced criticism due to his attitude, Gambling, and drinking habits.
Likewise, his personal life is not as good as his career. John's life has been a roller coaster ride with a lot of hurdles.
This article will probe into his life in depth. But first, let us have an instant glance at the quick facts section.
Quick Facts:
Name
John Patrick Daly
Birthplace
Carmichael, California, United States
Birthdate
April 28, 1966
Nationality
American
Age
56 Years Old
Ethnicity
White
Religion
Christian
Father's Name
Jim Daly
Mother's Name
Lou Daly
Education
Helias High School
University of Arkansas
Height
5 ft. 11 inch
Siblings
2
Nickname
Wild Thing, The Lion, Long John
Famous Name
John Daly
Weight
110 kg
Hair Color
Blond
Eye Color
Blue
Famous For
– Driving distance off the tee
– long backswing
– the inconsistency of play
– Personal life
– Non-country-club appearance and attitude
Profession
Golfer
Appearance booking fee
$30,000-50,000
Residence
Dardanelle, Arkansas
PGA Tour Champions
1
Professional Debut
1987
Horoscope
Taurus
Highest Ranking
23
Career Earning
$12,048,012
Net Worth
$2 million
PGA Tour Wins
$10 million
Professional Wins
18
Money lost in Gambling
$50-$60 million
Sexual Orientation
Straight
Achievements
PGA Tour Rookie of the year (1991)
PGA Tour Comeback Player of the Year (2004)
Marital Status
Divorced(2007), Engaged (2014)
Wife/Spouse
– Anna Cladakis (2007-present)
– Sherrie Miller (2001-2007)
– Paulette Dean Daly (1995-1999)
– Bettye Fulford (1992-1995)
– Dale Crafton (1987-1990)
Kids
3:Shynna, Sierra, John Jr
Social Media
Twitter, Instagram
Business Ventures
– 2 Music albums
– Partner in Loudmouth Golf clothing
– Owner of J.D. Designs
– Wine label John Daly Wines (not in existence anymore)
Merch
Poster, Golf clubs, Rookie Card, Headcovers, Paperback
Last Update
March 2023
John Daly | Early Life, Family & Education
John Patrick Daly, also known as John Daly, was born on April 28, 1966, in Carmichael, California, United States.
He was born to Jim Daly (father) and Lou Daly (mother). Similarly, John spent his childhood in Carmichael with his parents, elder brother, and elder sister.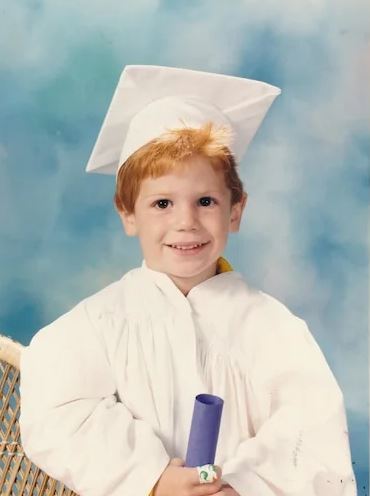 His father worked in industrial plants as a construction worker. And his mother was a homemaker; she used to look after the kids when her husband was working.
As John's family was a middle-class family, they had an average life and often moved from place to place due to his father's work.
Moreover, John started playing golf when he was just 5 years old. As a child, John admired Jack Niklaus, and he started golfing at the Bay Ridge Boat and Golf Club.
Education
John went to Helias High School to complete half of his grade 10 study. There he played golf for that school as well. Similarly, John also played football during his school days.
Further, in 1983 John won the Missouri State Amateur Championship, his first-ever career win. Later just after a year, he also won the 1984 Arkansas State Amateur Championship.
After high school graduation, the University of Arkansas offered Daly a golf scholarship. So, he decided to enroll there for his college education.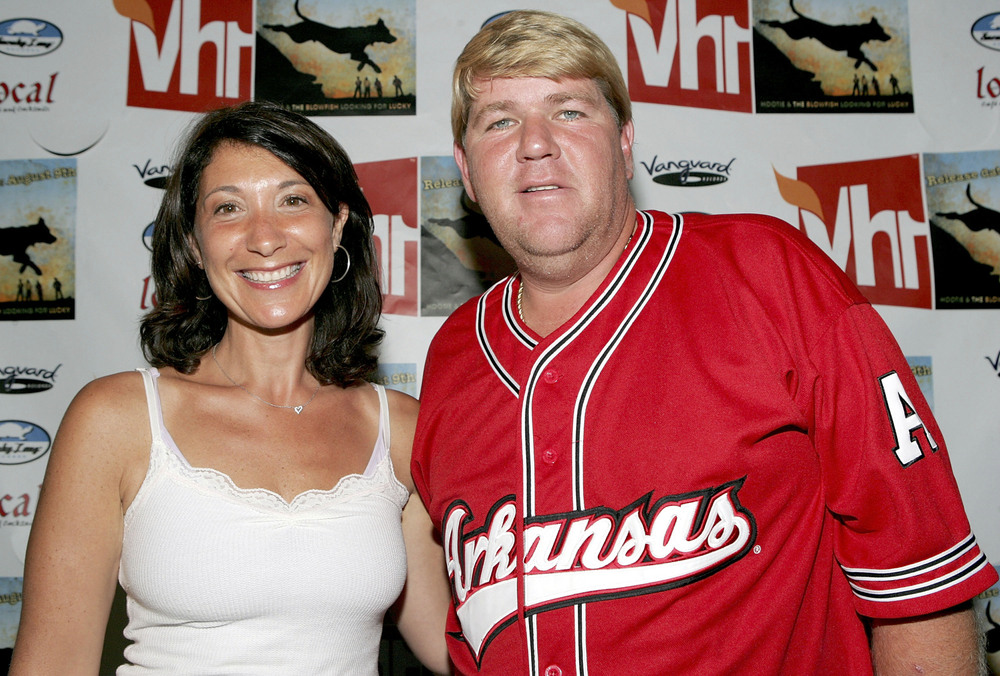 However, he left his college without completing his degree. He was focused more on girls and drinking than on studies.
Likewise, he had a turbulent relationship with his coaches due to his relationships and drinking habits.
How old is John Daly? Age, Height & Body Measurement
At the time of writing, John Daly is 56 years old. He is American by nationality and White by ethnicity.
According to his birth chart horoscope, John is a Taurus. People born under this sign are usually stoic, determined, and a bit of a dark horse.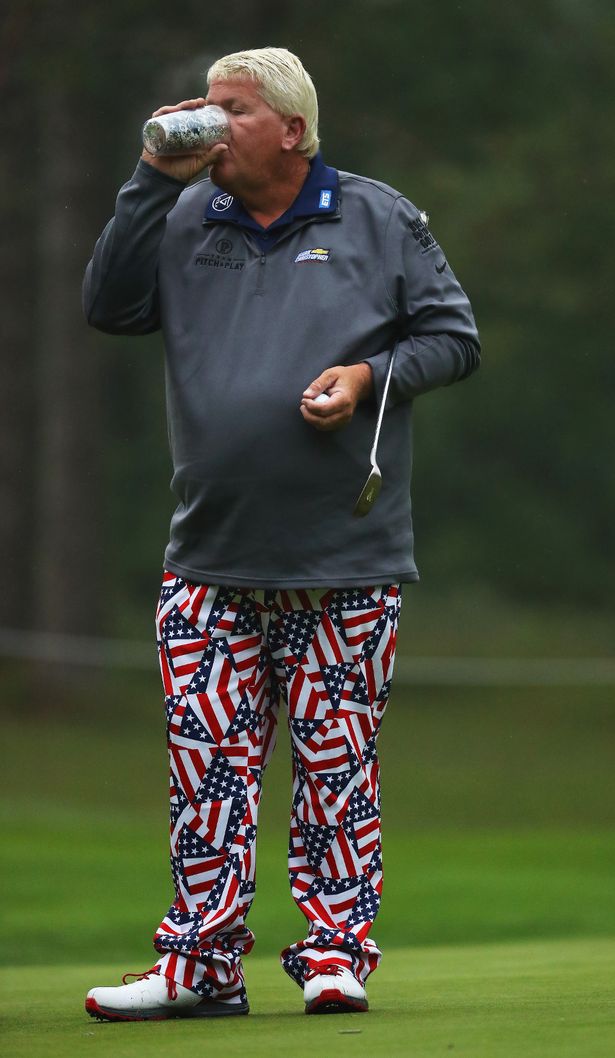 Likewise, John Daly is one determined and stoic person. He stands 5 feet 11 inches tall and weighs around 110 kg.
As a golfer, it is imperative to look sharp and maintain a certain standard. He always looks tidy and maintains his reputation. He has an aura that catches everyone's attention.
John Daly | Professional Career
John turned professional in 1987. He won his first-ever match as a professional player in Missouri Open.
Besides, Daly played mostly in minor events at that time as he was new and inexperienced.
Besides, John started getting recognition after his South Africa success, where he challenged several Sunshine Tour events in 1987.
Soon after that, he started playing in PGA Tours, in 1989, with some success, including finishing T-14, making the first cut in a major, and finishing T-69 at U.S. Open.
1990-1995
Similarly, in 1990, Daly won the qualifying tournament for the new circuit and earned full playing privileges on Ben Hogan Tour.
John also defected several experienced players, who eventually boosted his confidence. However, in 1991 John Daly won his first-ever PGA Championship.
This life-changing event for Daly got him a lot of media attention. He started getting recognition and fame.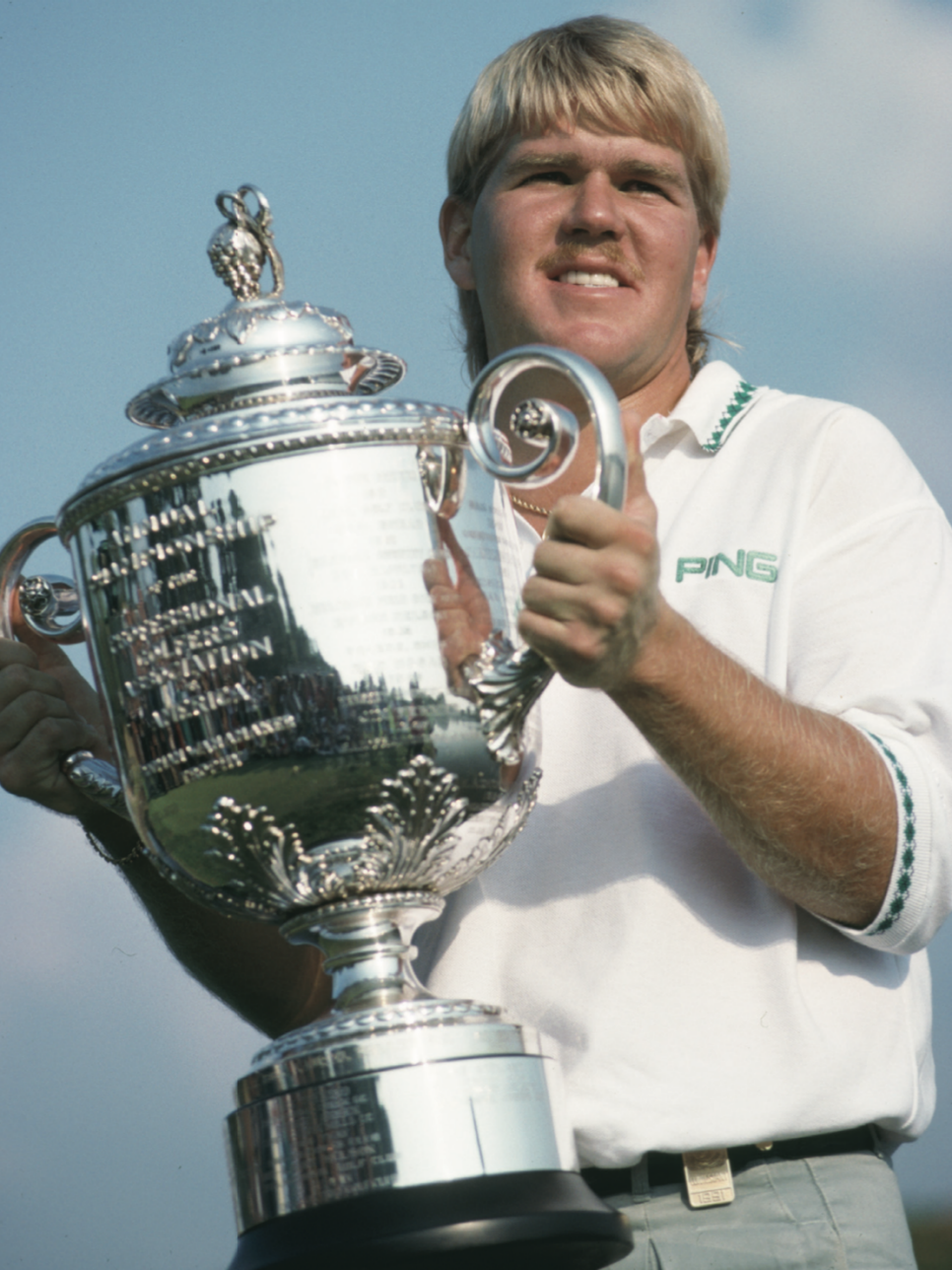 That same year, he won the PGA Tour Rookie of the year award, and it was the first significant rookie win after Jerry Pate won it in 1975.
Likewise, in 1992, Daly succeeded in 5th place at the International, T-2 at the Kemper Open.
In the same year, 1992, he won with several top 10 finishes. Later, in 1993, Daly didn't perform as expected; he failed in PGA Tours.
Further, he was suspended by PGA Tour because of his intolerable attitude in 1994. He walked off the course mid-round, which was very unprofessional and unethical.
[You will enjoy what John has to say: 100 famous Quotes by John Daly]
In the same year, John was sent to Rehab, and the 1994 Bell South Classic was his first game after coming from Rehab.
Surprisingly, that match was his first match when he was sober. Amazingly, he won the game and earned his third PGA Tour title.
Later, in 1995, he performed well in every match and won the Open Championship, which was unexpected.
However, Daly was the only golfer who Ryder Club did not select even after two-time significant wins.
1996-2000
Despite being an excellent golfer, John was an alcoholic with an extreme and intolerable attitude. Because of this, the years after 1995 were tough for him.
Even though he was sent to Rehab, he had no symptoms of improvement, which deeply affected his career. Besides, he was also withdrawn from the 1997 Players Championship.
Later, in 1998 Daly recorded the highest score in PGA Tour Golf History on a single hole. Similarly, he finished that season with top 10 finishes.
Further, in 1999 John was again in the limelight for his controversial statements, Gambling, and drinking habits. His habits highly affected his career and brand endorsements.
2001-2005
Finally, in 2001, John finds balance in his life and career and bounces back to make everything right.
Daly wins the BMW international open with his personal best score of 27 under par for 4 rounds. Besides, this was Daly's first European Tour victory in 6 years.
Similarly, Daly was inducted into the Arkansas Golf Hall of Fame in 2002. Besides, he won the Champions Challenges, which were neither PGA of the European Tour event.
After that, Dally was added to Tiger Woods PGA Tour 2004 video game, and He made a strong comeback again in 2004.
Further, he also won the Comeback Player of the Year award. Similarly, in 2004, he was ranked 4th overall on the PGA Tour.
In 2005, Dally lost 2 of the significant events, which he played against Vijay Singh and Tiger Woods.
2006-2014
Due to his attitude and drinking habits, John was not getting many PGA Tours and European Tours.
Likewise, he was not giving his best as well. He was facing problems in his career and personal life as well.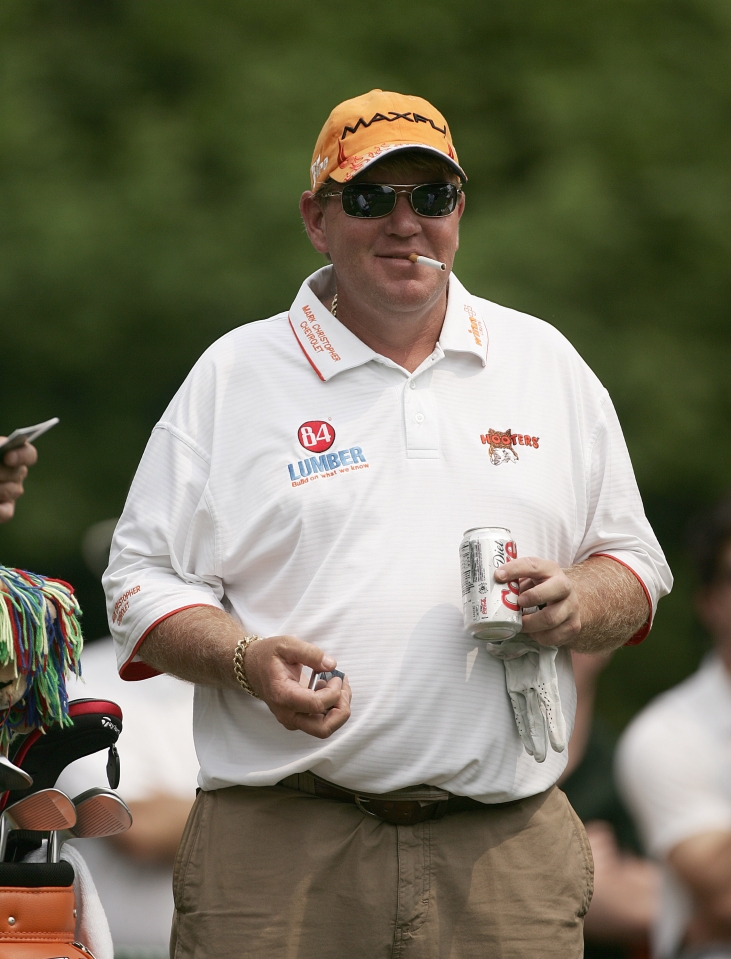 Even though he has won several small games, he couldn't make it to major events due to his poor performance.
2016
John became eligible to play on the PGA Tour Champions after turning 50 on April 28, 2016. He made his debut at the Insperity Invitational in May and tied for 17th.
Notably, after a year, Daly won the Insperity Invitational on the PGA Tour Champions in 2017 after shooting 14-under par for the tournament.
This was Daly's first win in a PGA Tour-affiliated event since 2004. Since then, Daly has continued to compete semi-regularly on the Champions Tour.
2016–present: PGA Tour Champions
The PGA Tour Champions made Daly eligible after he turned 50 on April 28, 2016. As a debutant, he finished 17th at the Insperity Invitational in May.
In the Insperity Invitational on the PGA Tour Champions, Daly shot 14-under par to win the event.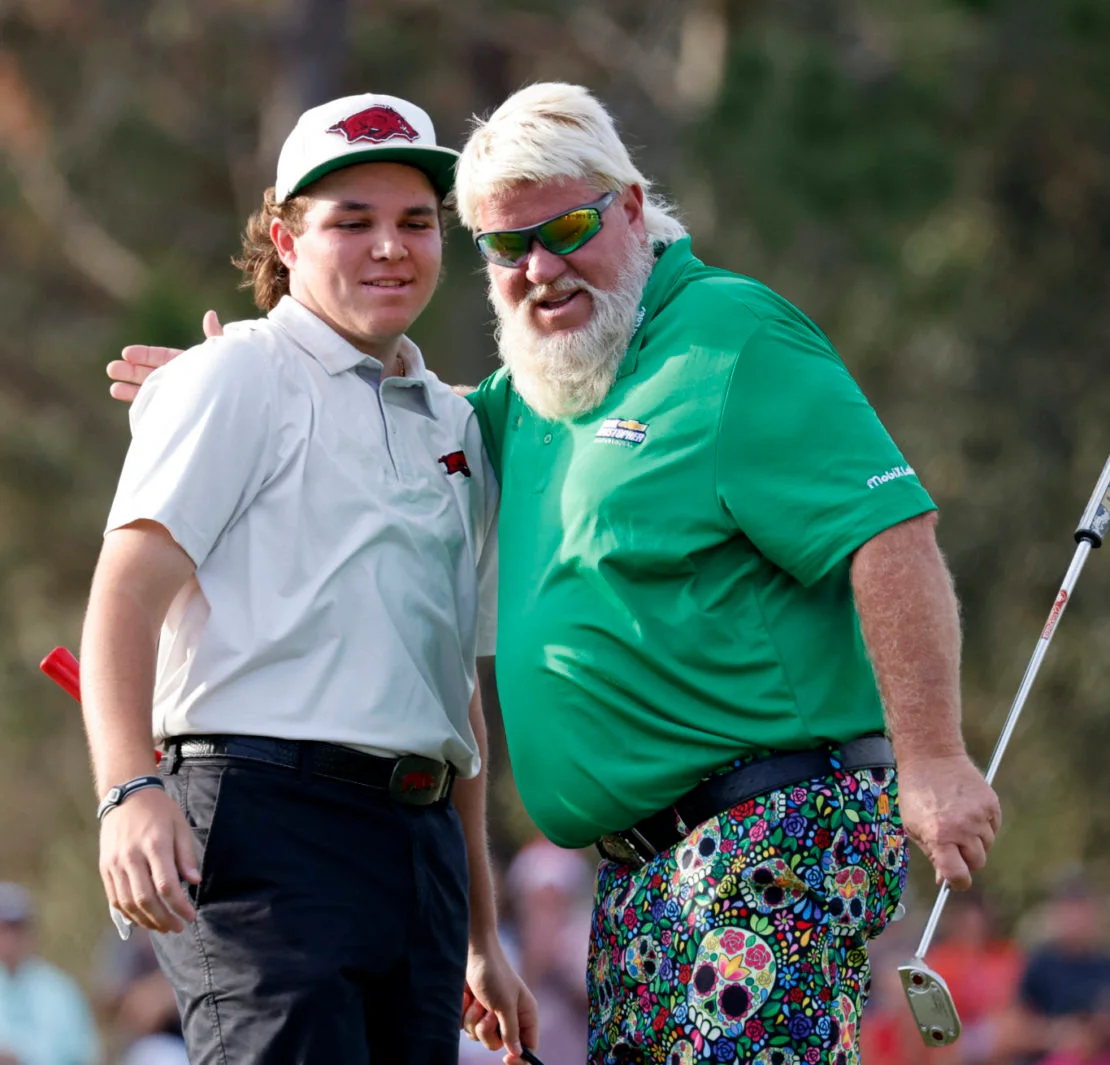 One year after making his PGA Tour Champions debut, he won his first PGA Tour-affiliated event in 2004. He competes semi-regularly on tour.
John Daly | Net Worth and Income
There is no wonder that John has earned quite a good amount of money in these years. He has gained a large bank balance, popularity, and recognition as a success.
Daly has won a lot of PGA Tours and has earned from there as well. Likewise, he also has a clothing line and music ventures.
Surprisingly, he has a net worth of only $2 million. Previously, he had a net worth of $65 million, but he almost went broke due to his gambling habits and divorces.
It is estimated that Daly has lost around $50-55 million in Gambling. As per reports, he has also lost $1 million in a bet with Tiger Woods.
Besides, Daly had to pay a newspaper $300,000 as legal fees. Similarly, John Daly once threw $55,000 out of his car window, creating a lot of news then.
John Daly | Personal Life and Relationships
Daly has always been in highlight due to his relationships. His love life is not successful as his career.
However, everyone has their ups and downs in life. Likewise, John had his struggles and hurdles.
John's first wife, Dale Crafton, was a hand model for Arkansas, and they met while John was playing golf at the University of Arkansas.
Likewise, Dale and John got married in 1987. Later, they both moved to Dale's hometown, and John was unhappy in that marriage.
He was still struggling to be on PGA Tour; he couldn't give Dale much time. So, after 2 years of marriage, they got separated from each other.
Just after 2 months of divorce, Daly met his second wife, Bettye Fulford. His second wife was 10 years older than him and had a 13 years old son.
Further, they broke up, but later they reconciled and got married in 1992, and gave birth to Shynah Hale.
Again, after 3 years, they both filed for a divorce with each other. Besides, Fulford made various allegations against Daly.
Fulford accused Daly of third-degree. But later, she cleared charges from Daly by herself and started to live with him again. However, they finally divorced in 1995.
Marriage Three and Four
Later, John Daly married Paulette Dean, whom he dated briefly while on a break with his second wife. From Dean, he had another daughter Sierra Lynn.
Like his previous marriages, this marriage was also no exception, and he divorced.
In 2001, John Daly married a 25-year-old car saleswoman Sherrie Miller from Memphis, Tennessee but divorced in 2007.
From Sherrie Miller, John has a child named John Patrik Daly II. Miller said that her marriage to Daly failed because Cladakis and Daly had a sexual connection when the couple was separated in 2007.
Since 2007, he has been dating and is in a long relationship with Anna Cladakis. She recently posted a photo with John on her Instagram handle.
Cladakis, with whom Daly became engaged in December 2014, was sued for undisclosed damages.
Recent Controversies
In an interview, controversial golfer John Daly recently said, "Donald Trump Was The BEST President!" which was not digested by all of his fans.
In addition, Golf cult hero John Daly said he "begged" Greg Norman to give him a spot on the LIV Golf tour.
He was also in controversy for firing back at critics of the Prince of Saudi Arabia Mohammed Bin Salman, branding him a "great guy."
John Daly, in July 2022, wrote on Twitter, "When u run out of balls, u run out of balls." Trevor Herden, the Australian Open tournament director, was unhappy with Big John.
John Daly's Son | John Daly Jr (John Daly II)
John Daly's son has been making it to the headlines these days as he has started playing golf at Arkansas University.
In 2021, John Daly and his son, John Daly II, revealed that they had inked sponsorship arrangements with Hooters, a wings-and-beer restaurant company with outlets in about 30 countries.
Recently, Daly tweeted a post with his son saying how he was excited for his son.
John Daly Popularity
John Daly keeps making it to the news for his gameplay and controversies. He can be seen trending last Christmas( probably for being dressed like a Santa!) and July this year.
Social Media Presence
Twitter: 639k followers
Instagram: 545k followers
Some FAQs:
Where did John Daly and Trevor Lawrence meet?
John Daly and Trevor Lawrence met at the Furyk Foundation concert.
Which hippo driver does John Daly use?
John Daly uses "Hippo John Daly 370 Driver Graphite Shaft".
What disease does John Daly have?
John Daly was diagnosed with bladder cancer and underwent surgery in 2021.
What is John Daly's average drive?
John Daly had an average driving distance of 300 yards. In 1997 John became the first golfer on the PGA Tour to surpass the average distance of 300 yards per drive.
What brand are John Daly golf clubs?
John Daly uses Callaway golf clubs. Callaway is one of the most popular brands on the PGA and European tours.
John Daly's bag is primarily full of Callaway equipment; including a Callaway prototype driver with a Fujikura Atmos Black Tour Spec 7X shaft, Mack Daddy forged wedges and Apex Pro iron set.
Likewise, his clubs are mostly equipped with SuperStroke S-Tech cord club grips having many wraps underneath.
What was John Daly's last tournament for the 2021 season?
John Daly's last tournament for the 2021 season was at PNC Championship on December 19, 2021.
Does John Daly smoke?
Yes, John Daly smokes cigarettes. During one of the interviews, John even mentioned that his diet once consisted of 18000 cigarettes and 515 gallons of soda per year.
What year did John Daly win the British Open Championship?
John Daly won the British Open Championship in 1995 on the Old Course at St. Andrews, Scotland, by four strokes in a four-hole playoff.
Did John Daly make the Killer Whale driver?
No, the Wilson brand made the Killer Whale driver. However, John Daly used the killer whale driver to win the PGA Championship back in 1991.
Are John Daly and Anna Cladakis still together?
John Daly and Anna Cladakis are still together since 2007, and they got engaged in 2014. However, they are not married to each other yet.
How much money has John Daly made in his career?
On the PGA tour alone, John Daly, over three decades (1986 – 2020), earned just over $10 million. His estimated total career earnings are approximated around $12,048,012
Does John Daly's son play golf in Arkansas?
Yes, John Daly's son John Daly Jr. plays golf in Arkansas. Golf icon John Daly has publicly shared his support for the Arkansas Razorbacks over the years.