John Laurinaitis, aka Johnny ace, is a former professional wrestler of the WWE. As a professional wrestler, he has won many championships.
The most notable awards among his achievements are the 6x FCW Tag Team Championship and the 2x All Asia Tag Team Championship.
He is famous for his on-screen feud with John Cena and Theodore Long. After retirement, John worked as a producer for WWE and had many notable occurrences in the televised WWE Raw episodes.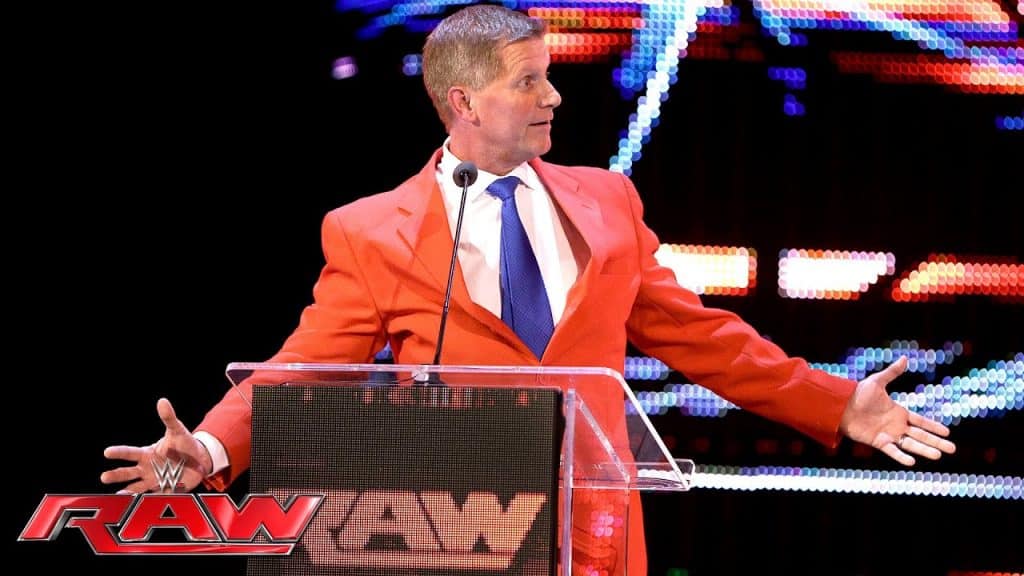 Here, we will present all the details regarding his feuds, wrestling career, and personal life.
First, look into some quick facts about the legend "Johnny Ace."
John Laurinaitis | Quick Facts
Full Name
John Hodger Laurinaitis
Birth Date
July 31st, 1962
Birth Place
Philadelphia, Pennsylvania
Age
61 Years Old
Nickname
Johnny Ace, Johnny Laryngitis
Religion
N/A
Nationality
American
Education
N/A
Horoscope
Leo
Father's Name
N/A
Mother's Name
N/A
Siblings
Joseph Michael Laurinaitis (Road Warrior Animal), Marcus Laurinaitis (The Terminator)
Height
6'4" (1.93 m)
Weight
250 lb (110 kgs)
Build
Athletic
Retired
2012
Debut
1986
Shoe Size
N/A
Eye Color
Grey
Trained By
Nelson Royal
Marital Status
Married
Spouse
Kathy Laurinaitis
Children
Maya Laurinaitis, Zack Laurinaitis, JJ Garcia, Nikki Bella, Brie Bella
Profession
Retired Professional Wrestler, Producer
Net Worth
$1.5 million
Awards and accomplishments
6x FCW Tag Team Championship
World's Strongest Tag Determination League New Wave Award- 1988
2x All Asia Tag Team Championship
Social Media
Instagram, Twitter
Merch
Cards
Last Update
November, 2023
John Laurinaitis | Early Life, Family, & Education
John Laurinaitis was born in Philadelphia, Pennsylvania, on July 31st, 1962. He is one of the Laurinaitis brothers, who are very renowned in WWE.
His siblings Joseph, Road Warrior Animal, and Marcus, The Terminator, are retired professional wrestlers from the wrestling world.
There isn't any information regarding the details of John's parents. All three of the Laurinaitis brothers have kept it away from the public.
Moreover, according to the horoscope, John is a Leo. Leos are mostly known for their confident and ambitious nature.
Body Measurements and Education
Moving on, John stands at the height of 6'4″(1.93 m) and weighs 250 lb (110 kg).
The details regarding his educational background are not available from any sources. All information before his wrestling career is kept secret by the Laurinaitis family.
John Laurinaitis | Career and Profession
National Wrestling Alliance and WCW
Johnny Ace began his wrestling career in 1986 with his ring name Johnny Ace. First, he wrestled for the CWF (Championship Wrestling from Florida) and frequently teamed up with his brother Marcus aka The Terminator.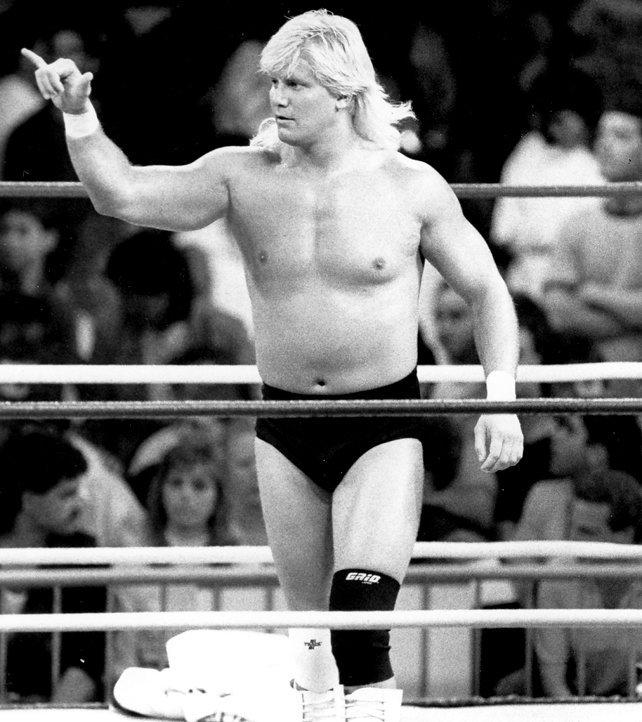 Later, John wrestled with the National Wrestling Alliance's (NWF) Jim Crockett Promotions, a family-owned professional wrestling headquarters.
He teamed up with Shane Douglas and was called "The Dynamic Dudes." Former wrestler Jim Cornette managed both of the wrestlers.
Before John was part of The Dynamic Dudes, he performed as the flagbearer for the team "The Sheepherders," a professional wrestling tag team first known as the New Zealand Kiwis.
Moreover, on May 19th, 1990, John lost to The Undertaker at Capital Combat during his last WCW match.
You might also like Undertaker Net Worth: Bio, Salary, Endorsements, House, Cars, Lifestyle>>
All Japan Pro Wrestling
In 1990 the All Japan Pro Wrestling decided to cut ties with the NWA, and John chose to stay in it, becoming a permanent foreign fixture of the AJPW.
During his time there, he teamed up with Kenta Kobashi, aka "Dr. Death," Bart Gunn, and Steve Williams.
John received a significant amount of championship success, becoming All Asia Tag Team Champion twice, 4x World Tag Team Champion, and the New Year's Heavyweight Battle Royal.
In two of his matches, he received Five Stars from Dave Meltzer.
Also, John won the Match of the Year honor from the Wrestling Observer and was listed as #77 in Pro Wrestling Illustrated's (PWI) top 500 wrestlers for 1997.
On February 28th, 1998, John reached the most crucial point of his singles career, and he challenged Mitsuharu Misawa for the Triple Crown Heavyweight Championship.
World Championship Wrestling
In 2000, John retired from the ring after the separation between All Japan Pro Wrestling and Pro Wrestling Noah and returned to World Championship Wrestling, where he replaced Vince Russo as head booker.
He was responsible for booking the extremely acclaimed one-night single-elimination tournament for the WCW United States Heavyweight Championship.
World Wrestling Federation, WWE
Senior Vice President of Talent Operations
In March 2001, WWF hired John as a road agent after they possessed certain assets of WCW. Gradually, in June of the same year, WWF again promoted him to Director of Talent Relations.
He replaced Jim Ross as Vice President of Talent Relations, and soon later, in February 2007, WWF promoted him to Senior Vice President.
Moreover, in March 2009, John finally became the Executive Vice President.
But, when Stephanie McMahon took over the Department of Talent Relations and handed over the controls to Paul Levesque, John moved down from his Executive responsibilities, becoming Senior Vice President of Talent Operations.
During John's post as a Vice President of Talent Operations, he received many criticisms from those who worked for him. Soon John was released from his backstage Executive duties and returned to his road agent post in 2012.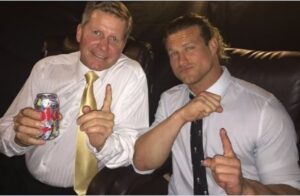 On June 27th, 2011, WWE Raw episode, John was named CM Punk during his infamous "pipe bomb" promo as a "glad-handing, nonsensical douchebag" who told Vince McMahon everything he wanted to hear.
At the peak of the WWE Championship match, John tried to replicate the Montreal Screwjob under McMahon's orders, but the defending WWE Champion, John Cena, advanced to knock John out, as he didn't want to win the event that way.
On the August 1st episode of Raw, John intruded Triple H by telling him to remove Cena from his WWE Championship title, which led Cena to threaten Laurinaitis before he fled the ring.
Interim General Manager of Raw
After a kayfabe strike by members of the WWE roster on October 10th, Triple H's management, Vince McMahon, introduced John as Raw's new Interim General Manager.
The same night, he fired Jim Ross and reinstated The Miz and R-Truth.
John pledged to hear the WWE fans using his "People Power" slogan. But he soon began showing discrimination against WWE Champion CM Punk, who repeatedly criticized him and questioned his sincerity over the past few months.
On the December 26th episode of Raw, John placed Punk in a gauntlet match against three opponents.
Punk accepted the fight because he would receive a battle against Laurinaitis if he managed to beat all three opponents.
Throughout the match, John diverted Punk, allowing Dolph Ziggler to pin Punk and earn a title shot. The following week, he again distracted Punk, causing him to be counted out in his title match.
John then registered a match between Punk and Ziggler. He referred to himself as a guest referee and continued to cause Punk to lose to Ziggler, eventually leading to Punk attacking John, declaring that he was abusing his power.
You might also like Chad Gable's Age, Height, Wife, Net Worth, WWE, NXT, Olympic, and Instagram>>
On January 30th, John was set by the Board of Directors to have a performance review by Triple H, where he degraded John and his actions.
But before the final judgment, Triple H was interrupted by The Undertaker. Later, the Board of Directors decided to retain John as Interim General Manager on February 7th, 2012.
Feud with Theodore Long
John wrestled his first match after eleven years, also his first for WWE. He lost to Theodore Long in a singles match.
He continued his dispute with Long until WrestleMania XXVIII, where both Long and John appointed six wrestlers to represent them, with the triumphant team earning General Manager authority over both brands.
Team Johnny defeated Team Teddy following Long losing his post as General Manager of SmackDown.
On the April 6th, 2012 edition of SmackDown. Moreover, John pushed Long to become his new assistant after threatening to terminate Long's grandchildren's trust fund.
Match with John Cena
On the April 30th, 2012, episode, John, with the assistance of Tensai, attacked John Cena before announcing himself as Cena's opponent at Over the Limit.
On the May 14th episode, he publicly embarrassed and fired Big Show from the WWE as Show constantly disrespected him for making fun of his voice.
The same night, the Board of Directors sent John a letter declaring they would Fire him if he lost the no-disqualification fight against Cena at Over the Limit.
He defeated Cena in the match and rehired Big Show as he helped him win the battle against John Cena.
McMahon fired John, and Cena, as he hit the Attitude Adjustment on John through a broadcast table.
The next night in his final show in management, Laurinaitis scheduled himself in a 3-on-1 Handicap Match along with Big Show and David Otunga against John Cena.
Both Show and Otunga stepped out on John during the match and allowed Cena to hit before making him submit.
Occasional appearances in WWE
For SmackDown's 15th Anniversary Special on October 10th, 2014, John formed a team to face Teddy Long's team to become the most renowned GM in SmackDown history, but Teddy Long's team won the match.
John entered during the June 20th, 2016, episode of Raw but was sent off the stage by Shane McMahon.
On January 22nd, 2018, he was one of the guests that appeared on stage during the 25th Anniversary episode of WWE Raw.
Moreover, on May 10th, 2020, he made a cameo appearance during the Men and Women's Money in the Bank match, filmed inside the WWE headquarters.
John Laurinaitis |
Championships and accomplishments
All Japan Pro Wrestling
2x All Asia Tag Team Championship with Kenta Kobashi
4x World Tag Team Championship
Korakuen Hall Heavyweight Battle Royal- 1991
World's Strongest Tag Determination League New Wave Award- 1988
Championship Wrestling from Florida
6x FCW Tag Team Championship with the Terminator
International Championship Wrestling Association
2x ICWA Florida Heavyweight Championship
John Laurinaitis | Net Worth
Laurinaitis has been working for the wrestling world since 1986. After his retirement, he worked for several years as a producer for WWE.
So it is clear that he has earned much for himself over the years.
Moreover, the details regarding his estimated earnings and salary are unavailable to any sources.
However, we can assume from his past professions that his possible net worth could fall around $1.5 million.
John Laurinaitis | Wife and Children
Laurinaitis married Kathy Colace on March 24th, 2016. She is the mother of the famous Bella Twins, Brie Bella and Nikki Bella.
Also, she has a son named JJ Garcia. Reportedly, The couple got engaged on September 3rd, 2015.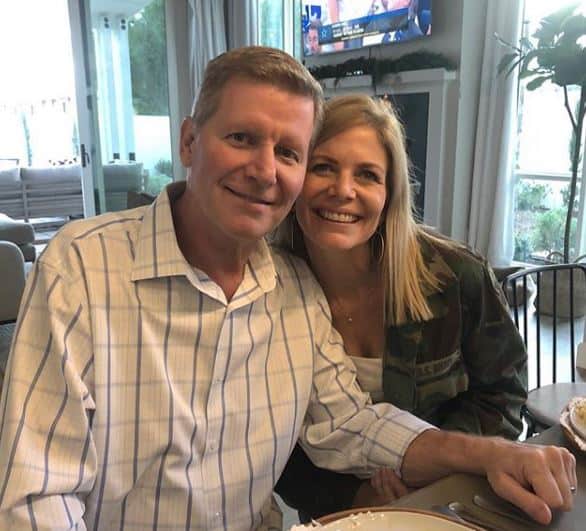 Also, John has two children from his past relationship Maya Laurinaitis and Zack Laurinaitis.
John Laurinaitis | Social Media Presence
Instagram- 36.5K Followers
Twitter- 43.8K Followers
Interesting Facts about John Laurinaitis
John invented the move Ace Crusher.
He has appeared in a Wrestling Video Game called Zen-Nippon Pro Wrestling 2.