Jonnie West has a net worth speculated to be around $5 million. Jonnie is the husband of 2014 US Open winner Michelle Wie and the two share a daughter.
At first, Justin Thomas played a key role in bringing them together, and then it was their shared love for golf. The athletic couple, Jonnie and Michelle, fell in love at first sight.
Jonnie is the director of basketball operations at Steve Kerr's Golden State Warriors and a well-known golf enthusiast. He has been working with Golden State for a decade and one day wishes to take over the position currently held by Mike Dunleavy Jr.
Earlier this week, Michelle announced that the US Open would be her last competitive tournament. Having won the competition in 2014, Michelle nursed several injuries throughout the years after it, leading to her retirement.
Jonnie West Net Worth
Jonnie West is estimated to have a net worth of $5 million. The director of basketball operations at Golden State Warriors, West, is rumored to earn $700,000/ year.
As per Comprably.com West, the top executives at Golden State Warriors are expected to earn $720,000, with the lowest being $79,126. A graduate of West Virginia University, West, earned a degree in sports management in 2010.
He later went on to earn a master's degree a year later in business administration from the same university. After earning his master's degree, Jonnie joined Golden State as a scout.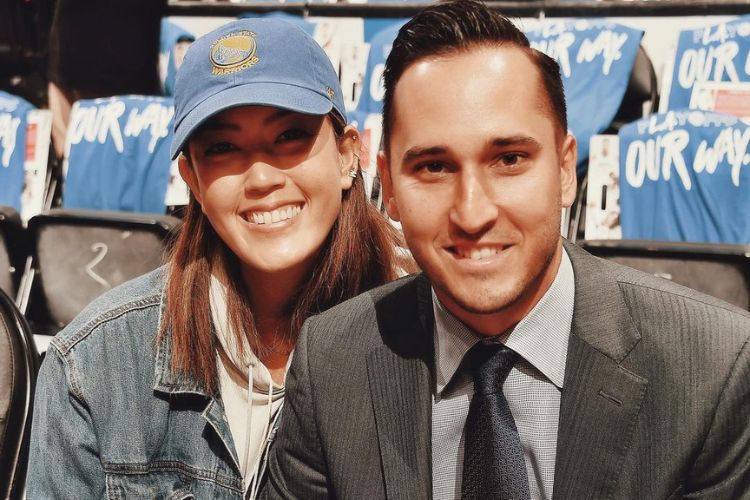 At the time, West also worked as a management intern at Wasserman Media Group and then made his way to the G-League affiliate team Santa Cruz Warriors. He took the role of Associate General Manager in 2014.
West worked at Santa Cruz Warriors until 2016 before joining Golden State on a full-time basis. His first role at Steve Keer's team on a full-time basis was as Director of Player Programs.
After two years in that role, Jonnie was promoted to Director of Basketball Operations. In his previous interviews, Jonnie has said the goal is to be the general manager of the Warriors.
Michelle Wie And Husband Jonnie West Relationship
Michelle Wie and her husband, Jonnie West, met through former world no.1 golf player Justin Thomas.
Justin was good friends with Michelle when they lived in South Florida, and he knew Jonnie because of his dad, Jerry West. Justin lived in Jerry's home during a PGA Tour stop at Riviera and built a connection with Jonnie while attending Warriors' games.
In an interview, Thomas said only an hour after they met, both texted him asking about each other. Thomas being a perfect matchmaker, told both that they should meet up.
At first, he didn't think it would lead to marriage, but not only did that meeting lead to a marriage, but also a kid.
Jonnie first appeared on Michelle's Instagram handle in January 2019. She talked about how happy she was to have spent a few days with her love and is glad to see the Warriors win in DC.
She then shared an appreciation post for Jonnie on Valentine's Day, and by the time March came, they had taken a big step in their relationship.
The Proposal And Wedding
Michelle shared a series of pictures, including Jonnie going down on one knee on her Instagram handle. She captioned the post, "My person for life!" and the proposal happened in San Francisco, California.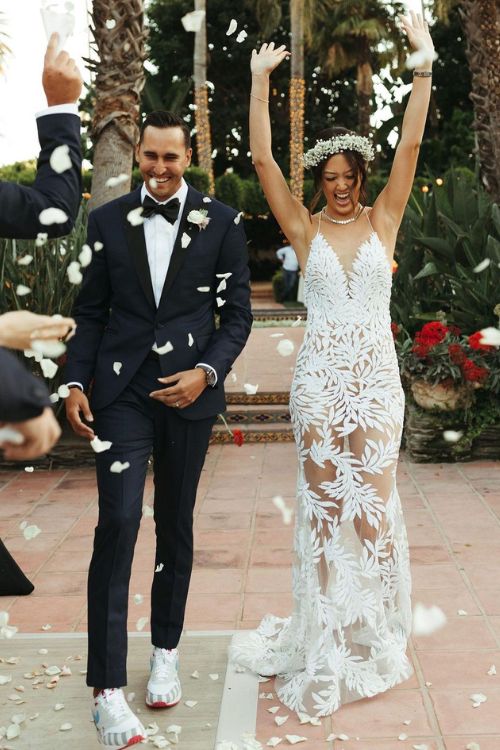 In another slide, Michelle showed off her beautiful engagement ring while hugging her future husband. One of the main sources of their connection also lies in their love for golf.
During a podcast, Michelle shared that Jonnie kept up with golf more than her. The couple tied the knot in Beverly Hills, California, on August 10, 2019, with their close family and friends in attendance.
Draymond Green, Stephen Curry, and Andre Iguodala were a few A-listers who joined Michelle and Jonnie to celebrate their special day.
Michelle And Jonnie Share A Daughter
Five months into their marriage, Michelle took to her Instagram to announce the exciting news of her pregnancy.
She shared a photo of her and Jonnie holding baby shoes and onesie with their dog, also dressed in a T-shirt that read, "Big Brother."
For the upcoming months, Michelle continued to share pictures of her growing baby bump while keeping herself fit with light exercises.
On June 19, 2020, Michelle and Jonnie welcomed their first child Makenna Kamalei Yoona West. Michelle has shared pictures of Makenna on her Instagram but makes sure not to show her face or add an emoji to it.
Last year, with her dad and mom, Makenna enjoyed her first parade as Golden State Warriors became the NBA Champions for the seventh time.