Raised by a single mother, Jordan Davis is a young NFL player who made his NFL debut in 2022. Davis is an emerging footballing prospect who wowed everyone by tracking the running backs and quarterbacks out of the backfields.

Before debuting in NFL, Jordan had already made a name throughout his college career. Henceforth, Jordan managed to get a name and fame quickly.
Besides, Jordan and his team won College Football Playoff National Championship in 2022. Further, Davis was honored with the Chuck Bednarik Award and Outland Trophy during his senior year.
Jordan returned to the team's lineup on December 2, 2022, from a high ankle sprain that cost the rookie four games. He got injured on October 30 in a game against the Steelers.
As per the Philadelphia Eagles, the American defensive tackle lost around 20 pounds (9kg) while working with the Eagles' athletic training staff.
Furthermore, Davis won against the 49ers with the Eagles on January 30, 2023, and registered 2 tackles. The Eagles will face the Kansas City Chiefs at the Super Bowl LVII on February 12, 2023.
To know more about Jordan, stay with us till the last of this article. But before we start this article, let us have an instant glance at the quick facts.
Quick Facts
Full Name
Jordan X. Davis
Place of Birth
Charlotte, North Carolina
Date of Birth
January 12, 2000
Nationality
American
Age
23 Years Old
Religion
Christianity
Ethnicity
Black
Education

Hopewell High School

Creek High School

University Of Georgia

Mother's Name

Shay Allen

Siblings


Donovan Davis
Yashua Davis

Height
6'6″/198 cm/1.98 m

Weight
152 kg/336 lb.
Eye Color
Black
Hair Color
Black
Profession
Professional Football Player
Position
Defensive Tackle
Affiliation
NFL
Net Worth
$1 Million
Sexual Orientation
Straight
Relationship Status
Single
Team
Philadelphia Eagles
Girlfriend
N/A
Merch (Philadelphia Eagles)
T-shirt, Hoodie, Hats
Social Media
Instagram, Twitter
Last Update
2023 May
Early Life & Education
Jordan Davis was born on January 12, 2000, in Charlotte, North Carolina. Davis was 7 pounds 9 ounces and 12 inches at his birth. Henceforth, everyone who saw him for the first time thought he was already a year old.
A single mother raised Davis; his mother, Shay Allen, was highly supportive and provided him with everything he wanted.
When Davis was a child, he had to live with his maternal grandmother for a while because Allen was busy working in the sheriff's office.
Besides, the love for football in Davis started with his mother; even though they lived in North Carolina, Shay was a massive fan of the Philadelphia Eagles.
Raising a child alone wasn't easy for Shay; Davis was a big food lover, and his growing appetite was causing a lot of trouble for Shay.
But Shay came up with an idea to save her bills; she admitted Davis to Mallard Creek High School and recruited him to the school football team.
The only reason to do that was during Creek's summer practices, they offered their football students complimentary breakfast and lunch.
However, shifting to football was not easy for Davis. His physical ability and knowledge of the game were not enough. Still, he gradually managed both factors and started liking football.

Davis chose football over basketball at the University of Georgia. However, he even got offers from Clemson, Florida, Miami, and North Carolina, but he rejected all the proposals, joined Georgia, and graduated in 2021.
Career
As mentioned earlier, Jordan started playing football when he moved to Creek High School, but he rose to fame after playing college football for the University of Georgia.
College Career
Talking about the initial season of his college career, he only played eleven games in the first year.

Davis recorded twenty-five tackles and 1.5 sacks in those eleven games. Because of this record, he was even awarded to the SEC All-Freshman team and a Freshman All-American by the Football Writers Association of America.
As the years passed, his gameplay also improved, and during his second year, he made a record of eight tackles, 2.5 sacks for wins, and 4.5 tackles for loss in 2019.

But unfortunately, the Covid-19 pandemic shortened the 2020 season, but it didn't stop him from making a record of sixteen tackles. Besides, he even led his team to win the 2021 Peach Bowl.
After the pandemic got normal, Davis had his first best regular season as he made a record of thirty-two tackles and two sacks.

Similarly, Davis and his team also won their first college football playoff national championship since 1980 against Alabama (33–18). Henceforth, Jordan graduated from Georgia, and the rest is history.
NFL Career
NFL is a dream for all professional football players, and Jordan is no exception; Jordan Davis got drafted by Philadelphia Eagles in the first round (13th overall) of the 2022 NFL Draft.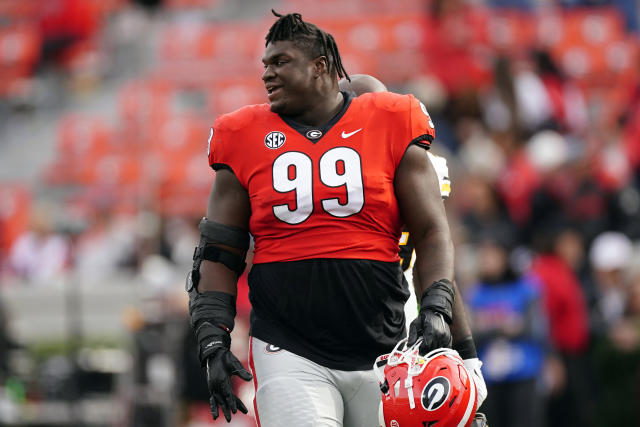 Besides, Jordan also became the third player in the history of the NFL over 330 pounds to run under five seconds. Talking about his run, he ran a 40-yard dash in just 4.78 seconds at the 2022 NFL Combine.
Furthermore, Davis registered 2 tackles with the Eagles in the win against the 49ers on January 30, 2023. The Eagles will face the Kansas City Chiefs at the Super Bowl LVII on February 12, 2023, against players like Nick Bolten, Orlando Brown, and more.
However, this is just the beginning for Jordan, and he still has a long way to go. Nonetheless, as soon as Jordan accomplishes something significant in his career, we will update you.
NFL Profile Analysis
Lance Zierlein, an analyst in NFL, has reviewed Jordan's profile based on his game plays. According to Lance, Jordan is one strong tackle who can block the drain and change the offense's inclination to run between the tackles.

Davis possesses the anchor and quick-shed skills to destroy single blocks and effectively occupy double teams, allowing linebackers to excel in chasing ball carriers.
He plays straight-ahead and lacks the agility and ability to respond to situations to load up a stat sheet consistently, but that's not what he's expected to accomplish.
Further, Lance mentions that Jordan has the potential to develop into one of the league's top run pluggers as soon as he steps onto the field.
The current rating of Jordan Davis is 6.50, which means boom-or-boost potential. Besides, as per Next Gen Stats of NFL, Jordan is considered a good player with an overall draft score of 84 points.
Contract
Jordan has signed a four-year contract with Philadelphia Eagles worth $17 million.
Similarly, Davis was paid $9,550,384 as a signing bonus. he earned $705,000 as an average salary in 2022.
His salary is expected to increase to $1,028,149 in 2023. Nonetheless, Jordan Davis' contract is fully guaranteed, with a fifth-year option available and a roster bonus from 2023-2025 certified at training camp.
Body Measurements
At the time of writing, Davis is 23 years old. His complexion is dark, and he has black hair and black eyes. The football player weighs around 336 lbs and is 1.98 m tall.
Unquestionably, he has maintained his body correctly and has a fantastic physique. Even though he is a bit healthier in terms of his weight, he hasn't let his weight be an obstacle to his games.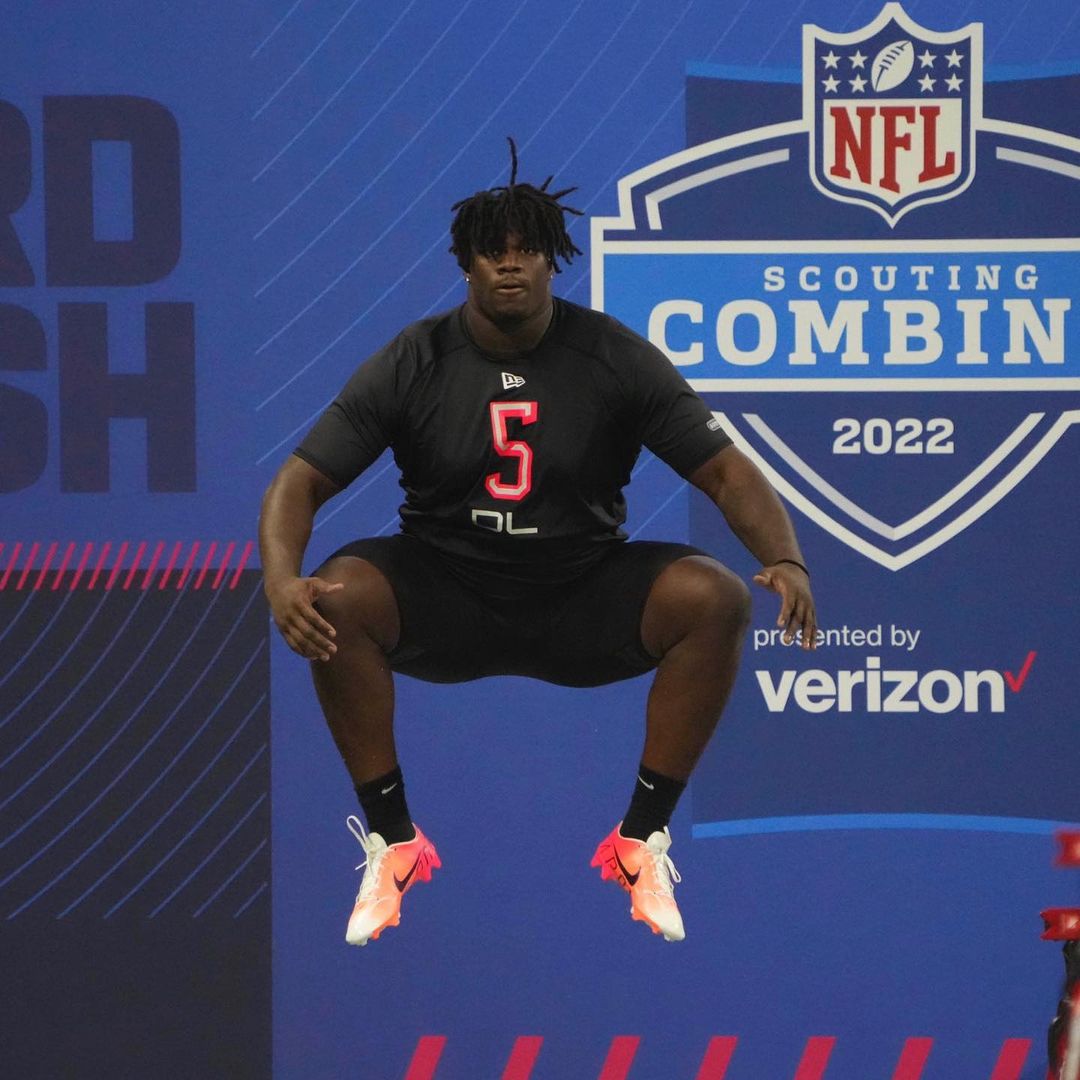 According to Davis' birth chart horoscope, he is a Cancer. His horoscope defines him as a nurturing, sensitive, and compassionate person. Undoubtedly, Davis is a passionate person who loves sports and is dedicated to his work.
Personal Life
Davis is one of those people who prefer to work and live a better life over being in a relationship and getting married.
Jordan is currently preoccupied with advancing his profession and is total career-focused.
Sadly, we could not uncover much information on Jordan Davis' private life. But as soon as we learn anything about it, we'll update you.
Social Media Presence
Davis is a young Gen Z and is active on several social media platforms. Likewise, Jordan posts many of his activities on his Instagram and Twitter.
Instagram: 9.4k followers
Twitter: 77.3k followers
View this post on Instagram
Apart from that, Jordan prefers to keep his private life a secret and avoids unnecessary media attention. He also chooses to keep his parents away from news portals.
Popularity Graph
Davis is an active player and plays for the Philadelphia Eagles. His Google search seems to be slightly rising from December 5, 2021.
The picture shows his search graph over 12 months.
Frequently Asked Questions (FAQS)
Is Jordan in contact with his father?
No, he isn't. Jordan was small when his father left him and his brothers. After that, he was raised by his mother and maternal grandmother. Henceforth, Jordan is not in contact with his father.
What is Jordan Davis's max bench press?
Jordan Davis' max bench press is 107.5 kg and 202.5 kg while deadlifting.
Is Jordan Davis the fastest NFL player?
No, he isn't. Even though Jordan is praised for being fast, John Ross is the fastest NFL player.