Julius Yego is a professional Kenyan track and field athlete specializing in javelin throws. Yego is one of those few names people cannot miss out on while talking about professional javelin throws.
Besides, this fantastic athlete holds numerous records, which are still unbroken, like being the first Kenyan to win gold in the Commonwealth games field events.
Similarly, Julius never had professional training; whatever he has learned about Javelin is from YouTube. Hence, he is also called "Mr.YouTube."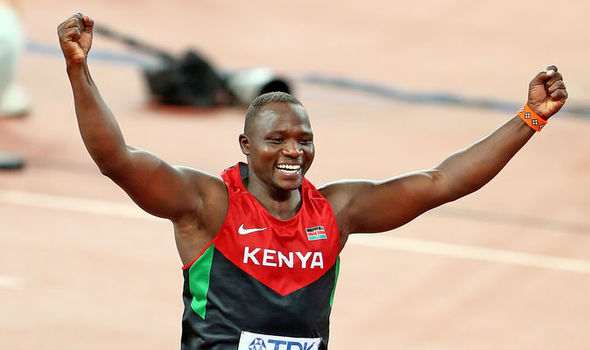 Today in this article, we discuss the life of Julius Yego, from his childhood, career, and personal life to his love life and many more.
But before we proceed with this article, let us examine the quick facts.
Quick Facts
Full name
Julius Yego
Birthdate
4 January 1989
Birthplace
Cheptonon (Soba River), Tinderet, Nandi District
Nationality
Kenyan
Horoscope
Capricorn
Age
34 years old
Father's name
Unknown
Mother's name
Unknown
Education
Kapsabet Boys High School
Nickname
Mr. Youtube
Ethnicity
Black
Event
Javeline Throw
Brother's Name
Henry Kiprono
Marital status
Married
Wife
Sincy Yego
Children
Jarvis Kiptoo
Height
5'9″
Weight
85 kg (187 Pounds)
Body type
Athletic
Eye Color
Balck
Hair Color
Black
Profession
Professional Javelin Thrower
Sport
Track and Field
Personal Best Records
92.72 meters in 2015
National Team
Kenyan National team
Medals and Achievements

Silver Medal in the 2016 Olympics
Gold in World Championship, 2015
Winner of All-Africa Games, 2011
Gold in Commonwealth Games, 2014
Three times African Championship Winner

Club
Unknown
Coach
Petteri Piironen
Net Worth
$1 Million-$5 Million
Social Media Handles
Instagram, Twitter
Merch
Javelin Throw Equipment
Last Update
March, 2023
Julius Yego: Early Life and Education
Julius Yego, the Olympian, was born on 4 January 1989 in Cheptonon (Soba River), Tinderet, Nandi District.
Likewise, Julius's Father was a farmer while his mother was a housewife. Julius and his brother used to help their parents on the farms.
However, not much information has been found regarding his parents, but we will update you soon as we find any information.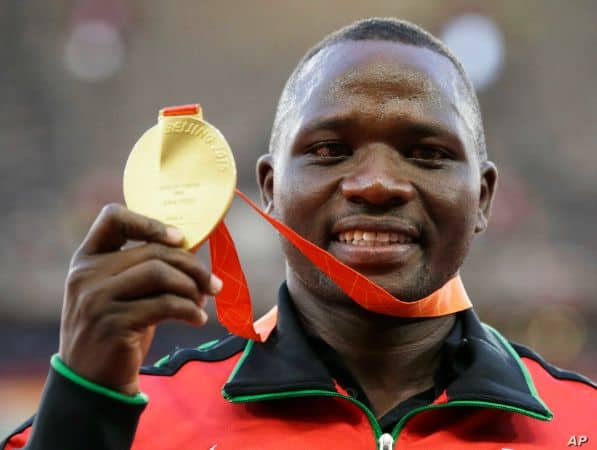 However, Julius developed an interest in the Javelin from a very early age. His love for the game started while herding cattle; to pass the time, he used to throw sticks.
Undoubtedly, Yego had a tough childhood where they lacked basic facilities. Still, his Father knew the importance of education, and luckily, Yego got the opportunity to attend Kapsabet Boys High School.
Surprisingly, whatever Julius knows about Javelin, he got it from YouTube. Argo, his nickname "Mr. YouTube."
You can also read about Ryan Crouser: Shot Put, World Record, Family, and Olympics >>
Julius Yego: Age and Body Measurements
Julius is 34 years old and is happily married. He celebrates his birthday a few days after Christmas every year.
Likewise, we would like to add that he is passionate; he is always learning new things and is dedicated to his work. In addition, his throwing skills and his Javelin knowledge are marvelous.
He is one of the most talented throwers in the whole of Kenya. He has a charm that can attract any soul. All appreciate his confidence, and that makes him even more attractive.
Yego is 5 feet 9 inches tall and weighs around 85 kg. Indeed, he has an attractive physique as he works out a lot to maintain his body.
Plus, he has beautiful black eyes and black hair.
Julius Yego: Professional Career
As we already know from a very early age, Julius was interested in the Javelin, but professionally he started his journey in 2003.
During his high school days, Yego participated in regional championships.
However, in the beginning, for almost three years, he couldn't accomplish much in his career. But his life took a turn in 2006 after he won his first-ever competition.
Yego set a new record with 67 meters and became the Kenyan Junior champion.
Within a brief period, Yego successfully gained some name and fame. Further, Yego was also in the top position after winning his first national title in the javelin throw.
Moreover, at 19, Yego became the national champion. He managed the top position for many years.
Similarly, during the 2010 African Championship, Yego showed a splendid performance and set this personal best record of 74.51 meters.
Nonetheless, after conducting this level of performance, he even won bronze in Nairobi.
Rise of Julius Yego
Besides, in 2010, he even traveled to New Delhi for the commonwealth games. Yego got this opportunity after showing an excellent javelin throw on his game trial.
Sadly, with a low-distance throw of 69.60 meters, he completed the tournament in the seventh position due to the lack of proper training and coaches.
Even though he didn't get professional training, he stayed in the top position in Kenya for four years.
Moreover, Julius was also awarded a six-month scholarship to train professionally in Europe. As a result, he was allowed to participate in the 2012 London Olympics.
London Olympics
After training for two months at the IAFF-accredited in Kuortane, Finland, Yego was all set to compete in the 2012 London Olympics.
Likewise, Yego was the very first Kenyan athlete to participate in the Olympics track and field. In his first match, he set a new record of 79.95 meters.
During Yego's 2012 London Olympics, he made an impressive 81.81 meters throw, which elevated him to the finals. But sadly, at the finals, he ended up in 12th place.
However, he has many opportunities to improve his throw with the new year, which he certainly did at the 2013 World Championships in Moscow by winning.
During the competition, Julius threw 85.40 meters and ended up in fourth place. As a result, Yego becomes the first-ever Kenyan athlete to reach the finals at the World Championships.
That same year, Yego was also ranked in the top 10 positions by Track & Field News.
Best Phase in Career
After many years of hardship and struggles, Yego finally reached the position he wanted to be in 2014. Undoubtedly, that year, he won his first-ever gold medal in the commonwealth games.
Furthermore, that same year he won a gold medal for African Championships after defeating Ihab Abdelrahman El-Sayed and created a new season-best of 84.72.
Similarly, Julius improved his throw to 87.71 meters at the Golden Gala in Rome. That same year, Yego also won the British Grand Prix in Birmingham.
Yego's best was the massive throw of 92.72 meters, which lasted till 2021; with that throw, he won a gold medal at the 2015 World Championship.
Moreover, this fantastic athlete covered 88.24 meters and obtained a silver medal at the 2016 Summer Olympics in Rio de Janeiro.
Sadly, his right ankle got injured at the last moment, and Yego could only throw the Javelin once at 88.24 meters. However, he still managed to win a silver medal with that throw.
Julius Yego: Personal & Love Life
Undoubtedly, Julius is a top name in the track and field world, but not only is he a good athlete, but he is also a good human being. Moreover, Julius is a family man, and he is happily married to Sincy Yego.
Likewise, this gorgeous couple is blessed with a beautiful child, Jarvis Kiptoo. Even though Julius is a celebrity athlete, he keeps everything private.
Julius and Sincy live happy life, and we can say this because there are no rumors of separating or having a severe argument.
However, if we find any further information about their personal life, we will update you soon.
Julius Yego: Net Worth & Income
At the prime age of 34, Julius has successfully become one of Kenya's outstanding Javelin throwers.
Apart from the recognition and popularity, this young and talented player has also acquired remarkable wealth.
As of 2021, Yego has a net worth approx of $1 million to $5 million. And all this has been possible because of his career as a professional track and field athlete.
Besides, he also earns from his merch and has a merch of Javelin and shoes. Apart from that, Yego also makes a good amount of money from brand deals and endorsements.
Indeed, this Kenyan Javelin thrower lives a well-to-do lifestyle with his beautiful family.
Social Media Presence
No doubt, Julius Yego is one influential personality, and many people follow him. Moreover, Yego is active on social media.
He is primarily active on Twitter and is frequently seen tweeting about games and his career.
Besides he also has an Instagram account but is not very active on Instagram. However, on his Instagram, he posts about his family.
Yelena Isinbayeva Bio: Pole Vault, Child & Net Worth >>
Frequently Asked Questions (FAQs)
Has Yego retired?
No, Yego hasn't retired. However, he resigned as a team captain of Kenya for the Tokyo Olympics 2020.