Justin Herbert is one of the most promising quarterbacks in the current NFL scene. He plays for the Los Angeles Chargers and completed his third NFL season (2022-23) season, earning his first-ever playoffs.
Hailing from a family with a range of athletes, Herbert was picked sixth overall in the first round of the 2020 NFL Draft.
The Dolphins' Tua Tagovailoa and Chargers' Justin Herbert have been linked for their rivalry ever since they were drafted 5th and 6th in the 2020 draft.
Justin became the Charger's starting QB in the second game of his rookie year and remained the starter for the rest of the season.
Throughout his rookie season, he broke several franchise records and was named the AP NFL Offensive Rookie of the Year.
Herbert was named to his first Pro Bowl in 2021.
With three NFL seasons (2020, 2021 & 2022), Herbert's NFL stats stands at 1,316 pass completions (out of 1,966 attempts), completion percentage of 66.9% & 94-35 touchdown-interception for a total of 14,089 yards.
For more details, please read the whole article and also the facts table below.
Quick Facts
Birth Name
Justin Patrick Herbert
Nickname
Justin
Date of Birth
March 10, 1998
Birthplace
Eugene, Oregon, United States
Religion
Christian
Sexual Orientation
Straight
Father Name
Mark Herbert
Mother Name
Holly Herbert
Gender
Male
Age
25 Years Old
Profession
NFL Player
Nationality
American
Education
Sheldon High School, University of Oregon
Height
6 ft. 6 in/1.98 m/198 cm
Weight
236 lb./107 kg
Shoe Size
13 (US)
Eye Color
Brown
Hair Color
Brown
Build
Large
Marital Status
Unmarried
Girlfriend
Taylor Bisciotti (Rumored)
Children
None
Siblings
Patrick Herbert (Brother), Mitchell Herbert (Brother)
Zodiac Sign
Pisces
Team
Los Angeles Chargers (2020-Present)
Position
Quarterback
NFL Stats (As Of 2022-23 Season)
Passing Attempts: 1,966

Passing Completions: 1,316

TD-INT: 94-35

Completion Percentage: 66.9%

Passer Rating: 96.2

Passing Yards: 14,089

NFL Draft
2020/Round: 1/Pick: 6 (by LA Chargers)
Career Highlights

NFL Offensive Rookie of the Year(2020)
PFWA All-Rookie Team (2020)
Pro Bowl (2021)
William V. Campbell Trophy (2019)

Jersey Number
10
Net Worth
$4 Million
Social Media
Twitter, Instagram
Merch
Signed Rookie Card, Signed Chargers Proline Helmet
Last Update
November 2023
Parents & Early Life Of Justin Herbert
Early Life
Justin Herbert was born Justin Patrick Herbert in Eugene, Oregon, United States, to his father, Mark Herbert, and mother, Holly Herbert.
Herbert grew up with his two brothers, Mitchell and Patrick. This means he had someone to play the ball game with growing up.
Besides, he comes from a family with an athletic background. Rich Schwab, Justin's grandfather, played as a receiver at the University of Oregon in the 60s.
Similarly, his father ran track and played football at the University of Montana. Nevertheless, Justin is the only one in the family to make it to the NFL.
Both of his siblings are associated with football, though. His younger brother Patrick plays tight end for the Oregon Ducks at the University of Oregon. Similarly, his older brother Mitchell played at Montana State University as a wide receiver.
He was a fan of the San Diego Chargers growing up and always dreamt of playing at the professional level in big stadiums.
Education
Scholar and a player, Justin attended Sheldon High School in his hometown of Eugene, Oregon. He excelled in several sports as a high schooler, including basketball, baseball, and football.
Justin played high school football for Sheldon Huskies. However, he sustained a broken leg in the third game of his junior season.
Nevertheless, he honed his skills over the years, and as a senior, Justin was named Southwest Conference Offensive Player of the Year and 1st Team All-State.
His excellent performance in his senior year made him one of the top prospects for college football.
And unsurprisingly, several well-known colleges, including Montana State, Northern Arizona, and Portland State, offered Justin an athletic scholarship.
Nevertheless, he passed all those and Nevada's FBS offers and committed to Oregon in October 2015. He played colligate football for the Oregon Ducks.
After four years of University studies, Herbert graduated with a bachelor's degree in general science in 2019.
Age, Height, Weight & More
Born in 1998, Justin Herbert is 25 years old as of 2023. The young quarterback stands 1.98 meters tall and weighs around 236 lbs.
Herbert hits the gym every day and works out hard to maintain his body, and stays ever ready to hit that TD line.
Some say he has a God-given talent that very few are blessed with. Nevertheless, it's his determination and hard work that has taken him this far. And from the looks of it, he's just getting started.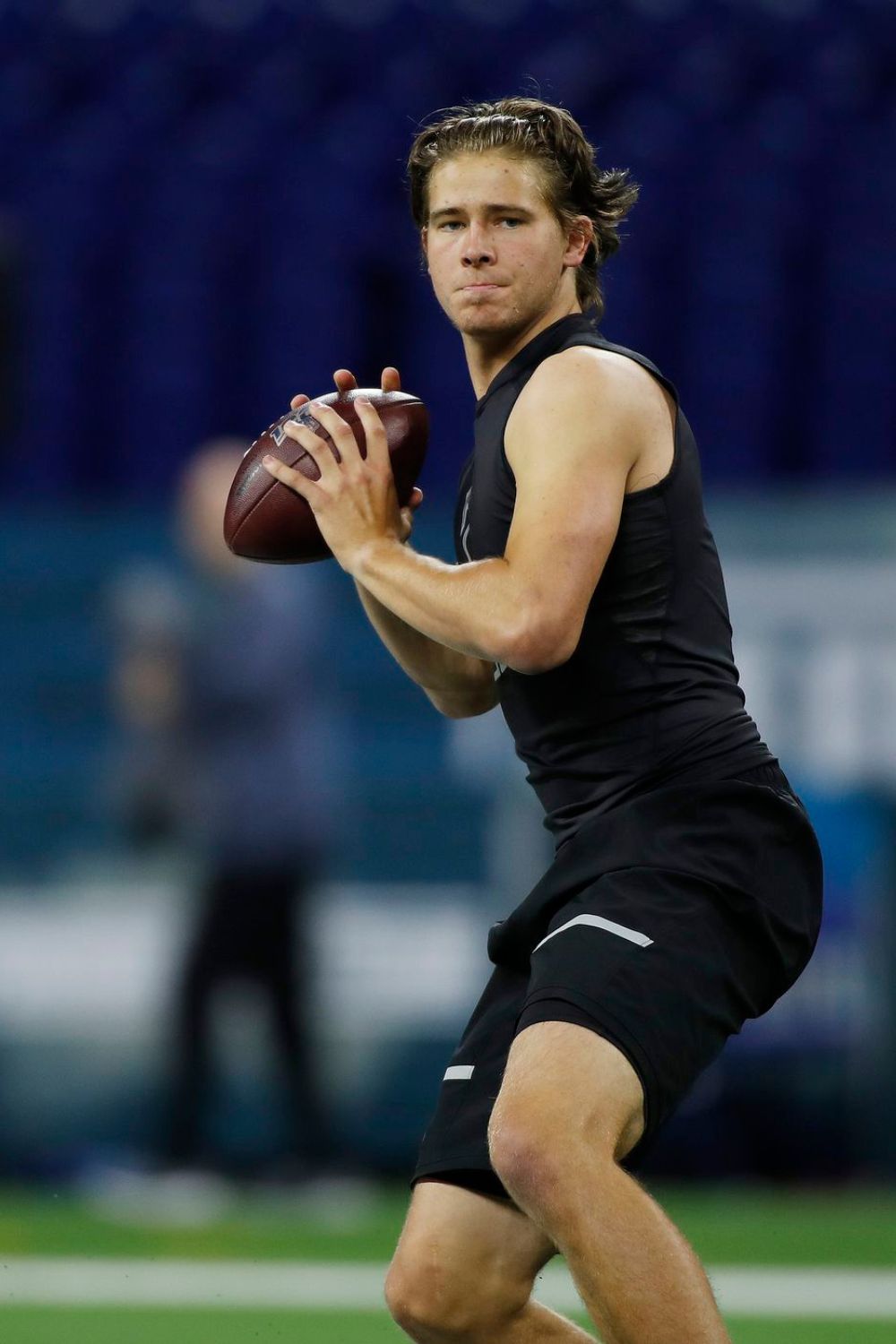 Herbert typically wakes up around 5 in the morning and immediately heads out the door.
He lives 10-15 minutes away from the Chargers' practice facility. Because of a weak stomach, he does not eat much in the morning and chugs a Gatorade protein bar or two.
Similarly, he has a sweet tooth for peanut butter cookies and mint chocolate chip ice cream.
Also, he never forgets to keep his body hydrated and drinks plenty of water and protein shakes.
NFL Draft & Professional Career Journey
A four-year college football varsity player, Herbert declared for the 2020 NFL Draft & became the sixth overall (round-one) choice of Los Angeles Chargers.
He was the third QB selected behind Joe Burrow (#1 pick) & Tua Tagovailoa (#5 pick) in that draft.
Herbert signed a four-year rookie contract with the Chargers on July 25, 2020.
Surprisingly, his jersey number 10 was listed as the 12th bestselling jersey to start the season.
He was initially named the backup for Tyrod Taylor ahead of Week 1 but replaced Taylor in Week 2 in a game against Kansas City Chiefs on September 20, 2020.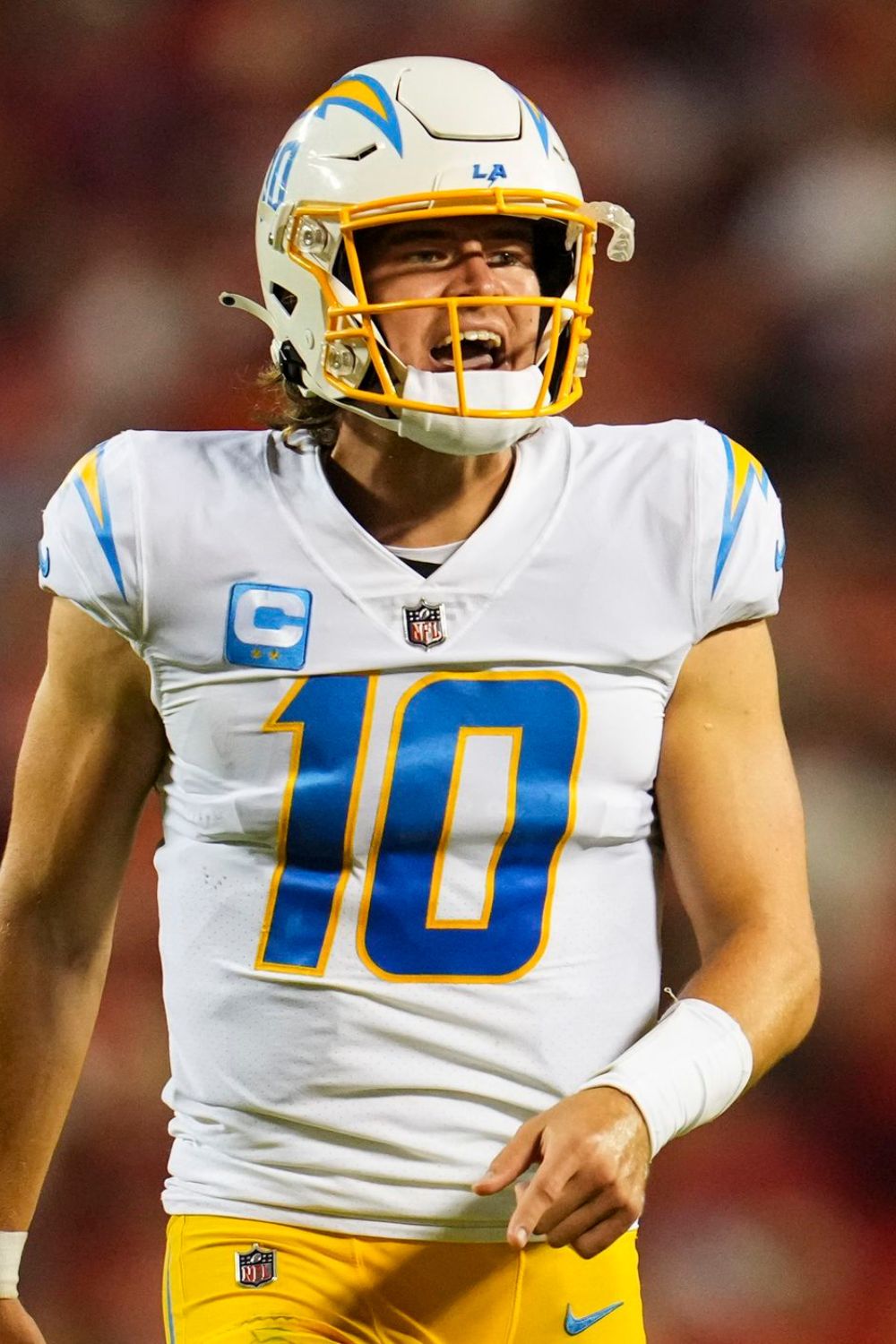 Herbert set a record for a rookie on December 27, 2020, when he threw his 28th passing touchdown of the season against the Broncos.
He concluded his 2020 season with 4,336 passing yards, ten interceptions, and 31 touchdowns.
In the 2021 season, Justin surpassed Andrew Luck's record for the most passing yards in a quarterback's first two seasons in Week 15, playing against the Chiefs. Likewise, he broke Dan Marino's record for the most total touchdowns in a quarterback's first two seasons.
Similarly, he broke the franchise record with 5,014 passing yards, 15 interceptions, and 38 passing touchdowns.
Playoff Debut & Injury In The 2022 Season
The start of the 2022-23 NFL season didn't go well enough for Justin Herbert. The quarterback suffered a fracture in his ribs cartilage in the Week 2 loss (24-27) against Kansas City Chiefs.
With the recovery, Herbert started in rest of the games (all 17 games) & concluded the season with 4,739 passing yards for 27-10 intercetpions-touchdowns.
He rushed 683 yards for 8 rushing tochdowns.
After the Chargers finished 2nd in the AFC West, Herbert got his first-ever NFL playoffs. But they lost to the Jaguars in the wildcard round.
Are Justing Herbert And Taylor Bisciotti Dating?
The Los Angeles Chargers quarterback Justin Herbert is rumored to be dating a sports commentator, Taylor Bisciotti.
Though neither party has confirmed the rumors, they have been seen together in LA on a number of occasions.
Similarly, Bisciotti has interviewed Herbert several times and has even uploaded the clips on her social media, which has caused a lot of speculation about their relationship.
But, she might be doing her job for all that matters. Cannot say for a fact.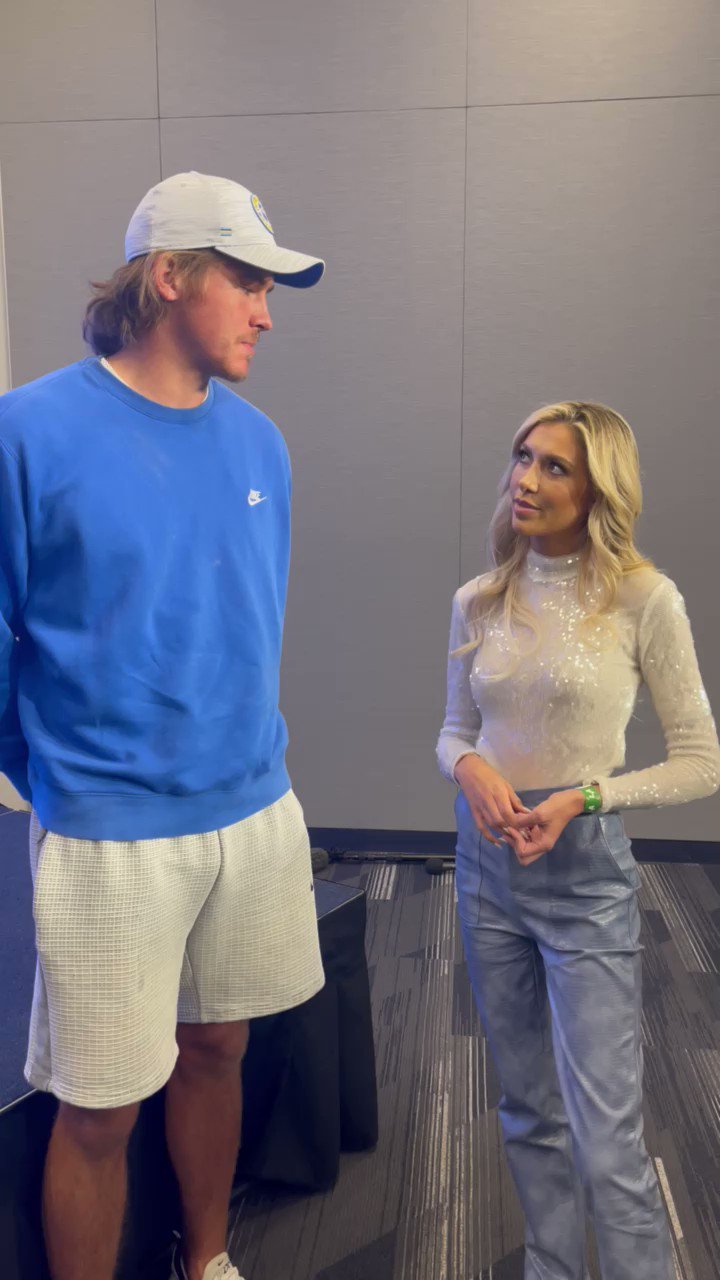 Justin's rumored girlfriend, Taylor, was born on October 5, 1991, in Atlanta, Georgia. She grew up with her four brothers.
She went to the University of Georgia and majored in business marketing and broadcasting journalism.
Similarly, Taylor interned at WUSA9 in DC after completing her college studies.
After she was done with her internship, Taylor got an opportunity with ESPN's SEC Network as a sideline reporter.
She currently works as a studio anchor and sideline reporter for the NFL network.
Net Worth & Earnings
Considered one of the promising NFL quarterbacks, Justin Herbert has a net worth of $4 million as of 2023.
Justin signed a four-year $26.6 million rookie contract with the Los Angeles Chargers on July 25, 2020, that runs through 2023-24 season.
According to the contract, he received a signing bonus of $16.89 million, a $6.6 million average annual salary, and the full amount guaranteed.
Up until now, Justin has earned close to $22.5 million from his NFL career.
According to Spotrac, he will possibly sign a six-year, $258,271,266 extension with the Chargers once his ongoing contract concludes.
Endorsement Deals
Indeed, the NFL player earned most of his money from his NFL contracts, but also the endorsement deals with high-profile brands and companies aided in fortune growth.
In April 2020, Justin Herbert signed a sponsorship deal with sports giant Nike, joining the list of 2020 rookie class signings: Jordan Love, Derrick Brown, Ceedee Lamb, & D'Andre Swift.
In September 2022, he inked a three-year deal with SoFi, that included "equity stake in the brand."
Other endorsements of the player includes Head & Shoulders, Bose, Chipotle, Flag & Anthem, FedEx, Dr. Squatch & EA Sports.
Justin Herbert | Awards & Highlights
Justin has achieved a lot in a short time in the NFL.
Here are some of his notable achievements
NFL Offensive Rookie of the Year (2020)
PWFA All-Rookie Team (2020)
Pro Bowl (2021)
William V. Campbell Trophy (2019)
Social Media Presence
The young athlete is active on almost all the social media handles.
He has over 617k Instagram followers, where he shares about his professional endeavors, personal recreational activities, workout reels, and many more, which his admirers love.
View this post on Instagram
Similarly, Herbert has a Twitter account, but is not much active on the platform.
Popularity Graph
Unknown Facts
Justin Herbert was ranked 40th by fellow players on the NFL Top 100 Players of 2022. His fellow players had ranked him 56th on the NFL Top 100 Players of 2021.
Justin was named the 30th William V. Campbell Trophy recipient during the 2019 college season. The trophy is also referred to as the Academic Heisman.
He won the 2019 Pac-12 Championship during his time with the Oregon Ducks. Also, he was named MVP of the 2020 Rose Bowl.
Frequently Asked Questions (FAQS)
Is Herbert an elite quarterback?
Herbert has already astounded the league in his first-three seasons with the Chargers, so much so that he is considered one of the elite signal-callers in the league.
How many years has Herbert been in NFL?
Quarterback Justin Herber became the first-round 6th pick of LA Chargers in the 2020 NFL Draft. He has played three seasons with the Chargers to date.