Justin Jackson is a professional basketball player for the NBA G League's Texas Legends. Currently, he is one of the most looked-after players in the NBA.
Justin began his basketball career with the Homeschool Christian Youth Association (HCYA) and played for the North Carolina Tar Heels in college.
The small forward was awarded co-MVP of the 2014 McDonald's All-American Boys Game alongside Jahlil Okafor.
Justin was selected 15th overall by the Portland Trail Blazers in the 2017 NBA Draft. However, he was later traded to the Sacramento Kings on draft night.
In 2021, he also won an NBA championship with the Milwaukee Bucks.
In this article, we have added everything that you need to know about the NBA star. We have also included information about his marriage, wife, kids, and net worth.
So, do read the article to the end! However, firstly, go through some quick facts about Justin Jackson.
Quick Facts
Full Name
Justin Aaron Jackson
Birth Date
March 28, 1995
Birth Place
Houston, Texas
Nick Name
Justin
Religion
Christianity
Nationality
American
High School
Homeschool Christian Youth (Houston, Texas)
College
University of North Carolina
Playing Career
2017-present
Zodiac
Aries
Chinese Zodiac
Pig
Father's Name
Lloyd Jackson
Mother's Name
Sharon Jackson
Siblings
Jordan Jackson, Jonathon Jackson, and Jada Jackson
Age
28 years old
Height
6'8″
Weight
100 kg
Food Habits
Non-vegetarian
NBA Draft
2017, Round: 1, Pick: 15th overall
Hair Color
Black
Eye Color
Black
Career Highlights and Awards

NBA champion (2021)
NCAA champion (2017)
Consensus first-team All-American (2017), etc.

Build
Athletic
Marital Status
Married
Children
One daughter, Luna Star Jackson
Wife
Brooke Jackson
Position
Small forward
Profession
Basketball Player
Net Worth
$1-$5 million
League
NBA G
Social Media
Instagram, Facebook, Twitter
Merch
Cards
Last Update
March 2023
Early Life and Education
Justin Jackson was born in Houston, Texas, on March 28, 1995. His mother's name is Sharon Jackson. Likewise, his father's name is Lloyd Jackson.
Lloyd Jackson and Sharon Jackson met at Blinn Community College. Sharon was an outstanding collegiate basketball player. She used to be a forward.
Many of you may not know that Sharon taught Justin most of his basketball fundamentals. Lloyd and Sharon have four children altogether.
Justin Jackson is the eldest among them all. He is joined by three younger siblings: Jordan Jackson, Jonathan Jackson, and Jada Jackson.
Justin received his High School education from Homeschool Christian Youth College. After high school, he attended the University of North Carolina.
High School Career
Justin was a member of the Homeschool Christian Youth Association (HCYA), a non-profit Christian service organization that serves homeschool families and kids in Houston and the surrounding region.
In the 2012 season, he led the Warriors to a national title and received the Sullivan Award, which is given to the finest homeschool basketball player of the year.
Justin continued to flourish in his last year, averaging 31.5 points and 9.1 rebounds in a great season.
Moreover, Justin established himself as one of the most powerful high school athletes in the country, prompting widely publicized recruiting.
Offers by Universities
The player was given offers by Baylor, Georgetown, Ohio State, Oklahoma, Oklahoma State, Maryland, North Carolina, Texas, Texas A&M, Virginia Tech, Virginia, and Washington.
Eventually, the small forward signed with North Carolina. Jackson considers his decision to join North Carolina as one of the best decisions ever made by him.
In North Carolina, the player was marked as one of the top players in the Class of 2014.
Following his years with HCYA, Justin was named to the 2014 McDonald's All-American Boys Game on January 29, 2014.
After scoring the game's opening few points, the North Carolina prospect was voted co-MVP alongside Jahlil Okafor.
Justin ended with 23 points off 11-of-12 shooting, making him the game's top scorer. Jackson also won the Jack Daly Award for his sportsmanship.
<<<Serge Ibaka: NBA, Net Worth & Charity>>>
College Career
Justin attended the University of North Carolina. During his three-year college career, Justin was awarded ACC Player of the Year, First-Team All-ACC, and a consensus first-team All-American in 2017.
The American player had sixteen points and four rebounds in the Tar Heels' sixth NCAA Division I Men's Basketball Tournament triumph.
Likewise, Justin declared for the 2017 NBA Draft on April 13, 2017.
Justin Jackson: Professional Career
Early Years
The Portland Trail Blazers picked Justin with the 15th overall choice in the 2017 NBA Draft.
On draft day, he and Harry Giles were traded to the Sacramento Kings in exchange for Zach Collins. Similarly, on July 8, 2017, the player agreed to terms with the Kings on a four-year, $13.5 million rookie-scale deal.
The Kings exercised Justin's $3.3 million club option for the 2019–20 season on October 26, 2018.
After playing for the Kings for a season, on February 6, 2019, Justin and Zach Randolph were traded to the Dallas Mavericks in exchange for Harrison Barnes.
In a three-team transaction, including the Detroit Pistons, Justin Jackson, Trevor Ariza, and a 2023 second-round pick were moved to the Oklahoma City Thunder on November 27, 2020.
After 33 appearances, he was released by the Thunder on April 5, 2021. Likewise, Justin signed a two-way deal with the Milwaukee Bucks on April 21, 2021.
The player went on to win an NBA title with the Bucks on July 20, 2021, after appearing in five games and averaging 1.2 points per game during the 2021 NBA Playoffs.
The Bucks declined to extend Jackson a $1.8 million qualifying offer on August 1, leaving him an unrestricted free agency.
Later Years
The player returned to the Dallas Mavericks on October 15, 2021, but was released the next day. On October 23, he joined as an affiliate player with the Texas Legends, playing 10 games and averaged 22.7 points, 7.7 rebounds, and 2.9 assists.
The player did not stay with the Texas Legends for long. He signed a 10-day deal with the Boston Celtics on December 18, 2021.
After his 10-day contract ended on December 29, 2021, Justin was reacquired and activated by the Texas Legends. But, Jackson did not appear in a game for the squad before the Legends resumed play.
Likewise, Jackson signed a 10-day COVID-19 hardship exemption deal with the Phoenix Suns on January 5, 2022, after the team waived Emanuel Terry.
The player was re-acquired by the Texas Legends after his 10-day contract ended.
Similarly, Jackson signed a second 10-day deal with the Phoenix Suns on February 1, 2022, this time under an injury exception. However, he was eventually freed on February 10, 2022.
Following that, the Texas Legends re-acquired Justin on February 12, 2022.
Further, read about, "Joe Alexander: Injuries, Career & Leagues ">>
Career Highlights and Awards
2021 NBA champion
2017 NCAA champion
2017- Consensus first-team All-American, ACC Player of the Year, and First-team All-ACC
2015 ACC All-Freshman team
2014- McDonald's All-American, McDonald's All-American Game co-MVP, First-team Parade All-American
Justin Jackson and Coach Roy Allen Williams
Justin considers himself to be very fortunate since he got an opportunity to be coached by Roy Allen Williams.
According to Justin, ever since he was little, he was always a fan of UNC. He loved the way they played, and he loved their colors. In fact, the player loved everything about them!
In Justin's own words, "The only way a program stays as dominant and great as UNC has is by having someone like Coach Williams running it."
Justin says that he was very blessed to be coached by one of the most humble and hardest working men out there.
Williams taught him what it was to be a great student, a man, and then a basketball player! And that's what makes him one of the greatest to ever coach!
Age, Body Measurements and More
Justin Jackson was born in Texas in the year 1995. Hence, he is 28 years old.
The NBA player stands tall at the height of 6'8″. Likewise, he weighs about 100 kg. However, the player's other body measurements are not known.
Talking about Justin's other physical appearances, he does not have any visible tattoos carved on his body.
Justin's zodiac is Aries. People with the Aries sign are said to be determined, courageous, and loving. We must agree that the Jackson native is no different.
Justin Jackson: Marriage
The NBA small forward Justin Jackson married his long-time sweetheart, Brooke Jackson, on August 5, 2017.
The couple is in love with each other and their love grows stronger with every passing year.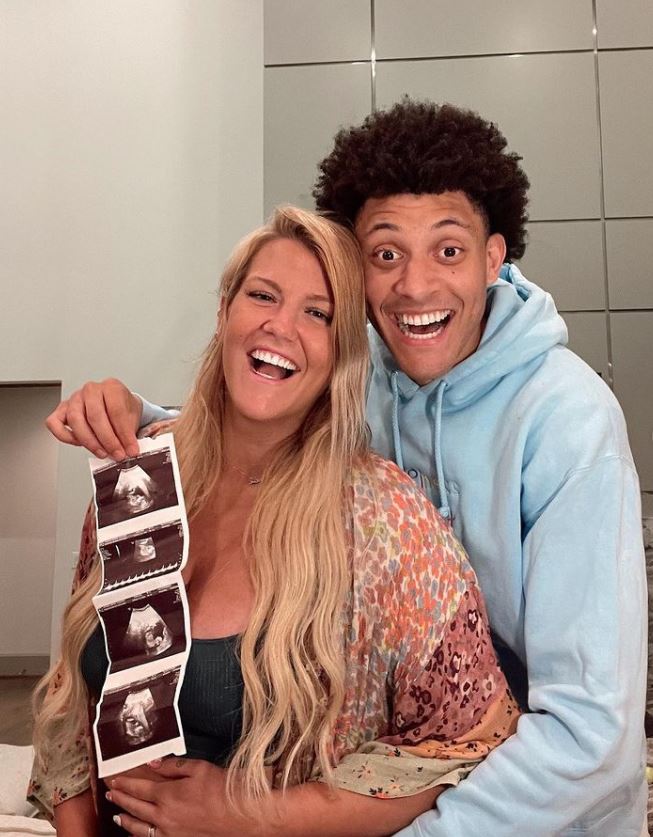 On their third marriage anniversary, the player did not hesitate to showcase his love for his wife on social media. Sharing a picture of their marriage ceremony, Justin captioned:
"At this exact time, 3 years ago, I married the woman that has changed my life FOREVER!!! The most beautiful, encouraging, loving, life-giving woman ever!!…From 3 years to FOREVER!! I love you so much, baby!!
Kids
The couple welcomed their child, Luna Starr Jackson, on November 20, 2021. Following the birth of Luna, Justin was quick to post on Twitter, letting the world know about Luna's appearance.
The player posted a photo of him kissing Luna with the caption:
"I vow to take care of you and love you every second of every day! Words can't describe the joy you bring to us, Luna bean!! We love you so much, baby girl!"
We all know that Justin is an amazing father to Luna. The little girl has already started to go to her father's basketball games to cheer him up.
GiGi's Playhouse Sacramento
GiGi's Playhouse was founded to transform the way the world perceives a Down syndrome diagnosis and to promote a global message of acceptance to all.
The first Playhouse was built to be an inspiring and devoted space for families to celebrate their kids while also benefiting from free, meaningful programming that inspires joy, confidence, and ongoing progress.
Justin Jackson and Brooke Jackson have been advocates of Down syndrome and have supported GiGi's Playhouse since the very beginning.
In an Instagram post, Jackson mentions that the idea of GiGi's playhouse was brought to Jackson by his wife, Brooke.
If you want to know more about GiGi's playhouse and the couple's involvement in it, you can watch the PodCast, which has been uploaded by GiGi on YouTube.
Also, go through "Zaza Pachulia: Early Life, Career & Family">>
Justin Jackson: Faith in God
The player follows Christianity and has huge faith in god. In 2013, the player tweeted and later shared the post on Instagram, saying that "I'm Christian! I'm not going to push it on you, but just know, nothing you say or do will change that!!".
The player mentions that he says a prayer before every game so that god is always with him. Further, his Twitter bio mentions that he is a believer.
Whatever happens next, Jackson understands that his mission and future are in the hands of the one who created him. It's God's plan.
Similarly, in his piece of advice for his brother, the player said, "Stay humble but always work as hard as you can!! Never settle!! And most and foremost, always remember where you get everything from and that's only from God."
Social Media
Justin Jackson: Net Worth
The small forward player has an estimated net worth of $1-$5 million. Justin makes most of his money from playing basketball.
The player earned $84,299 from the Milwaukee Bucks and $5,300,821 from Oklahoma City Thunder in the 2020/21 season.
Apart from that, just like another sportsman, the player also makes an additional sum of money from endorsements and sponsorship deals.
Unfortunately, the details about the players' houses, cars, and other assets are not available. We will update it as soon as possible.
FAQs
What is Justin Jackson's Jersey Number?
The NBA player Justin Jackson wears the Jersey no. 44.
Is Justin Jackson engaged in charity?
Yes, Justin is engaged in various charity works. During the public health crisis of Covid 19, the player donated 4,000 meals to the Los Angeles Regional Food Bank.