Is there anyone who can shake up an entire league at the age of 17? Undoubtedly, this man is born with unique sets of genes.
No teenager managed to accomplish more than what Kai Havertz achieved since his professional debut with Bayer Leverkusen at 17 years.
An aspiring football player from Aachen, Germany, Kai is a multi-tasker, moving between school and training grounds.
As if things weren't hectic enough for the young star, the German club Bayer Leverkusen recently appointed the Aachen-born team captain.
Moreover, we can see the club's trust in his abilities to lead the team. Havertz might be the youngest player to captain a top-flight team in the Bundesliga.
The two-footed attacker is an all-rounder with numerous comparisons to fellow German stars Toni Kroos and Mesut Ozil.
At the same time, Alleskonner is a quick, reactive player with a broader vision of the pitch's ongoings.
His adaptability to the playing situation and playmaking skills have made him an indispensable asset to both his club and the national team.
Learn more about proficient German. This article will discuss the early life, physical statistics, career, net worth, and personal life of the Alleskonner! I hope you enjoy the read.
Quick Facts
Full Name
Kai Havertz
Birth Date
June 11, 1999
Birth Place
Aachen, Germany
Nick Name
Kai; Alleskonner ( who can do everything)
Religion
Christian
Nationality
German
Ethnicity
White
Education
Landrat-Lucas High School
Horoscope
Gemini
Father's Name
Not Known
Mother's Name
Not Known
Siblings
Leah Havertz and Jan Havertz
Age
23 years old
Height
6'2 ″ (1.89 m)
Weight
82 kg (181 lbs)
Shoe Size
Not available
Hair Color
Black
Eye Color
Green
Body Measurement
Not available
Build
Ectomorph
Married
No
Girlfriend
Yes (Sophia)
Spouse
None
Position
Attacking Midfield
Profession
Football Player
Net Worth
1.9 million Euros
Clubs
Alemannia Aachen (Amateur team); Bayer Leverkusen;

Chelsea ( Current)

Jersey Number
#29 (Bayer Leverkusen & Germany)
Social Media
Instagram, Twitter, Facebook
Agency
Spielerrat GmbH
Kai Havertz | Early Life & Career | Where Was Kai Havertz Born?
Kai Havertz is a resident of Aachen, Germany, born on June 11, 1999. Although his parents' names remain under review, the German has two siblings who are utterly fond and protective of their little brother.
Similarly, Leah and Jan Havertz are occasionally pictured on Kai's social media in a family outing or gathering.
Despite his siblings' occupation being unknown, the German midfielder's mother works as a lawyer, and his father was an amateur football player and, at present, works as a policeman.
Also, Kai's father and grandfather's amateur football career was an influencing factor in his football pursuit.
Likewise, the entire family lived in a neighborhood with a training ground in their locale, which was also a prompting factor.
Robert Lewandowski Bio: Age, Height, Stats, Club, Career, Net Worth Wiki >>
Eventually, a 4-year-old Havertz found an inalienable affinity towards football. Since Alemannia Mariadorf was closer to his home, Kai's parents decided to enroll him in the particular academy.
Thereafter, seeing a bright future for their son in this sport, his parents set out building contacts with various clubs around Germany to impart a more professional finishing to a 9-year-old Havertz.
In like manner, Leverkusen, Cologne, and Gladbach showed an eagerness to include him in their ranks.
Due to proximity, Havertz's youth career got handed to Aachen Alemannia. In the meantime, Kai would also focus on his education as there must be a fail-safe plan if football didn't work out in the future.
Hence, the burgeoning footballer joined Landrat-Lucas High School, where he received primary education.
Upon completing high school, Kai prepared to study for A-Levels while also playing in a top-flight league with Bayer Leverkusen.
Kai Havertz | Age, Height, & Body Stats | How Old Is Kai Havertz?
At the time of writing, the Bayer midfielder is 20 years old. Similarly, the midfielder is remarkably tall with a height of 6'2″ (1.89 m), which has become quite advantageous for his heading feat.
In like manner, Havertz also weighs an average of 82 kg (181 lbs). Even with such weight, Kai has a seemingly leaner body frame and is rather bony than muscular.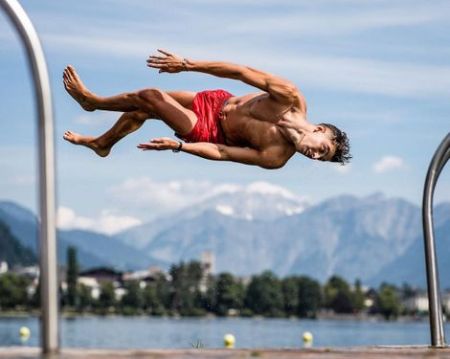 However, his physique has not dampened the skills; instead has been a trump card for the young German.
Agreeably, Kai can pick up more injury, but the attacking midfielder can showcase the skills that captivate the viewers in awe while in-form.
On the other hand, it is baffling how a man of Havertz's quality missed out on the Golden Boy Award.
However, awards need to define this youngster's potential; of what he is achieving with Bayer Leverkusen and the German national team.
Alphonso Davies Bio: Stats, Transfermarkt, Current Teams, Parents Wiki >>
Further, pundits dubbed him as Alleskonner, the opposition's nightmare, and judging how Kai plays, even fans like me can attest that this man has what it takes to be a top player- and as the German say it- Stark Spieler!
Additionally, the attacking midfielder possesses incredible pitch awareness and game visualization capability. Most importantly, the German is a complete player, as he drops back to the defensive line.
While not technically assisting in defending, Havertz drops back to collect passes and make a run to the opposition half to launch a counter-attack. Similarly, the attacker is adept with both his feet and even his head.
Besides, the current Leverkusen captain has impressive acceleration, eyes for goalscoring, creates spaces, provides game-changing passes, and is also robust on-air as well. Accordingly, Kai avoids the off-side trap to prevent the loss of open chances.
Kai Havertz | Career: Club & Country
In the beginning, Kai's gained actual football experience with amateur Alemannia Mariadorf. After playing six years at Mariadorf, the second-tier Alemannia Aachen signed an 11-year-old Havertz, who finally entered the sporting world as a professional.
Immediately, in the 2010 season, the top-tier German side Bayer Leverkusen swooped in to add to their youth forces. Subsequently, with the U-17 team, Kai scored 18 goals during the 2016 season.
The German is already creating a sensation in the Bundesliga, and undeniably, the German national team's future looks really bright.
Adjacently, Kai came on as a substitute for Charles Aranguiz on October 15, 2016, officially making a debut against Werder Bremen.
At the same time, at the age of 17 and 126, the attacking midfielder became the youngest debutante in the Bundesliga.
The Bundesliga recorded its 50,000th goal with Karim Bellarabi's finish assisted by Havertz.
Champions League Debut
Due to an unfortunate suspension of Hakan Calhanoglu, on February 17, 2017, the German international made his first-ever Champions League start in the Round of 16, wherein Leverkusen faced defeat at the hands of a composed Atletico Madrid.
If you are interested in buying soccer jerseys, click here>>
Although the German side planned out a comeback for the second leg, Kai had to miss out on the March fixture against Atletico as his examinations coincided with the match date. The club felt a massive gap in the midfield due to Havertz's absence.
Moving on, the attacking midfielder was lurking everywhere in a clash against VfL Wolfsburg and finally found an open net, thereby ending the match in a 3-3 draw. Moreover, on April 2, Kai became the youngest scorer for the club at 17.
Yann Sommer Bio: Wife, Height, Clubs, Stats, Net Worth, Instagram Wiki >>
During that season, the German international made 28 appearances in all competitions and netted four times, including a brace against the Berlin side Hertha BSC. Ultimately, Bayer finished in the 12th position.
There aren't enough words to talk about the talent exuded by the 20-year-old. Even if the spectator is rooting for the opposition, one cannot help but admire Kai's playing style; alluring yet straightforward, it's praiseworthy and intelligent all the same.
Bundesliga Hero
We don't see a teenager impress on a big stage, and playing in the top-tier in one of the best leagues is unfathomable.
However, the path doesn't end for the youngster; we have yet to talk more about his flourishing career.
Specifically, in April of 2018, at the age of 18 years and 307 days, Kai reached 50 Bundesliga appearances becoming the youngest player ever, overtaking Timo Werner, who previously held the record. In this campaign, Havertz netted three times with 30 appearances.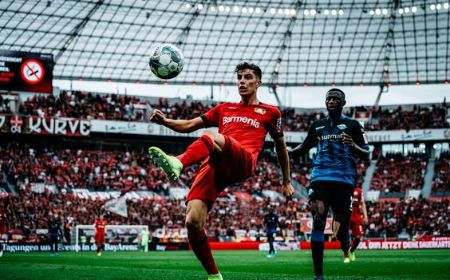 Regardless of Leverkusen's fifth-place finish, the German star decided to play for the club for a few more years.
With the contract extension that binds him until 2022, Havertz is also fulfilling his dream of playing in the Champions League.
At one point, the Leverkusen duo Julian Brandt and Kai Havertz were amongst the most feared attacking partnerships.
Eventually, Brandt moved onto Borussia Dortmund for the 2019/20 season; Kai stayed behind to help the club grow.
Federico Valverde Bio: Parents, Stats, Clubs, Transfer, Instagram Wiki >>
Again, the German international was on a streak of breaking records, as he yet again became the youngest Bundesliga player to score a penalty in a 3-0 win against Wolfsburg. He was only 19 at that time.
In the same season, Kai was the only player in the Leverkusen squad to continually appear in the starting squad and had already netted six goals.
In the upcoming month, the German international became the youngest player to have 75 appearances, one step behind Julian Draxler in a game against Fortuna Dusseldorf.
Likewise, Havertz celebrated his 100th Bundesliga appearance with a style as he came on to score one goal in an away win against VfB Stuttgart, the goal being the only of the game.
On May 5, as Bayer thrashed Eintracht Frankfurt 6-1, Kai registered 15th for the campaign.
Even though that game was a memorable one for the teenager, the attacking midfielder became the highest scoring teenager with 17 goals that came against a weakened Hertha BSC, as Leverkusen shot past them a total of five times and conceding only one.
Future of Germany
Indeed, Kai's importance for the upheaval of Bayer Leverkusen is phenomenal. Never has anyone seen such a brilliant player that can give so much in the game, and likely so, at the end of the 2018/19 campaign, Havertz finished second in the German Player of the Year, behind Marco Reus.
However, we haven't seen the last of Kai Havertz blazing the Bundesliga in a glorious run that is visible in the 2019/20 season.
One of the most brilliant performances came in the Champions League game against Juventus and Atletico Madrid.
Notwithstanding the eventual loss to the group stage's favorites, the German midfielder's performance was highly commendable.
Setting up Moussa Diaby, Kevin Volland, and Leon Bailey, Leverkusen pressurized the opponents with Kai's indescribable contribution.
At the moment, Bayer Leverkusen is fighting for the Champions League spot as the Bundesliga is seeing its most competitive season this year.
With the likes of Borussia Dortmund and RB Leipzig always challenging league leaders and defending champions, Bayern Munich, Bayer Leverkusen, isn't far behind.
On March 7, 2020, Bayer Leverkusen thrashed Frankfurt 4-0, as Havertz recorded one goal and one assist.
Moreover, we are on the 25th matchday with nine more games, and Bayer look to solidify their CL spot under interim captain Kai Havertz.
Injury History | Kai Havertz
Although a player has higher ratings and even legends and pundits remark him/her as a generational talent, no player can foresee and prevent injury. It's just part of the game.
If you are interested in buying soccer boots, click here>>
Similarly, Havertz, still a young and blooming player, hit an injury phase. It did not look good on his resume; however, Kai just took it as a minor setback to bounce back stronger.
For instance, in the 2017/2018 season, the German international encountered problems on his knees. As a result, Havertz remained on the sidelines from August 14 to August 24, 2017, missing only one game.
Similarly, in the 2018/2019 season, a bruise in the knee saw the attacking midfielder sidelined for 11 days from October 8, 2018. Fortunately, he didn't miss much action as the international break was ongoing.
Again, the German international missed one of the Leverkusen fixtures due to a mild illness that cost him one match appearance on October 24, 2019.
In the same season, a torn muscle fiber during the 2019/20 season saw Havertz miss two Bundesliga matches on November 11, 2019, which ruled him out for 17 days.
Nonetheless, after successful medical assistance, the German got back to the training grounds to work on his comeback.
As of late, Havertz is rocking the Bundesliga with a slew of assists and goals, and all we can hope for is his better health and form.
International Career
In particular, the German became an international player with the U-16 squad, making his debut on November 11, 2014, as a substitute for Tom Baack.
Similarly, Kai made it to the roster for UEFA European U-17 Championship in 2016.
Germany went onto play for five matches until Spain eliminated them in the semi-finals. Thereafter, a personal situation prevented Havertz from participating in other youth international competitions for 15 months.
Finally, the Bayer midfielder came on against Switzerland for the U-19 competition in August of 2017.
On the other hand, Kai registered his first international goal with poker in a 5-1 win against Belarus, eventually leading him to captain the U-19 side in the upcoming matches.
Moreover, Kai's wait was over, as on August 29, 2018, Germany head coach Joachim Low included him in the roster for the UEFA Nations League.
Along with a debut, Havertz became the first debutante to be born in the year 1999.
Joachim Low Bio: Age, Salary, Wife, Germany Coach Wiki >>
The German has a lot to give and still makes Jogi Low's roster. Currently, the youngster prepares to remain injury-free and in-form to contribute his part in Germany's ambition to win the Euro 2020.
Career Achievements
In the Bundesliga,
2019: Bundesliga Player of the Month (April & May)
2018/2019: Bundesliga Team of the Year
2019: UEFA Champions League Breakthrough XI
Likewise, his individual awards include:
2016: Fritz Walter Medal U-17 (Silver)
2018: Fritz Walter Medal U-19
A pride for Bayer Leverkusen, Bundesliga, and Germany, it comes as little doubt that the collection of accolades will only grow with time.
Kai Havertz | Salary, Net Worth & Transfer Market | How Much Is Kai Havertz worth?
To begin with, reports suggest that Kai is bound to Bayer Leverkusen for a 5-year contract until 2022.
Also, the Bundesliga wonder kid receives a hefty salary of €30,000 per week, which is a significant sum considering the attacking midfielder's age.
With the renewal of the contract at Bayer Leverkusen, the German international earned €2 million every year as salary amount.
Likewise, after joining Chelsea, Havertz earned a huge amount of money. He initially received £62 million, with the Chelsea contract which later on raised to £71 million.
In fact, many top clubs in Europe and even in Germany are eyeing to buy out Kai as Leverkusen labeled an astonishing £130 million price tag on the youngster.
Especially, officials at Bayern Munich intend to lure Kai into the Allianz Arena to guarantee adequate playtime alongside the ex-international teammate Thomas Muller.
Manuel Neuer Bio: Age, Career, Stats, Net Worth, Wife, Instagram Wiki >>
Furthermore, many Premier League clubs like Liverpool, Chelsea, Manchester United, and La Liga giants Barcelona are eager to jump in to recruit the 20-year-old.
Only time can tell what Havertz will decide upon, as Leverkusen manager Peter Bosz told the media.
According to the transfermarkt website, in 2021, the German international enjoys a career-high market value of €90 million, granted that the youngster started from the €100k mark.
In like manner, Kai earns a considerable sum from the sporting brand Nike which adds to his growing fortune.
Nonetheless, at present, the German is working hard to maintain his grip in the starting XI and his form to pave the way to newer opportunities.
On the contrary, Kai loves to travel and immerse himself in new cultures.
Kai Havertz Personal Life | Relationship Status
In particular, the attacking midfielder has a girlfriend named Sophia. There was no information on how the couple met, but the news was finally available to the public through his social media profiles.
Despite having no details on Sophia, we can safely say that she and Kai make a beautiful pair.
Nonetheless, even if they are in cohabitation, the two don't share any children and don't have plans for it at the moment.
Kai Havertz | Some Famous Quotes
Barcelona has a lot of the ball, but there are lots of teams that do that these days, not only Barcelona. Real Madrid, for example, is a team that has a lot of possession, although they've been a bit less efficient than Barcelona in recent years.
I'll be 21 at Euro 2020 – I think that's a reasonable ambition to have and I'll do everything to play my way into contention. I'm pretty relaxed about it, but it's at the back of my mind and it's something I want after seeing some of my friends play at the World Cup."
Social Media Presence
Instagram: 2.7m followers
Twitter: 612.9k followers
Facebook: 3.8m followers
Some FAQs
Which was Kai Havertz disallowed goal?
In a match played in March 2021, Kai has a disallowed goal. In the match, he won the penalty, involved in the goal but his goal was disqualified.
Which is the preferred foot for Havertz to play football?
Havertz mostly prefers left foot to play football.