Steve Harvey, who can forget this man? The person who became meme material for his mistake in the Miss Universe Pageant years ago.
Looking back at it now, it was embarrassing yet funny at the same time. But this article is not about him; it is about his daughter, Karli Harvey.
The eldest daughter, Karli, rose to fame thanks to her father's reputation in the showbiz world.
Not to mention, she has made several appearances on her father's talk show, Steve Harvey.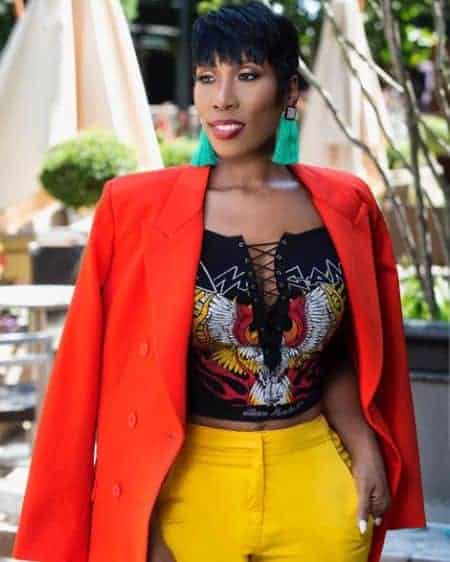 Karli herself is a hairstylist and has garnered much love and attention from the public in these few years.
Putting that aside, many have been eager to find more information on her personal life. Well, we are just here to help you with that.
Karli Harvey: Quick Facts
| | |
| --- | --- |
| Full Name | Karli Harvey |
| Birth Date | August 20, 1982 |
| Birth Place | The United States |
| Nick Name | Karli |
| Religion | N/A |
| Nationality | American |
| Ethnicity | Mixed |
| Education | N/A |
| Horoscope | Leo |
| Father's Name | Steve Harvey |
| Mother's Name | Marcia Harvey |
| Siblings | Two |
| Age | 41 Years Old |
| Height | 5 feet 7 inches(170 cm) |
| Weight | 68 kg (149 lbs) |
| Shoe Size | Updating soon |
| Hair Color | Black |
| Eye Color | Black |
| Body Measurement | N/A |
| Figure | Curvy |
| Married | Yes |
| Husband | Benjamin Raymond |
| Wedding Date | September 2015 |
| Children | Son |
| Profession | Hairstylist, Entrepreneur, Public Speaker |
| Net Worth | Under Review |
| Famous As | Daughter of Steve Harvey |
| Social Media | Instagram, Twitter |
| Last Update | November, 2023 |
Is Karli Harvey Steve's Biological Daughter?- Bio and Father
Karli Harvey is an American hairstylist and entrepreneur, among many other things, but she is still known for being the daughter of Steve Harvey.
He is one of the most famous comedians and talk show hosts in America.
Likewise, Karli grew up alongside her twin sister, Bradi Harvey, and a younger brother, Broaderick Harvey Jr.
All of them were raised by Steve and his former wife, Marcia Harvey.
After his divorce from Marcia, Steve went and married Mary Lee Harvey, with whom a son named Wynton(1997) was born.
But that also did not last, and Steve ended up marrying Marjorie Harvey for the third time in 2007.
With Marjorie, Steve has been raising three children, Lori, Morgan, and Jason, as his own. So, looking at it, Karli has four half-siblings as we speak.
Similarly, Karli is American by nationality, while her ethnicity is mixed. And the information on her academics is unknown at the moment.
We will let you in them soon enough.
Age and Body Measurements- How Old Is Karli Harvey?
The stunning daughter of Steve Harvey was born in 1982, which makes her 41 Years Old.
She celebrates her birthday every year on the 20th of August, making her zodiac sign a Leo.
And people of this sign are known to be fierce, confident, and often known to possess leadership qualities.
Likewise, this diva who is on the way to empowering women is fierce on the stage and with her words. Karli stands tall at 5 feet 7 inches(170 cm) and weighs around 68 kgs(149 lbs).
Kayla Quick Bio, Age, Profession, Michael Strahan, Net Worth, Instagram >>
Sadly, the information on her body is still unknown. And that's a bummer, considering how fit and healthy she is.
Along with that, her olive skin tone goes well with her pixie black hair and black eyes. Not to mention, with every strut, the daughter Harvey demands attention where ever she goes.
Karli and Brandi's rise toward woman entrepreneurship
Brandi and Karli Harvey assume that our liberty lies past the edges of our limits, so we should; eat well, give a damn and move our hearts daily.
Assigned to teach women how to protect their minds, bodies, and spirits.
These sisters understand that women are pushed to the boundaries in their professions, family, and everyday lives.
Hence, the need for women to restore by creating daily rituals and spiritual studies is vital.
The Executive Director of the Steve and Marjorie Harvey Foundation, Brandi spent the bulk of her career serving kids and parents within the United States and around the globe.
Brandi and Karli are Steve's lovable daughters.
Both are a sharp speaker who has graced the frames of Harvard Business School, Princeton University, NYU-Florence, Italy, and the United States White House, to name a few.
Brandi has also won the prestigious City of Atlanta, Phoenix Award, and Luxe Lifestyles Humanitarian of the year award.
Also, The Presidential Drum Major of Service Award under President Barack Obama.
In 2018, Brandi launched Beyond Her, an active wellness and lifestyle brand for women of color.
With a mission to create collaborative and transformative ways to elevate the mind, body, and spirit, Brandi is committed to teaching women a better way to live.
Both these sisters are the perfect example of a Renaissance Woman who believes the stakes of life are high, and we might as well bet on ourselves and play to win.
Karli Gets Special Mother's Day Tribute from Husband Ben Raymond
Steve Harvey's lovely daughter Karli gets a loving Mother's Day tribute from her hubby Ben Raymond who arranged a simple surprise at home to relish.
Karli Harvey-Raymond got a distinctive Mother's Day offering from her husband Ben, who filled a table in their home with blossoming buds and cards made just for her.
On top of this, he allotted an Instagram story with a picture of Karli, calling her a "diva."
In 2016, Karli and Ben greeted their baby boy, Benjamin II.
Raymond not only surprised her but also relished her presence as an excellent mother as well as an excellent wife.
While they conceded that they hoped to honor married life with traveling and fancy dinners first, they were startled to have received a child's consent early.
Although Karli's all grown up, her dad Steve has always been hands-on, even when it came to planning in his grandson's addition and son.
At the time, he joined the planning gatherings for creating the baby's nursery, hiring his interior designer to help them with it.
Is Karli Harvey Still Married?- Wedding and Husband
Since Karlis is a fiery personality in the media, many have been curious about her personal life.
Moreover, her being the daughter of Steve Harvey has raised her demand even more. So if you are curious about her marriage life, you are in for luck.
Luckily, Karli is a married woman as of now. However, this fierce lady has been tamed by her husband's love, Benjamin Raymond, the man of her life whom she met in mid-June 2012.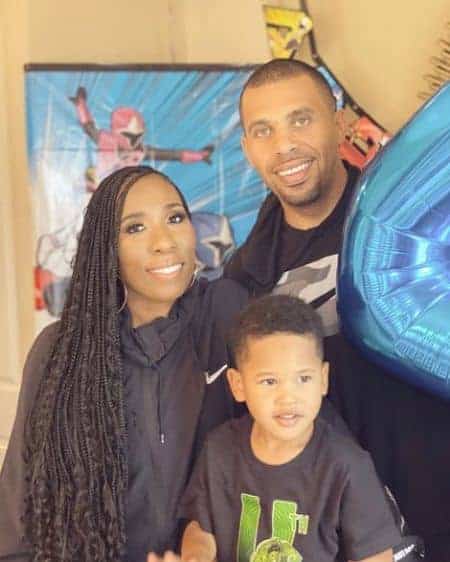 Like her, Benjamin is a passionate young man who is a successful entrepreneur, author, and mentor. Also, he is the CEO and chairman of Raymond Enterprise.
However, it is not known when and how they met. But soon after their meeting, the couple had an instant attraction and dated for two whole years before making the final decision.
The lovely couple tied the knot in 2014, and a year later, they tied the knot in September, where they exchanged vows in front of their friends and families.
Moreover, the wedding ceremony was telecasted on the Steve Harvey daily talk show. Karli looked stunning in her white ball gown dress, and Raymond looked sleek in those black tuxedos.
To add more to their happiness, the couple welcomed their child, Benjamin Troy Raymond II, on June 16, 2016. At the moment, the happy family of three is enjoying their blissful life.
Not to mention, the couple has yet to be in any rumors involving their marriage and relationships.
In July 2019, the Raymond couple took part in the Black Love Summit, a documentary series showcasing love stories in the Black Community.
Steve Harvey Abandoned His Twin Daughters
Even though the twins look well and mingle with her father, the past was far from it. While growing up, Steve had yet to make it big in the industry and was desperate to have a breakthrough.
Durvey abandoned his twin daughters and pursued his comedic dreams over his family.
Speaking with People in 2016, Steve admitted quitting his stable insurance salesman work after winning a $50 first-place prize at his first-ever stand-up show.
He had abandoned them with a heavy heart. Who would ever even think of abandoning their blood? However, due to some circumstances, he had to abandon them.
He said, "I'm married, I have twins, I'm supposed to provide for them, but I had to take this chance."
Just like that, Steve's marriage fell apart, and soon he became estranged from his daughters. Luckily, the trio could reconcile years later, but the years in-between were not easy.
Recalling their union, Harvey remembered the moment with his daughters. They said,
"Dad, we didn't understand why you left us, but we know now you had to go. You didn't just belong to us. You belonged to the world."
The word indeed left a deep impression on Harvey. Since then, the twins have been close to their father. When Karli tied the knot in 2015, Steve walked alongside her on the aisle. The moment sure was surreal for the sisters.
Noelle Foley Bio: Age, Height, Job, Parents, Wrestling, Twitter Wiki >>
Talking about the moment, Karli told in the Steve Harvey show.
"You're an amazing dad. No matter what. You are an amazing man. I wouldn't trade you for the world. I love you so much."
Karli Is On A Mission to Empowering Women With Her Twin Sister, Brandi
Karli and Brandi might be busy with their tasks and schedules, but this has not stopped the sisters from empowering women, especially young girls.
They've been working with Disney Dreamers Academy to motivate teen girls for their best possible versions.
For a decadelong with that, in 2010, the Harvey sisters worked with 'Young, Fit & Fly, ' inspiring students to be physically and fashionably fit for every occasion.
Back in 2017, while talking with The Grio, Karli's message touched the heart of many girls,
"That you don't have to change who you are to be special. That if you embrace who you are… what you look like, then you will shine."
In 2019, the sisters talked about a self-love event where they taught young girls to be intelligent and confident.
"Although pretty comes with its privileges, it will be your substance that keeps you in the room…To be successful, you will need to be smart, well-read, and hardworking. Pretty is cool, but what else do you offer the world."
How Much Is Karli Harvey Worth?
Being the daughter of a famous comedian comes with a strenuous life. Apart from being invaded in their private life, all of her career and incomes are also under the media's watchful eyes.
Likewise, at the moment, Karli Harvey's net worth is estimated to be around $20 million. But the authentication of this information is still unknown.
The amount does not surprise me, considering how successful and passionate she is about her work.
Karli has been doing many things over the years, while she is mainly focused on being a hairstylist, and she opened her beauty salon in 2017.
Currently, Harvey is acting as an entrepreneur, author, and public speaker. Meanwhile, her father, Steve Harvey, has an estimated net worth of $160 million.
Known for his comical character, Steve is also an actor and has appeared in many movies and shows as we know.
Antonietta Collins Bio: Age, Height, Parents, Husband, Instagram Wiki >>
Some of his remarkable work can be seen in productions like Showtime at the Apollo, Me and the Boys, Who Wants to Be a Millionaire, and the famous Family Feud.
Apart from that, he worked as a TV host and executive producer for television shows.
Moreover, he is a five Daytime Emmy Awards winner and has an awarded star on the Hollywood Walk of Fame at 6270 Hollywood Boulevard back in 2013.
Just from the endorsement alone, he earns around $45 million.
Online Presence
Instagram– 203k Followers
Twitter– 6323 Followers
Karli Harvey | FAQs
Who is Karli Harvey's husband?
Harvey's husband is Ben Raymond.
Is Karli divorced from Ben?
No, both are still bound in a strong relationship.
Which College did Karli Attend?
There is no information regarding Karli's educational background.
Does Steve Harvey Run a Cooking Show?
Yes, Karli's daughter Steve runs a cooking show where she shares different food recipes like Macaroni pasta and many other unique dishes.