Katherine Webb is probably one of the most popular wives of NFL players. She is the beautiful wife of popular NFL player AJ McCarron.
Webb caught the attention of the whole world in the BCS National Championship Game with her mesmerizing beauty.
She stood out amongst the thousands in the crowd and went on trending on the internet as the beautiful girlfriend of AJ McCarron.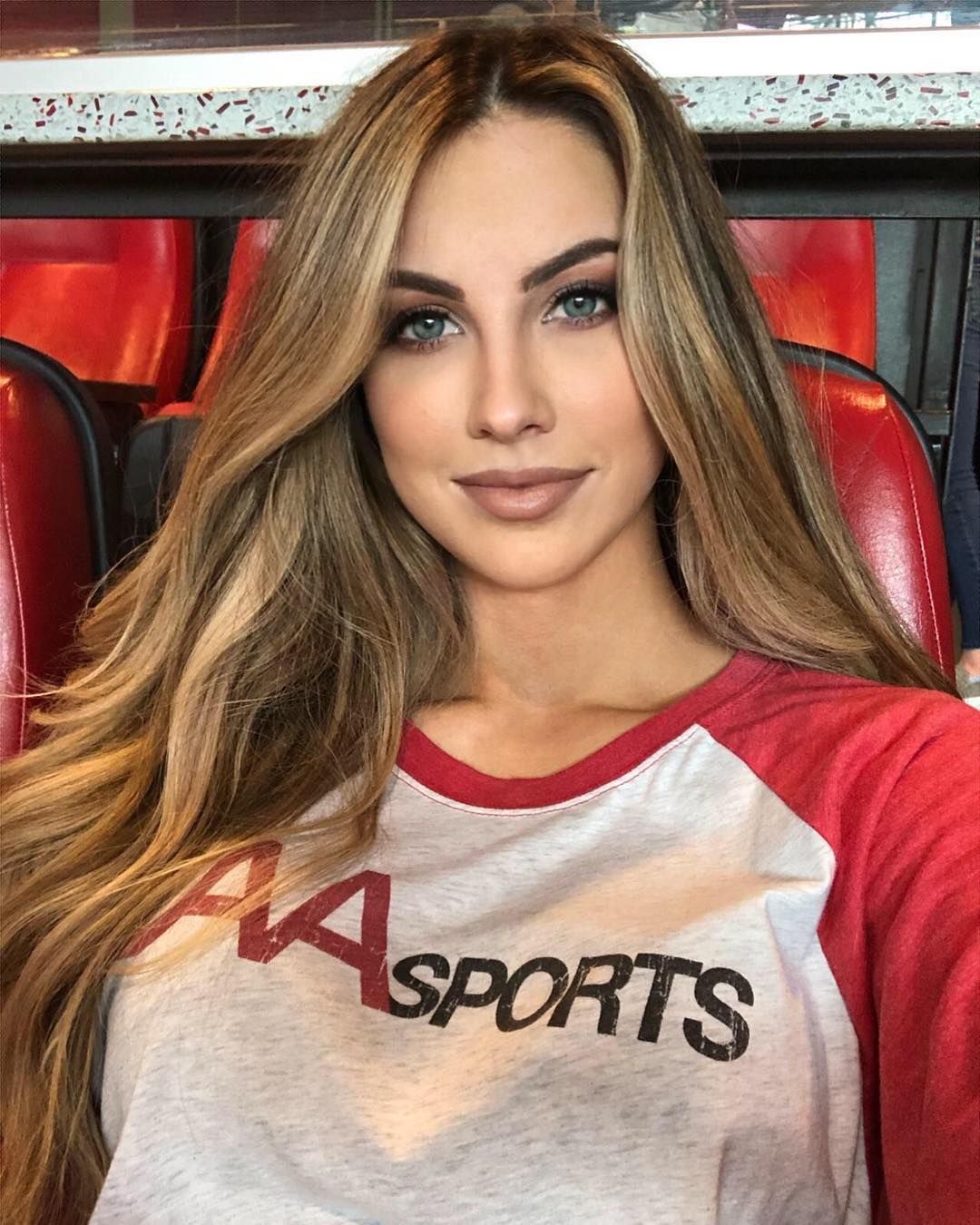 Former Miss Alabama, Katherine Webb is happily married with three kids of AJ McCarron.
In this article, we have covered more about the beautiful wife of AJ McCarron: Katherine Webb.
But before that, Let's get started by looking at some of her Quick Facts.
Katherine Webb | Quick Facts
| | |
| --- | --- |
| Full Name | Katherine Elizabeth Webb |
| Age | 34 years old |
| Birth Date | April 24th, 1989 |
| Birthplace | Montgomery, Alabama, USA |
| Nationality | American |
| Ethnicity | Caucasian |
| Mother | Leslie Webb |
| Father | Alan Webb |
| Sister | Laurie Webb |
| Brother | David Webb and Mathew Webb |
| Marital Status | Married |
| Star Sign | Taurus |
| Height | 5'11" |
| Weight | 59 kg |
| Husband | AJ McCarron |
| Children | Tripp McCarron, Cash McCarron, and Gunnar Cruz McCarron. |
| Eye Color | Blue |
| Hair Color | Brunette |
| High School | Northside high school |
| University | Auburn University |
| Education | Bachelor of Science degree and Business Management and Administration. |
| Profession | Model, Television Personality |
| Pageant title | Miss Alabama USA 2012 |
| Social Media | Instragram, Facebook, Twitter |
| Net Worth | $1 Million |
| Last Update | November, 2023 |
Who is Katherine Webb?
Katherine Webb is a well-known American model and a celebrity wife of A.J. McCarron, the well-known American football quarterback.
She is Miss Alabama USA 2012 and is best known for her participation during the 2013 BCS National Championship Game broadcast.
Webb was born on April 24, 1989, in Montgomery, Alabama. She was born as the eldest daughter of father Alan and mother, Leslie Webb.
Her full name is Katherine Elizabeth Webb-McCarron, and she is a devout Christian who is active in the church.
She has three siblings: two brothers (Mathew Webb and David Webb) and Laurie Webb's sister. Her sister is a songwriter and vocalist.
Katherine Webb | Education
Katherine went to middle and high school in Columbus, Georgia. She did her high school at Northside High School and graduated in 2007.
She did her undergraduate degree from Auburn University and graduated in May 2011. Webb has a Bachelor of Science in Business Administration and Management.
Katherine Webb | Height & Body Measurements
Katherine Webb has the perfect body measurements. Standing at the height of 5 ft 11 inches (1.8 m), Webb has an hourglass figure with 35-22-35 chest-waist-hip size.
She weighs roughly about 59 kg and has Banana shaped body. Webb has blue eyes and brunette hair making her mesmerizing beauty.
She has a beautiful face with a perfect body, making her seem like an angel on the earth. Webb is probably one of the beautiful women in the world.
No wonder why she caught the eye of the announcer in the BCS National Championship game despite being in the crowd of thousands.
However, she has been rumored to get breast implants to enhance her breast size. There has been no personal explanation of Webb regarding this.
Katherine Webb | Career
Initially, Katherine started as training director at Chick Fi La in Georgia right after her graduation. But, She also worked as a part-time model.
Katherine made it to the semi-finale in the Miss Georgia USA 2008 pageant. She was also named Miss Alabama USA in 2012 and placed in the top ten of the Miss USA 2012 competition.
Webb rose to fame after her appearance on the BCS National Championship Game when the announcer complimented her beauty and was in the spotlight.
She went viral on the internet, which stirred public interest in her.
Donald Trump, the owner of the Miss USA pageant, offered Webb a job as a Miss USA judge. She had several brand endorsements and offers.
Katherine then accepted an offer from Inside Edition to cover Super Bowl XLVII. She was also chosen to compete on Splash, formerly known as Celebrity Diving.
Webb matched for the best score in the show's third week before withdrawing in the fifth week due to a back injury.
In 2013, she modeled in the Sports Illustrated Swimsuit Issue.
Katherine Webb and AJ McCarron | The love story
Katherine Webb was a famous model. McCarron was just starting his football career. He wasn't big back then.
McCarron was aware of Webb as he was mesmerized by her beauty. He knew her as a beautiful lady but thought that she was out of his league.
It was just like a celebrity crush for him. He adored her in secret.
On the other hand, Webb had no idea who McCarron was until they met on Twitter when a mutual friend tagged the two in the same tweet.
McCarron followed her, and she followed him back too. She didn't know who he was, but she found him cute.
Slowly, they exchanged their phone numbers and began texting to build a connection.
In the SEC Championship game, Webb saw McCarron play in which Alabama won 32-28 over Georgia.
By that point, the two had grown close enough that, despite being Auburn alumni, Webb was cheering for Alabama in the game.
AJ then attended the beauty pageant of Webb, where they officially met each other. After that, their relationship progressed fast.
Webb traveled to Tuscaloosa for Mc Carron's graduation, where she met his family. The next weekend, over Christmas break, Mc Carron also met her family.
Both started hanging more often and were seen in public together. That's when people began to speculate if they were dating.
Later on, they publically admitted that they were dating.
Paul Kariya: Mighty Ducks, Jersey, NHL, Retire, Wife & Net Worth >>
Katherine Webb | Blowing up the internet
Katherine attended the 2013 BCS National Championship Game when she and McCarron were still dating.
She was sitting beside McCarron and was cheering for her boyfriend in the crowd. Just then, the announcer Brent Musburger mentioned her, and all the camera focused on her.
Katherine was described as a "wonderful lady" and "gorgeous" by the announcer.
Because of the long-standing sporting rivalry between Auburn and Alabama, Katherine was featured in the media since she graduated from Auburn University, but her boyfriend was Alabama.
Her Twitter followers increased from 2,000 to over 175,000 overnight, and many celebrities, like LeBron James, Darnell Dockett, and Aaron Murray, began to follow her. As a result, she became viral on the internet.
The next day, She went on trending as the AJ McCarron girlfriend, one of Google's top searches with over 1 million people searching about her.
The youtube video in which she was featured garnered more than 3 million views. She was the hot talk of the town.
She was even dragged into the controversy with the announcer as most people thought the statements were sexist.
The announcer and ESPN officially apologized, but Webb said that she had taken it as a compliment and had no harsh feelings regarding it.
Webb was trending on the internet and media, where everyone was focusing on her. At this point, she became more popular than his boyfriend himself.
But, Webb was uncomfortable with sudden attention and fame. So, she took a halt from the media and only did a few interviews and public appearances.
Couples, too, started to keep down in social media, leading people to believe a problem with their relationship.
Katherine Webb and AJ McCarron | The Marriage
Katherine Webb shared her engagement ring to everyone's surprise, which the McCarron had himself designed. The couple officially announced that they were soon getting married.
The couple had been dating for two years before officially tying the knot but kept their relationship in low profile.
They finally married at United Methodist Church in Orange Beach on 12 July 2014.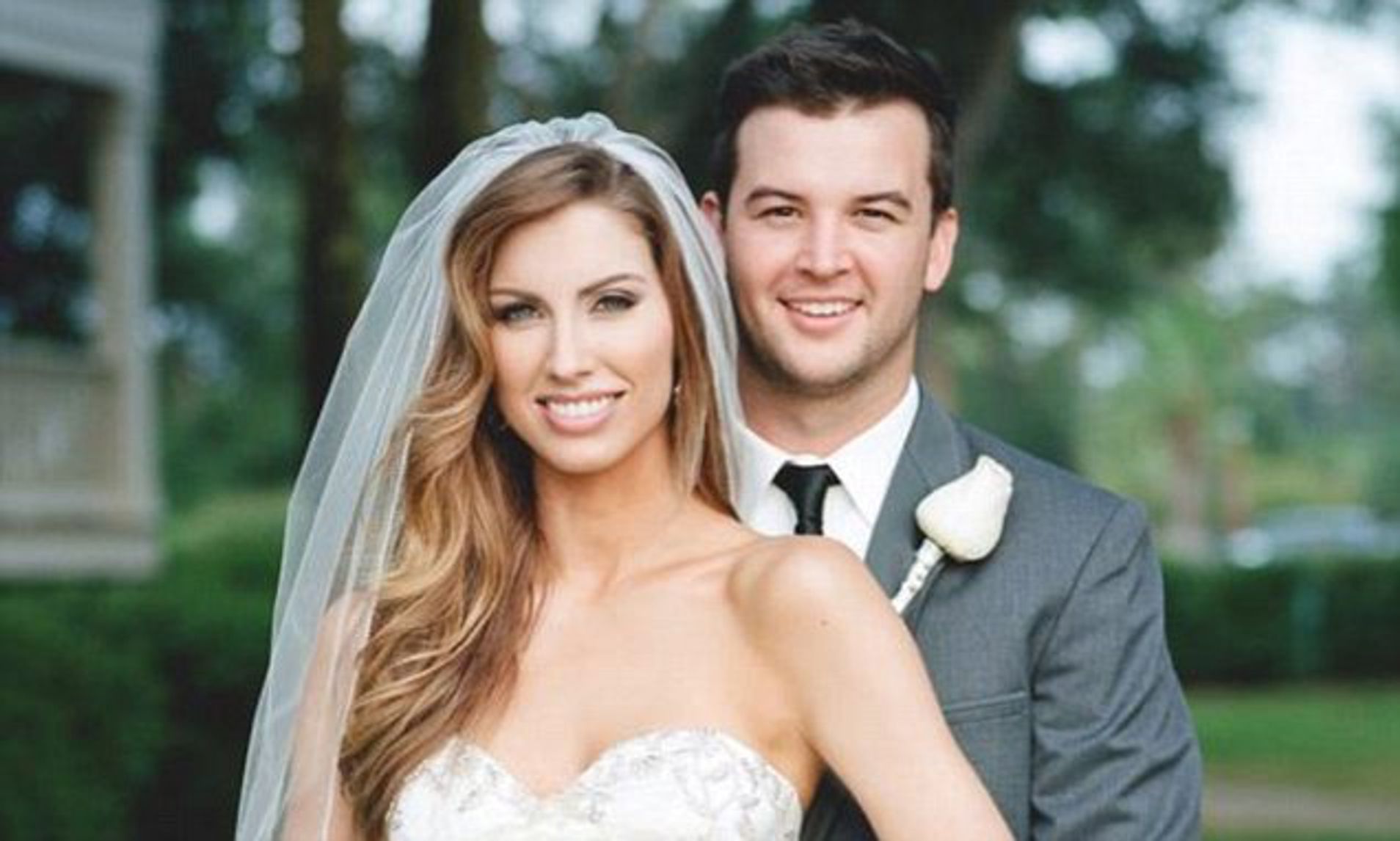 The couple even handled the wedding to the FBI such that no stalkers or outsiders would sneak in the wedding.
It was a private wedding with some close ones attending to it. The guests were limited to the couple's friends, family, and teammates.
McCarron's brother Corey acted as best man, and sister Laurie was the bridesmaid at the wedding.
Webb was looking beautiful in the white wedding dresses, and her father walked her down the aisle. Mc Carron was also looking handsome in the suit pant.
They took the wedding bows and were no longer boyfriend and girlfriend. Instead, they were officially a husband and wife.
Artemi Panarin's Girlfriend Alisa Znarok: Bio & Net Worth >>
Katherine Webb's husband AJ McCarron
AJ McCarron is an American football quarterback for the National Football League's Atlanta Falcons. He was born on September 13, 1990, in Alabama.
He attended Alabama and was chosen in the fifth round of the 2014 NFL Draft by the Cincinnati Bengals.
Alabama won the BCS National Championship in 2011 against LSU and again in 2012 against Notre Dame, making him the only quarterback in BCS history to win back-to-back titles.
McCarron set his record as one of seven quarterbacks in the history to win the titles back to back, and he is the first-ever FBS quarterback to win it in recent years.
Furthermore, McCarron was a member of three national teams, including his freshman year. He was a member of the team led by Nick Saban in 2009, 2011, and 2012.
McCarron has previously had appearances with the Buffalo Bills, Oakland Raiders, and Houston Texans.
Katherine Webb | Children
Katherine and McCarron are blessed with Raymond Anthony McCarron (a.k.a. Tripp) and Cash Carter McCarron.
Webb made an official statement on her Instagram account on December 8th, 2015, that she was four months pregnant and was expecting a baby soon.
The social media was flooded with congratulatory messages, and the couple soon had their first child, Raymond. He was born in May of 2016.
After three years of Raymond's birth, the couple announced that they were expecting a second child on social media.
On December 18th, 2018, at 4:57 pm, Katherine gave birth to their second son, Cash. He weighed the same as his elder brother at the moment of birth.
Raymond was two and a half years old when Cash was born but was happy to be a big brother.
In April 2021, Katherine gave birth to her third son Gunnar Cruz McCarron.
However, Webb stated that she had a hard time in this pregnancy as she would feel morning sickness and has gained some pounds.
But, she feels grateful as she delivered a healthy child, and that's what matters. In addition, she is happy to have a new member added to her family.
Travis Kelce Brother, Jason Kelce Achievements, and more about NFL, Stats & Jersey >>>
Katherine Webb | Net Worth
Katherine Webb has a net worth of one million dollars. Her main source of income is modeling and brand endorsements.
Her yearly income is estimated to be around $350,000, and her monthly income is $29,100.
Katherine Webb | Social media presence
Katherine is active on social media like Facebook, Instagram, and Twitter. She has a tremendous fan following on each social media.
Webb actively shares her personal life on her social media, especially Instagram. Her Instagram feed is full of her children and husband, AJ McCarron.
So, if you want to know more about her personal life, you can follow her on social media.
Facebook: 511k Followers
Instagram: 262k Followers
Twitter: 244.4 k Followers
FAQS about Katherine Webb
How many children does Katherine Webb have?
Webb has three sons, Raymond McCarron, Cash McCarron, and Gunnar Cruz McCarron.
What does Katherine Webb do for a living?
Katherine is a model and TV personality. She does brand endorsements and advertisements for a living.
Was Katherine Webb in a sorority?
No, she has mentioned in an interview that she was never in a sorority.
Did Katherine Webb had breast surgery?
There is no personal explanation of Katherine regarding this, but most people, including the Plastic surgeons, believe that she might have done it.