Rising star of tennis Kei Nishikori has an estimated net worth of $24 million. As of 2020, he was the sixth highest-paid tennis player in the world.
Though he receives a handsome salary and has millions in prize money, most of his worth come from endorsement deals.
Kei originally hails from Japan but moved to the USA at the age of 13 to learn tennis professionally.
The 33 years old has the career-high ranking of no. 4 that he reached in 2015. Besides being a fabulous player, he is also a prominent figure in his homeland.
Also called 'special Kei' by many fans, he is truly one of a kind. In this article, we will explore how he makes millions and how he lives his life.
Before starting, here are some interesting quick facts:
Kei Nishikori: Quick Facts
| | |
| --- | --- |
| Full Name | Kei Nishikori (錦織 圭) |
| Common Name | Kei Nishikori |
| Nick Name | Air K, Special Kei |
| Birthdate | 29 December 1989 |
| Age | 33 years old |
| Zodiac Sign | Capricon |
| Mother's Name | Eri Nishikori |
| Father's Name | Kiyoshi Nishikori |
| Siblings | 1 elder sister Reina Nishikori |
| Birthplace | Matsue, Shimane, Japan |
| Home Town | Matsue, Shimane, Japan |
| Citizenship | Japan |
| Residence | Bradenton, Florida, United States |
| Religion | Christianity |
| Ethnicity | Asian |
| School | Matsue City Nogi Elementary School, Kaisei Junior High School |
| College | N/A |
| Education | N/A |
| Height | 1.78 m/5'10" |
| Weight | 74 kg |
| Eye Colour | Black |
| Hair Colour | Black |
| Shoe Size | 9.5 in |
| Martial Status | Married |
| Partner | Mai Yamauchi |
| Children | Expecting |
| Profession | Professional Tennis Player |
| Started playing | Five years |
| Turned Pro | 2007 |
| Plays | Right-hand, Two-handed backhand |
| Status | Active |
| Country represented | Japan |
| Highest rank | ATP no. 4 (2015) |
| Coach | Michael Chang, Max Mirnyi (2020–) |
| Affiliated with | Wilson, Nike, Uniqlo, Japan Airlines |
| Net Worth | $24 million |
| Prize money | US$ 24,374,892 |
| Social Media | Instagram, Facebook, Twitter |
| Website | www.keinishikori.com |
| Tennis Merch | Racquets, Bag |
| Last-Update | March, 2023 |
Kei Nishikori: Income and Net Worth
As of 2023, Kei's total net worth amounts to $24 million. While his salary and prize money in 2020 was just $1.1m, most of it came from his endorsements and sponsors.
For many people who don't follow tennis extensively, Kei Nishikori's gameplay and income can come as surprising!
For example, in the 2017 Forbes list of highest-earning athletes, he was ranked number 26!
Not just that, he was ranked even higher than some most notable names in tennis, like Rafael Nadal and Serena Williams.
In fact, he made $34 million that year, and among that, a whopping $30 million was just from endorsement!
Needless to say, he was the second-highest endorser among the tennis players that year.
Kei Nishikori Net Worth: House and Cars
House
Though Kei hails from the land of the rising sun, he has been living in the states for a long time now. He started training for tennis at the young age of 13.
Before he left Japan for the states, he lived in Matsue city with his parents. They lived in a two-story house just 20 minutes' drive ahead from Matsue station.
Fast forward to now, the Japanese tennis player now lives in a lavish mansion that he purchased back in 2013. Likewise, this 3,000 sq ft home located at Bradenton, Florida (FL), US, cost him $850,000.
Kei has said that he prefers living in the USA over Japan because he can train better in the US. There are many training facilities, gyms, and practice fields around his US residence.
Cars
Currently ranked 45, Kei Nishikori drives a jaguar. The Jaguar brand loves him so much that it even has a Nishikori special edition car.
Well, Kei can afford any car he wants, but a jaguar is pretty good for him.
Kei Nishikori Net Worth: Lifestyle and Vacations
Despite being a big sports star, Kei lives a humble and low-key life. He spends most of his time between matches and training.
Traveling between the USA and Japan also takes a significant amount of his time.
Just like most of us, Nishikori is a huge music fan. He listens to both English and Japanese music. If you are interested in getting an insight into what kinds of songs he likes, his official app has a recommended songs section.
Nishikori also likes driving in his jaguar and shopping! But above everything, he wants to sleep! For an athlete, good sleep can do wonders!
Kei Nishikori Net Worth: Endorsements
Being a pro in your sports means a lot of endorsements opportunity will come knocking at your door.
In the case of Kei, he is popular in both Japan and the USA, so he is sought after by both national and international brands.
However, Kei's popularity in Japan is incomparable to that of the states. There he earns millions every year just from endorsement deals.
Racquets
Many tennis enthusiasts want to get the same racquets as their favorite players. Experts believe that he uses an older Wilson code tour racquet beneath a steam paint job.
However, Kei has endorsed Wilson burning 95 racquets in the past.
He has also sold special versions of the steam racquet, which was extensively successful because of his popularity.
In 2012, the steam pro racquet was available for sale. Advertisers didn't miss the opportunity to mention that it had the exact specifications as Kei's actual one to attract more customers.
Racquet enthusiasts noticed he changed his racquet to Wilson burn 95 for the 2015-1018 seasons.
However, the line of burn racquets was discontinued in 2019. Nishikori currently endorsed another Wilson racquet, 'The Ultra 95'.
Likewise, he signed a lifetime deal with Wilson in 2015.
Sportswear
Nishikori is mostly flaunting his Uniqlo clothing in the playground. Likewise, the Japanese was also named global ambassador for Uniqlo in 2011 and rocked the brand during the 2019 French Open.
Kei has also played for Adidas and wore only Adidas shoes for almost a decade. Being associated with Adidas means you can wear its rival company, Nike.
But since 2017, Kei has changed his brand to Nike. As of 2017, he was observed wearing red Nike Vapor Tour shoes.
Wild Popularity In Japan
In his home country Japan, there is a range of products and services he endorses.
Kei has previously worked for airline companies like Delta and Japan Airlines. As a matter of fact, a Boeing of Japan airlines has its image emblazoned on it and is named 'Jet-Kei'.
In 2011, he appeared in a commercial for a popular sports drink called Weider in Jelly.
Frequently, his sports clothes feature a cup noodles badge on his sleeve but failed to identify the product.
Following that, Nishikori also endorses the popular video game called mother.
He has also worked with Nissin Foods, Fast retailing, NTT group, IMG Academy, EA games, WOWOW, matters topper air weave, Jaccs Co., and so much more.
Nishikori has a special place in the heart of Japan. In fact, many brands have paid their ode to the champion with unique products named after him.
Jaguar has made a special Kei jaguar edition, while Nissin foods manufactured Nishikori noodles in his honor. Similarly, the famous beer brand Asahi has a special Nishikori alcohol-free beer.
Painted on JAL aircrafts
Japan Airlines Co. launched its third specially painted aircraft featuring the Tokyo Olympics and Paralympics on July 27, 2021.
Colorful sketches of some renowned players like Kei Nishikori and gymnastics superstar Kohei Uchimura are imprinted on one side of the airplane. The painted portion of the plane also drops a message that says, "Go, for it Japan".
Yet another feature of the aircraft is the Japan Airlines' tsurumaru crane logo, which is usually painted in red but has been decorated in gold for the first time.
The flight will be in service on four domestic routes, including Haneda to New Chitose and Itami to Naha, and will eventually be extended on routes through November.
Wanting to be Japan's first Olympic tennis champion
Kei Nishikori, who bagged a bronze medal five years ago in Rio is aiming high to be Japan's first Olympic tennis Champion.
But it seems like, luck has not favored him much during Tokyo Olympics 2021.
The former US Open runner-up conquered Ilya Ivashka of Belarus 7-6 (9/7), 6-0 in singles Wednesday but later lost with partner Ben McLachlan in the quarter-finals of the men's doubles.
They were eliminated in the doubles tournament after a 6-3, 6-3 loss to Croatian top players Nikola Mektic and Mate Pavic in the quarterfinals.
"My opponent played some fierce shots in very windy conditions. I was thinking it wouldn't be a surprise if I lost but I managed to come to grips with it," said Kei.
"There is still a way to go and I will take confidence from this victory into my upcoming games," Kei added.
Net Worth: Investments and Business
With all the large businesses interested to collaborate with him, he must have invested his money in many of those.
It is expected that he has invested in various Japanese companies, both big and small.
>>> Jaylen Nowell- Early Life, Career, Net Worth & NBA >>>
Kei Nishikori Net Worth: Charity
Although Kei doesn't have a philanthropic organization of his own like many of the athletes do, he is constantly participating in community service in whatever way he can.
Moreover, Kei has participated in charity tennis games because that's what he does best.
In 2019, when Micheal Chang and Kei Nishikori competed in a charity match, it was the talk of the town. The game aimed to raise funds for HomeAid Orange County and the Chang Family Foundation.
After the match, Kei's Nike shoes and Uniqlo t-shirt were auctioned off for $400 each.
COVID-19 Relief Programs
During the coronavirus pandemic, Nintendo organized a virtual tennis match between players and celebrities. Kei Nishikori joined the program and other big tennis stars like Naomi Osaka, Maria Sharapova, Venus, and Serena Williams.
Japanese Olympic committee held a charity auction in December 2020 that had Japanese athletes donating their special equipment to be auctioned off to the highest bidder.
Furthermore, all the money raised was used towards children's welfare, mainly to support children affected by the coronavirus and young athletes.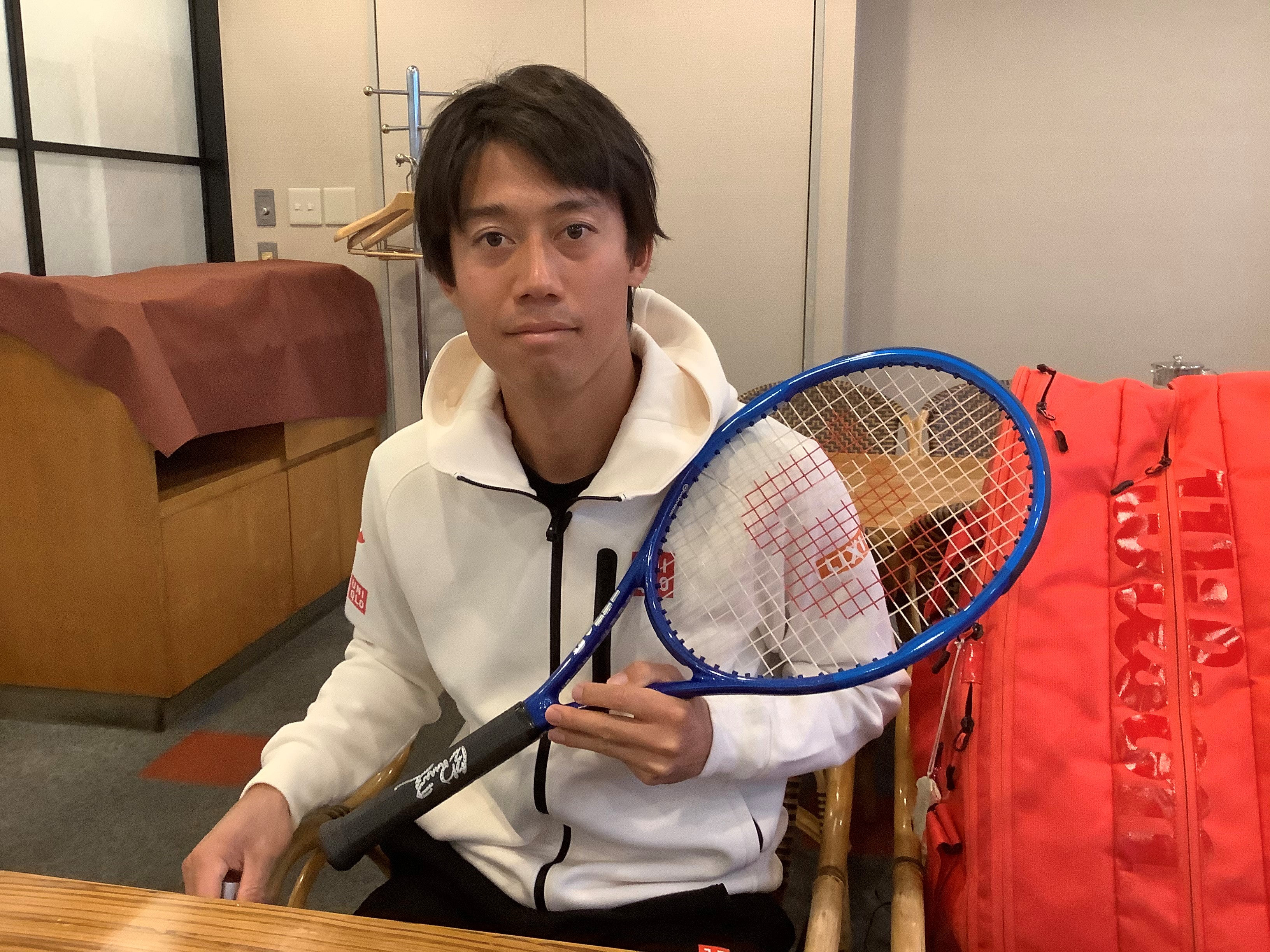 Japanese heartthrob Kei provided the autograph racquet he used in Tokyo Olympics. His special memento had a starting price of 180,000 yen and was finally sold for 500,000 yen.
In the same month, Kei, a brand ambassador for Uniqlo, visited an orphanage, interacted with children, and handed out masks and clothes.
Following that, Uniqlo pledged to distribute thousands of masks and winter wear to children in around 369 facilities all around japan.
Kei Nishikori: Career Summary
Kei, the Japanese-born, started his career as a junior player and turned pro in 2007.
At the young age of 18, in 2008, he was already in the top 100 rankings and even won the 'ATP newcomer of the year.'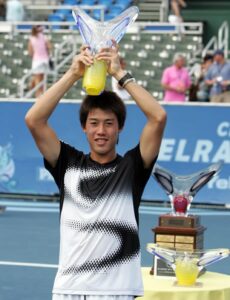 In the 2014 US Open, he won over the then-no.1 Djokovic. Following that, he became the first Asian men's singles finalist in a grand slam. This is still considered the most significant achievement of his career.
Moreover, he achieved his career-high ranking of no.4 in 2015. In the 2006 Rio Olympics, he won bronze for his country, Japan.
As of 2021, Kei is ranked no. 45, but he is striving to come back at the top 10.
Kei Nishikori: Social Media Presence
Despite not being very heavy on social media, he has amassed hundreds of thousands of followers on his social media. Needless to say, a large portion of his followers are his Japanese fans.
Most of his posts are just glimpses of him training or playing. There are also frequent endorsed posts for his partner brands.
Here are his follower stats across various social media channels:
Twitter: 989.9k followers
Facebook: 762k followers
Instagram: 536k followers
You can also follow him on his Official App.
Kei Nishikori: Three facts
Kei was a tennis fan since his childhood. He loved 'the prince of tennis' manga as a kid. He moved from Japan to the USA when he was 13 to train at the reputed IMG academy in Florida. Despite being an adult with many achievements, he still trains at the same academy.
Superstar Kei is soon to be a father! He and his wife, Mai Yamauchi announced the pregnancy on May 18th via his official app. Moreover, Japanese models Mai and Kei dated for a few years before getting married in December 2020.
If you are a die-hard fan of Kei, you can download his official app on his phone to get the latest updates about him. He provides an exclusive behind the scene look at life both inside and outside the court.
Quotes
"I think I am doing really well, I think these first couple of tournaments of the year are very important for me to gain a little more confidence."
"I hope tennis gets bigger in Japan and Asia. But I love soccer. So, I hope a lot of kids start playing soccer too."
Kei Nishikori: FAQs
Who is the coach of Kei Nishikori?
Since 2014, Micheal Chang has been coaching Kei Nishikori. Former tennis star change has the career-best ranking of no.2.
Does Kei Nishikori have a private jet?
Kei doesn't have a private jet yet. His exclusive deals with different airlines company mean that he can easily travel business class all over the world without much hassle.