Tennis is one of the most privileged and loved sports of all time. The fan-following of tennis is a lot bigger than we think.
With that, sports have produced sportsperson who have become iconic stars in the sports genre.
When we hear tennis, the first few names that strike our minds are Rafael Nadal, Roger Federer, and Serena Williams.
Although more players have been able to cast their names into the prestigious trophies of the tennis world.
These legends are the ones who have reached the peak of success just through their skills and passion.
Roger Federer is a tennis legend who has been playing as a professional tennis player since the late 90s.
His keen interest and passion for sports have helped him become one of the greatest players of all time.
In addition to that, Roger is one of the world's richest sportsperson.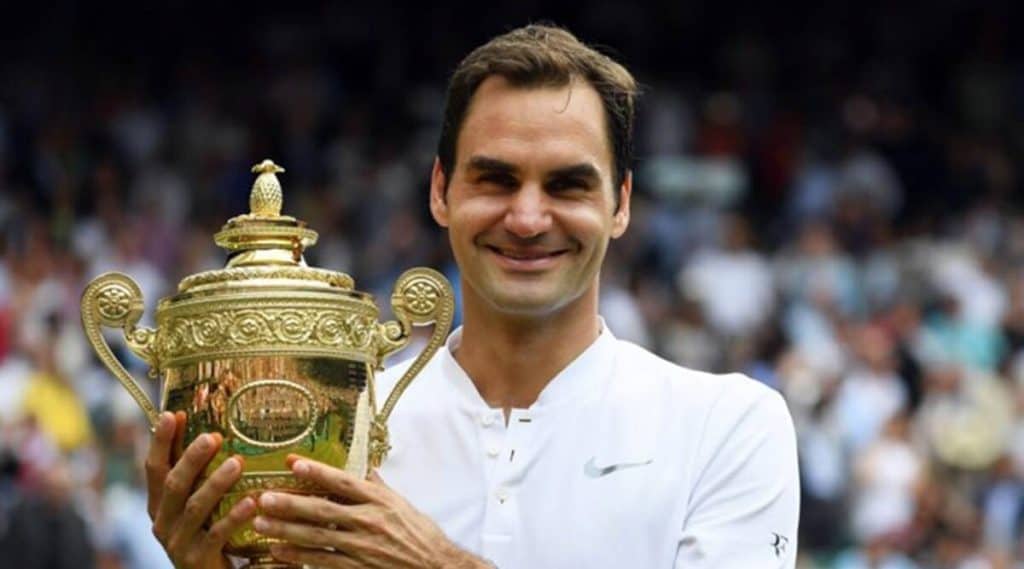 Here, we will learn more about the legend's life, struggles, and the fruit of that struggle.
We have listed detailed information about different stages of his life. Let us begin the journey of 'the making of Roger Federer.'
Roger Federer | Quick Facts
| | |
| --- | --- |
| Full Name | Roger Federer |
| Nickname | Fed-Ex (Federer Express) |
| Profession | Tennis Player |
| Date of Birth | August 8, 1981 |
| Birth Place | Basel, Switzerland |
| Zodiac Sign | Leo |
| Age | 41 Years Old |
| Father's Name | Robert Federer |
| Mother' Name | Lynette Du Rand |
| Married | Yes |
| Spouse's Name | Mirka Federer |
| Spouse's Profession | Ex-tennis Player |
| Children | 4 children |
| Religion | Christianity |
| Height | 6 feet and 1 inch |
| Weight | 85 kg |
| Eye Color | Brown |
| Hair Color | Dark Brown |
| Career Titles | 101 |
| Merch | T-Shirt, Hoodie |
| Social Media | Facebook, Instagram, Twitter |
| Last Update | December, 2022 |
Roger Federer | Early Life, Family, and Education
Family
Roger was born in a place in Switzerland called Basel in the year 1981, on August 8.
He was born to a Swiss father, Robert Federer, and an Afrikaner mother, Lynette Federer.
Lynette is originally from South Africa. The family consists of another child, his sister, Diana. Diana is currently married and is the mother of a set of twins.
Early Life
Although Federer was born in Basel, he grew up in a place very near to the French and German border. Consequently, he is very fluent in four languages – Swiss German, Standard German, English, and French. Except for these languages, he also speaks Italian and Swedish quite well. However, his native language is Swiss German.
Like every male citizen in Switzerland, Roger was admitted to compulsory military service in the Swiss Armed Forces.
Unfortunately, he was classified as unsuitable and was not required to fulfill his military obligation.
Read about his fellow countrywoman, Belinda Bencic, who has been dominating tennis for a long time.
Federer showed a deep interest in sports from a very young age. He was quite passionate about tennis and served as a ball boy in the Basel Tournament.
Similarly, he was also very fond of Badminton, basketball, and football. Mr. Federer was quite a supporter of FC Basel and the Swiss National Football Team.
Education
Unfortunately, there is not much information about Roger's educational background. But, he is said to have completed his high school and college education. According to an interview, Federer has revealed that he was not a particularly good student. When asked, Roger said, "Mediocre, I would say. But I always tried really hard."
Roger Federer | Age, Body Measurement, and Nationality
Age and Body Measurement
As we know, Roger was born in the early 80s; he is currently 39 years old.
Although he is close to his forties, he looks as young as ever, suggesting that he has a happy and fulfilled life.
Roger is a tall man with a height of 6 feet and 1 inch, which makes him taller than an average European male.
Consequently, his height has no doubt helped him a lot in tennis too. His last reported weight is said to be 85 Kg.
Nationality
As mentioned earlier, Roger is one of the children of a Swiss father and a South African mother.
Although he lives in Switzerland, the man is said to have dual citizenship. This makes him a Swiss and a South African as well.
Roger Federer | Career
Federer was very fond of tennis. He started playing sports at the age of 8 and became Switzerland's Junior Champion when he turned 14.
In 1998 Federer made his debut on the Swiss Davis Cup team and became the world's youngest player to end the year in the world's top 100 list.
He was 18 years old and finished the tournament at number 64.
Roger started playing in the high-class championships after his breakthrough at the age of 18. Consequently, he quickly built a reputation and name for himself.
His tennis matches were so extreme that other world-renowned personalities spectated him to play the sport.
He started playing in the big league tournaments like Wimbledon, Australian Open, French Open, and US Open, to name a few. His matches against Rafael Nadal and Novak Djokovic, who have been considered as Roger's rivals, have always been phenomenal to watch. He has played about 40 and 50 matches with Nadal and Djokovic, respectively.
Achievements
Roger has a lot of achievements in his name. He has been playing the sport since the 90s and has participated in hundreds of tournaments and friendlies.
Although he has a significant amount of wins in his name, his first-ever win in a high-class tournament was in the Wimbledon cup. He won the 2003 Wimbledon cup after winning Mark Philippoussis with the score as 7-6, 6-2, 7-6.
🏆20. ❤️ pic.twitter.com/WqUiSo3fd5

— Roger Federer (@rogerfederer) January 28, 2018
After that win, his winning streak continued till 2018. He has won 6 Australian Opens, 1 French Opens, 8 Wimbledon, and 5 US Open championships.
In total, the man has played 31 finals and has won 20 titles, which makes him the player who has won the most Grand Slam tournament titles.
Federer has also won a gold medal and a silver medal at the Olympics in 2008 and 2012.
The legend also holds the record of winning the highest number of titles at the end of the year tournament with his six wins.
Read More: 45 Motivating Roger Federer Quotes
In addition to all these, his other awards include ATP Player of the Year (5 times), ITF World Champion (5 Times), Stefan Edberg Sportsmanship Award (13 times), and Laureus World Sportsman of the year (5 times), to name a few.
We can get more detailed information about his career, wins, and achievements from his Wikipedia page.
Roger Federer | Wife and Children
Wife
Federer is married to a woman named Mirka, who is also a professional tennis player.
It has been reported that they had first met while they were competing for Switzerland at the 2000 Sydney Olympics.
Unfortunately, Mirka had to retire early due to a foot injury that she had conceived during her plays.
In the year 2009, they got engaged and got married on April 11 in the same year. They were reported to have been together for some time before they got married. The wedding was a small one where they invited their close relatives and near and dear friends only.
Children
The Federers have two sets of twins as their children. In 2009, Mrs. Federer gave birth to identical twin girls, and she again gave birth to another pair of male identical twins in 2014.
The twins can be seen in the spectators' seats in almost all their father's major tournaments. Roger has said that he does not like to travel without his family. Hence, he takes his wife and children wherever he goes.
They seem to support their father, and the parents seem to love their children dearly. The children are also reported to love playing tennis.
This has worked as a morale boost, and support for their parents as both of them are professional tennis players.
Read More: 45 Motivating Roger Federer Quotes
One funny fact is that Roger has admitted that he used to mix up his children in the early days. Since they have two sets of identical twins, it got even more complicated for the parents. However, he says that he is a veteran now in his children identifying department.
Roger Federer | Salary and Net-worth
Roger is one of the richest athletes in the world. He is the world's highest-paid athlete, according to the Forbes website. Unfortunately, his salary has not been revealed to the public now, but we can safely assume that his salary is about $100,000 approximately.
Read About: Mary Joe Fernández Bio: Age, Husband, Career, Kids, Net Worth Wiki
However, his salary is certainly not his highest source of income. Many companies sponsor the man, and he also has a lot of investment of his own.
He is sponsored by Japanese apparel brand Uniqlo with a $300 million deal and has a $15 million deal with Rolex.
Federer won about a hundred million dollars from his career, but his off-the-court earnings dwarf that money.
He is reported to have a net worth of about $450 Million or more.
But, the huge earnings have not changed the man a bit. He gives more to the needy through his foundations and charity organizations.
Federer is a kind-hearted man and works continuously to help the ones in need.
Roger Federer | Schedule for 2021
Roger Federer only played one match in 2020 after knee surgery shortened his period.
The Swiss had basically intended to launch his 2021 campaign at the Australian Open, but a sequence of draconian quarantine criteria and lack of fitness put that plan to bed.
He will now be beginning his season at an ATP 250 event in Doha, and you can see his temporary schedule for 2021 soon.
Roger Federer | Social Media
Federer is a social media enthusiast. He has social media accounts on platforms like Facebook, Instagram, and Twitter.
Across the board, he has more than 35 million followers on his social media accounts.
Read More: 45 Motivating Roger Federer Quotes
He is most active on Instagram and Twitter, where he posts regularly. He has about 7.9 million followers on his Instagram.
Looking into his Instagram, we can see that he regularly posts about his life events, training, and sponsors. We can also see posts related to his friends and families in it.
On Twitter, he has about 12.6 million followers and 2.1k tweets. But he has got the most number of followers on his Facebook account. Here, he has a whopping 17.9 million followers.
We can safely assume that he gets paid through his social media accounts too, but that's not all; he is also active on stuff that requires social awareness as he reaches millions of people through his social media.
You can check out his social media accounts through the link below.
Facebook: @Federer
Instagram: @rogerfederer
Twitter: @rogerfederer
Roger Federer | Frequently Asked Questions(FAQs)
What is the next tournament for Roger Federer?
According to perfect-tennis.com:
| Date | Tournament | Classification |
| --- | --- | --- |
| 8th – 13th March | Qatar ExxonMobil Open | ATP 250 |
| 14th – 20th June | Noventa Open | ATP 500 |
| 28th June – 11th July | Wimbledon | Grand Slam |
| 24th – 30th July | Olympic Games | Olympics |
What is Roger's main achievement?
Roger Federer is the highest title winner in tennis.