Ice hockey has become the most popular international sport recently, and Patrick Maroon is a veteran of ice hockey who steadily climbed to stardom with his talent and skills.
Patrick is an American professional ice hockey player who plays as a left winger for the Tampa Bay Lightning of the NHL.
He previously played for teams like Anaheim Ducks, Edmonton Oilers, New Jersey Devils, and St. Louis Blues.
Maroon is a three-time Stanley Cup Champion, winning three consecutive seasons with the Blues in 2019 and the Lightning in 2020 and 2021.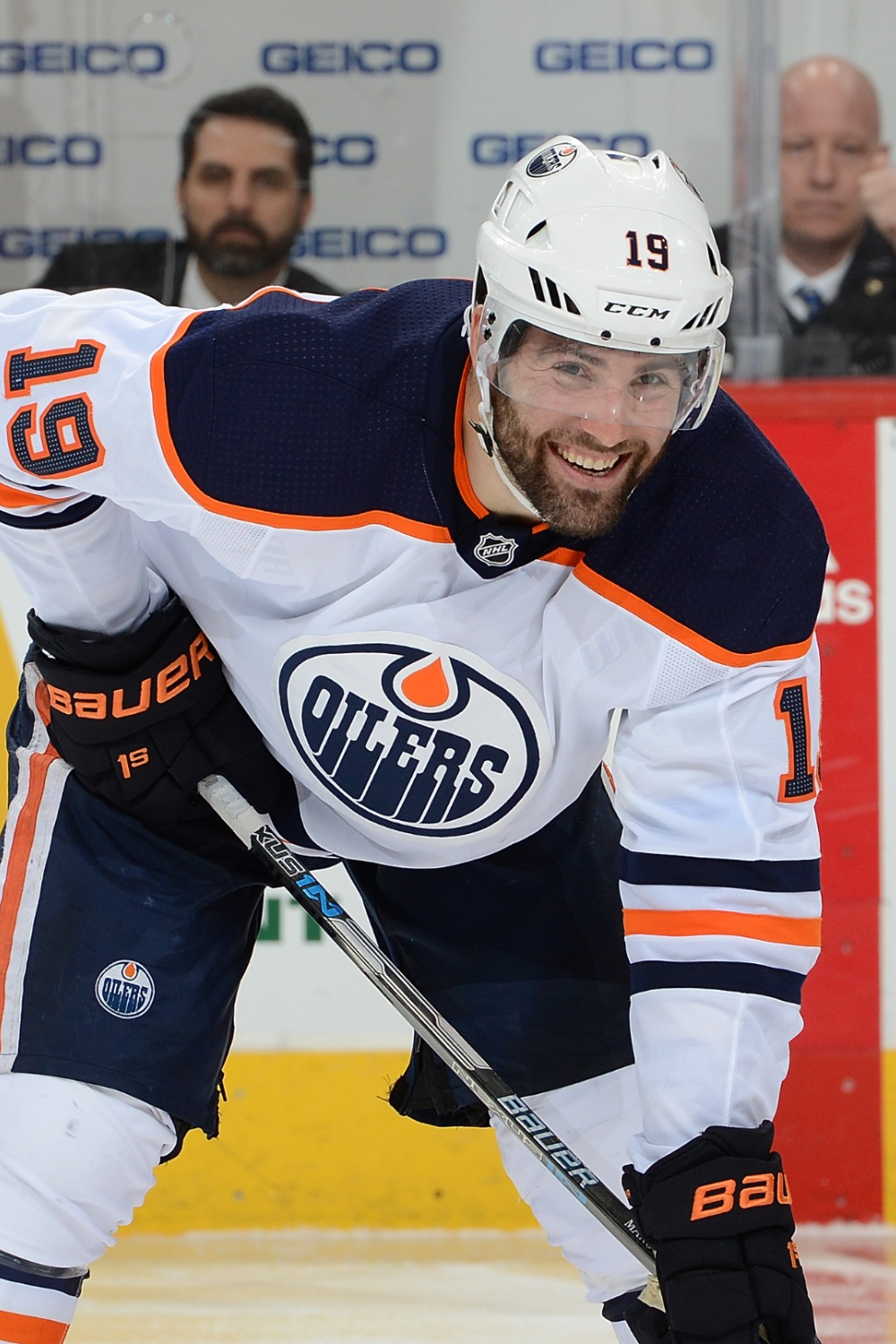 The Boston Bruins broadcaster Jack Edwards mocked Patrick Maroon's weight on December 1, 2022, while bolts were on the roads in Boston.
Edward said, "Listed at 238 pounds, "That was day one of training camp. I feel he's had a few more pizzas between then and now."
Patrick responded to mocking via Twitter, announcing 2000 donations to support those struggling with mental health, bullying, and body image.
The article below explains his career, life, girlfriend, net worth, and hockey stats. So, I request you to read the article thoroughly till the end.
But first, here are some of Patrick Maroon's Quick Facts.
Patrick Maroon | Quick Facts
| | |
| --- | --- |
| Full Name | Patrick Maroon |
| Nick Name | Big Rig, Fat Pat, Pat Maroon |
| Birth Date | April 23, 1988 |
| Birth Place | St. Louis, Missouri, US |
| Religion | N/A |
| Nationality | American |
| Ethnicity | Mixed |
| Education | Oakville High School |
| Horoscope | Taurus |
| Father's Name | Phillip Maroon |
| Mother's Name | Patricia Maroon |
| Siblings | 2 Phil Maroon, Justin Thomas Maroon |
| Age | 35 Years Old |
| Height | 6'3″/1.91 m/191 cm |
| Weight | 100 kg/220 lbs |
| Build | Athletic |
| Eye Color | Dark Brown |
| Hair Color | Black |
| Profession | NHL Professional Player |
| Active years | 2008-present |
| Team | Tampa Bay Lightning |
| Position | Left-Winger |
| Marital Status | Married |
| Wife | Francesca Vangel |
| Net Worth | $10 million |
| Career Earnings | $12,921,951 |
| Social Media | Instagram, Twitter |
| Merch of Tampa Bay Lightning | Puck collage, Tumbler, Cap |
| Last Update | December, 2023 |
When Did Patrick Maroon Graduate High School? Early Life And Education
The star ice hockey player, Patrick Maroon, graduated from Oakville High School. He spent his early life in St. Lois with his parents.
He was born on April 23, 1988, in St.Louis, Missouri, to supporting parents Philip Maroon and Patricia Maroon. Partick grew up with his two brothers, Phil and Justin Thomas Maroon.
Patrick hails from American nationality and belongs to the white ethnic group. He is a very athletic kid who played ice hockey from an early age.
How Old Is Patrick Maroon? Age, Height, And Body Measurements
The veteran ice hockey player turns 34 in 2023. Even in his 30s, Maroon is agile and physically fit, just like in his early years.
His horoscope is Taurus, and as the sign suggests, he is somewhat stubborn, level-headed, hard-working, down-to-the-earth, reliable, and sensual. Likewise, the athlete stands at 191 m and weighs around 220 lbs.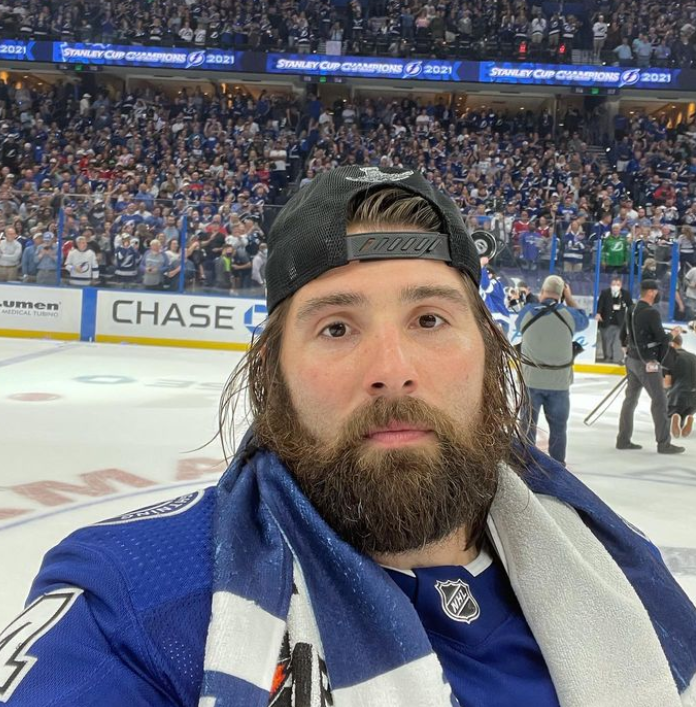 His years of training and dedication to ice hockey have granted him a well-toned and balanced physique, even though we don't see enough of it.
Besides that, Maroon has dark brown hair and equally attractive eyes. Nowadays, he can be seen sporting dark beards, which gives him more masculine vibes.
Don't Forget To Check Out: Sarah Jade, Ex-wife of Bautista: Wedding, Child & Birthday>>
Patrick Maroon | Early Ice Hockey Career
Maroon caught the attention of Kelly Chase and Al Maclnnis while playing high school hockey. He joined the Texarkana Bandits of NAHL, where he recorded 60 points in 57 games.
Despite his success, he was undrafted in the 2006 NHL Entry Draft. Kelly and Maclnnis motivated him to work hard, which resulted in losing 30 pounds over the summer.
Partick moved to St.Louis in the 2006/2007 season and earned their first Robertson Cup National Championship title. He recorded 23 points in 12 playoff games and set the league record for most points in a single season.
The Philadelphia Flyers picked Maroon in the sixth round, 161st overall of the 2007 NFL draft. After the draft, he was assigned to the major junior hockey team, the London Knights of the Ontario Hockey League(OHL).
In his first and only season with the Knights, Patrick was named to the Western Conference All-Star team and earned team MVP.
The talented player ended the season with 90 points in 64 games and one assist before joining the Flyer's affiliate Philadephia Phantoms.
Philadelphia Flyers
Maroon started his season with the Phantoms in the 2008-2009 AHL season after being sent to the Flyer's training session. He scored 54 points in 80 games during his first season.
During the summer of 2010, Partick led the United States men's national inline hockey team to a gold performance at Hockey World Championship.
The ice hockey player scored seven goals and 14 assists in the six games, including a goal and assist against the Czech Republic. However, the AHL coaching staff wasn't happy with his conditioning, and he was released from the team.
The Philadelphia traded him to the AnahieM Ducks on November 21, 2010.
Anaheim Ducks
Maroon played under the Anaheim AHL's affiliate, the Syracuse Crunch. Patrick scored 21 goals and 48 points in 57 games during his first season.
However, the 2013-2014 season proved to be better for Maroon as this was his first entire season in the NHL. He scored 11 goals with 18 assists in 62 games and later appeared in 71 games with nine goals and 25 assists.
During the 2015 Stanley Cup, playoffs were where he came alive, his offensive game where he scored four goals and 13 points in 56 games.
His ability to be a phenomenal assist and create a line for his teammates made him a key player for the team's win.
Sadly, Maroon failed to give consistent play in the following season as sometimes he excelled while other times, he simply lagged.
Edmonton Oilers And St. Louis Blues
After his shaky performance, on February 29, 2019, the Ducks traded Maroon to the Edmonton Oilers for Martin Gernat.
He scored his first goal in the Oilers' new arena and grabbed a 7-4 victory over the Calgary Flames. Patrick scored his first NHL hat trick in a 4-3 win over the Boston Bruins.
His streak with the Oilers ended after getting suspended for interfering against Los Angeles Kings defenseman Drew Doughty.
In the following month of 2018, he was again traded to the New Jersey Devils, where he signed a contract worth $1.75 million.
Luckily, their team qualified for the 2019 Stanley Cup playoffs, considering how they were at the NHL's bottom during the Campaign.
The Blues won the series in six games in the first round. Moreover, they defeated the Dallas Stars in the second round with 4-3 points.
On June 12, the Blues made history by winning the Stanley Cup against the Boston Bruins. Maroon signed a one-year contract with the Tampa Bay Lightning on August 24, 2019.
Tampa Bay Lightning
Partick signed a contract with Lightning on August 24, 2019, worth $900,000. His 2019-2020 seasons were cut short by the covid pandemic.
During that period, he played inline skating to stay fit. Maroon was named to the Lightning's return to play roaster for the Stanley on July 26, 2020.
Following their historic win in two years, Maroon signed a two-year, $1.8 million contract deal on October 29, 2020. He became the first player to go three-for-three in different uniforms.
Patrick Responds To The Mocking
The Boston Bruins broadcaster Jack Edward mocked Patrick Maroon's weight on December 1, 2022, while bolts were on the roads to play the game in Boston.
Edward said, "Listed at 238 pounds, "That was day one of training camp. I feel he's had a few more pizzas between then and now."
In support of those struggling with mental health, bullying and body image I am making a 2,000 donation in the name of @realjackedwards to @TampaBayThrives and I encourage @TBLightning and @NHL fans to join me. Donate here: https://t.co/ZEbWHw6Cqv

— Pat Maroon (@patmaroon) November 30, 2022
Maroon responded to the mockings and decided to make a two thousand dollar donation to the Tampa Bay Thrives, a nonprofit group that aids people who are struggling with mental health.
The funny part is that Partick donated in Edward's name, who mocked him on the live television broadcast.
You Might Also Want To Read: Napheesa Collier Age, Height, WNBA, Jersey, Boyfriend, Wedding, Instagram >>
Patrick Maroon | Career Stats
| Season | GP | G | A | Pts | +/- | PM | PP | SHG | GWG | S | SPct | S% |
| --- | --- | --- | --- | --- | --- | --- | --- | --- | --- | --- | --- | --- |
| 2020-2021 Playoffs | 23 | 2 | 2 | 4 | 2 | 37 | 0 | 0 | 1 | 26 | 7.69 | 7.7 |
| Career Regular Season 2021-2022 stats | 81 | 11 | 16 | 27 | 20 | 149 | 134 | 3 | 0 | 0 | 10.78 | 9.6 |
| 2022-2023 stats | 28 | 1 | 4 | 5 | -4 | 44 | 0 | 0 | 0 | 26 | 0 | 8.7 |
| NHL Career | 677 | 113 | 166 | 279 | 31 | 824 | 19 | 0 | 18 | 1030 | 0 | 11.2 |
How Much Does Patrick Maroon Make A year? Net Worth And Income
Patrick Maroon has had a successful ice hockey career and garnered much fame and attention. Not to mention, the success has gathered significant wealth as well.
It is no surprise that Patrick has an astounding net worth of $10 million. He signed a year-long contract with the Tampa Bay Lightning for $900,000.
Similarly, Maroon has been in many teams since his career started. When we calculate all the earnings from his job, Patrick made close to $12.5 million.
Despite not disclosing his income and earnings to the public, we know he has a collection of luxurious cars.
Net Worth Of Patrick Maroon In Different Currencies
Also, look into Patrick Maroon's net worth in different currencies.
| | |
| --- | --- |
| Currency | Net Worth |
| Euro | 71,606.94€ |
| Pound Sterling | 61,633.30£ |
| Australian Dollar | 111,207.05A$ |
| Canadian Dollar | 103,430.04C$ |
| Indian Rupee | 6,297,383.24₹ |
| BitCoin | 561.73฿ |
Who Is Patrick Maroon Engaged To? Personal Life & Wife
As he is famous for his career on the ice, Patrick's love life is also a topic of interest to many fans and sports media.
Well, we want our beloved athlete to have an experience, you know! Don't worry; Maroon has a well-balanced and successful career and personal life.
Patrick is happily married to his long-time girlfriend, Francesca Vangel. The Tampa Bay Lightning forward Pat Maroon tied the knot with Vangel on November 2, 2020.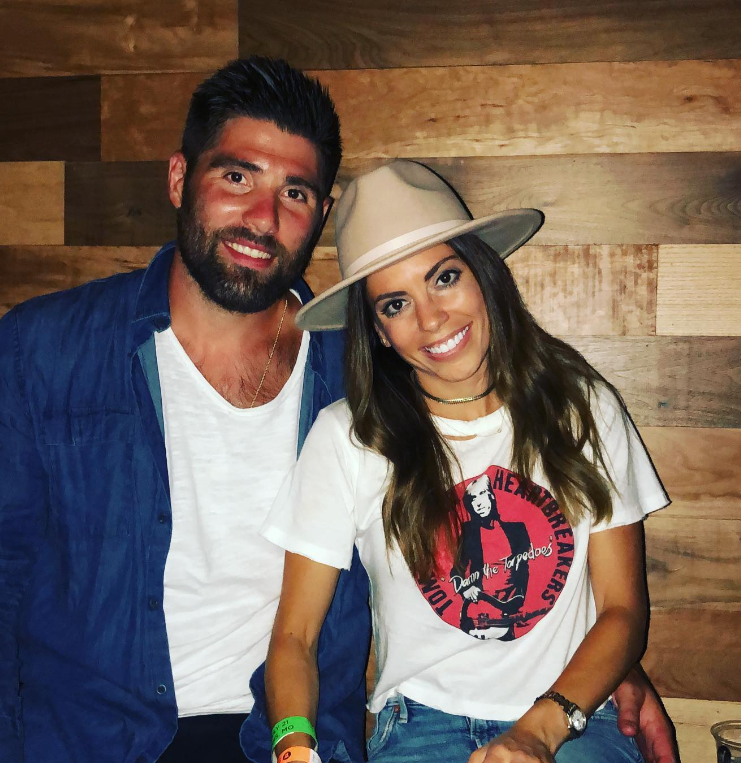 Sadly, we have no exact date and time of when their relationship began. Regardless of that, the couple is happy as of now. Maroon has never been in any rumors or controversies
Further, on September 2, 2008, Francesca and Patrick welcomed their first child, a baby boy named Anthony Maroon.
The pair are blessed with a second child, Goldie Maroon, a baby girl, on Oct 24, 2022.
Patrick Maroon | Social Media Presence
Patrick is available on various social media platforms like Instagram and Twitter. His social media post features pictures of his two children and wife.
Twitter: 82.5k Followers
View this post on Instagram
Instagram: 104k followers
Not only that, the ice hockey player frequently shares updates about his games and interacts with his followers.
Patrick Maroon | Popularity
Maroon's google search is relatively high, all thanks to his fantastic career and recent performance at the Tampa Bay Lightning.
The graph shows Google search graph over 12 months.
Patrick Maroon | FAQs
How many points does Patrick Maroon have?
Pat Maroon has scored a total of 247 points in the NHL.
Where is Patrick Maroon from?
Patrick Maroon is from St. Louis, Missouri, United States.
Is Patrick Maroon still with Tampa Bay?
Patrick Maroon still plays with the Tampa Bay Lightning of the National Hockey League (NHL).
Why did Patrick Maroon miss the game against the Blackhawks?
Patrick Maroon missed the game against the Blackhawks due to a lingering injury.
What is Patrick Maroon's jersey number?
Patrick Maroon currently wears jersey number #14 for the Tampa Bay Lightning.
How many cups does Pat Maroon have?
Patrick Maroon has won three Stanley Cups to date. He won it in three consecutive seasons in 2019, 2020, and 2021 with the St. Louis Blues.
You Might Also Be Interested In The Following: Jesse Winker MLB, Stats, Contract, Salary, Early Life & Girlfriend>>