Kelley Maureen O'Hara, simply famous as Kelley O'Hara, is a professional American soccer player. With the United States soccer team, the stunning O'Hara has won a gold medal at the 2012 Olympics and the FIFA Women's World Cup twice with the United States.
Currently, she plays a defender for the Washington Spirit in the National Women's Soccer League (NWSL) and the United States women's national soccer team.
O'Hara is highly versatile and has been deployed on the wings as a forward and a fullback.
Previously, Kelly has played for F.C. Gold Pride, Boston Breaks, Sky Blue F.C., and Utah Royals.
While at the Stanford Cardinal Women's soccer team in 2009, O'Hara received the Hermann Trophy.
She has been a part of the United States women's national team for FIFA Women's World Cup three times, in 2011, 2015, and 2019, and has won the tournament twice.
In the 2012 Olympics, she played every minute of her team's games in the women's football tournament, and they went on to win the gold medal.
We will dive into her career, personal affair, and social life. Let's start with some quick facts.
Quick Facts
Full Name
Kelley Maureen O'Hara
Birth Date
August 4, 1988
Birth Place
Fayetteville, Georgia, the U.S.
Nationality
American
Education
Stanford University, Stanford, California
Ethnicity
White
Horoscope
Leo
Father's Name
Dan O'Hara
Mother's Name
Karen O'Hara
Siblings
Erin O'Hara & Jerry O'Hara
Age
35 years old
Height
5'5″ or 165 cm
Weight
58 kg or 128 lb
Shoe Size
Size 6 (U.S.)
Profession
Professional Soccer Player
Debut
2009
Net Worth
$2 million
Married
No
Girlfriend
Kameryn Stanhouse
Children
N/A
Salary
$300k annually
Social Media
Instagram (808K followers),

Twitter (591.7K followers),

Facebook (190K followers)

Merch
Poster, ESPN Magazine
Last Update
November, 2023
Kelley O'Hara | Early Life, Family, and Education
Kelley O'Hara was born in Fayetteville, Georgia, on August 4, 1988. Her father's name is Dan O'Hara, and her mother's name is Karen O'Hara.
Likewise, she has two siblings, Erin O'Hara, her sister, and Jerry O'Hara, her brother. In addition, Kelley is of Irish heritage, while her nationality is American.
Growing up in Peachtree City in Georgia, O'Hara completed her high school at Starr's Mill High School in Fayette County.
O'Hara played four years on the varsity soccer team at her school and even was the team captain during her junior and senior years.
As a junior and a senior, she was named Parade All-American and All-League, All-County, and All-State all four years.
Moreover, the Atlanta Journal-Constitution (AJC) awarded Kelly the Player of the Year and Gatorade Georgia Player of the Year in 2006.
She was also selected as NSCAA All-American.
Before playing for the United States Under-16s team in 2004, O'Hara played for the club's Peachtree City Lazers and AFC Lightning.
Following that, U-17 picked her for the youth women's national team in 2004.
In 2007, she won the GA U19G State Cup with the Concorde Fire South '88 Elite and moved on to the Semi-Finals of Regionals.
Kelley O'Hara | Height & Weight
As a professional player, Kelly O'Hara is 5 feet 5 inches or 165 cm tall. She weighs 58 kg or 128 lbs.
Similarly, she uses her incredible athletic skills to her advantage with her perfect body.
Therefore, because of her incredible athletic body, she has been able to score goals and thus played in multiple positions.
Other than that, O'Hara's hair is dark brown, and her eye color is hazel.
Kelley O'Hara | Professional Career
After joining Stanford University in 2006, O'Hara led the Stanford Cardinal with nine goals.
In her sophomore year, Kelley led the team in scoring again and helped them reach the third round of the NCAA tournament.
O'Hara helped Universitysity qualify for the College Cup for the first time since 1993 in her junior year.
Though they were able to defeat the 2005 national champion Portland, they lost to Notre Dame in the semifinal.
The season was one of Division I history's best seasons, but the Cardinal lost to North Carolina in College Cup 2009.
At the end of her college career, Kelley had 57 goals and 32 assists for the Stanford Cardinal, both the numbers being school records at the time.
As the top college soccer player, Hermann Trophy 2009 was awarded to O'Hara.
In the summer of 2009, she also played for the USL W-League team Pali Blues before graduating from University and scoring 4 goals.
Kelley O'Hara | Club Career
At the WPS Draft of 2010, F.C. Gold Pride drafted Kelley as the third overall pick.
She had played with their head coach Albertin Montoya earlier in 2009 when Montoya was an assistant coach at Stanford University.
The club dominated and finished the regular season at the top of the table, earning a direct route to the championship playoff game.
Likewise, they won the WPS Championship defeating the Philadelphia Independence by four goals to nil.
However, the club had to cease operation irrespective of all their success because they could not meet the league's financial reserve requirement, and the club shut down in November 2010.
O'Hara was then signed to the Boston Breakers as an outside midfielder, scoring 10 goals in her two seasons in WPS.
She then signed for the Atlanta Beat but could not play there as the league folded before the 2012 season could begin.
In the new National Women's Soccer League, O'Hara signed for Sky Blue F.C. on January 11, 2013, and started playing as a forward again.
During her time at the club, Kelley played in various positions: a forward, winger, right-back, and central defender.
After getting traded to the Utah Royals on December 29, 2017, Kelley could only play 8 games for the team in 2018 due to a hamstring injury.
O'Hara's trade to the Washington Spirit was officially announced on December 2, 2020.
The deal sent $75,000 in allocation money to the Utah Royals and a 2022 first-round draft pick.
In her first year in Washington, O'Hara started 15 of the 17 games she appeared in, recording 1,410 minutes.
Kelley O'Hara | International Career
From 2005 through 2010, O'Hara was part of several United States youth national teams. In her 35 under-20 appearances, she scored 24 goals.
At the 2007 Pan American Games, joining the U-20 national team again, Kelley scored four goals in the women's football tournament.
Unfortunately, the team consisting of only U-20 players lost to Brazil in the final.
Moreover, Kelley played in the U-20 Four Nations Tournament held in Chile in February 2008, and at the 2008 CONCACAF Women's U-20 Championship in Puebla, Mexico, O'Hara made her last appearance for the U-20 team.
The team qualified for the FIFA U-20 Women's World Cup 2008 in Chile with her contributions.
Unfortunately, she did not appear in the tournament but the NCAA postseason with her college team.
Senior National Team
In December 2009, after being called up by the senior national team's training camp, O'Hara participated in the training camp in January 2010.
Then, in March 2010, in a friendly match against Mexico, she earned her first national team cap.
2011 FIFA Women's World Cup
O'Hara was not initially selected among the 21 players for the World Cup.
However, when Lindsay Tarpley tore her ACL against Japan, Kelley was called to replace Tarpley, playing just once in a group stage game against Sweden.
The U.S. team won the silver medal in the competition.
2012 Olympics
Even when she had always been an offensive threat, head coach Pia Sundhage used O'Hara at other positions in 2012 after Ali Krieger suffered an ACL injury at the CONCACAF Women's Olympic Qualifying Tournament.
O'Hara assisted three goals in her first appearance at the left-back position.
This game was held on January 22, 2012, in the Olympic Qualifiers, against Guatemala.
She then played as a right-back for the first time against Costa Rica.
In the 2012 Olympic Games, Kelley played all the 570 minutes for her United States side and was one of the three players on her team to do so, the other two being the goalkeeper Hope Solo and captain Christie Rampone.
2015 & 2019 FIFA Women's World Cup
After not playing for her United States team in the first four games, O'Hara started the tournament against China PR in the quarterfinal.
She then scored her first career international goal against Germany in the semifinal, winning the game 2-0.
The United States then defeated Japan 5-2 to win their first World Cup title in 1999 and their third overall since the first FIFA Women's World Cup in 1991.
Furthermore, in 2016, O'Hara, along with Megan Rapinoe and Emily Sonnett, was among fifty players who sued the USWNT, citing gender discrimination and unfair pay.
O'Hara was then selected for the 2019 FIFA World Cup in France, despite her injuries keeping her from regular playing time.
She played in all the knockout stage games, and in the final match against the Netherlands, the U.S. team won 2-0.
Kelley O'Hara | Relationship and Coming out as a Lesbian in 2019
Kelley O'Hara had a boyfriend named Adam Sweat earlier, with who she had been since they were young.
Nevertheless, after the World Cup 2019, a new photo surfaced on the internet, shocking everyone.
After winning the FIFA Women's World Cup 2019, O'Hara was seen kissing her girlfriend, Kameryn Stanhouse, and that's how she came out as a lesbian.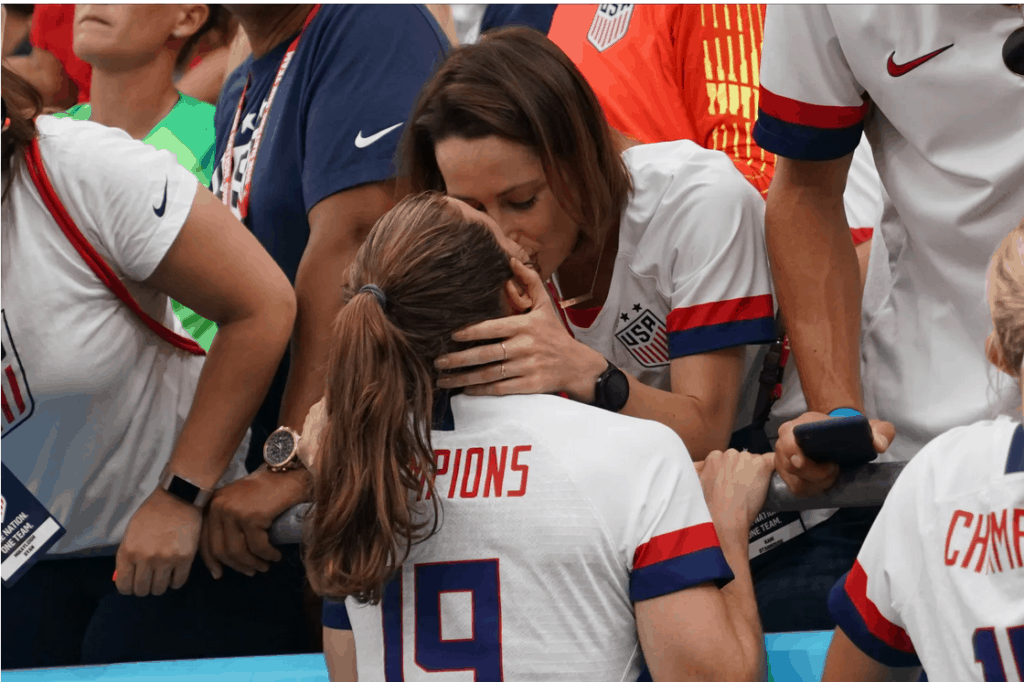 Although O'Hara is not too expressive about her personal life in media, it is a fact that she stays with her partner in Washington, D.C., during her offseason.
The 2019 FIFA Women's World Cup in France featured many LGBT athletes, including O'Hara.
Kelley Rescues Flag
Furthermore, in 2019, she won the hearts of internet people, not just because she won the World Cup for the second time.
The athlete saw the United States flag lying on the ground and swiftly went to its rescue.
After that, she went viral on the internet for picking up the flag that Allie Long dropped while celebrating Megan Rapinoe's Golden Boot win.
Tokyo 2020 Olympics
The one-time Olympic gold medalist played at the Tokyo 2020 Olympics to claim another gold medal: O'Hara's third Olympic appearance.
She has represented the United States women's national soccer team (USWNT) at the 2012 and 2016 Summer Olympics.
The USWNT was victorious in 2012 but failed to win medals in the 2016 Olympics.
Furthermore, the USWNT has the highest number of gold medals in any country's history of the Olympic Soccer Tournament in both men's and women's games.
So, the U.S. had a lot of expectations from them to keep the count of gold medals increasing. O'Hara served as a defender of the national team.
Besides that, the USWNT has already defeated New Zealand in their first Tokyo Olympic match with a 6-1.
Nevertheless, the fans had a lot of hope for the women's team and were optimistic about their potential fifth gold medal win. However, the U.S. team fetched the Bronze Medal.
Kelley O'Hara | Net Worth, Salary, and Endorsements
O'Hara has many endorsement deals thanks to her stardom. She works with and is signed with the highly reputed and famous American sports brand Under Armour.
She reportedly earns about $300k annually and has an estimated net worth of $2 million.
Along with Alex Morgan and Allie Long, she has a brand named Beat Everybody, which sells sports apparel.
O'Hara is also a host for the podcast, which she launched with the website Just Women's Sports, so she has many income sources.
Kelley O'Hara | Social Media Presence
O'Hara is highly active on her social media. She regularly posts pictures of her training sessions with teammates and glimpses from her podcast, where she talks with her guests.
Kelley also posts her traveling, eating, and unique moments on the pitch.
Her pictures show how much she loves the company of her United States teammates.
Instagram –808K followers
Twitter –591.7K followers
Facebook –190K followers
Kelley O'Hara | Popularity
The football champion keeps trending in the U.S. and worldwide as she is famous in women's football.
The above graph demonstrates the Google Search Results worldwide for the past 12 months.
Kelley O'Hara | FAQs
Is Kelly O'Hara dating Josh Groban?
No, the footballer is not dating singer and actor Josh Grob. The two are unlikely to have even met each other as their worlds seem far apart.
How old was Kelley when she first started playing soccer?
Kelley O'Hara was very young when she started playing soccer. In 2018, she posted a throwback picture of herself wearing a football jersey.
She captioned, "I still remember my first practice when the coach told us we were going to learn how to dribble, and I remember thinking, I thought you couldn't use your hands!"
She added, "I've since learned how to dribble (most of the time), and through the years, I've fallen in love with this game."
Is Kelley O'Hara still on the USWNT?
Defender Hailie Mace Replaced Kelley O'Hara On USWNT Roster for September Friendlies against Nigeria as Kelley is dealing with a hip injury.
How many goals has Kelley O'Hara scored?
Kelley O'Hara scored 27 goals and recorded 25 assists in her 141-game career with the F.C. Gold Pride, Boston Breakers, Sky Blue F.C., Utah Royals F.C., and Washington Spirit.