Ken Caminiti is one of the best baseball players in the 90s. He started playing baseball professionally in the late 80s and played on till the early 2000s. Ken was considered one of the very few players who was born to play the game.
In his career, he was able to play in 5 different teams in the US. He was able to keep his good name and best game in all these teams.
Ken was one of the best third basemen of his time, and he played Major League Baseball for 15 seasons till the end of his career and, sadly, his life.
Let us learn more about this legend's life, how he jumped into baseball to make a career out of it, how he became the most valuable player, and how it all came to an end. We have everything there is to know about Ken in this article by the great Ken Caminiti.
Ken Caminiti | Quick Facts
| | |
| --- | --- |
| Full Name | Kenneth Gene Caminiti |
| Profession | Baseball Player |
| Date Of Birth | 21-Apr-63 |
| Place Of Birth | Hanford, California, United States |
| Parent's Name | Yvonne and Lee Caminiti |
| Zodiac Sign | N/A |
| Age | 60 Years Old |
| Married | 1987-2002 |
| Spouse | No |
| Spouse's name | Nancy Smith (married. 1987-2002) |
| Spouse's profession | N/A |
| Children | Kendall, Nicole, Lindsey |
| Religion | Christianity |
| Height | 6 Feet |
| Weight | 90 kg |
| College | San Jose State University |
| Current Team | Not Playing |
| Nationality | American |
| Residence | California, USA |
| Social Media | N/A |
| Date of Death | 10-Oct-04 |
| Place of Death | New York, USA |
| Merch | Trading card, Rookie card |
| Last Update | November, 2023 |
Ken Caminiti | Family and Early Life
Family
Ken Caminiti, full name Kenneth Gene Caminiti was born and raised in Hanford, California. He was born in the year 1963, on April 21, to Yvonne and Lee Caminiti.
Talking about his family, he had his parents Yvonne and Lee Caminiti, and his sibling, Glenn, and Carrie Caminiti.
It is said that he used to enjoy playing sports with his siblings and his parents, especially his father. Their utilization of leisure time for sports was one of the things that drove Ken to become a professional baseball player.
Education and Early life
Ken studied at Leigh High School, which was located in San Jose, California. He graduated from high school in the year 1981. He was quite an athlete in high school. The boy had an athletic body and was quite versatile in sports too.
He played sports like football and baseball quite often and was also on the high school team. He might have had a completely different football career as he was invited to many all-star games after his season in high school.
However, he was more inclined toward baseball in sports and played baseball for the Spartans during his study at San Jose State University. He played on the team for a year.
During this period, he became quite recognized in the American baseball scene because of his skills and talents. After college, his baseball career as a professional kicked off.
Ken Caminiti | Body Measurement and Nationality
Ken was a man with an athletic build. He seemed like a huge man even though his height was only 6 feet, which was quite average for a baseball player. The reason was he had a quite bulky body, which was sort of perfect for the power generation during his plays. His last recorded weight was 90 kg.
As for his nationality, he is an American. He was born and raised in California and had US citizenship. So, he was American from birth and certification too.
Ken Caminiti | Career
Early Career
As for his early career, he started playing for the Spartans in 1983 when he studied at San Jose State University. After his studies were over, he was signed by the Houston Astros as a third-round pick in the amateur draft.
Ken began his career with the Osceola Astros of the Single-A Florida State League in 1985. Similarly, he played as the third base for Indios De Mayaguez in the Puerto Rico Winter League. Furthermore, Ken earned a call-up to the Double-A Columbus Astros in 1987.
Professional Career
Ken made his major league debut when he was just 24 years old on July 16, 1987. His debut team was Houston Astros. However, he returned to the minor leagues in 1988 to play with the Triple-A Tucson Toros of the Pacific Coast League.
But his move to the minor league was not permanent as he played for the Houston Astros from 1987 to 1994. After playing for six seasons in Houston, he was traded to the San Diego Padres, where he played for three years.
In San Diego, Caminiti reached his career-high by hitting .302 with 26 home runs and 94 RBI in 1995, which later rose to .326/40/130 in 1996. He again returned to Houston Astros but only played two seasons before joining the Texas Rangers in 2001.
However, his return to Houston as a free agent and injuries hindered his performance. This made him struggle with the Texas Rangers, so he was released and finished his career with the Atlanta Braves.
Learn about another great baseball player – Jose Altuve Bio: Early Life, Career, Net worth, Personal Life
Awards
Kenneth was able to win three gold glove awards while playing for the Padres in the years 1995, 1996, and 1997. Furthermore, he was also selected as the National League's MVP in 1996. He has also appeared in the All-Star Game for three years.
In addition to all of the awards he has won, he was elected into the San Diego Padres Hall of Fame in 2016, which is quite an achievement for any player playing any sport in the world. You can get more detailed information about his career and awards from his Wikipedia page.
Ken Caminiti | Net Worth
Although Ken Caminiti is no longer with us right now, he was a very rich baseball player of his time, perhaps one of the richest too.
He was said to have a net worth of USD 12 million, which is quite a hefty amount.
As for his salary during his years as a player, we do not have exact information. But because he was quite famous and loved, his salary could have been near a quarter-million-dollar. The reason is that he would have had sponsorships and advertisements, which would work as his income too.
Ken Caminiti | Wife and Daughters
Mr. Caminiti was married to a lady named Nancy Smith on November 14, 1987. It was going all good at first as they were pretty happy with their life.
However, later in their marriage, there were some differences in opinions between the spouses, which made them struggle as a couple.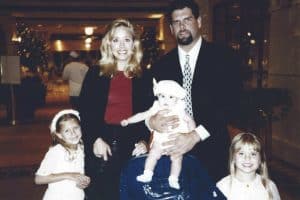 They already had three daughters, Kendall, Lindsey, and Nicole. Their problem led the family to separate. They were married from November 14, 1987, to December 10, 2002. As for the reason for the separation, it is still not confirmed.
However, going through the life of Ken Caminiti, we can say that one of the reasons was his struggle with substance abuse.
Nancy might have thought about it and its effects on their children. They might have even tried to solve this problem, but addiction is not a joke.
This might have led them to get a divorce after Ken's struggle with drugs did not come to an end.
Ken Caminiti | Death
The reason for Ken's divorce soon became the cause of his death. Throughout his career, Ken struggled with substance abuse. He admitted that he used to use steroids when he played baseball, which developed controversies surrounding his awards and plays.
Caminiti also used to use cocaine, which even led him to be arrested once for the possession of cocaine. He even tested positive for cocaine when he was in the prohibition period, which showed his struggle to stop using drugs.
On October 5, 2004, Ken was admitted to a Houston court because he had violated his probation. This was his fourth violation of probation, and he was sentenced to 180 days in jail but was given credit for his time already served and was released soon.
On the day of his death
On October 10, 2004, Caminiti was in his friend's apartment, where he took cocaine and heroin. When he came out of the bathroom, he collapsed on the floor. He was taken to Lincoln Hospital after a 911 call was made. During the call, he was already going into cardiac arrest.
At 6:45 pm, Caminiti was announced dead. The cause of death was reported to be a heart attack, according to the preliminary news reports.
However, the autopsy results gave more details of his death, stating that "acute intoxication due to the combined effects of cocaine and opiates" caused his death.
Funeral
His funeral services were held in Solana Beach, California. Many Padres players attended the event. His remains were cremated and interred at the Cambo ranch in Texas, co-owned by Ken with former teammate Craig Biggio.
People Often Ask
Is Caminiti in the Baseball Hall of Fame?
Yes, he is in the Baseball Hall of Fame. Ken was named the National League Most Valuable Player in 1996 when he was playing with San Diego. Furthermore, he is a member of the Padres Hall of Fame, which is a huge achievement.
Where did Caminiti die?
Ken Caminiti suffered from cardiac arrest in his friend's apartment because of an accidental drug overdose. He was rushed to the hospital and was announced dead at 6:45 pm, on October 10, 2004, by the Lincoln Hospital.
Did Caminiti's friend and baseball player Craig Biggio do steroids?
When asked, Biggio said that the team, the Astros, was the major league hotbed of steroids. Many players, including himself and Caminiti, used steroids to play many baseball games during their time.
What is Ken Caminiti's career statistic like?
Ken Caminiti commenced his career debut on July 16, 1987, for the Houston Astros, while he retired on October 7, 2001, for the Atlanta Braves. During their tenure, he depicted a career statistic of 983 runs batted in, 239 home runs, and a batting average of .272.
Is there any documentary on Ken Caminiti?
Based on his life story and journey, his documentary is titled "The Rise and Fall of Ken Caminiti."
Like the writer's work, read more from the same writer – Andrey Rublev: Early Life, Height, Career, Net worth, Girlfriend.