Kenneth Dwayne Vaccaro, better known as Kenny Vaccaro, is an American Football player for the National Football League's Tennessee Titans.
He started his career in the NFL with the New Orleans Saints in 2013 in the first draft of the 2013 pick.
In this article, we discuss a lot more about the American Football Player. But, before going into detail, let's check the quick facts of Vaccaro.
Quick Facts
Here are a few quick facts about the American Football star.
| | |
| --- | --- |
| Full Name | Kenneth Dwayne Vaccaro |
| Birth Date | February 15, 1991 |
| Birth Place | Brownwood, Texas |
| Known as | Kenny Vaccaro |
| Religion | Unknown |
| Nationality | American |
| Ethnicity | Black |
| Education | The University of Texas, Austin |
| Horoscope | Aquarius |
| Father's Name | Ken Vaccaro |
| Mother's Name | Alesia |
| Siblings | N/A |
| Age | 32 Years Old |
| Height | 6 feet (1.83m) |
| Weight | 97 kgs (214 pounds) |
| Build | Athletic |
| Body Measurements | Unknown |
| Hair color | Black |
| Eye color | Dark Brown |
| Profession | American Football(Rugby) Player |
| Active Years | 2013-present |
| Marital Status | Married |
| Spouse | Kahli Vaccaro |
| Children | 3 |
| Net Worth | N/A |
| Social Media | Instagram, Twitter |
| Last Update | November, 2023 |
Kenny Vaccaro – Early Life, Education, Career
His single-parent mother raised Kenny Vaccaro and his siblings in his hometown Brownwood, Texas. He studied in Brownwood High School before transferring to the Early High School for his senior year.
Kenny played football in his schools and even earned the All-District and All-State Honors. He played in six different positions while in high school.
As Vaccaro was a pretty athletic teenager, he played basketball and other athletics like long jump, triple jump, and basketball.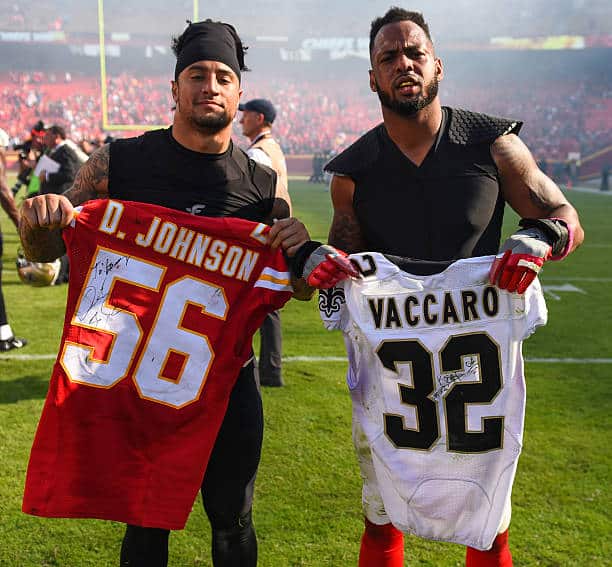 Kenny played football all through college. He enrolled in the University of Texas at Austin and played for coach Mack Brown's Texas Longhorns football team from 2009 to 2012.
In his freshman year, Kenny appeared in all of the 13 games of the season. He played in safety and on special teams.
Vaccaro played all of the 12 games of the season in his Sophomore year. He played his best yet in that season by scoring nine tackles, one tackle for loss, and two pass breakups in a single match.
His Junior Year was an excellent showcase of his skills as he finished the season with a total of 82 tackled with 8 for loss, 2.0 sacks. Eight pass breakups and 2 interceptions.
In the Senior year of his college, he received the first name All-American Pro Football Weekly. He was also voted for the defensive captain and linebacker Alex Okafor.
Like football?? Here, read about Colt Brennan!!
Kenny Vaccaro | Professional Career
After college, Kenny attended NFL Scouting Combines and completed all combines and positional drills. Unfortunately, he didn't perform any drills on one of those events due to a hip injury.
Vaccaro attended many private workouts and visited teams like Dallas Cowboys, Tennessee Titans, New York Jets, Buffalo Bills, and New Orleans Saints.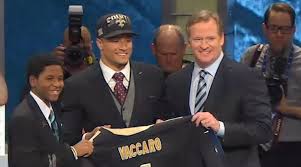 Sports Illustrated, DraftScout.com, NFL Analyst Mike Mayock, etc., ranked him as a severe prospect for safety.
The New Orleans Saints selected Kenny in the first round (15th overall) of the 2013 NFL Draft. Vaccaro was the first safety drafted from the University of Texas at Austin after Earl Thomas in 2010.
New Orleans Saints
The New Orleans Saints selected Kenny in the 2013 NFL Draft. He was drafted as the first safety of 2013 by the franchise.
He signed a four-year, approximately $10 million contract and a hefty signing bonus of $5.23 million.
Rookie Year
Vaccaro debuted in the NFL as the backup strong after competing against Roman Harper for that position throughout the training session. His coach, Sean Payton, gave him the position.
Vaccaro's first-ever NFL match was against the Atlanta Falcons. He made 5 solo tackles and deflected a pass as well.
Kenny became the starting strong safety on the third week because of the season because of an injury to his teammate.
He recorded seven combined tackles in his match against the Arizona Cardinals and broke a pass. In addition, he made his first career sack against the Chicago Bears.
By week 10 of his first season, a concussion was injured due to a knee-helmet collision, and he stayed on rest in the week. He also went ankle surgery due to an injury with the Carolina Panthers.
His rookie season ended with a total of 79 combined tackles, 62 solos, 8 pass deflections, a sack, a forced fumble, and an interception in 14 games and 14 stars.
His overall grades were 82.6 from Pro Football Focus, and he had the 13th best grade in all qualifying safeties in 2013.
2014 – 2015
Kenny Vaccaro entered the training camp to start strong safety as Roman Harper left for the California Panthers. However, the defensive coordinator named him the starting strong safety.
His first match in 2014 was with Detriot Lions. He made two combined tackles, a pass deflection, and an interception during the 24-23 loss. He achieved his season-high of 10 total tackles against the Green Bay Packers.
Due to injuries, he finished his season with a combined total of 71 combined tackles, 5 deflections, 2 interceptions, and a sack in 15 games and 14 starts.
For the 2015 season, he started as the starting safety in his 2015 season. Vaccaro did not have any significant injuries in 2015 and starred in all of the season's 16 games.
He scored a career-high of 104 combined tackles, five pass deflections, three sacks, and a fumbled force. Vaccaro was ranked 21st among all the qualifying safeties in 2015 by Pro Football Focus.
Kyle Sloter is another football player you might be interested in!!
2016 – 2017
The Saints extended the contract with Kenny for the 2017 season and paid him $5.76 million. However, he was inactive for the first half of the season due to an injury he sustained on his ankle with the Atlanta Falcons.
Kenny faced a four-game suspension in 2016 for violating the league's policy on performance-enhancing drugs using Adderall and planned to appeal.
He finished his season with a drooped score of 68tackles, 5 pass deflections, two forced fumbles, an interception, and a sack in 11 games and 11 starts. Vaccaro received an overall grade of 79.9. He qualified in the 38th rank.
He started the 2017 season as the starting strong safety along with Vonn Bell. Kenny missed two games after an injury to his groin.
Even after playing a few games, including a victory over New York Jets, he was placed on injured reserve for his wrist and groin injury. He required surgery for his wrist.
Kenny scored 60 combined tackles, seven pass deflections, 3.5 sacks, a fumble recovery, a touchdown in 14 games, and 14 starts. He was placed 114th in the qualifying cornerbacks in 2017.
Tennessee Titans
On August 4, 2018, Kenny Vaccaro signed a one-year $1.5 million contract with the Tennessee Titans. He started strong safety when Johnathan Cyprien of the Titans suffered a torn ACL.
2018 – Present
He opened the season from Tennessee Titans against the Miami Dolphins. Then, a few weeks after that, he suffered from an injury despite putting up a good performance before it.
Vaccaro dislocated his elbow and hence missed a few weeks of matches.
The 2018 season finished with a below-average performance from Kenny. He scored 58 combined tackles, two sacks, four pass deflections, and one interception.
After signing a four-year $26 million contract extension with the Titans, an additional $11.5 million was guaranteed. The same year in 2019, Vaccaro recorded his first sack of the seasons by sacking Nick Foles in the fourth quarter.
For the 2020 season, Kenny led his team with 11 tackles and recorded the season's first sack with a 33-30 win against the Jacksonville Jaguars.
Kenny Vaccaro | Career Stats
You can also check Kenny's information on Rotoworld sites.
Kenny Vaccaro | Wife and Kids
Kenny Vaccaro was born to Ken Vaccaro and Aleisa. He was raised with his siblings by his mother singlehandedly. He came from humble beginnings and had to work hard for all the success that he had achieved.
It is unclear how many siblings he had, but Kevin Vaccaro also played football as a Texas Longho. In addition, Super Bowl winner A.J Johnson is his uncle.
He is married to Khali Vaccaro, with whom he has three kids. He actively shares his wife's and kids' pictures on Instagram and Twitter.
Vaccaro is also involved in a lot of charity. Kenny strongly believes in giving back to society as he founded the Kenny Vaccaro Foundation to provide economically disadvantaged students with educational resources to ensure their academic success.
During the 2016 offseason, he and Alex Okafor traveled to Kenya in a fundraising effort to construct a school in the region.
Kenny Vaccaro | Social Media
Instagram: 182k Followers
Twitter: 99.1k Followers
How much is Kenny Vaccaro worth?
It is not officially known how much he is worth, but he is estimated to be around more than $1 million.
Is Vaccaro married?
He is married to Khali Vaccaro and has three kids together.
How tall is Vaccaro?
He is 6 feet tall.
Does Kenny Vaccaro have Instagram?
Yes, Kenny is quite active on Instagram and Twitter as well.
What is the Jersey Number of Kenny Vaccaro?
Kenny Wears the Jersey Number of 24.
Is Kenny Vaccaro Potentially a Pro Bowl Player?
Kenny Vaccaro has been considered a Pro Bowl player for New Orleans Saints.
Does Vaccaro Have Tattoos in his Body?
Yes, he has tattoos on different parts of his body.
What Happened in Between Kenny Vaccaro and Steve Smith?
Vaccaro and Smith get into a fight during the Ravens-Saints game.
Is Kenny Hispanic?
Kenny is not a Hispanic.
Is Vaccaro Been Traded by Saints?
No, he is not traded by the Saints.