Khalil Mack's father, Sandy Mack Sr., is professionally a program specialist. Since he introduced Khalil to sports from a very early age, it is safe to assume that he was an avid football fan too.
From what we can tell, Khalil Mack and his father, Sandy Mack Sr., share a special relationship that extends beyond on and off the pitch.
Let's view some facts; do not worry, we will also talk about Khalil Mack's father in detail.
Khalil Mack's father | Quick Facts
| | |
| --- | --- |
| Full Name | Sandy Mack Senior |
| Birth Date | N/A |
| Birth Place | United States |
| Nick Name | None |
| Religion | Christian |
| Nationality | American |
| Ethnicity | Black |
| Education | N/A |
| Horoscope | N/A |
| Father's Name | N/A |
| Mother's Name | N/A |
| Siblings | N/A |
| Age | N/A |
| Height | N/A |
| Weight | N/A |
| Hair Color | Black |
| Eye Color | N/A |
| Build | Bulky |
| Profession | Program Specialist |
| Marital Status | Married to Yolanda Mack |
| Kids | Three sons |
| Net Worth | N/A |
| Merch of Khalil Mack | Clothing, Rookie Cards, Signed Ball |
| Last Update | June, 2023 |
Khalil Mack's Father's Magical Relationship With His Son
There is a video surfing on the internet that has captured Khalil hugging his dad before a match against Philadelphia Eagles. The match was a wild-card round playoff match.
Sandy Mack Sr. was also thereby Khalil's side when he interviewed for his newly established partnership with Mack Trucks in Lehigh Valley facilities.
Realistically speaking, how many NFL players' fathers give an interview alongside their sons? The number is slim. Sandy Mack Sr. might as well be the proudest father in all of the National Football League right now.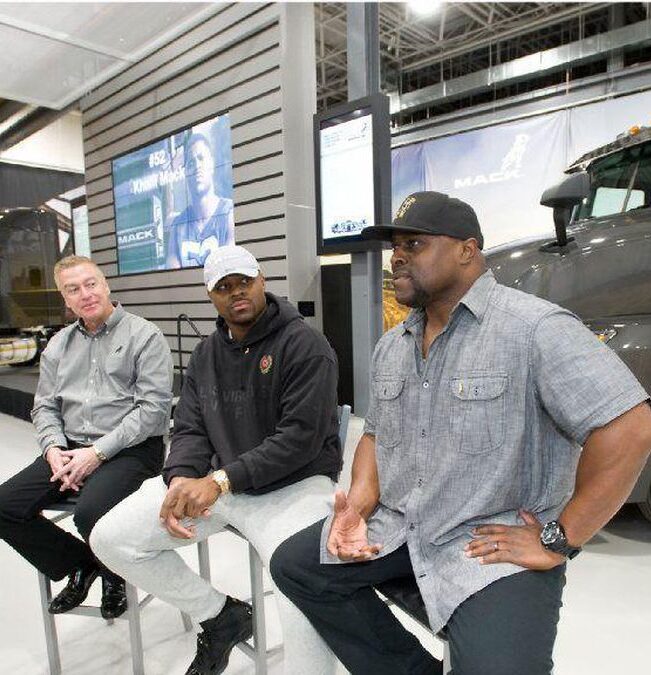 Besides this, Sandy Mack is also a supportive father. In the early days when Khalil was just a seven-year-old kid, his father was proud of him as he is now. Khalil shared a childhood story related to this statement.
Apparently, Khalil Mack's father was always telling people how many push-ups Khalil could do. Khalil further shared the story that once, a huge, jacked, muscular guy who lived in the neighborhood said Khalil would not be able to do even 20 push-ups.
Sandy Mack Sr. being a proud father, asked Khalil to start doing push-ups in front of the gas station they were stopping by at. He said that he did 60 push-ups, maintaining a perfect military form at the age of 7.
You might be interested in reading about Charleston Rambo.
Kahlil Mack's Father's Career
Sandy Mack Sr.'s Album
Aside from being a program specialist, Khalil Mack's father seems to be into music too. Surprisingly, Sandy Mack Sr. dropped an EP in 2017 titled "Blessed." The EP has five songs, all of which are about the glory and greatness of Jesus Christ.
The first song on the list named Blessed sounds like it is directly inspired by blues and gospel music. Likewise, the second song on the tracklist, What a friend, is an acapella singing about how good of a friend Jesus is.
Similarly, the third song on the list titled "I surrender" sounds inspired by the 80's R&B hits. The fourth song, #testimony, is an easy-listening pop song.
Lastly, the fifth song is a straight-up pop song. Unfortunately, his Spotify account has active 0 listeners monthly.
Devon Cajuste might be of your interest too.
Khalil and his dad are both religious and go to church most Sundays. So if someone passionate about something wants to make an EP album about it, let the man do his thing.
A Bit of History About Khalil Mack
Khalil Mack is the highest-paid defensive player in the history of the National Football League.
In 2018, Mack was traded to the Chicago Bears by the Oakland Raiders for two first-round draft picks. He signed a six-year contract with the Chicago Bears at an astonishing $141 million.
Before being a star player for the club, Khalil was an ordinary child, just like any of us.
Khalil Mack was born on the 22nd of February 1991 in Fort Pierce, Florida. He was raised by parents Sandy Mack Sr. (father) and Yolanda Mack (mother), who were high school sweethearts.
He was raised along with his two brothers Sandy Jr. and LeDarius.
Khalil was admitted to Fort Pierce Westwood High School, located in Fort Pierce, Florida. His father, Sandy Mack Sr., let sports influence mack from the very early age of 5.
He played as a quarterback in his high school days and was given the nickname "bombshell man". Naturally, Mack gravitated toward sports and had a special liking for baseball and basketball though he mostly played Pop Warner Football.
He had one major flaw in his football playing; he could not throw the ball too far, and as a result, he became a linebacker.
Khalil relied on basketball for a college scholarship in his late high school days, but that dream did not come true due to a tear in his kneecap.
Sandy Mack's Other Sons
Khalil Mack's father raised three football players. Sandy Mack Jr. is the eldest son, Khalil Mack is the middle child, and LeDarius Mack is the youngest.
Sandy Mack Jr.
Most of the information about the eldest son, Sandy Mack Jr., is unavailable, but we know that he is 36 years old as of now.
He is affiliated with the democratic party and has registered to vote in Indian River County, Florida. He has been an active voter since 2006.
Out of the trio brothers, information about Sandy is the least. It seems he does not want to disclose his personal life and info publicly.
But we know that he left playing football after the age of 13. After that, he got more interested in basketball and went on to play college basketball for ASA (Advanced Software Analysis) college.
One day during their college days, he questioned his youngest brother LeDarius that if he would play college football if he had the chance to, to which LeDarius replied with a strong "Yes".
His own question made him think about playing football again.
Information about his college days football stats is unavailable, and so is the information regarding if he entered any drafts.
As of now, Sandy Mack Jr. has dived deep into the world of real estate; he has been a real estate investor for more than half a year now.
He established M3A Properties, LLC, a real estate agency that was incorporated on the 15th of August, 2020.
Besides that, he also has his hands in music production. He is a music producer at Mack music, which sounds like it is owned by one of the Mack family members. So now we know why Sandy Mack Jr. dropped an album out of the blue; his first son is a music producer.
LeDarius Mack
Early Life & Bio
Born on the 3rd of October, 1996, LeDarius is a professional football player who plays for the Chicago Bears as of now. Also, currently, he is a free-agent player.
LeDarius stands 6 feet and an inch tall (185 cm) and weighs 240 lbs or 108 kg.
Not much is known about his early life, except that he was born in Vero Beach, Florida.
Click here to learn about Aaron Donald's Father-Archie Donald: Injury, Divorce & NFL.
Education & Early Career
As for education, he went to Lincoln Park Academy, located in Fort Pierce, Florida.
People might think that he must have played high school football since he played college football, but that is not what happened. Lincoln Park Academy did not have football in its curriculum activity.
Regarding his college education, he went to the State University of New York at Buffalo, which is a special program for intercollegiate American football teams.
At the University of Buffalo, he was redshirted, in 2017, for his very first season. In 2018, he played a total of 14 games achieving 16 tackles along with two sacks.
Before joining the University of Buffalo, he was a student at the Advanced Software Analysis (ASA) college, majoring in communication. He played basketball for two seasons at ASA as a linebacker for the team, Silver Storm.
As his high school had no high school football team, he played basketball in his high school days and proved himself as an excellent player.
So excellent that he got into the ASA college as a basketball player.
In 2019, he had the best season of his career. LeDarius appeared in 13 games, among which he started one. For his improved amazing performance, he was named the All-MAC Second Team.
That year, he was also named the MAC East Defensive Player of the Week for executing three tackles for loss, a forced fumble, a sack, and returning a fumble for a touchdown at Akron.
He led that team with 12 tackles for loss and ranked third on the team with a total of eight sacks.
247sports.com ranked him, as a recruit, as the 18th-best inside linebacker and the second-best football prospect in Florida for the class of 2017.
Professional Career
In the 2020 National Football League (NFL) draft, he was selected by the Chicago Bears as an undrafted free agent.
On the 18th of August, 2021, the Chicago Bears officially announced, via a tweet, that they have waived a linebacker (LB) from the team.
LeDarius was later released from the club with an injury settlement. He did not play even a single match in his rookie season.
Social Media
Talking about social platforms, Khalil Mack's father is only active on Facebook. But, you can see more pictures of the Mack family on Khalil Mack's Instagram. Whereas, The little son, Ledarius, has never posted on Instagram about anything as of Sep 2021.
Facebook page: @sandymacksr
Khalil Mack's Instagram: fiftydeuce
Khalil Mack's Twitter: @FiftyDeuce
LeDarius Mack's Twitter: @leemack52
LeDarius Mack's Instagram: leemack52
Frequently Asked Questions (FAQs)
Did Khalil Mack's father play football?
Sandy Mack Sr. was into sports, but he did not play football professionally or in his academic days. Further, no records indicate that he played any sports in his younger days.