Sometimes people get where they need to be, whether it is by sheer determination or just by accident. The NFL star Khalil Mack is one prime example who was supposed to become a basketball player but got recruited to play football due to an injury.
Khalil Mack is an American football outside linebacker who started playing football as a quarterback. He plays for the Chicago Bears; he also played for the Oakland Raiders from 2014 to 2018.
Moreover, Mack played college football for the University at Buffalo, where he developed his linebacker skills. And finally, in 2014, he got drafted by the Oakland Raiders as the fifth pick in the round 1st.
Also, the outside linebacker, Mack, is a competitive athlete with a grateful heart. He is an active Christian who likes to sing and play guitar.
There are a lot of interesting details about Khalil's early life, career, and personal life. Before we discuss it further, let's check some of the quick facts before getting into the details.
Quick Facts: Khalil Mack
| | |
| --- | --- |
| Full Name | Khalil Delshon Mack |
| Birth Date | February 22, 1991 |
| Birth Place | Fort Pierce, Florida, USA |
| Nick Name | Bombshell Man |
| Religion | Christian |
| Nationality | American |
| Ethnicity | Black |
| Education | Fort Pierce Westwood, University at Buffalo |
| Horoscope | Pisces |
| Father's Name | Sandy Mack Sr. |
| Mother's Name | Yolanda |
| Siblings | Sandy Jr., LeDarius |
| Age | 32 Years Old |
| Weight | 118 kgs (260 lbs) |
| Height | 6 ft 3 inches |
| Build | Athletic |
| Profession | Professional American Football Player |
| League | National Football League (NFL) |
| NFL Draft | 2014, 5th pick in round 1 by Oakland Raiders |
| Current Team | Chicago Bears |
| Position | Outside linebacker |
| Married | No |
| Children | Not Available |
| Net Worth (2021) | $30 million |
| Retirement | Active |
| Social Media | Twitter, Instagram |
| Endorsement & Sponsorship | Nike, Panini, Mack Trucks, New Era |
| Merch | Funko Pop, Rookie Card |
| Last Update | March, 2023 |
Khalil | Age | Body Measures | Horoscope
Before getting into other areas of Khalil's life, let's talk about his age and body measurements. Khalil was born on February 22, 1991, in Fort Pierce, Florida. He turned 30 this February 22. Yet, he looks younger than his real age.
Being born on February 22, Mack falls under the sign of Pisces. Pisces is a delicate soul with deeper imagination. Pisces people usually pursue creative fields like acting, films, music, and arts.
Moreover, Khalil has a perfect athletic body for playing football. He is 6 feet and 3 inches tall and weighs 112 kg (260 lbs).
(Little fact vomit: In Chinese Astrology, Mack is a Goat. The Goat signs are considered gentle, stable, and sympathetic. Moreover, perseverance and creativity are some other qualities of Goat people that distinguish them from others.)
You may also want to read: LaVar Arrington Bio: Family, Career, NFL & Net Worth >>
Mack | Early Life & Family
Some people are just lucky to have loving parents who are so in love with each other. Khalil is one lucky guy who was born to Sandy Mack Sr. and Yolanda.
Likewise, Sandy Mack Sr. worked as a program specialist in Fort Pierce, Florida, and his mother, Yolanda, was a teacher.
The NFL star Khalil has two brothers, Sandy, Jr., and LeDarius. The three siblings share a beautiful bond.
More so, his parents are devoted to their children's well-being and career. Khalil is also a devoted son who is always there for his parents.
A sweet Insta post from Khalil on Mother's day, for his mother.
The athletic soul Khalil was only 5 when his father introduced him to sports. Though he was inclined more towards basketball and baseball, he also played football for Pop Warner, a non-profit organization, which provides athletic activities for younger kids.
Mack went to Fort Pierce Westwood High School in Fort Pierce. He got a nickname called "Bombshell Man" when he played as a quarterback during his high school career.
Due to a problem with throwing the ball, Mack shifted his role as a linebacker. When he was getting ready to choose a college, he leaned toward basketball to get a scholarship.
Unfortunately, his plan got ruined when his patella tendon got torn, and he got into football.
Also, read Ron Dayne Bio: Early Life, Family, Career & NFL >>
After Khalil's injury, Waides Ashmon, his high school coach, recruited him to a football team. Khalil led his team in his senior year. As a result, his team won the district championship and earned third-team All-State in Florida.
His performance earned a scholarship from the State University of New York at Buffalo to play Division I football.
Khalil Mack | Career
What Khalil is today did not happen in a year or two. It took years to earn the value he has today as a football player.
Let's discuss how his career started and what went in to make his way up.
College Career
The NFL footballer Mack was redshirted in 2009 during his freshman year in college. He was one the most dynamic MAC (Mid-American Conference) defenders at that time, and he also earned third-team all-conference honors.
Similarly, Khalil was rated #46 out of 99 in EA Sports NCAA Football 11. Therefore, he wore number #46 as a motivational reminder demonstrating his real potential.
The following year 2010, came with better performance and recognition; his better sacks, tackles for loss, and forced fumbles earned him first-team All-MAC.
Despite missing out on the sophomore year's first game, he scored a career-high of 94 tackles, 21 tackles for loss, and eight sacks. For the second consecutive time, Khalil received the first-team all-conference honor.
In the 2013 season, Khalil received the Linebacker Trophy and MAC Defensive Player of the year.
Moreover, the Associated Press named Mack a second-team All-American. The Spectrum, Buffalo's independent student newspaper, also ranked him as the best Buffalo footballer in Division I history.
Khalil's NFL Journey
After a successful college football career, Khalil was all ready to set foot in the NFL. There were many forecasting about his NFL 2014 draft. As predicted by the sports pundits, Mack got selected by the Oakland Raiders with the fifth overall pick.
The Raiders' selection made him the highest-selected Buffalo player and the only one selected in the first round.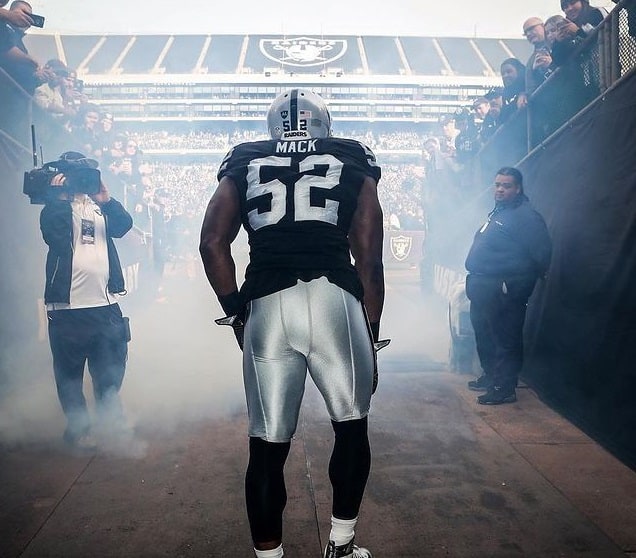 After Mack's NFL selection, he changed his number from #46 to #52, which became an iconic number for American football fans.
Oakland Raiders (2014 – 2018)
The rising star, Khalil, signed a four-year contract of $18.6 million with the Raiders in 2014. After the contract, he appeared in his first NFL game against the New York Jets when the Raiders lost the game. There were losses and wins in his rookie year.
Yet Mack's overall performance was impressive. He scored 76 tackles, four sacks, one fumble, and three pass deflections in his first year. At the end of his rookie season, Khalil got listed as a candidate for AP Defensive Rookie of the year.
He ended up getting third place on the list, just after Aaron Donald and C.J. Mosley. Later, the analysts in ESPN's NFL Live Show declared him the Defensive Rookie of the Year.
In the 2015 season, Khalil got an opportunity to change his jersey number back to 46. After contemplating for some time, he decided not to go back. In August, Khalil was named NFL's number one "making the leap" player.
In addition to that, he got selected for his first Pro Bowl.
Khalil completed the 2015 season with 77 combined tackles. He was also named in the AP All-Pro First Team in two positions, right defensive end and outside linebacker. Similarly, Khalil was ranked 13th in the 2016 Top 100 players of the year.
The year 2016 again was eventful for Khalil. He got his second Pro Bowl and First-Team All-Pro and led the team to their first playoff after 2002.
Mack finished the 2016 season with 73 combined tackles, 11 sacks, and five forced fumbles. Moreover, he became the 5th highest-ranked defensive lineman by the NFL Top 100 Players of 2017. The NFL sensation Mack also won the Butkus Award for the first time.
After another successful season, Mack welcomed a new season. This year brought his name to his third Pro Bowl.
The Raiders star ended 2017 with 78 combined tackles and 10.5 sacks. Mack's ranking came down to the 16th on the NFL Top 100 Players of 2018.
You may also want to read: Eli Manning Bio: NFL, Family, Career & Net Worth >>
Chicago Bears (2018 – present)
In 2018, the Oakland Raiders traded Khalil to the Chicago Bears. Soon after the trade, he signed a six-year contract worth $141 million with the Bears. This huge contract made him the highest-paid defender in the NFL's history.
The highly-paid defender Khalil completed the year 2018 with the Bears scoring 47 combined tackles, 12.5 sacks, and six forced fumbles.
Again, he got selected for the Pro Bowl for fourth and third-team Al-Pro and received his second pro-Butkus Award.
In the 2019 season, the top performer, Mack, was named a starter for the 2020 Pro Bowl. He completed the season with 47 combined tackles, 8.5 sacks, and four forced fumbles in 16 games.
In the 2020 season, the Bears won against the Tampa Bay Buccaneers in Week 5 when Mack scored two sacks on Tom Brady.
Towards the end of 2020, on December 21, Khalil was again named to the Pro Bowl for the sixth time.
Reportedly, Mack had been playing through his injury. Due to problems with his ankle, back knee, and shoulder, Khalil was limited in practice and got listed as questionable on the weekly injury report.
For a detailed report, read: Khalil Mack's Injury
Mack Khalil | Highlights and Awards
Throughout his career journey, Mack Khalil has bagged several notable titles to date. Some of which are lighted below.
NFL Defensive Player of the Year (2016)
3× First-team All-Pro (2015, 2016, and 2018)
Second-team All-Pro (2020)
6× Pro Bowl (2015–2020)
NFL 2010s All-Decade Team
PFWA All-Rookie Team (2014)
Butkus Award (Pro) (2016 and 2018)
100 Greatest Bears of All-Time
MAC Defensive Player of the Year (2013)
First-team All-American (2013)
3× First-team All-MAC (2011–2013)
Mack | Net Worth and Contracts
The professional athlete Mack has been playing football professionally since 2014. He had signed one of the most expensive contracts with the Chicago Bears in 2018 worth $141 million, making him a top-paid defender. He must have acquired a huge net worth from his playing career.
According to sources, Khalil earns $ 55 million annually. Annually, he gets $1 million from endorsement and sponsorships by the brands like Nike, Panini, Mack Trucks, and New Era.
As of 2021, Khalil Mack has an estimated net worth of $30 million or more.
Khalil Mack | Social Media
The athletic soul, Khalil, seems to be quite popular on social platforms. The NFL star is active on Twitter, where he has 255.8k followers and 511 followings. Moreover, his Twitter account contains posts related to football and his interactions with his fans.
In addition to Twitter, Mack is active on Instagram, where he is equally popular. On Instagram, he has 606K followers and 647 followings. Most of his Insta posts are related to endorsements, family, and special moments with special people.
You might be interested in buying Khalil Mack's autographed items and sports memorabilia. Click the link to follow!
Common Questions about Khalil Mack
What is Khalil's net worth?
Khalil has an estimated net worth of $30 million. Khalil was ranked the 13th highest-paid football player in 2019.
Besides his salary, Mack works with top brands, which surely has added to his total net worth.
Is Khalil dating someone?
According to sources, Khalil is dating 33-years old Angela Simmons. There is no confirmation from Khalil about his relationship with Angela. But it looks like they started dating each other in 2018.
If Khalil is serious about his relationship, we will surely hear more from him in the future.
Is Khalil Mack a free agent? What is Khalil Mack's career statistic like?
At present, Khalil Mack is not a free agent. In fact, he is set to be an unrestricted free agent in 2025.
At present, Khalil Mack maintains a career statistic of 467 total tackles, 76.5 sacks, and 22 pass deflections. Likewise, he has 23 forced fumbles, ten fumble recoveries, three interceptions, and two defensive touchdowns.
What happened to Khalil Mack?
Currently, Khalil Mack is down with a knee injury and hence, missed his second consecutive game. Well, he sustained this injury during his match against the Lions back on October 20, 2021.