Khalil Mack is an American football outside linebacker for the Los Angeles Chargers of the NFL. He set a record by becoming the first player in NFL history to be selected first-team All-Pro at two different positions, defensive end and outside linebacker, in the same season.
Mack Khalil might return to the Bears; earlier, he spent 4 seasons with the former team, as the Chargers faced a salary-cap crunch, and moving on from Mack could be the solution to their financial strain, which was released on February 1, 2023.
He was named to his seventh Pro Bowl this season, but he did not participate in the event; as a result, Bradley Chubb replaced Khalil in a Pro Bowl, as per a source.
Mack is quite a mystery himself. Within just a year of his profession, Khalil stood as the highest-paid defensive player in NFL history. But, as for his personal life, he is still a mystery.
Khalil Mack has been linked to several women. Indeed, his social media don't hint nor state any detail about his dates, as he seems to be quite private on this matter.
Before starting with Khalil Mack's wife and affairs, here is short and quick info about the player.
Brief Glance At Khalil Mack
Khalil Mack plays professional football as an outside linebacker for the Los Angeles Chargers; earlier, he played for the Chicago Bears of the NFL.
Well, he was born to his parents, Yolanda and Sandy Mack Sr., in Fort Pierce, Florida, on 22 February 1991, making him 32 years old as of 2023.
His mother is a former teacher, while his father is a former program specialist. As for his educational background, he attended the Fort Pierce Westwood High School in Fort Pierce.
He enrolled in the State University of New York at Buffalo, where he played Division I football.
Mack grew up with his two brothers, Sandy Jr. and LeDarius.
Khalil professionally commenced playing since his 2014 NFL Draft. Hence, he first played for the Oakland Raiders and currently plays for the Los Angeles Chargers.
He holds the all-time NCAA record for forced fumbles and is also tied for career tackles.
Social Media
Khalil is on Instagram (@fiftydeuce) with 558k followers. Likewise, he is on Twitter as Khalil Mack (@FiftyDeuce), with 257.3k followers at the time of writing.
Herewith, let's dive into his love life slowly.
Khalil Mack's Wife & Former Girlfriends
Let's start with Khalil Mack's initial dates.
1. Kristie Price
Mack and Kristie met at their college. She was a medical student there. Unfortunately, there is not much information available about her.
Some sources claim that they started dating each other in 2016 but broke up after their trip to Dubai.
While the old college lovers dated on and off, Khalil Mack also dated Angel Simmons. However, he was back to Kristie.
They went on a trip with their friends, and Kristie was spotted meeting Khalil's family during the weekend.
We are unaware of how the couple ended their relationship, but we are sure they are not together anymore.
2. Angela Simmons
Quick Facts
Full Name
Angela Renee Simmons
Date Of Birth
September 18, 1987
Birth Place
Queens, New York, United States
Nick Name
Unknown
Religion
Devout Christian
Nationality
American
Ethnicity
Mixed, Black
Zodiac Sign
Virgo
Age
35 Years Old
Height
1.7 m / 5 ft 5 in / 170 cm
Weight
50 kg / 110 lb
Hair Color
Black
Eye Color
Black
Build
Athletic
Father's Name
Joseph Simmons
Mother's Name
Valerie Vaughn
Siblings
Vanessa Simmons, Russell Simmons II, Diggy Simmons, Victoria Anne Simmons, Joseph Simmons Jr.
Education
Fashion Institute Of Technology
Schulich School Of Law At Dalhousie University
Marital Status
Unmarried
Relationship With (Former)
Sutton Tennyson
Khalil Mack
Kids
Sutton Joseph Tennyson
Profession
Businessperson, Shoe Designer, Magazine Editor
Movie
Supermodel
Social Media
Instagram, Twitter
Net Worth
$7 Million
Khalil Mack Merch
Mack's Merchandise
Last Update
March 2023
Life & Career
Angela Simmons (fully named Angela Renee Simmons) was born on September 18, 1987, under the star sign of Virgo. She was born in Queens, New York, to her parents, Valerie Vaughn and Joseph Simmons.
Her parents separated in 1992 while her father married Justine. Her siblings are Vanessa Simmons, Russell Simmons II, Diggy Simmons, Victoria Anne Simmons, and Joseph Simmons Jr.
Regarding her educational background, Angela Simmons attended the Fashion Institute of Technology in New York. But she dropped out within a year and worked on a business.
She is an overall package as an actress, shoe designer, magazine editor, and businesswoman.
Workout & Diet Regime
Angela Simmons follows a healthy lifestyle. She stands at 1.7 meters while weighing 110 lb.
Simmons is vegan. She munches in nutrients riched greens such as lentils, beans, almonds, and so on; she also devours vital supplements such as multivitamins and B12.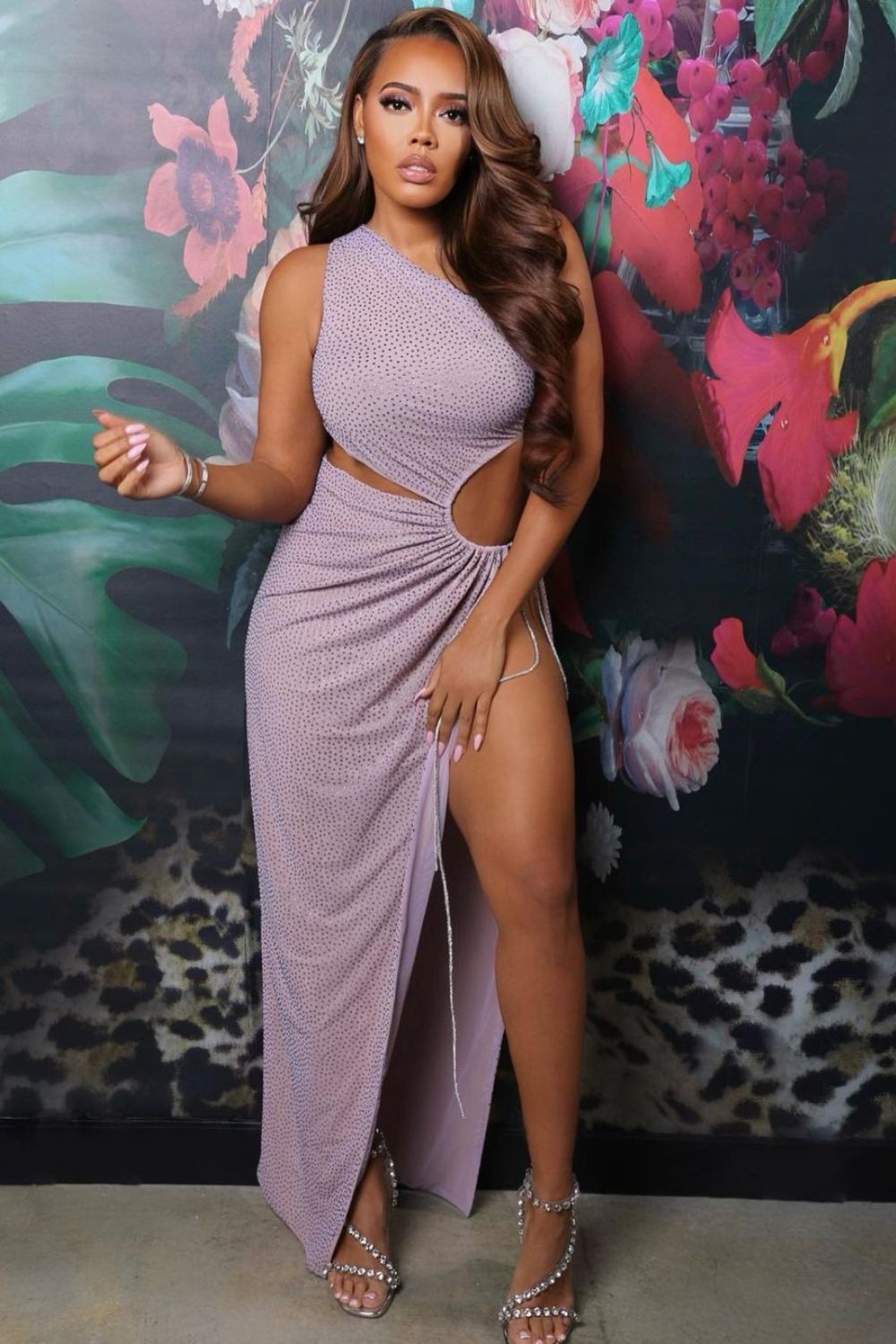 One of her essential tactics is to eat several small meals throughout the day. Her snack items include granola bars, pistachios, fruits, smoothies, and more. As for the workout routine, Angela relies on the theory of "no pain, no gain."
Additionally, she follows various workouts under the supervision of her personal trainer, Mike T.
She performs squats, cardio, strength, interval, and circuit training. Following it, she also works on yoga, spinning, and stair climbing and has dance classes.
Net Worth
Angela Simmons maintains a net worth of $7 million. She owns a shoe line called Pastry Footwear alongside Venessa Simmons under Run Athletics.
Likewise, she has a clothing line called Foofi and Bella, co-owned with Sanya Richards. Angela has also appeared in numerous magazines like Teen Vogue, Essence, Life and Style, People, Seventeen, Word Up, and Vibe.
Some of her movies are listed below:
Run's House
Daddy's Girl
Supermodel
Growing Up Hip Hop and Growing Up Hip Hop: New York
She was part of the MTV reality show Run's House with her family member in 2005. Angela was with her sister Vanessa on the MTV reality show "Daddy's Girl."
Simmons is an ambassador for the Children's Miracle Network. She was the executive editor of the teen magazine Word Up!, which publication stopped in April 2012.
Angela also produced and appeared in her own reality TV show called "Growing Up Hip Hop" and on the reality show "The Real" in the same year.
Relationship
Angela was in a relationship with Tennyson and had a son named Sutton Joseph Tennyson, born in September 2016.
However, the relationship did not last long. According to sources, she was seeing a therapist after her breakup.
After that, Angela dated Khalil Mack for a while. We do not know when and where they met.
The rumor sparked when the couple was spotted together at a mall in Chicago. However, not much detail is known about the duo as they broke up in 2016.
Unfortunately, Sutton was murdered in his garage with 13 gunshots on November 3, 2018; the murderer was Michael Williams.
As of today, Angela has moved on with her life and is happily married to Mario Sentell Giden Mims, who is popular for his profession as an American rapper, songwriter, and record executive, whose popular name is Yo Gotti.
Social Media
Angela is on Instagram as Angela Simmons (@angelasimmons) with 7.7 million followers.
Likewise, she is on Twitter as Angela Simmons (@AngelaSimmons) with 1.1 million followers.
Jehona Dreshaj
Quick Facts
| | |
| --- | --- |
| Full Name | Jehona Dreshaj |
| Date Of Birth | September 18, 1994 |
| Birth Place | Podgorica, Montenegro |
| Nick Name | Unknown |
| Religion | Unknown |
| Nationality | Albania |
| Ethnicity | Albanian |
| Zodiac Sign | Virgo |
| Age | 28 Years Old |
| Height | 1.8 m / 5 ft 11 in / 1.80 cm |
| Weight | 58 kg / 127 lb |
| Hair Color | Dark Brown |
| Eye Color | Black |
| Shoe Size | 9.5 (US) |
| Father's Name | Anton Dreshaj |
| Mother's Name | Fila Dreshaj |
| Siblings | A Sister, Aferdita Dreshaj Kindl, And A Brother, Arber Dreshaj |
| Education | University Of Michigan |
| Profession | Reality TV Star, Fashion Model |
| Net Worth | $500,000 |
| Social Media | Twitter, Facebook, Instagram |
| Last Update | March 2023 |
Life & Career
The Albanian fashion model Jehona Dreshaj was born on September 18, 1994, under the star sign of Virgo. She was born in Podgorica, Montenegro, to her parents, Fila Dreshaj and Anton Dreshaj.
Dreshaj has a sister and brother named Aferdita Dreshaj Kindl and Arber Dreshaj.
Jehona works with the London-based modeling agency named PRM Agency. As for her education, she graduated with a Bachelor's degree from the University of Michigan in 2014.
Furthermore, she is also a current account executive at Ignition Media Group. Earlier, she worked as Product Licensing Coordinator for Guess Inc.
Talking about her physical structure, Jehona is a beautifully toned lady standing at the height of 1.8 meters. She weighs 127 lbs and wears a dress size of 4 and a shoe size of 9.5.
Relationship
Jehona Dreshaj is single and hasn't shared any details about her love life. However, she dated Khalil Mack and was spotted several times during his game.
Khalil and Jehona kept their dating life away from the limelight.
Social Media
If you are interested in Jehona Dreshaj's personal uploads and posts, check out her social media handles. She is on Instagram as Jehona Dreshaj (@jehonadreshaj_) with 193k followers.
Likewise, she is on Twitter as Jehona Dreshaj (@JehonaDreshaj) with 14k followers. She is also on Facebook as Jehona Dreshaj, with 36k followers.
Brianna Perry
At present, Khalil Mack seems to be dating singer Brianna Perry. She is popularly known as Lil' Brianna and is a rapper and actress professionally from Miami-Dade Couty, Florida.
Perry graduated as a business major from University of Miami in 2014. She was the youngest act signed to Missy Elliott's label, The Goldmind Inc.
As per the sources, the duo threw a baby shower, a safari theme, when Brianna was pregnant.
Brianna and Khalil have a son together.
Social Media
Check out her social media if interested in her personal uploads and posts. She is on Instagram as Brianna Perry (@briannaperry) with 283k followers.
Frequently Asked Questions (FAQS)
When was the last time Khalil Mack was traded?
Mack was traded to the Chicago Bears for two first-round draft picks and signed a six-year contract in 2018 with a $141 million extension, making him the highest-paid defensive player in NFL history. In 2022, he was traded to the Los Angeles Chargers.
Has Khalil Mack won any trophies?
He became the first Bull to win the award in Buffalo's history within the MAC (1999- present) by winning the CPFA Linebacker Trophy for the 2013 season and was named the 2013 MAC Defensive Player of the Year.
What are the achievements of Mack Khalil?
Mack has many achievements, and we will discuss some of them here; he was named a second-team All-American by the Associated Press. He was tied first in the NCAA in career tackles for loss with 75 and set a new record for forced fumbles with 16. He was ranked as the best Buffalo football player in the Division I history of the program by Buffalo's independent student newspaper, The Spectrum.