Kim Yeon-koung is a South Korean professional volleyball outside hitter and former FIVB Athletes' Commission member.
She is also the former captain of the South Korean national team. Kim Yeon-koung has a net worth of $1.09 million as of 2023.
She is often listed as one of the most prominent volleyball players in the world. As of 2023, she plays for the Pink Spiders volleyball team.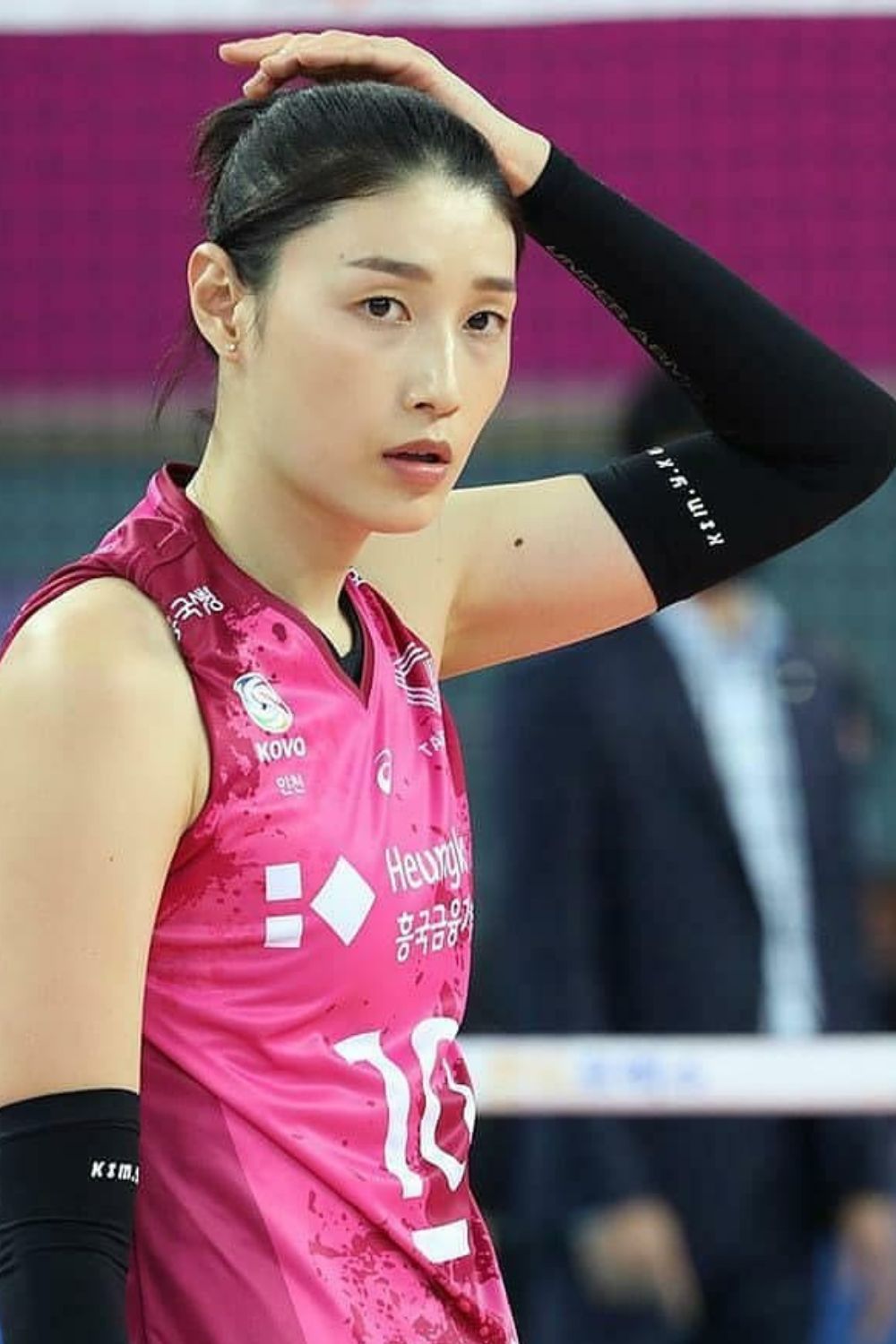 She has won numerous medals for South Korea, including gold in the 2014 Asian games.
Kim has played with JT Marvelous, Fenerbahce, Incheon Heungkuk Life Pink Spiders, Sanghai, and Eczacibasi VitrA at the club level.
Despite not having a podium finish, she is so good and talented at her gameplay. She was the MVP and the top scorer in the 2012 London Olympics.
She carries the Olympics record for the highest score of 207 points in eight games, surpassing Yekaterina Gamova's 204 points (2004 Olympics in Athens).
Although volleyball does not pay very well compared to other sports, such as basketball and soccer, Kim is considered one of the highest earners in volleyball.
This article will review her net worth, income, endorsements, and more. But first, here are some intersecting facts about the champion:
Quick Facts
| | |
| --- | --- |
| Full Name | Kim Yeon-koung |
| Native Name | 김연경 (Korean) |
| Common Name | Kim Yeon-koung |
| Nick Name | Bread Unnie, Yaki, Yeonpal, Volleyball Empress |
| Birthdate | 26 February 1988 |
| Age | 35 Years Old |
| Zodiac Sign | Pisces |
| Mother's Name | Lee Keum-Ok |
| Father's Name | Kim Dong-Gil |
| Siblings | One sister, Kim Hye-Kyung |
| Birthplace | Ansan, South Korea |
| Home Town | Ansan, South Korea |
| Citizenship | South Korean |
| Residence | Suwon, Gyeonggi-do, South Korea |
| School | Hanil Women's High School |
| College | Not Available |
| Education | Not Available |
| Height | 6 ft 4 in / 1.92 m / 192 cm |
| Weight | 73 kg / 161 lb |
| Eye Colour | Black |
| Hair Colour | Black |
| Shoe Size | 13.5 US |
| Martial Status | Unmarried |
| Partner | None |
| Married | No |
| Children | No |
| Profession | Professional Volleyball Player |
| Debut | 2005 (Pro Debut) |
| Olympics Wins | None |
| Position | Outside Hitter |
| Highest Rank | World No. 1 |
| Jersey No. | 10 |
| Status | Active |
| Current Club | Heungkuk Life |
| Hobbies | Vlogging, Travelling |
| Net Worth | $1.09 Million |
| Social Media | Facebook, Twitter, YouTube, Instagram |
| Website | Not Available |
| Volleyball Merch | Unavailable |
| Last-Update | March 2023 |
Net Worth, Income, & Salary
Kim Yeon-koung's income comes from her contracts and the rest from her endorsement deals.
She is among the most sought-after players, as big clubs are willing to spend tons of money on her.
Over the years, Kim's contract value has only gone up.
Humble Beginnings
During her first season with Incheon Heunguk Life Pink Spiders in 2005, her salary was estimated to be around $38,024 (50 million won).
After drastically improving the club's rank, her salary also hiked.
During the 2007-2008 season, she earned an estimated $71,486 (94 million won).
Similarly, Kim received $91,259 (120 million won) for the following season.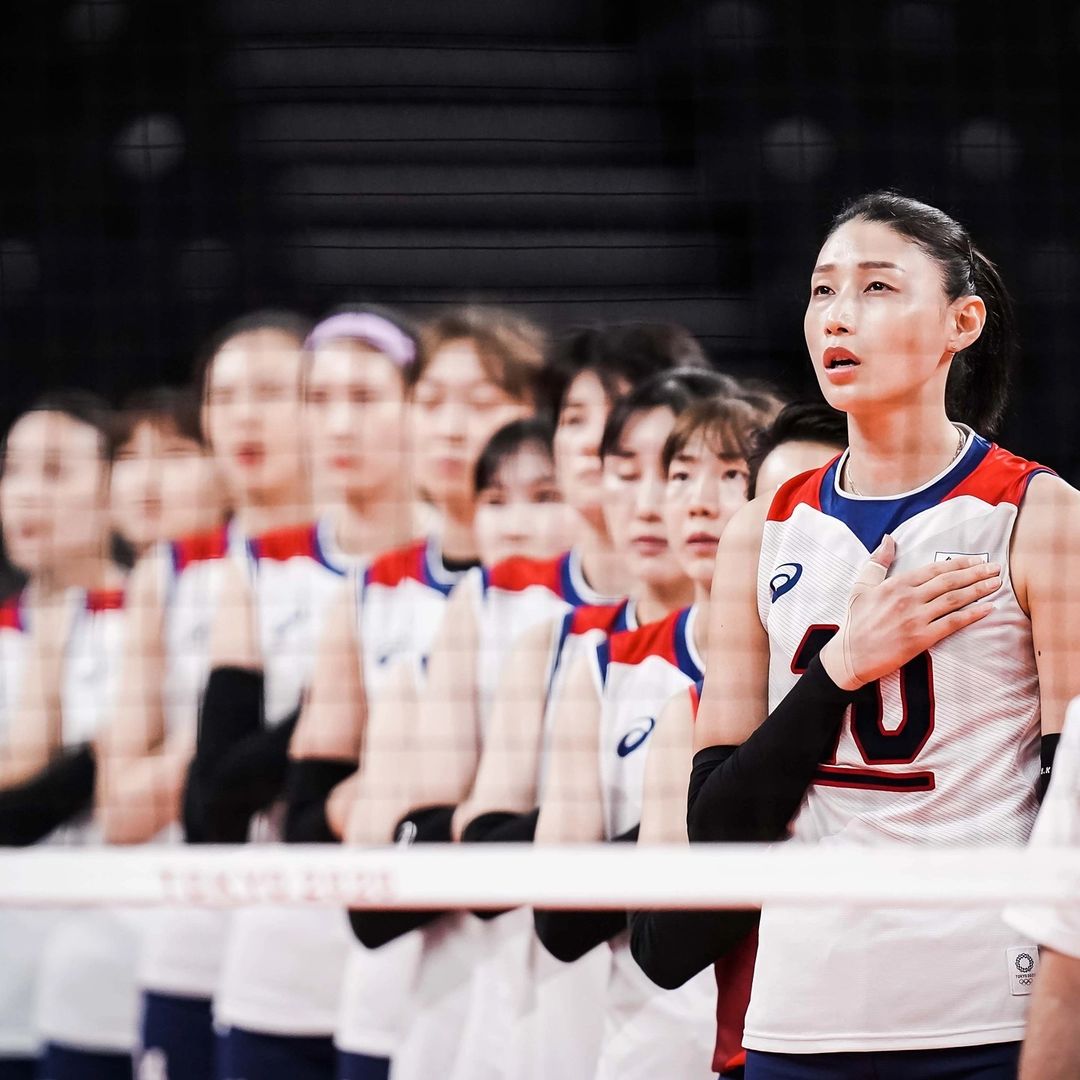 In 2009-11, Kim signed with the Japanese club JT Marvelous for one year on loan.
The exact transfer amount was not disclosed, but Korean media speculated about $300,000 (400 million won).
This was the highest salary in V-Leagues men and women divisions in 2009.
Turkey
Kim Yeon-Kung's much-hyped move to Turkey provided her with salary, incentives, housing, vehicles, and interpretation services for $471,509 (620 million won) after tax.
An article published in a sports magazine during London Olympics stated that Kim was the highest-paid female volleyball player globally, with an estimated earning of $1 million.
In the 2016-17 season, Kim signed a contract renewal for two more years with Turkey, where her new annual salary was estimated to be $1,276,914 (1.2 million euros).
Some articles claimed $1-$1.29 million (1.6-1.7 billion won).
Kim spent six seasons in Turkey before moving to Shanghai for a year. Her salary there was more or less similar to Turkey, around $1.52 million (2 billion won).
Her next move was to Turkey's Exashibashi VitrA in 2017, where the annual salary was $13 million (1.3 million euros), still the highest among volleyball players.
It also offered her a luxurious apartment in the center of Istanbul.
For the 2020-2021 season, she returned to Pink Spiders on a contract worth $2.66 million (350 million won).
However, despite this being a whopping 80% lower than her last salary, Kim had reasons to return.
Houses & Cars
Kim Yeon-koung had to travel to different countries because of her volleyball career.
However, she has a permanent home in Suwon, Gyeonggi-do, where she owns a private apartment.
The apartment spans around 150 sq. meters and has four bedrooms, two bathrooms, and a kitchen.
The estimated price of the apartment is around $684,34 (600 million won).
As for cars, she has driven different brands of cars over the year, including the Volvo XC90 and Cadillac Escalade.
Endorsements
With such skills and success, Kim is one of the most popular players in Korea. As a result, many Korean brands have collaborated with her.
Kim has worked with brands, including pounding chicken, Barilla Pasta, hi mart, Mizuno Volleyball Shoes, SEP cosmetics, Nivea, UA Rush, FSN, World Con, Under Armour Korea, etc.
She has also worked as a brand ambassador for many reputed organizations. In 2013, she was the honorary ambassador for Korean tourism.
In 2018, she was the Seoul Hospital ambassador and Land Rover All-New discovery ambassador. Similarly, in 2019, she was the Volvo XC90 ambassador.
Likewise, Kim has frequently appeared in many magazines, such as Sports 2.0 Volleyball, The Spike, Magazine S, etc.
With the rise of social media, athletes are getting numerous opportunities to endorse major brands via their online platforms. Kim has also endorsed Vaseline Korea, Ling Tea, and Herba Life.
As of 2023, according to her Instagram bio, she has been endorsing brands like Under Armour Korea, Cadillac Korea, Medilog, Curble, and Bistro Pizza.
YouTube / Media
Kim Yeon-koung is featured on Netflix show Koreanumber1. As we can see through her Instagram posts, she dealt with the clothing brand Balenciaga in 2022.
Through these brand contracts, she must have added a handsome amount to her net worth.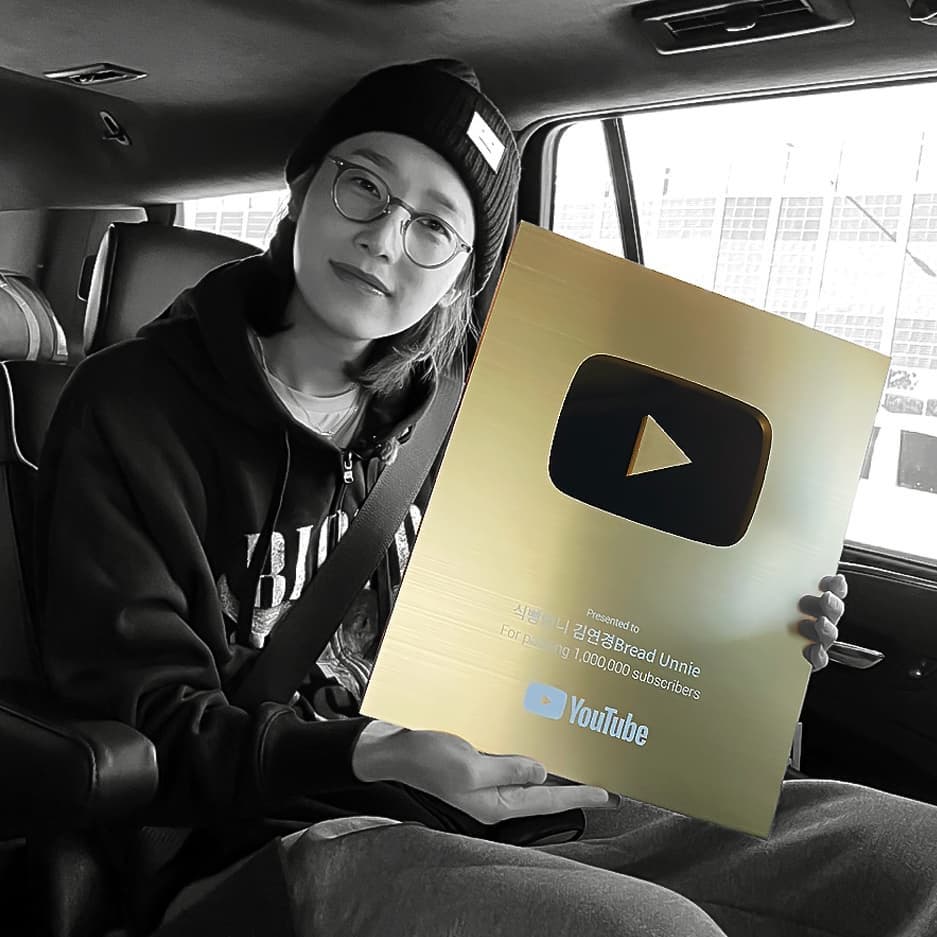 Her other source of income is her YouTube channel. Yes, this incredible volleyball player vlogs too.
Kim created her YouTube channel on 14 July 2019. She frequently posts videos where she shares her daily life with her fans.
As of 2023, she has 1.27 million subscribers (@kimyk10) and is the first volleyball player to attain more than 1 million subscribers on the platform.
On October 2021, she was awarded Gold Creator by YouTube, which she shared on her Instagram.
Business & Investments
We are unsure if Bread Unnie has secretly invested in businesses, but it is most likely. As most athletes are known to have investments in various sectors, Kim also might have done so.
Kim is extremely popular in her home country, Korea and Turkey. The skyrocketing figures on her Instagram and her YouTube are testaments to that.
Moreover, since she has built a brand around herself, it gives her more opportunities to profit from it.
The legendary player owns a sports academy in Korea where kids can learn volleyball, soccer, and basketball.
She launched a funky 'Bread Uniie' merchandise comprising graphic t-shirts.
The launch was promoted with a thematic photoshoot by Kim herself. The limited-edition merch sold like hotcakes among her fans.
Kim also launched another series of limited edition shirts with MIZUNO featuring her number 10.
Well, there are more ventures that she has been trying. Kim has also published a book titled 'It's Not The End.'
Charity
In 2009, after moving to JT, she collaborated with IIju Academic and cultural foundation to establish volleyball scholarships.
This scholarship is provided annually to 6 young volleyball players facing financial difficulties.
Moreover, the monthly scholarship amount is $152 (200k won).
During the east Japan Earthquake of 2011, the kind-hearted athlete donated 10 million won so that the affected areas could recover.
In 2019, Kim collaborated with Under Armour Korea to donate sportswear, shoes, and bag to volleyball players at Daejeon Wonmyeong School.
She donated the consolation money paid by the Korean Volleyball Association after the Asian qualifiers for the Tokyo Olympics to school volleyball teams.
During the Coronavirus pandemic, she donated 50 million won to the Hope Bridge National disaster relief association.
In February 2023, Kim appealed to Koreans to help Turkey and Syria after a massive 7.8-magnitude earthquake hit these two nations.
Reportedly, on February 16, 2023, Kim collected a $381,819 (500 million won) relief fund for Turkey and Syria earthquake victims.
Career Summary
Kim started playing volleyball in 4th grade, following in the footsteps of her sister.
Due to her excellent performance in high school, she got the attention of Korean media, resulting in her selection for the national team in 2005.
During her international debut at the World Grand Champions Cup, she ranked as the 3rd best scorer.
In the 2005 draft, she was the first choice of Heungkuk Life. Yeon had a wonderful first year as a pro, where she helped Heungkuk become champions and earned every available award.
In the following years, she won the regular volleyball league championship three times and combined championships two times in a row with the Pink Spiders.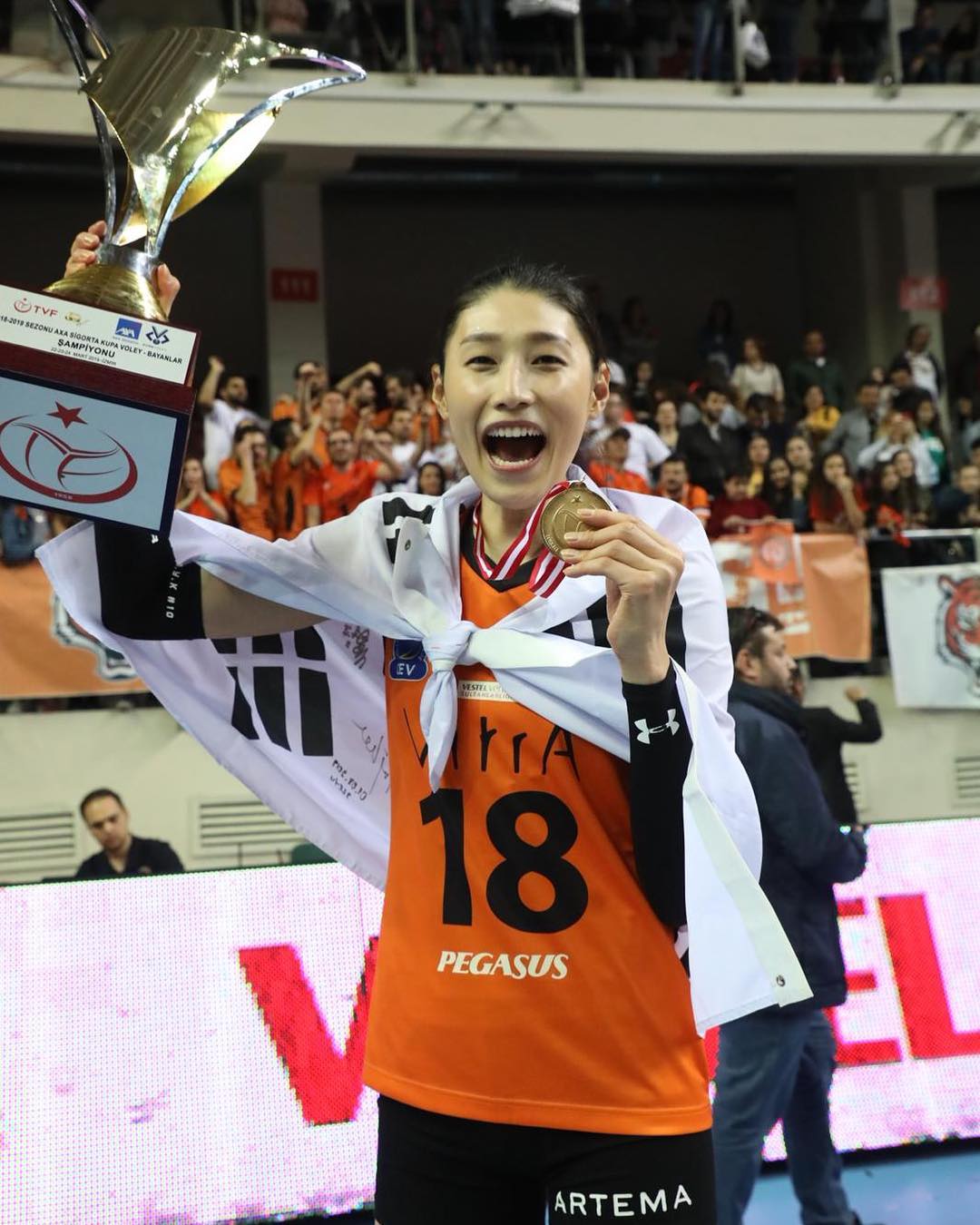 Subsequently, in 2011, she moved to the Turkish sports club Fenerbahçe where she spent six more seasons and continued to become the best scorer.
When her 2-year deal with Eczacibasi VitrA expired, she returned to Korea and again joined her former team Pink Spiders, because of the uncertainty in overseas leagues during the COVID-19 pandemic.
Kim's team, Pink Spiders, appointed Marcello Abbondanza as their new head coach after playing under Kim Dae-kyung for a month and a half.
Abbondanza signed a deal with the Pink Spiders in mid-February and will arrive at the Incheon side once his visa gets approved. He will be coaching the team till the end of the 2024-25 season.
Controversy
On February 1, 2023, Kim faced criticism for being associated with the PPP leadership contender in the controversial photo.
When rep Kim Gi-hyeon of the ruling People Power Party posted a photo on Facebook with two celebrities, a singer, Nam Jin, and a volleyball star Kim Yeon-koung on 27 January 2023, it garnered a lot of media attention.
In the photo, he was holding a bouquet of flowers, with two celebrities raising their thumbs up.
The lawmaker wrote that he would like to express his sincere gratitude to Kim Yeon-koung and Nam Jin, as they took their precious time to support him and even prepared a bouquet of flowers.
When the two celebrities denied the lawmakers' comment, the controversy heated. Singer Nam replied that he ran to rep Kim at a restaurant in Seoul's Yeouido district before exchanging greetings and taking photos together.
He also denied that a conservative lawmaker himself brought the flower bouquet. Further added, they were totally stranger to each other, and because of that, he received complaints from people in his hometown.
Nam said he was ashamed of being in such a controversial dispute and was not politically inclined. Likewise, volleyball star Kim Yeon-koung claimed the same and denied her ties with the PPP leader.
Social media
Kim Yeon-koung has a popular YouTube channel called Bread Unnie which is passionately followed by many Korean fans. Despite being created just in 2019, her channel has gathered a lot of popularity among Korean fans.
Her vlog-style videos are updated once or twice a month and garner hundreds of thousands of views. She even received a gold play button from youtube in late 2021.
On her other social media, Kim posts about her brands, photoshoot, practice time with teammates, games, and her typical day's photos.
Instagram: 1.6 million followers
Youtube: 1.27 million subscribers
Twitter: 197.7k followers
Facebook: 14k followers
Interesting Facts
Kim Yeon-koung thanked bean sprouts and genetics for her height, as she almost quit volleyball because she was not getting tall during middle school.

The volleyball star Kim Yeon-koung knows multiple languages besides her native Korean; however, she is not very good at them. After spending time in Japan and Turkey, she learned a little bit of both languages. She even swears in Turkish! In addition, to that, Kim is also learning Chinese.

Kim is not just a volleyball player but an overall lover of sports. She is a diehard fan of soccer. Her favorite players are Didier Drogba and Sergio Ramos.
Quotes
"The one thing I want to accomplish more than anything else is to win an Olympic medal."
"The most important thing I have learned over the years is professionalism."
"As it is difficult for other Korean national team members to acquire information on players from foreign countries, my role as the leader of the team is to deliver as much information as possible to the other Korean team members."
Frequently Asked Questions (FAQS)
Does Kim Yeon-koung have tattoos?
Yes, Kim has six tattoos, including a small one of the coordinates of her birthplace. This particular one is engraved in a small place between her right knee and ankle.
Does Kim Yeon-koung have the Olympics medal?
Despite winning several other medals, Kim has missed out on having any Olympic wins. However, she has mentioned that she wants it eagerly, and it is her number one priority. It was also one of the main reasons why she returned to Korea in 2020.
Is Kim Yeon-koung married?
No, Kim Yeon-koung is not married. She does not have a boyfriend, and there is no controversial news regarding her love affair.