American sportscaster and former college football player Kirk Edward Herbstreit. He provides color commentary on college football games on ESPN and ABC, as well as Thursday Night NFL games on Prime Video, as well as serve as an analyst for ESPN's College GameDay, a television program that covers college football.
On top of that, he also played college football at Ohio State, along with basketball and baseball.
The broadcaster works alongside the legend college football coach Lee Corso, sports television journalist Rece Davis, former NFL player Desmond Howard, former NFL linebacker David Pollack and analyst Maria Taylor.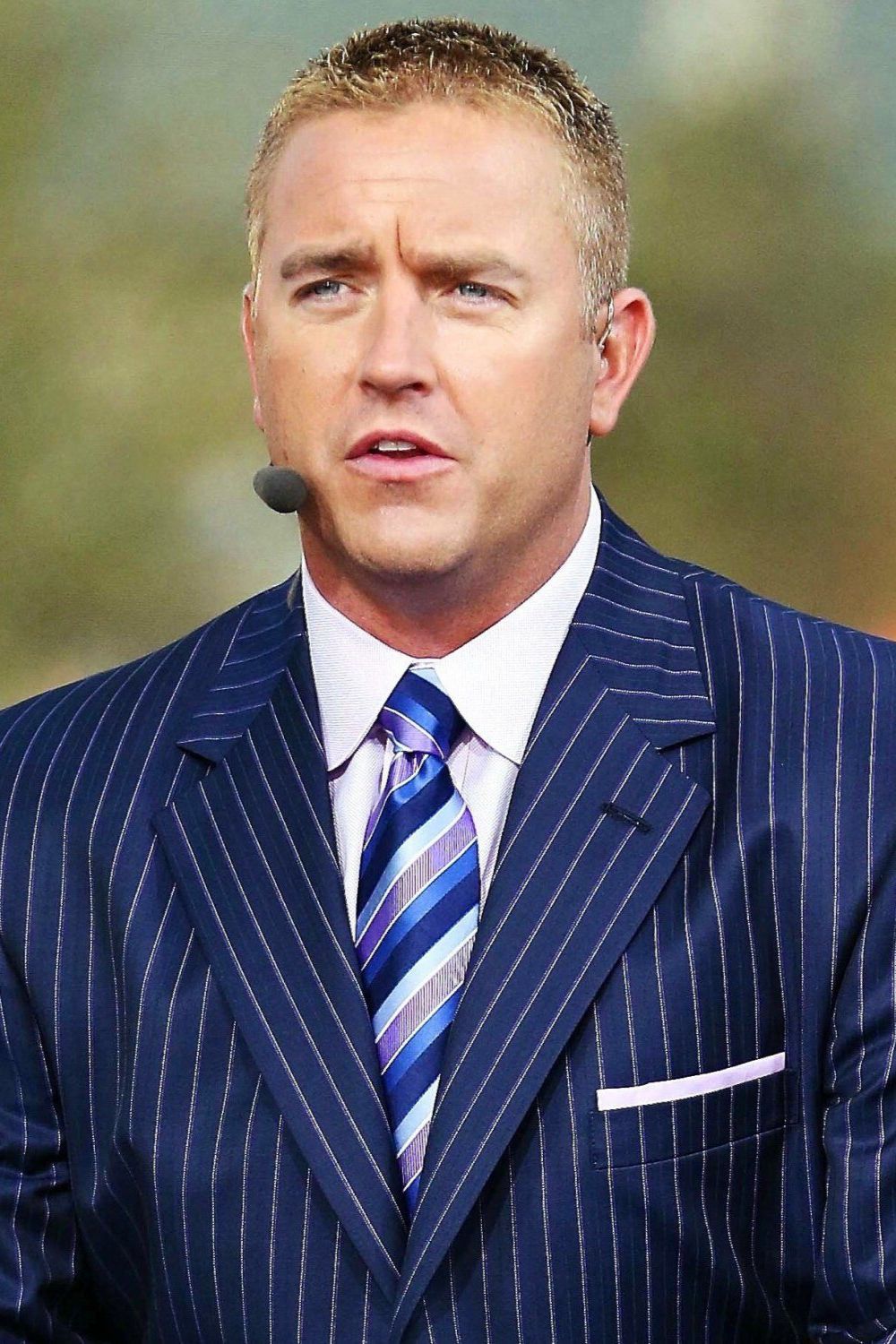 During his college football career, he served as a quarterback for the Ohio State Buckeyes and, in his senior year, was the co-captain of the team and later voted as the Most Valuable Player (MVP).
His father was also a co-captain in 1960, which made them the second father-son pair to serve as the co-captain of the Buckeyes.
Herbstreit was also known for his 2009 case, where he sued the Internal Revenue Service (IRS) for not following the policies of tax deduction after donating their house to the fire department.
Before getting into details about the player's life, here are some quick facts about him.
Quick Facts | Kirk Herbstreit
| | |
| --- | --- |
| Full Name | Kirk Edward Herbstreit |
| Birth Date | August 19, 1969 |
| Birth Place | Centerville, Ohio |
| Nick Name | Herbie |
| Religion | Christian |
| Nationality | American |
| Ethnicity | White |
| Education | Ohio State |
| Horoscope | Leo |
| Father's Name | Jim Herbstreit |
| Mother's Name | Judy Herbstreit |
| Siblings | Terri Holmes |
| Age | 53 Years Old |
| Height | 6 ft 3 inches/1.9 m/190 cm |
| Weight | 95 kg/209 lb |
| Hair Color | Blonde |
| Eye Color | Blue |
| Build | Athletic |
| Profession | Former footballer, Broadcaster |
| Jersey number | #4 (Ohio State Buckeyes) |
| Current Team | None |
| Position | Quarterback |
| Active Years | 2007-Present |
| Marital Status | Married |
| Wife | Allison Butler |
| Kids | Four |
| Net Worth | $12 million |
| Social Media | Instagram, Twitter |
| Merch | Jersey, Trading Cards |
| Last Update | June 2023 |
Kirk Herbstreit | Early Life, Family, & Education
The former footballer was born in Centerville, Ohio, to Jim Herbstreit and Judy Herbstreit. In school, Kirk played football, basketball, and baseball.
His father was a former college footballer, so he grew to love the sport and became good at it from his father.
As a kid, he was influenced by his father's successful college football career. He loved watching and listening to games.
From there on, he went on to be fond of commentators and sportscasters and, in general, interested in sports.
Kirk served as a quarterback for the school team and, in his final year, won the Ohio Gatorade Player of the Year.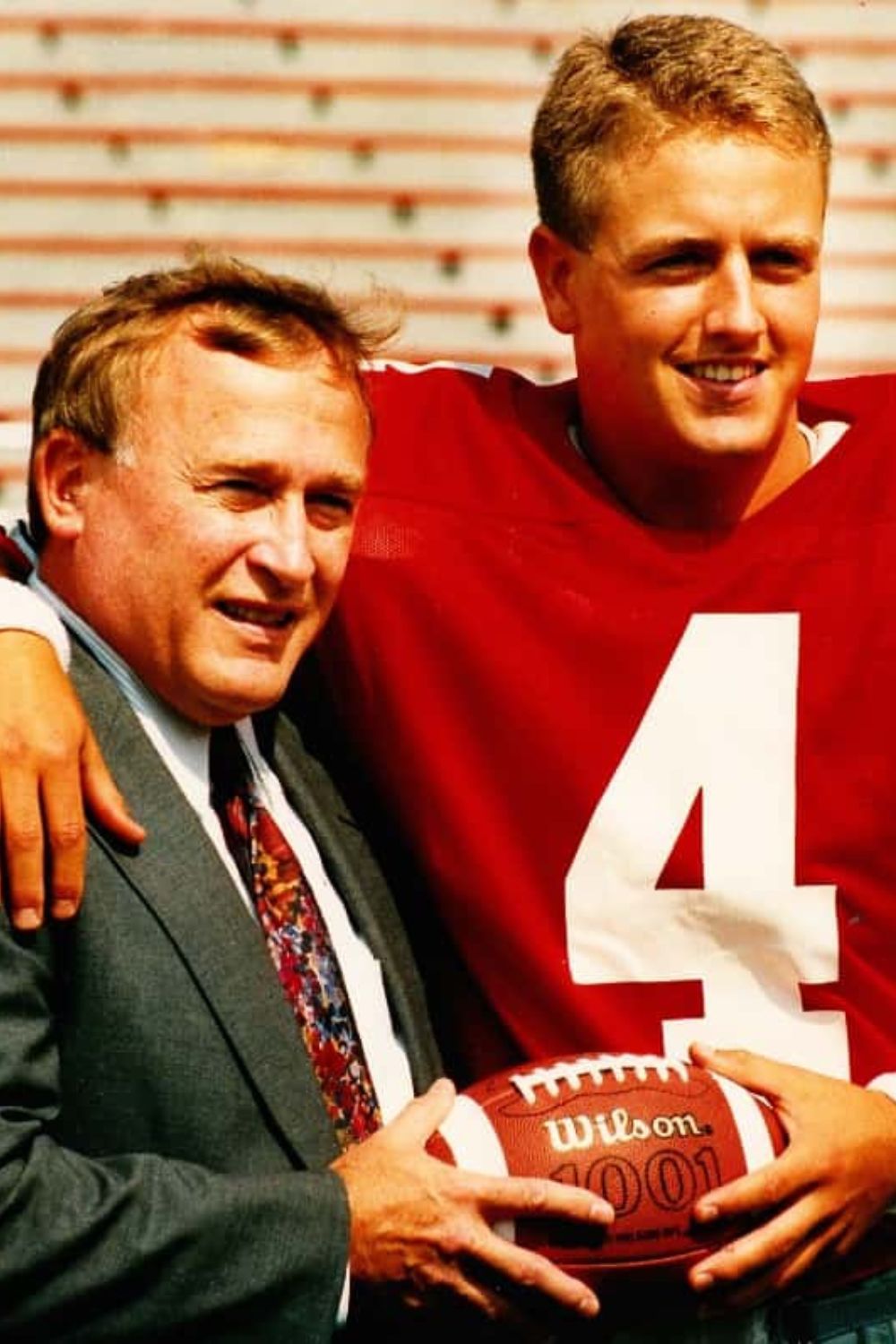 The sportscaster graduated high school from Centerville High School. After that, he went on to attend Ohio State University for his college-level education.
Also, he played college football for four years. The former footballer graduated from Ohio with a Business Administration degree.
How Old Is Kirk Herbstreit? Age, Height, And Weight
Kirk Herbstreit was born in 1969, making him 53years old as of now. He celebrates his birthday on August 19, under the sun sign Leo.
He is an American citizen whose ethnicity belongs to white. Also, Kirk stands at 1.9 m tall and weighs around 209 lb.
Aside from this, his body measurements are unknown at the moment. Besides, Herbstreit looks radiant with his short blonde hair and a pair of blue eyes.
Kirk Herbstreit | Football And Broadcasting Career
Football Career
After graduating from Centerville High School, he went on to attend Ohio State University. The sports analyst played as a quarterback for the Ohio Buckeyes and achieved a varsity letter for four years.
The commentator set the record for 28 pass completions in a game against the Michigan Wolverines in 1992 that stood for 14 years.
He became a co-captain for the team in his senior year as his father was an assistant coach. On top of that, he was the Most Valuable Player (MVP) of the group.
Along with the team, he played in the Florida Citrus Bowl and passed for 1,904 yards that only season and 200-plus yard games. However, later the Buckeyes lost the game against the Georgia Bulldogs.
Broadcasting Career
The former Buckeye joined the ESPN family in 1996. He covers college football with co-hosts Lee Corso, Rece Davis, David Pollack, Maria Taylor, and Desmond Howard.
On top of that, Herbstreit is also a sports analyst and commentator in ABC's Saturday college football primetime games with fellow ESPN broadcaster Chris Fowler.
He is also actively contributing his analyst skills to ESPN's website and ESPN magazine. As of 2020, the former athlete is one of the lead analysts in College GameDay.
He is also on ESPN radio 97.1 The Fan and has contributed to Thursday Night Football as a color commentator. On top of that, he also had a column in The Sporting News.
Furthermore, he won two Emmy Awards in 2010 and 2011 under the category Outstanding Sports Personality-Studio Analyst. The broadcaster was nominated in this category several times before.
Herbstreit recently broke down in tears in an online episode of College GameDay, where he addressed the systemic racism issue deeply rooted in America.
He quoted a profound Benjamin Franklin quote and stated that nobody should feel afraid of wearing a hoodie and encouraged people to listen.
Awards And Honors
Gatorade Player of the Year for Ohio State in the 1987-88 season
Winner of Emmy Award for Outstanding Sports Personality-Studio Analyst in the years 2010 and 2011
Nominee for Emmy's Outstanding Sports Personality-Studio Analyst in the years 1998, 2006, 2007 & 2014
Emmy Nominee for Outstanding Sports Personality-Sports Event Analyst in the years 2014, 2015 & 2016
Who Is Kirk Herbstreit's Wife? Marriage And Kids
The Ohio resident met his wife, Allison Butler, in College, where she was a cheerleader. Soon after, they got married in 1988.
The pair welcomed their first children, who were twins, namely Jake Herbstreit and Tye Herbstreit, in 2000.
Their firstborn twins play college football at Clemson University for the Clemson Tigers. The duo has two more sons, namely Zak Herbstreit and Chase Herbstreit.
There have been a lot of rumors surrounding the faithfulness of Kirk in his marriage to Butler. During the marriage, he reportedly had an extramarital affair with the wife of a police officer who was Kirk's fan.
The police officer, Jerry Dunlaw, had even asked Herbstreit to sign his wife Tracy's chest once.
Kirk admitted to his extramarital relationship with Tracy and expressed remorse for his actions.
Jerry divorced his wife as a result of adultery. Despite rumors about the couple's separation and divorce, they remain very much married and together.
Recently, some reports indicated he is having an affair with his co-worker Erin Andrews. However, the couple has not addressed any rumors or allegations.
Kirk Herbstreit | IRS Case And Leaving Ohio
In 2009, the pair sued the Internal Revenue Service (IRS) after it refused to deduct tax despite donating their house to the fire department before building their dream house.
However, in 2011, the family relocated to Nashville from Ohio after harassment from Ohio State fans.
As an analyst, Herbstreit tries his best to give an unbiased report interpreted by the fans as betraying his state and former team.
Even the slightest critical comment would set the fans off, and they would call him names. However, he denies that the move to Nashville was because of the overwhelming harassment.
He stated that they had contemplated the move three years prior. Nevertheless, he has nothing but love and warmth in his heart for Ohio State and the Buckeyes.
You might also like broadcaster: <<Al Michaels Bio: Career, ABC, NBC, Salary, Net Worth Wiki>>
Kirk Herbstreit | Net Worth, Salary, And Charity
Kirk Herbstreit's net worth, as of 2023, is $12 million. The player reportedly earned $4 million in salary as per his contract.
The former athlete may have signed a deal that will last till 2022 with ESPN. His estimated annual salary is $450 thousand.
On top of working in College GameDay, ESPN radio, ESPN.com, and ESPN magazine, he also serves as an ABC analyst. He owns a lavish house in Nashville, cars, and few possessions.
Charity
The quarterback also cares about giving back to the community and actively participates in charities. He has contributed to multiple charities.
In 2012, the former athlete donated to Buckeye Cruise for Cancer to fight cancer and The Make A Wish Foundation Ultimate Sports Auction.
Book
In Out of the Pocket, Kirk Herbstreit, the face and voice of college football, does what his father did for him in this powerfully intimate, plain-spoken memoir about fathers and sons, fortitude, and football.
He takes you into the practice fields, meeting rooms, and stadiums, as well as the locker rooms.
Herbstreit talks about how he ended up on the set of ESPN's iconic College GameDay show, surrounded by tens of thousands of football fans who treat Saturdays like a football Mardi Gras, thanks to hard work, perseverance, and a little luck.
Social Media Presence:
The sportscaster is on Instagram with 168 thousand followers. He shares a playful relationship with college football coach Lee Corso and frequently shares pictures and videos with him.
He even has Lee in his profile picture. Videos of Corso's helmet prediction in stadiums and headgear mascot on College GameDay are viral.
The funny argument between Lee and Kirk is also well-received.
His catchphrase, "Not so fast, my friend," typically aimed at Herbstreit, is equally popular. Besides that, he posts a lot about his job, college football, his four kids, and his dogs.
The former athlete is also on Twitter, with 1.6 million followers. He is relatively more active on Twitter and often shares and retweets about college football.
The former Buckeye has also used his platform to share his concern regarding systemic racism and the killing of innocent black lives.
A recent clip of him talking about racism, police brutality, and hate regarding people of color, where he teared up, made some of his co-hosts emotional.
He requests everyone to be better and as white people with privilege, listen to those negatively affected by systemic racism.
Some FAQs:
Did Kirk Herbstreit play professional football?
No, Kirk did not play professional football. Instead, his football career was limited to Ohio State University, with the Buckeyes as a quarterback.
Why did Kirk Herbstreit move to Nashville?
As an analyst, Herbstreit tries to give a neutral and unbiased report on every game. But every time he gave his honest opinion on a game involving his alma mater, the Ohio fans would get offended and harass him.
Even the slightest critic of their game or any suggested improvements about the Ohio Buckeyes would get their admirers agitated and call him names such as traitor.
How long has Kirk Herbstreit been on GameDay?
Kirk has been on College GameDay for over 30 years now. He joined his co-hosts, Rece Davis, Lee Corso, Maria Taylor, Desmond Howard, and David Pollack, to host the weekly program in 1989 and still works there to this day.
Why did Kirk Herbstreit ask apology from Ohio State players?
During the College Football Playoff National Championship Game broadcast, Kirk Herbstreit mixed up Wyatt Davis's name with fellow lineman Antwuan Jackson's.
Kirk wanted to make sure there were no hard feelings between him and Wyatt and Antwuan, so he apologized for the mixup with the names.
What COVID effects happened to Kirk Herbstreit?
Kirk Herbstreit mentioned during one of his interviews that he hasn't been able to taste or smell since he tested positive for COVID-19 back in late December 2020. He said that he still can't taste or smell even after 5 months of recovering from COVID.
What did Krik Herbstreit say about Dabo Swinney?
Kirk Herbstreit said that he would have loved to see Dabo Swinney's reaction to hearing Alabama was in at No. 4 in the College Football Playoff rankings.