Kornelia Ender is an East German professional swimmer who won four gold medals at the 1976 Montreal Olympics.
Ender was naturally good at swimming from her early days. Thus, well-known East German coaches spotted her natural abilities and trained her for professional competitions.
The prodigy swimmer experienced her first taste of the Olympic games in 1972 when she was only thirteen years old. She came second in the 200-meter individual medley and helped the German Democratic Republic win a silver medal.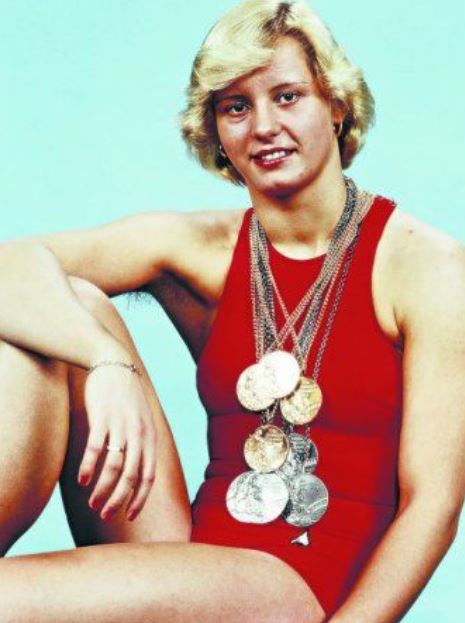 The reason for considering Kornelia Ender as one of the finest swimmers in history is that she never backed off despite the difficulties women faced in sports in those days.
She was even inducted into the International Swimming Hall of Fame in 1981. However, Ender's success was clouded by drug usage charges on her among other athletes.
This article brings you Kornelia Ender's early life, Olympic career, steroid accusation, family, and other lesser-known facts.
Kornelia Ender | Quick Facts
But before that, let's take a glance at some quick facts about Ender.
Full Name
Kornelia Ender
Common Name
Kornelia
Date of Birth
October 25, 1958
Place of Birth
Plauen, East Germany (now Saxony, Germany)
Nickname
Konne
Religion
Christianity
Nationality
German
Ethnicity
White
Father's Name
Unknown
Mother's Name
Vera Ender
Siblings
Unknown
High School
Unknown
University
Unknown
Zodiac Sign
Scorpio
Age
64
Height
5 feet 8 inches (172 cm)
Weight
59 kg (130 lbs)
Eye color
Black
Hair color
Blonde
Build
Athletic
Body Type
Hourglass
Marital Status
Married Twice
Ex-Husband
Ronald Mathes (Married from 1978-1982)
Husband
Steffen Grummt (Married since 1984)
Children
2 Daughters (One from the first marriage and another from the second marriage)
Profession
Former Professional Swimmer
Affiliation
East Germany Olympics Swimming Team, SV Halle
Active Year
1972-1976
Olympic Debut
1972 (at the age of 13)
National Team
East Germany
Favorite Stroke
Butterfly, Freestyle, Medley
Wins

1972 Summer Olympics- 3 Silvers
1976 Montreal Olympics- 4 Gold Medals and 1 Silver

Awards and Achievements

Swimmer of the Year (3 Times)
European Swimmer of the Year (3 Times)
Inducted into the International Swimming Hall of Fame (1981)

Net Worth
$1.5 Million
Residence
Schornsheim, Southwest Germany
Hobbies
Swimming
Social Handle
Not Active
Merch
Sportscaster Card
Last Update
May, 2023
Kornelia Ender | Early Life
On October 25, 1958, Kornelia was born in Plauen, East Germany. Her mother's name was Vera Ender, whereas her Father's name is not disclosed.
Native to her homeland, Germany, Kornelia was an army officer and a nurse. She was a naturally talented swimmer from an early age.
At the age of six, the prodigy child left the house to attend Halle's Chemie Club training center. In the training center, she used to swim seven miles a day and train so hard under the supervision of some of the best coaches and a team physician.
As per encyclopedia.com, the coaches would give cocktails with vitamins to her after every workout. But, recalling old days, Ender said she and her friends were unknown of what they were drinking.
She recalled memories and mentioned that Sports officials never talked to the swimmers about anything.
Ender, aged ten, was chosen as one of the faster women sprint swimmers around the globe by a state talent scout.
Know More About Olympic Swimmer, Natsumi Hoshi >>
Kornelia Ender | Age, Height, and Weight
Ender was born on October 25, 1958, making her 64 years old. Her zodiac sign is Scorpio.
She stands 5 feet 8 inches tall and weighs around155 pounds. She has an athletic hourglass body.
Kornelia Ender | Professional Career
1972 Munich Olympic Games
At the 1972 Summer Olympic Games in Munich, thirteen-year-old Kornelia earned two silver medals in relay swimming. In addition to that, she won second place in the 200-meter medley.
After the 1972 Olympics and complex practices, Ender's butterfly and freestyle sprints skills were so sharpened that no one could beat her skills.
1976 Olympic Montreal
At the 1976 Olympics in Montreal, Ender played a crucial role in East Germany's success.
She earned gold in 100-meter and 200-meter freestyle sprints, the 100-meter butterfly, and the 400-meter medley relay anchoring.
The seventeen-year-old Kornelia not only broke a world record in each event but swam two of the individual events—the 100-meter butterfly and the 200-meter freestyle.
She was the substitute for Barbara Krause in the freestyle.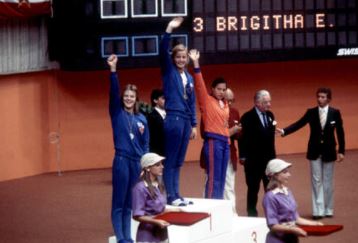 According to Times Magazine, the elite swimmer Ender was already three feet ahead before starting swimming because of the force she was exploding from the starting block.
To talk about her swimming style, she dived shallow and planes high like a speedboat with much of her body floating out of the water.
The most exciting technique of her swimming was her motion. Her motions were so efficient that she would set world records despite making fewer strokes per minute than her competitors.
Along with four golds, she took silver for the 100-meter relay freestyle. In the 1976 Olympics, Kornelia and Babashoff were the only women to win five medals in swimming in a single Olympic Games.
Kornelia Ender | World Swimmer of the Year
The perfectly fit athlete, Kornelia was World Swimmer of the Year in 1973 and 1975, winning four gold medals in both World Championships.
A Sports Illustrated reporter once described the outstanding swimmer, Kornelia, as "propelling herself into the water with such authority as to give the impression that she was pulling the pool toward her.
Also, she was named German Sportswoman of the Year from 1973-76 and was chosen European Sportswoman of the Year in 1973 and 1975.
However, Kornelia's award for "World Swimmer of the Year" was returned due to a positive test for steroid use.
Swimming World Magazine deprived Ender of her awards from 1973, 1975, and 1976. So, even though Ender herself was a victim of the doping scandal, she still got stripped of her medals.
All About Hall of Fame Swimmer, Jenny Thompson>>
Kornelia Ender | Retirement
Against the wishes of Ender's coaches, she retired from swimming after the 1976 Olympics. Unfortunately, her retirement decision ended her career when she could become a hero in East Germany because of her achievements.
In 1977, Kornelia Ender refused to take Turinabol; as a result, she was banned from the national team by Manfred Ewald. Before retirement, Ender had already broken 23 world records during her career.
After reunifying former East German officials, they finally admitted that they had given doping nearly to all their swimmers, including Ender.
After the 1976 Olympics, Ender and her teammates were accused of using illegal performance-enhancing steroids.
On the 30th anniversary of the fall of the Berlin Wall, Ender disclosed that in 1989, she tried to escape to the West through Hungary, but the authorities did not allow it and brought Ender and her family back.
Later, there was news that Ender's father had informed the authorities of her attempts to escape to the West and discover a new life.
Physiotherapist
After retirement, Kornelia successfully established herself as a physiotherapist and has been serving since 1984. Nowadays, she lives in Schornheim, a village in southwest Germany.
Motivational Speaker
Kornelia is one of the most influential and robust lady athletes to date.
As a motivational speaker, she shares her challenges, ups, and downs, hoping that no one will make the mistakes she once made.
Kornelia Ender | Marriage
Roland Matthes
Kornelia married fellow teammate Roland Matthes who was a four-time Olympic backstroke champion.
Sadly, her marriage to fellow swimmer Roland Matthes ended in divorce.
The marriage lasted four years, and it was described as the world's fastest marriage. They also share a daughter, Francesca.
To add up, Roland Matthes won the 100 and 200-meter backstroke at the 1968 and 1972 Games, making him the most successful of all Olympic backstroke swimmers.
Steffen Grummt
In 1984, Kornelia married Steffen Grummt and was blessed with a daughter. After marriage, she and her husband tried to apply for an emigration visa.
Finally, in 1989, Kornelia and her family settled in West Germany.
Steffen Grummt was a decathlete who placed fourth at the 1982 European Championships and was ranked fourth globally. After getting married, he became head of the sports school in Mainz.
Truth Revealed Regarding Steroid Use
In 1991, some East German coaches admitted that some women swimmers were given steroids, although Kornelia Ender's name was not explicitly mentioned.
In one interview, Kornelia spoke regarding steroid use and revealed that her coaches gave her performance-enhancing drugs, but she was unaware during that time.
When Ender won four gold medals in the 1976 Montreal Olympic Games, she was 18. Besides eight gold medals, she earned eight world titles, four other Olympic medals, and four European titles.
The Truth
Ender used to practice hard at the Child and Youth Sports School, two hours of water work twice a day and one hour of land workout every day. And she and her other mates were given an above-average lifestyle.
Again talking about the use of drugs, Kornelia said there was no mention of drugs, but the students might have been given illegal substances in food and drink.
However, in 1975, the pressure for success grew, and the focus was only to win Olympic Games. She remembered being given injections during training and competition, but it was explained as substances to help regenerate and recuperate.
According to Kornelia Ender, all these substance usage incidents make her sad. She felt like she was a real loser.
It is easy for coaches to reveal the truth, but the blame game still goes on, and every mistake is pointed out to athletes, not them.
Kornelia Ender | Net Worth
Ender is a famous Swimmer whose estimated net worth is around $1.5 million.
The central part of her wealth comes from winning games and Olympic gold medals. In addition, when Ender was at the peak of her career, she got many endorsement deals which added to her wealth.
After retirement, she switched her profession to Physiotherapist and motivational speaker, from which also she made good money. Explore more about her net worth and lifestyle.
Kornelia Ender | Social Media Presence
Ender is regarded as one of the most excellent swimmers of all time. Despite this, she leads a quiet life.
Unfortunately, she is not present on any social media platforms. Instead, she is happy with her quiet life away from the limelight.
Olympic swimmer Madeline Groves: Bio & Net Worth>>
Frequently Asked Questions(FAQ)
Who is Kornelia Ender's Father?
Ender's Father was a military person, according to some online sources. However, his name and other personal information are not disclosed.
Reportedly, it is said that Kornelia ran away from home at the age of thirteen because of her Father's strict rules.