Kristie Mewis and her sister Sam Mewis were each other's competition growing up. But as they grew older, they became each other's biggest supporters.
Kristie and Sam have an age gap of 20 months, making it easier for Kristie to have a rivalry with her younger sister. The fierce competitor, Kristie, would never compliment her sister, no matter how well she played when they were kids.
But now the story is different, the two sisters remain the only siblings to play for USWNT at the senior level. But in a few years, Gisele and Alyssa Thompson might be the other sibling duo we will see together on the soccer pitch together for USWNT.
Sam already has a World Cup title, winning it in 2019. At the time, Kristie had been out of the senior team for six years. But she made a stunning comeback to the side in 2020 and was named to the 2023 World Cup Team.
Sam could've joined her if it weren't for her knee injury, which she knew would keep her out of the team since earlier this year in January. But the midfielder said she has been sending supportive texts to her sister and Lynn Williams.
Kristie Mewis Sister, Sam Mewis
Kristie Mewis' sister, Sam Mewis, is younger than the Gotham FC player by 20 months. Sam currently plays for Kansas City Current.
The two sisters share a close bond, and it was on full display in the video "The Mewis Sister Quiz: Refreshed and ReMewed." In 2020, US Soccer shared a fun video of the Mewis sisters with the two talking about their lives away from the soccer pitch.
When asked if she sobbed when Sam won the World Cup, Kristie replied with a definitive "Yes." But the older Mewis sister added after she saw her sister's crying face on TV, it made her laugh.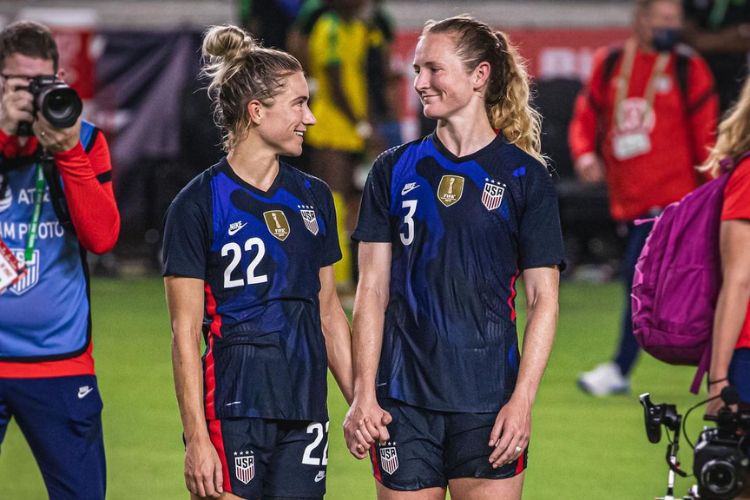 She even messaged her sister to get it together. And though Sam might be the younger sister, Kristie admitted if she had to take one trait from her sister, then it is how organized she remains all the time.
But growing up, the story isn't the same. In an interview with People, Kristie said they were complete polar opposites and hated each other. Sam said Kristi had a massive influence from a competitive standpoint.
In 2021 both Mewis sisters were named to the Tokyo Olympic team. It was their first Senior International tournament together. It was also an emotional moment for Kristi, who returned to the senior national team after seven years.
Both sisters play for NWLS teams after being separated for a year when Sam moved to Manchester City in 2020. With Sam still nursing her knee injury, she is yet to make a single appearance for her team, Kansas City Current.
Kristie And Sam Mewis, Parents, Robert, And Melissa Mewis
The Mewis sisters' parents, Robert and Melissa Mewis, are former collegiate athletes.
Robert Mewis played soccer at Fitchburg State University, and his better half, Melissa, played basketball and ran track at Northeastern University.
Robert coached both his girls during their formative years. But he would have to balance it with his office job. Now retired, Robert previously worked at a firm that estimated the costs of construction projects.
He also worked on the weekends, building, roofing, and framing houses. Melissa had office work and did part-time jobs. The couple would spend between $10,000-$12,000 a year for Kristie and Sam's soccer training.
When they were growing up, Robert and Melissa would put their hands on their heads, looking at how competitive they were. Robert and Melissa didn't believe their daughters would ever get along well.
But as they matured, the girls became each other's biggest cheerleaders. Though Kristie was the first to get a call from the National Team, Sam became the mainstay and won the World Cup 2019.
But Kristi was extremely supportive of her sister, making their parents think that the youthful sibling rivalry had worn off and they had become close.