Kristine Leahy, a very famous and leading name in the world of television hosting and sports reporting, is most known as a former host on NBC's "American Ninja Warrior." Leahy started hosting "Fair Game with Kristine Leahy" on Fox Sports 1 in 2018. She is a glamorous and controversial figure in the U.S.
Similarly, she was an ex-anchor and Reporter for KCBS-TV in Los Angeles called "The Herd with Colin Cowherd."
Kristine has covered everything from the Super Bowl to the World Series to the NBA and Stanley Cup Finals. Previously she also hosted Fox Sports 1's Fair Game.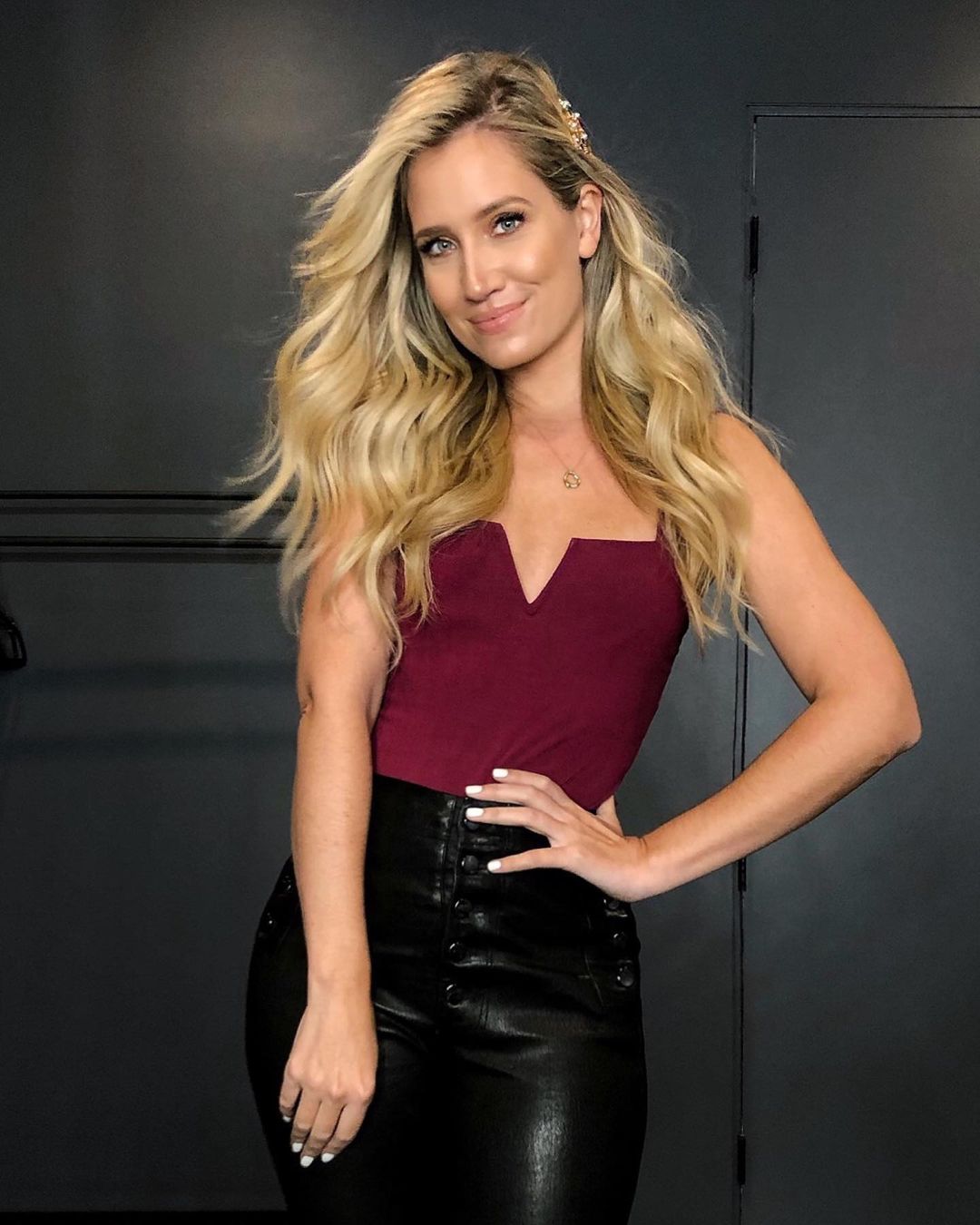 Kristine was born in Chicago, Illinois, USA. She grew up all through the pinnacle of Michael Jordan's basketball supremacy.
Besides, she did hook at some point to those six NBA championships.
Let us know about Kristine's age, height, career, controversies and scandals, net worth, relationship status, and social handles.
But for now, let's dwell on the quick facts about our blonde bombshell host.
Quick Facts:
Full Name
Kristine Leahy
Date Of Birth
October 17, 1986
Place Of Birth
Chicago, Illinois, USA
Nick/Pet Name
Kristine
Religion
Christianity
Nationality
American
Ethnic Belonging
Caucasian
Father's Name
Sean Leahy
Mother's Name
Unavailable
Number Of Siblings
2
Education
Boston University
Zodiac Sign
libra
Age
37 Years Old
Height
5'10" (178 cm)
Weight
58 kg (127 lbs)
Eye color
Green
Hair Color
Blonde
Shoe Size
9.5 (The U.S.)
Body Measurement
34-26-36 inches
Figure
Slim
Marital Status
Un-married
Boyfriend
Aaron Hines (Ex-Boyfriend)

Sasha Vujacic (Current)

Children
No
Occupation
Talk show host, Reporter
Net worth
$3 million
Salary
$80k per year (Approx.)
Active Since
2012
Pets
Daisy (Dog)
Current works
Fair Game with Kristine Leahy
Social Media
Merch
Books
Last Update
November, 2023
Kristine Leahy | Early life, Parents, Education
Kristine stepped into the world on October 17, 1986, as a midwestern Chicagoan as she hailed from Chicago, Illinois, USA.
Chicago is famous for pizza, jazz music, Al Capone, Chicago Bean, and Kristine Leahy.
Born as the eldest child to a proud father, Sean Leahy, and an unknown mama, she is the only daughter in a family of 5.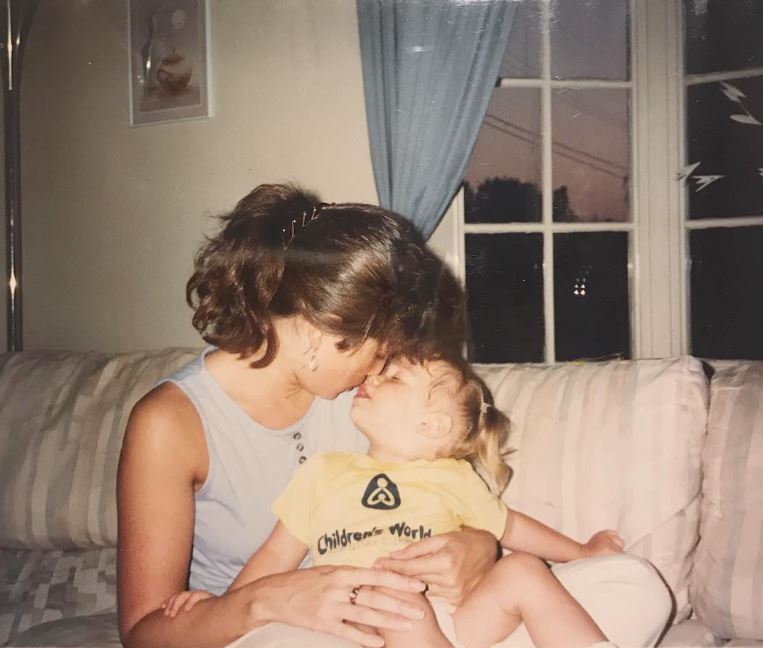 Initially, the Chicagoan wanted to be a sports person, but she saw those genes skipping her and landing on her younger siblings, so she chose sports broadcasting.
In 2005, Leahy graduated from Prairie Ridge High School in Crystal Lake, Illinois. After that, she joined a private University ranked 42 nationally, named Boston University.
At the same time, when she was still a student at the University, Kristine turned into a team member that generated BUTV's earliest sports talk show and co-anchored that for three years.
Further, after graduating from her Alma -mater with a Bachelor of Science in Journalism, she landed a profession at WEEI in Boston.
There she worked as a Journalist and host for New England Sports Radio Station.
Kristine's journey started as a broadcaster and Talk show host. We will further dig into her age, height, and body measurements.
Kristine Leahy | Age, Height, & Body Measurements
Right off the bat, the primary portion of facts that maximum fans of Leahy want to know is how old she is. The Chicagoan is in the 37th year of her life.
She enjoys every moment to the fullest, and we can see that in her being. She is living a successful and glamorous life, often taking rewarding vacations.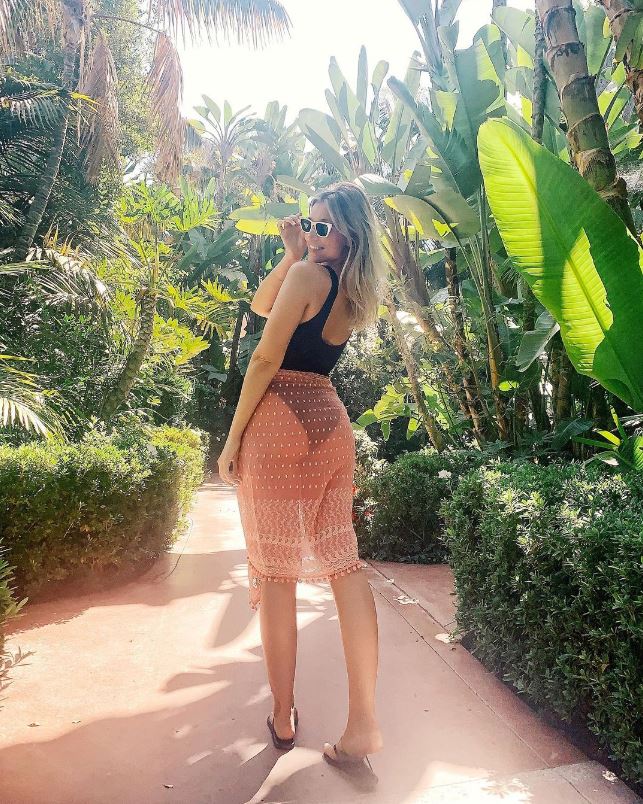 So talking about heights, Kristine is relatively taller. Standing at 5'10" (178 cm), this blonde girl got every eye glued on her magnetic personality.
Leahy was born under Libra's sign, which comprises dominant characteristics like being friendly, kind, diplomatic, charming, and romantic.
Like a true Libran, she possesses all these qualities in her behaviors.
Vegan Life
Our Gorgeous green-eyed diva is quite health-conscious too. And if you are a vegan, there is another reason to love Leahy because, yes, you assumed right, she is a Vegan too.
Her athletic body results from her tremendous hard work at the gym. she likes indulging in sweets repeatedly, but who doesn't?
She is not once terrified to share her opinions and thoughts and express her fact; she is an excellent speaker.
These qualities led her to be the extraordinary talk show host she is today.
We can all agree that she is an Elegant, Ravishing, and eye-popping lady, but she is equally a healthy sports host.
She dedicates herself hugely to the job she is given—a perfect mixture of persistence and confidence.
Similarly, within ten years, she conquered her dream of being enclosed with the best athletes and is now a very successful sports correspondent.
Kristine Leahy | Professional Career
Leahy worked for two years at WEEI; after that, she got promoted to a post as an authorized Journalist for the Boston Celtics and Celtics.com.
The Chicagoan left it for a profession at FOX Boston and worked with every local sports team in Boston.
Afterward, Leahy relocated to Los Angeles and worked in various sports in 2012, mainly as a secondary reporter for March Madness coverage by Turner Sports.
Besides, she also worked for various CBS-associated sports openings, counting the native CBS LA newscast.
Further, Leahy became the secondary correspondent for American Ninja Warrior on NBC, making her famous.
This woman acquired a profession to link with previous ESPN Radio spokesperson Colin Cowherd on his original show in September 2015.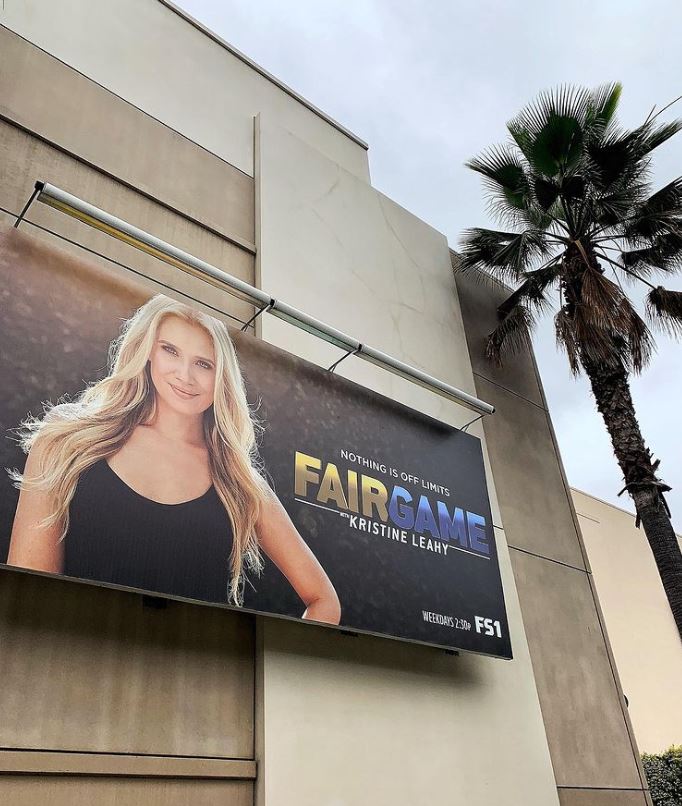 Moreover, the Gracies Award honored Kristine for the grouping of On-Air Talent, and Sports, for her exceptional effort on the show in 2016.
Kristine Leahy | Scandals and Controversies
Kristine Leahy is a cherished person in sports reporting, but in May 2017, she became the topic of substantial media curiosity when she was openly insulted by Lavar Ball.
Lavar Ball is the founder of the top NBA outlook Lonzo Ball and the sportswear establishment's proprietor, the Big Baller Brand.
He appeared on a radio show with Colin Cowherd and Leahy, where he stood being interrogated by Cowherd.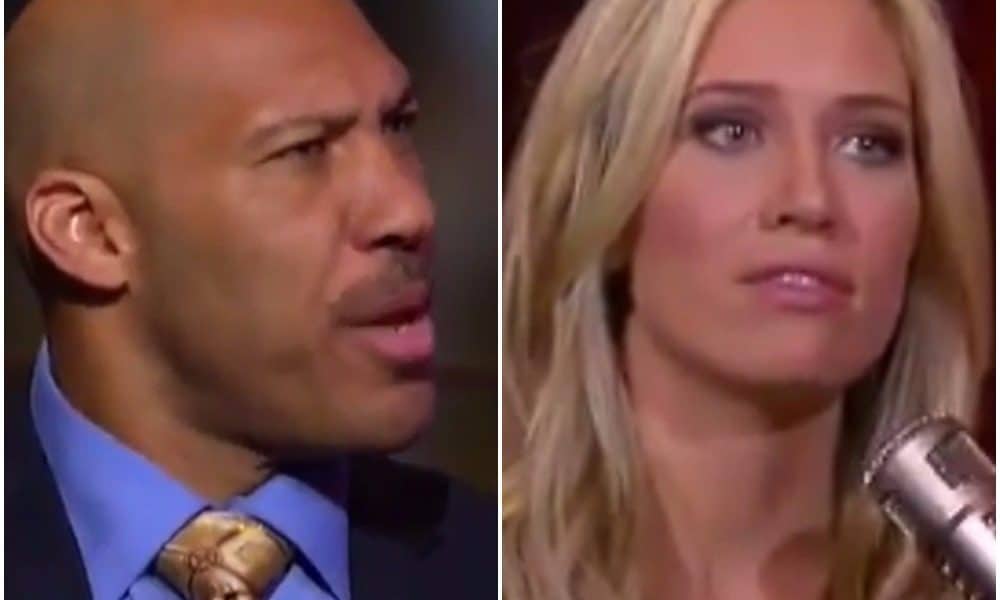 In the interview, Kristine questioned Ball about his brand, to which he responded very unpleasantly.
Ball argued with Leahy about whether or not Big Baller Brand should market to both men and women.
When Kristine asked how many shoes he had already sold, he said, "Stay in your lane."
He also threw rude verses at her and didn't even look at her while answering. All in front of the camera, Ball threatened Leahy.
The show's team and the audience there were very shocked. Kristine, being a peaceful professional, balanced the situation with poise.
Nevertheless, this event certainly blemished the status of Lavar Ball as his comments were sexist, and he seemed arrogant.
"I asked him a question. That is my job as a reporter. And he came back at me in a very dismissive and inappropriate way. So, I had two choices: I could either sit back and take it … Or I could stand up for myself and talk to him."
She added, "Still, with complete respect. And for the record, I've supported him being such a strong voice for his son, and we talk more about his son than anyone else because of what he's done for him."
—Leahy, on her exchange with LaVar Ball on The Herd.
On November 20, 2017, Leahy criticized CNN for inviting Ball on the air to discuss his feud with former U.S. President Donald Trump.
Kristine Leahy's | Net Worth
Kristine is super famous, loved, and beautiful, but how rich is this Chicagoan blonde beauty? Her net worth is a whopping $3 million as of 2023.
It seems like she is a hot, famous, and wealthy woman we dream of becoming ( or dating).
The Salary of Kristine Leahy is not made public, but talking about a television personality like her, we can assume that she earns a five-digit salary annually.
Also, this talented host will earn more if she keeps thriving this way.
Kristine Leahy's | Personal Life and Boyfriend
This Chicagoan is unmarried, but we sure have heard a lot of rumors about her dating life. This brilliant T.V. presenter is not wedded to anybody yet.
Most of the photographs are of the guests she hosts and spending time with herself. But we have heard and seen some pictures of her and Aaron Hines.
They look cozy in this picture, but we are unsure if they are still dating or engaged. We can confirm that the duo was together for a year.
Besides, a lot of guys would want to indeed date an eligible bachelorette like Kristine.
Kristine is paired up with Sasha Vujacic, rumoring that the couples are dating each other.
Sasha is an Italian basketball player for the Scaligera Basket Verona and a two-time NBA champion who enjoyed stints with the L.A. Lakers, Nets, LA Clippers, and New York Knicks.
The player was a guest on the "Fair Game," hosted by Kristine Leahy.
Moreover, being born and brought up in the United States of America, Kristine has adopted the Vegan lifestyle.
Likewise, she is eliminating all arrangements of mistreatment of animals for food, apparel, or any additional purpose, as far as possible and feasible.
Social Media Presence:
Kristine is all over social media; yes, you heard it right. She is actively posting on Facebook, Instagram, and Twitter.
It seems that she always adores her boxer pup daisy on her Instagram. Also, she regularly tweets about sports journalism and personal opinions and thoughts.
Leahy often talks about game shows and players. Likewise, she posts about her performances and short videos where she interviews guests on Facebook.
Facebook: 86k followers
Instagram: 242K followers
Twitter: 200.5K followers
Kristine's Popularity
Kristine Leahy is usually a searched name and is on the hype in the U.S. throughout the year.
Some FAQs:
Who is
Kristine Leahy dating now?
Kristine is dating an Italian professional basketball player, Sasha Vujacic. Sasha, the two-time NBA Champion, is also the owner of the finest wine brand, "Alexander Wine."
How much does Kristine Leahy Make?
Kristine has a whooping sum amount of $3 Million. She has accumulated wealth throughout her professional career.
What is Kristine Leahy's Nationality?
Kristine Leahy is American by Nationality and belongs to the Caucasian ethnicity. Leahy was born in Chicago.
What happened to Kristine Leahy's show?
Leahy began anchoring Fair Game with Kristine Leahy on Fox Sports 1 in 2018. In December 2019, the show was canceled.
Who is the female host of American Ninja Warrior?
The female host of American Ninja Warrior is none other than Kristine Leahy until Season 10. However, the recent Season 14 will see the return of Matt Iseman, Akbar Gbajabiamila, and Zuri Hall as hosts.
Why did Christine leave American Ninja Warrior?
Neither Kristine Leahy nor NBC stated why she left American Ninja Warrior.
However, she likely left for pastures new as she started hosting the Fox Sports 1 talk show Fair Game With Kristine Leahy.
Who is the shortest female ninja warrior?
Catanzaro is the shortest female ninja warrior who stands about 5 ft (1.524 m) tall. She is of Italian descent.