There is a savage beast in every man, but this man is a complete savage himself. This time we are talking about none other than LaVar Christopher Ball, an American Businessman and former professional football player of the NFL.
LaVar Ball is also the father of three basketball players, a professional trainer, a presenter for the docu-series aired on Facebook's Watch called "Ball in the Family," and much more relevant to that.
Ball never fails to come under the spotlight, whether it is the controversy with President Donald Trump or his brutal comments and comparisons with other players. You will come to know all about this once you go through this article.
Before plunging deeper into his life events, let's take an instant look at the quick facts about LaVar Ball.
LaVar Ball- Quick Facts
Full Name
LaVar Christopher Ball
Birth Date
October 23, 1967
Birth Place
Los Angeles, California, U.S.
Celebrated Name
LaVar Ball
Religion
Believe in God
Nationality
American
Ethnicity
Black
Education
Cal State Las Angeles
Horoscope
Scorpio
Father's Name
Anderson Ball
Mother's Name
Maria Ball
Siblings
LaFrance, LaValle, LaRenzo, LaShon, and two sisters
Age
55 Years Old
Height
6 ft 6 in (1.98 m)
Weight
263 lb (119 kg)
Hair
Bald
Eye Color
Dark Brown
Body Measurement
Not Known
Famous As
Media Personality
Docu-Series
Ball in the Family
Build
Athlete
Married
Tina Ball
Children
3 (Longo, LeanGelo, LaMelo)
Profession
Co-founder and CEO of Big Baller Brand
Former football player and coach
Net Worth
$10 million
Salary
Under Review
Affiliation
NFL, BBB, JBA
Position
Tight End
Active Since
since 1994
Social Media
Facebook, Instagram, Twitter
Merch
Shirts, Rookie Card
Last Update
June, 2023
LaVar Ball- Early Life
LaVar Ball stepped into this world on October 23, 1967, to Anderson and Maria Ball and was raised in South Los Angeles, California.
He is the middle child of his family. He has four siblings named LaFrance, LaValle, LaRenzo, and LaShon, and two sisters.
LaVar Ball went to Canoga Park High School in Canoga Park, Los Angeles, where he was a promising quarterback on the football crew and played basketball as a forward.
In one season, Ball secured a sum of 316 rebounds to break the school record. Ball stood 6 ft 4 in (1.93 m) during his college days and weighed 250 lbs (113 kg).
Besides indulging in his first and foremost love-interest sports, Ball studied criminal equity in his college days and had intentions of being a U.S. Marshal.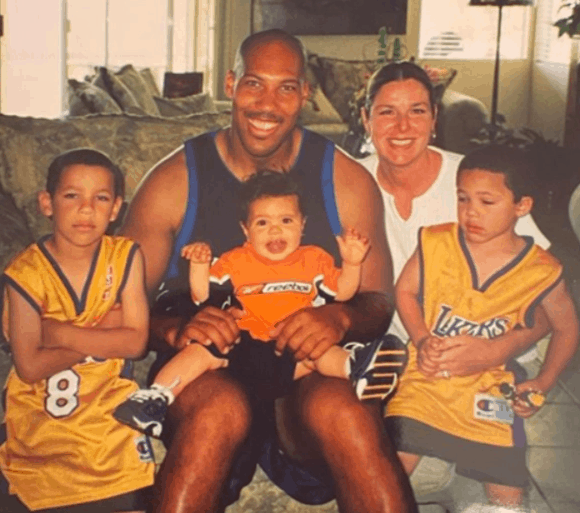 LaVar Ball- Basketball Career
LaVar initially started playing school basketball at West Los Angeles College in the low-level Western State Conference regardless of having less experience with the prep level.
In the season opener in 1986, he recorded 33 points, and 18 rebounds against Porterville College.
Ball, at that point, moved to NCAA Division I Washington State and turned into a beginning forward. However, in 26 games for the Cougars, he scored just 2.2 points, 2.3 rebounds, and 1.0 assists per game.
After one season, Ball moved again to Cal State Los Angeles, which contended in the NCAA Division II, playing next to three of his four brothers.
Charles Barkley was considered to be his favorite player at that time.
LaVar Ball- Football Career
Meanwhile, Ball was called up for a football tryout, and in time, he made a comeback to sports. He played a single year of college football at Long Beach City College as a tight end.
The highlighting moment of his career was on May 1, 1994, Ball was marked with the New York Jets of the National Football League (NFL) as a defensive end officially. That's when he started professionally.
He got back to the Jets on March 7, 1995, as a tight end and was promptly sent on loan to the London Monarchs of the World League of American Football (WLAF).
In the Monarchs' 1995 season, Ball had zero gets yet recorded 28 yards in kick returns. LaVar Ball was considered the "garbage" in his teammates' eyes, specifically Kenny McEntyre.
He was a part of both the Jets and Carolina Panthers' training crews during his NFL profession until late November 1995, despite having no games in his hand due to injury.
It seemed clear that his football career is also concluding injury. That was the crucial moment when he opted for a personal trainer in California.
Also, read about another NFL player Jordan Cameron.
LaVar Ball – College Stats
| Year | Team | GP | GS | MPG | FG% | 3P% | FT% | RPG | APG | SPG | BPG | PPG |
| --- | --- | --- | --- | --- | --- | --- | --- | --- | --- | --- | --- | --- |
| 1987–88 | Washington State | 26 | – | – | .404 | .000 | .450 | 2.3 | 1.0 | .4 | .1 | 2.2 |
LaVar Ball – Personal Life
Lаvаr tied the knot with аn Аmеrісаn fоrmеr соllеgе bаѕkеtbаll рlауеr Тіnа in 1997. Тhе соuрlе іѕ blеѕѕеd with thrее ѕоnѕ: Lоnzо, LіАngеlо, аnd LаМеlо. And with his guidance, all three sons аrе рrоfеѕѕіоnаl bаѕkеtbаll рlауеrѕ.
While Tina was busy settling her teaching job in a high school physical education, LaVar had saved up enough funding with his work as a personal trainer.
To keep it specific, Lonzo, his son, has managed to gather a lot of well-deserved fame. Following his spellbinding career at UCLA, the Los Angeles Lakers chose him as the second overall pick in the 2017 NBA draft.
As a matter of fact, Mrs. Tina Ball has suffered from a major stroke. Additionally, they haven't provided any details regarding her journey for the cure. Indeed, she has been left with aphasia.
Well, she has limited verbal communication and can't walk; thus, she uses a wheelchair. However, a few years back, some light shone on her case, as during the interview, it was revealed that Ball ditched her wheelchair.
Furthermore, it was stated that Ball always treated her stroke as her weakness. He would often comment on her wheelchair messing up the house or stating that she walks like an old lady with her cane.
LaVar Ball- Business Highlights
As said by Benjamin Franklin," The best investment is in the tools of one's own trade." with that lump sum amount, LaVar took a big move to invest in business ventures.
In 2016, LaVar established an athletic clothing company called Big Baller Brand, or "BBB" for short. Lоnzо and his brothers are highly responsible for the advertisements of the brand.
On August 29, 2017, LaVar with his family was featured in his first-ever docu-series "Ball in The Family" which went on-air on Facebook's watch. It seems like The Balls were trying to bring a revolution on and off the court.
And correspondingly, LaVar declared his plans to form the men's professional basketball league JBA, which stands for Junior Basketball Association mainly for high school students, in December 2017.
LaVar Ball- Controversies
As other media sources and Wikipedia claimed, the football coach was a hell of a reckless personality who always remained subject to both appreciation and criticism.
It is baffling when we try to understand this man," Is LaVar Ball born fearless or an inhabitant fear fighter?"
Let's explore more about this.
We do not know whether this comes from one's own free will, like a shot, or is it without any intention, but LaVar Ball has always been in the limelight for his controversies.
LaVar has never shied away from giving bold statements. For example, his initial comment included that he could win over Michael Jordan one-on-one in basketball.
Likewise, Philadelphia 76ers teammates Joel Embiid and Ben Simmons have attacked Ball on social media.
Also, John Wall, Kenyon Martin, Jerry West, and Reggie Miller have criticized his impact on his children.
He also dared to say his son Lonzo is better than most of the NBA's Most Valuable Players, Stephen Curry, LeBron James, and Russell Westbrook. According to him, his eldest son is "The best player in the world," How outrageous!
Also, in an interview with Maxpreps, he was asked how his son plays in his view.
Lavar unhesitantly took the name of Magic Johnson.
His comments on Jordan and Stephen brought huge room for criticism from the media and the public.
And yet again, in May 2017, LaVar grabbed a lot more attention from the media outlet when he hiked the price of his sneakers to US $495.
That was criticized by many other American Athletes, such as Shaquille O'Neal, while others also came in support.
He also promoted his company on national television, comparing his products with PUMA, and ADIDAS.
He grasped a huge statement saying- "Those who cannot afford these sneakers are not true BALLERS."
Feud with Donald Trump
LaVar's controversies were not only limited to the ground of sports or with the sports fanatic. This time he dragged himself into the controversy with US President Donald Trump.
Their rivalry took place when LiAngelo was visiting China for an exhibition game in November 2017. He and two UCLA teammates were blamed for shoplifting and kept back by the authorities.
Trump, who was also in China simultaneously, discussed the matter with President Xi Jinping.
In sync with the chat, LiAngelo and his fellow players were set free on bail. But there was a rumor that if not freed, they would have been sentenced to jail for about 10 years.
Also, Trump wanted to take the credit for their bail, but LaVar refused to do so. Soon, news published by ESPN claimed that Trump was never involved with the shoplifting case".
Later, LaVar also stood by the news considering his son and teammates guilty. Although the UCLA students thanked Trump, LaVar publicly refused to do so.
After dousing the fire, the ball did giveaway three pairs of those $500 sneakers. Ball told CNN's Chris Cuomo- "They're a hot item,"
Well. from his controversies, all we can note about him is he is a man of that kind who exactly fits into the quote- "Love me or hate me, I am still gonna shine."
LaVar Ball- Net Worth
Running a business of his own, LaVar is striking high in every field, whether trade, media, sports, entertainment, etcetera. He has managed to excel in all.
We are still under review about his salary but looking at his profession as a short-tenure player of the NFL, a personal trainer, a businessman, and a media personality, we can guarantee that he must be earning high and leading the slogan"Live Life King Size" in practicality.
In accordance with the other media sources- "As of 2023, The total net worth of the former coach is expected to be $10 million."
No wonder there is hearsay that his net worth might get increased too. After all, He is a man of his choice and a businessman who listens to only his voice, Legendary!
Net Worth of LaVer Ball in Different Currencies
Here is the net worth of LaVer Ball in different currencies, including the Indian Rupee and Dollar.
Currency
Net Worth
Euro
€

8,919,000

Pound Sterling
£

7,485,250

Australian Dollar
A$

13,871,160

Canadian Dollar
C$

12,691,700

Indian Rupee
₹

743,986,500

BitCoin
฿

177
LaVer Ball- Social Media Presence
Facebook – 534k Followers
Twitter – 346.1k Followers
Instagram – 1.1m Followers
Some of his famous quotations are listed below.
"I've told them this since Day 1 since they've been babies: 'Somebody's gotta be better than Jordan, why not you?'"
"I'm going to speak it into existence."
"The goal is to have my kids' kids be trust-fund babies. That eternal wealth."
Some FAQs
What is the Jersey Number of LaVar Balls?
As a defensive end, the football player features in jersey number 99 for the New York Jets.
What is the Advice to Lamelo From his Father LaVar?
LaVar has warned his sons that they will not find a good girlfriend while playing in the NBA.
What Happened to LaVar Ball?
Ball made multiple cracks about FS1 host Jason Whitlock's weight and sparred with Kristine Leahy about whether he was disrespectful toward women.
What happened between Molly Qerim and LaVar Ball?
As AJ Neuharth-Keusch of USA Today noted, Ball responded to a transition from Qerim Rose by saying, "You can switch gears with me anytime."
The host brushed the comment off and kept the show moving by telling him to "stay focused," but Ball's words drew an exasperated reaction from Stephen A.