Korean Archery team has always impressed the sports lover with their consistent performance in Olympics. Every year, there seems to be at least one archer who draws all the attention to themselves. In 2016, that person was Ku Bon Chan.
At 24, Ku Bon chan was able to bag two gold medals, one individually and one for the team.
Before the Olympics games, this recurve archer had also won a gold medal at the 2015 world championship.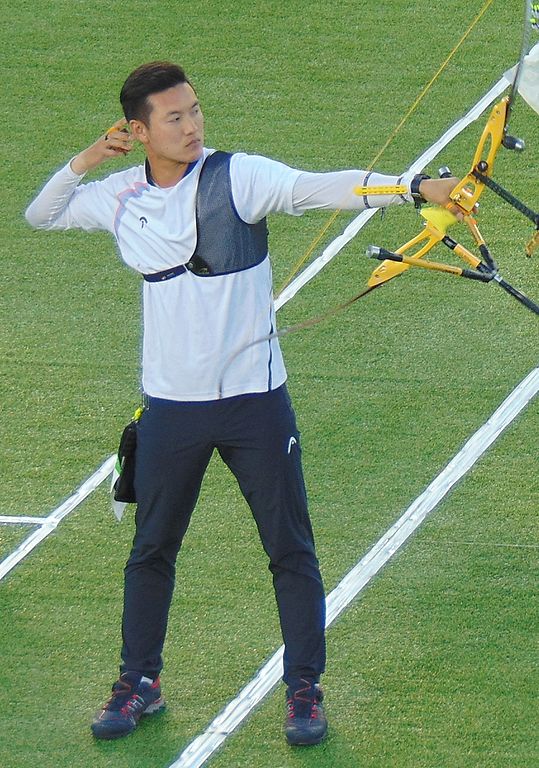 Sadly, his national career has gone downhill since the Olympics, and he has not made it into the archery team again. He lost his chance to play in the Tokyo Olympics after not making it past the national trials.
However, he is actively playing and practicing with his club.
This article will explain the exciting life of Ku Bon Chan, from his rise to his downfall. But first, here are some quick facts.
Ku Bon Chan: Quick Facts
Full Name
Ku Bon-chan (Gu Bon-Chan)
Native Name
구본찬
Common name
Ku Bon-Chan
Nick Name
N/A
Birthdate
January 31, 1993
Age
30 years old
Zodiac Sign
Aquarius
Mother's Name
Kim Byung-guk
Father's Name
Kim Byung-ran
Siblings
One elder brother, One elder sister
Birthplace
Gyeongju, Gyeongsangbuk-do
Home Town
Gyeongju, Gyeongsangbuk-do
Citizenship
South Korea
Residence
Inchon, Korea
School

Gyeongju Shinla Middle School
Gyeongbuk Sports High School

College
Andong University
Education
Physical Education
Height
181 cm (5′ 11″)
Weight
81 kg (179 lbs)
Religion
Buddhism
Eye Colour
Black
Hair Colour
Black
Shoe Size
N/A
Martial Status
Married
Partner
Um Dha Yoon
Married
July 28, 2018
Children
No
Sport
Archery
Events
recurve Archery
Starting Playing
2003
Debut
2014 (International)
World champion
Two gold (2015, Team and Mixed team)
Olympic Wins
Two gold (2016, individual and team)
Asian Games
1 Bronze ( 2014, Team)
Highest Rank
World no. 1 in recurve (2016/10/5)
Club
Hyundai Steels Archery Team (2016)
Coach
Park Chae-soon
Moon Hyung-Cheol (national)
Team
Korean National Team (Previously)
Status
Active
Hobbies
N/A
Net Worth
$1million
Affiliated Brands
Hyundai Steels
Social Media
N/A
Website
N/A
Merch
Archery Set, Archery Accessories
Last-Update
May, 2023
Ku Bon Chan: Early Life
Ku Bon-Chan was born in the city of Gyeongju, Gyeongsangbuk-do, in South Korea on January 31, 1993. His mother is Kim Byung-guk, while the information on his father is unknown.
He is the youngest among two sons and a daughter of his parents.
There is not much information about the family, but we know they were supportive of their son. Being the youngest kid, he grew incredibly close to his mother.
Even after he left home to pursue archery and studies, he never stopped caring for his parents in every way possible.
Bon chan was a bright and optimistic kid, a character that stayed all through his adulthood.
To this day, his neighbors remember him as the cheerful kid who was always smiling. He is so cheerful that his national teammates still consider him the 'mood maker of the team.'
Bon-chan first held a bow in 5th grade. His parents thought it was a fleeting hobby, and he would soon forget about it. Moreover, they felt he could not pull off the calmness required for proper shooting.
However, he ended up surprising everyone! When he held the bow, he was calmer than anyone else. He learned from his mistakes and never let failures come his way.
Chan was one of the best players in his high school. But the training facilities were not up to par in the school. Amidst all the odds, he kept working on polishing his skills.
>>> You might also be interested in Chang Hye Jin Bio: Early Life, Vogue, Archery & Olympics <<<
Ku Bon Chan: Professional Career
Bon Chan followed archery till his college and played for the Andong National University team. He represented his university in the 2015 Universiade held in Gwangju.
Chan gave an outstanding performance in both the team and individual categories there. He retired home with gold (Team) and a silver medal (individual).
The 2014 archery world cup was his first international competition. He tried his best but could not win any medals there.
In 2014, he participated in the prestigious Asian Games and won a bronze medal.
Similarly, he participated in the 2015 World Archery Championships in Denmark, where he won gold medals in team recurve and recurve mixed team events.
Bonchan previously had a drawing style where he lifted his arms high above his head.
However, he took advice from trainers and altered this technique due to safety concerns. He used a new drawing technique in the Olympic games.
In 2016, he joined the prestigious Hyundai Steel Professional Archery team in Incheon. This is the same team where other notable Korean archers like Oh Jin Hyuk, Kim Jong Ho, and Choi Yong Hee play.
2016 Rio Olympics
The Korean team was deemed highly competitive in the Rio games. The then world no. 2, Ku Bon-chan, was also in the eyes of all archery viewers. Unsurprisingly, Korea continued to dominate the archery events.
The men's team of Lee Seung Yoon, Kim Woo-jin, and Ku Bon-Chan won gold in the competition finals against the USA team.
Also, it marked the first time a South Korean archery team had won against a team from the USA at the Olympics.
Bon-chan defeated Jean-Charles Valladont from France in the men's event to win his second Olympic gold medal.
After this win, he reached the world's number one ranking in recurve archery.
Unfortunately, he did not make it into the national team in 2017's selection. In the highly competitive selection event that had tickets for just eight men, he was placed at no. 10.
Failing to make it into the national team means the player can not shoot internationally. Since then, he has been unable to make it to the national team.
>>> You might also be interested in Jung-Ho Kang Bio: Baseball Career, Controversies & Net Worth <<<
Ku Bon Chan: Personal Life
Like most star athletes of his age and caliber, Chan likes to keep his personal affairs secret. In fact, his social media presence is close to none.
In 2016, it was rumored that he was dating a beautiful lady who also happened to be an army officer.
Fans checked their social media and found some photos together. However, the athlete never talked anything about his relationships.
He has been married to Um Dha Yoon since 2018. Um, Dha Yoon is the sister of Oh Jin-hyek, another crucial figure in Korean Archery. Oh Jin Hyek was the individual gold medalist in the 2012 London Olympics.
Besides this, there is not much information available regarding his wife and his relationships.
The talented archer is a huge fan of baseball. Primarily, he is a supporter of the Korean baseball team, the Samsung Lions.
During an interview, Chan recalled when he went to the Gocheok Sky Dome to get an autograph of Chae Tae-in, a former member of the Samsung Lions.
Furthermore, he also stated that he would like to throw his first pitch at the Daegu Samsung Lions Park.
Not to mention, the accomplished archer has also participated in training works for recruits.
>>> You might also like: Kerri Walsh Jennings Net Worth: Income, House & Salary >>>
Ku Bon Chan: Frequently Asked Questions
Is Ku Bon Chan playing in the national team?
In competitive Korean archery, it is difficult for archers to stay on the national team for a long time. In the same way, Rio Olympic gold medalist Ku Bon Chan has not made it into the national team since 2016.
Where is Ku Bon Chan now?
As of 2021, Ku Bon Chan is still with the Hyundai Steel archery team. Though he does not represent Korea in international events, he frequently competes in other national and international games via his club.