Kurt Warner's Wife, Brenda Warner, supported multiple charity foundations, and being an author, Brenda, at 51, turned into a welder, a lover of metal art. Spends most of her time in a colorful and messy space welding studio in Warner's garage.
"You know what, I love metal, I love art. I was getting ready to turn fifty. And I thought, "I want to be who I want to be now, and I don't care what other people think." I'm grateful I finally got there. It took me a while, obviously. I just wanted to learn, and I taught myself." Brenda said passionately.
Brenda Warner is mostly known for being the wife of NFL Quarterback Kurt Warner, an outstanding sports personality to get such fame in the states.
After their relationship was out, Brenda soon caught the media's attention, and her personal information was out as well. However, even after so many years of marriage, this couple never fails to stay in the headlines.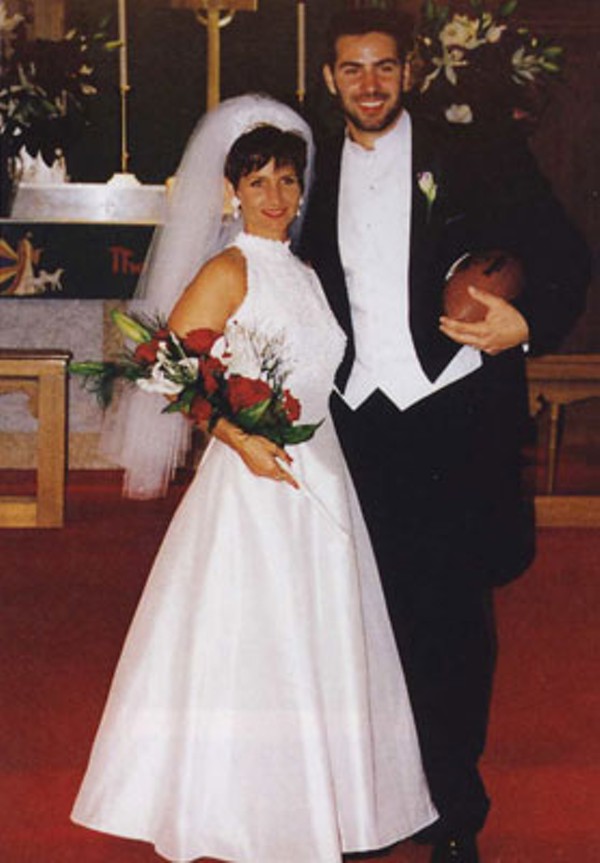 So, How did all the events in her life unfold that she is now doing exceptional work with his husband and his glorious status? This power couple is adored by the internet impeccably.
If you are eager to know Brenda's current situation and life after marriage, kids, and all, read this article until the end. But before we proceed with our article, let us have an instant glance at the quick facts.
Know Brenda Kurt's famous hall of fame husband:<<Kurt Warner Bio: Family, Career, Net Worth & Personal Life>>
Kurt Warner's Wife: Quick Facts
Full Name
Brenda Warner
Birth Date
17th of June, 1967
Birth Place
Parkersburg, West Virginia, United States
Known as
Wife of Kurt Warner
Religion
Christianity
Nationality
American
Ethnicity
White
University
Not Available
School

Regis High School

Horoscope
Gemini
Father's Name
Not Available
Mother's Name
Not Available
Siblings
One (sister)
Age
55
Height
5 Feet 6 Inches (168 cm)
Weight
62 Kg (136.6)pounds
Build
Slim
Eye color
Brown
Hair Color
Blonde
Profession
Housewife for now
Currently following her passion as a welder
Active years
Not Available
Marital Status
Married
Husband
Kurt Warner
Children
Seven
Net Worth
$30 Million
Social Media
Instagram, Twitter
Merch

Kurt Warner: And the Last Shall Be First,

Keep Your Head Up

Last Update
June, 2023
How old Is Brenda Warner? Age And Body Measurements
The wife of Kurt Warner, Brenda, was born in 1967. Also, her zodiac sign happens to be Gemini.
Likewise, the individuals with this sun sign are known to be energetic, combat-ready, and goal-oriented.
Other than her personality and charming attitude, Brenda is a lady who is liked by many. She is 5 feet 6 inches (168 cm) tall and weighs around 62 kgs.
Despite being in her 50s, Brenda has a slim physique, which she takes care of through proper diet and exercise.
Along with that, Warner has short blonde hair and stunning pair of brown eyes.
Kurt Warner's Wife: Early Life And Education
Brenda Warner, mostly known as the wife of a famous football player, Kurt Warner, was born somewhere in Parkersburg, West Virginia, the United States of America.
However, her parents' names aren't available, but as per sources, we have come to know that her father was a manager for a wealthy businessman and her mother was a housewife.
Besides, she had an average childhood; Brenda was raised on the farms of Lowa. But, from her childhood days, Brenda was very bold, courageous, and fearless.
Moreover, during her college days was an All-American cheerleader. As time passed by, some financial problems came into her family. As they were from average family background, she had to start working from a very young age.
Then, Brenda started working in the US marine, and she was very young at that time.
Since then, her life has not been the same; Brenda had to go through a lot in her life which we will be mentioning later in this article, so stick with us till the end to know more about her.
Kurt Warner's Wife: First Marriage
Before Kurt, Brenda had fallen in love with a guy named Neil. Brenda's first husband.
So the first time Brenda met Neil was when they were in Japan for some work-related stuff. At that time, Kurt's wife was very young and working in the US Marine.
Soon after dating for some years, Brenda and Neil tied their knot in 1987. Nonetheless, everything was going well, and they even welcomed their son Zachary in 1989.
But unfortunately, when Zach was four months old, Neil dropped Zach on the floor while bathing him.
As a result, Zach's brain was damaged, and consequently, he couldn't see anything. Indeed, this was a tragic and devastating moment for a mother. However, Brenda stayed strong and took care of her son.
But due to some unknown problems and issues, both Neil and Brenda parted ways. At that time, she was pregnant with their second child, and finally, in 1992, she welcomed her second child, Jesse.
As a single parent, Brenda, with the help of her parents, looked after her two kids.
Kurt Warner's Wife: Second Marriage
After getting a divorce from Neil, Brenda decided to complete her study and join a college to get a degree in nursing. However, it was evident that she was not happy and going through a lot in life, yet for her kids, she was smiling.
Notwithstanding, Brenda's mother couldn't see her daughter suffer and wanted her daughter to live her life happily again. So, her mother decides to take her to a bar so that she can enjoy life again.
Finally, Brenda agrees to go with her mother, and that is the day when Brenda meets her now-husband, Kurt. Since then, there has not been looking back for both Brenda and Kurt.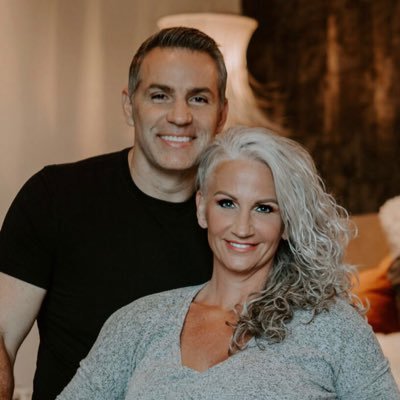 Moreover, they were individuals with two different opinions, yet they managed to overcome their differences. Talking about Kurt, he was highly religious, and, on the contrary, Brenda had faith in God but was not religious.
So, she wanted Kurt to believe in God and be a believer rather than being religious. And that's how they started, arguing, putting each other's opinions, and sorting things out. No doubt, this is the secret of their happy marriage.
Finally, in 1997, on the eleventh of October, Kurt and Brenda shared their wedding vows. Even though Brenda had to go through a lot in her first marriage, she knew she would find love someday. To which she found Kurt Warner as the love of her life.
Kurt Warner And Brenda Warner's Children
Kurt and Brenda together have five kids of their own. Apart from that, Kurt has also adopted Zach and Jesse and became an amazing father to them.
Kurt, Zach and Jesse are no less than his five other kids. Undoubtedly, Kurt is an amazing husband, a phenomenal father, and a wonderful human being.
Today, both Brenda and Kurt live a happy life, and they are even blessed with two grandkids. Their journey from being parents to grandparents has been incredible.
Net Worth And Income: How Much Does Kurt Warner's Wife Make In A Year?
It is no hiding that Brenda has worked hard all her life. However, she has undoubtedly come a long way from being a US marine officer to following her passion as a welder.
But her net worth has not been disclosed yet. But as her husband's net worth is also considered, this fantastic couple has a net worth of $30 million jointly.
Besides, Kurt and Brenda live in a house located in Scottsdale, which is worth $3.6 million. Similarly, in 2019 Brenda and her husband sold their PV mansion for $3.1 million.
No doubt, Brenda is living one happy and luxurious life with her family. Moreover, she deserves this life as she has worked hard for it.
Who Is Kurt Warner?
Kurtis Eugene Warner, known as Kurt Warner, is the son of Gener Warner and Sue Warner. Kurt was born on the twenty-second of June, 1971.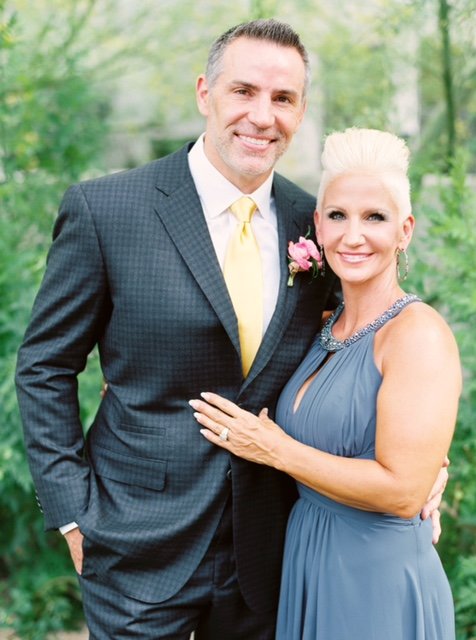 Further, his journey started in 1994, as he was undrafted in the 1994 NFL Draft and was invited to try out for the Green Bay Packers training camp.
Apart from being the best-undrafted player in the history of the NFL, Warner is a great human being as well. Nonetheless, Kurt has that decency and that leadership capability that many people lack.
Besides, he didn't let his busy schedule hamper his relationship with his wife. No matter how busy he was, he always had time for his family and spent time with them.
From more than a decade-long career, he achieved a lot and reached new heights of success. Finally, in 2010 Warner decided to retire, and in his farewell speech, he mentioned he wanted to give more time to his seven kids.
Indeed, that was the most awes trucking and pleasing moment for the audience to hear.
Some More Information About Brenda Warner
Both Brenda's parents died a tragic death, and a devastating tornado killed them.
Brenda's first marriage didn't work because Neil cheated on her while pregnant with their second child.
Brenda is the co-author of Kurt's book, which is also his biography.
Apart from that, Brenda has also appeared in a movie based on Kurt's life.
After her parent's death, Brenda was so disturbed that she started blaming God for everything. Even though she was a believer, she couldn't help at that time because she was completely broken from her parent's death. Moreover, she felt god could have saved them.
At the age of fifty, Brenda is working as a welder. However, she feels this is what she has always wanted to do. As she has seen has father doing blue-collar work, Brenda loves doing what her father does.
Social Media Presence
You will be glad to learn that Brenda is an active social media user. Besides, she primarily uses Instagram and Twitter.
Most of her posts are related to her husband, children, and some glimpse of her work life. However, if you want to find out more about Brenda Warner, you can quickly get information about her from various sites.
Frequently Asked Questions (FAQs)
Is Brenda Warner an actress?
No, she is not. However, she has appeared in one movie, a biography on her husband, Kurt Warner.
How did her family react when she started welding?
Brenda's family was super supportive of her being a welder. Brenda's family wants her to be happy and follow her passion.