Lamine Yamal parents Sheila Ebana, and Mounir Nasraoui, come from Moroccan and Equatorial Guinean backgrounds.
The kid who only recently turned 16 might see more action in the first team than expected this season. With Ousmane Dembele departing for PSG, Xavi has no choice but to give the youngster a chance.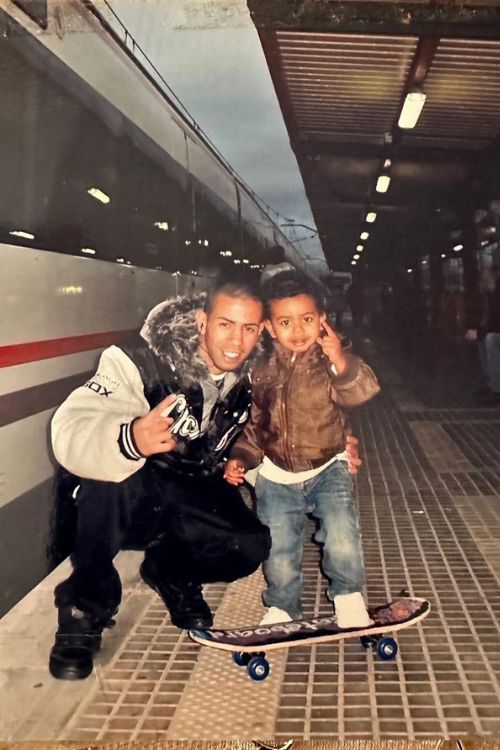 Having made his La Liga debut last season, Lamile Yamal's performance against Tottenham Hotspur during the friendlies stunned everyone. In a 10-minute cameo, the youngster helped his side to a 4-2 win when they were staring at a 1-2 loss.
The youngster came in as a substitute against Getfae in the opening game alongside Ansu Fati. The two La Masia products combined to almost open the scoring, but the 2022 La Liga champion had to settle for a draw.
According to the Spanish newspaper AS, Yamal could make his starting debut in La Liga against Cadiz this weekend. With Raphinha suspended from the game, this doesn't sound impossible.
Lamine Yamal Parents, Sheila Ebana, And Mounir Nasraoui
Lamine Yamal's parents Sheila Ebana, and Mounir Nasraoui, raised the Barcelona wonderkid in Esplugues de Llobregat, Spain. The forward grew up in a rich ethnic culture as his father hails from Morocco, and his mother comes from Equatorial Guinea.
Yamal's quick rise to the top is something to behold, and it is something that certainly makes his parents proud. On her Facebook handle, Sheila has shared a few articles about her son.
Hailing from Bata, Equatorial Guinea, Sheila shared a video of her son scoring from a free kick in 2018. In the caption, she thanked Yamal for dedicating the goal to her as the youngster pointed towards the stand.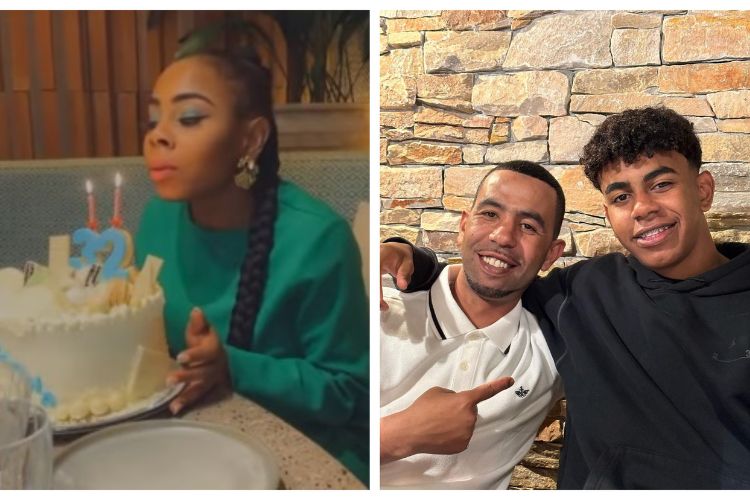 Lamine's father, Mounir Nasraoui's Instagram handle is dedicated to his son's on-field achievements. His first post is of his son in the Barcelona training kit holding the golden boot trophy.
Mounir's account is just like a time capsule of where it all began for Lamine. Going through Mounir's Instagram handle, it also looks like the Barcelona player has a younger sister.
Mounir was pictured yesterday at Coliseum Alfonso Pérez stadium to root for his son. And though Lamine wasn't in the starting lineup the youngster came in as a substitute later on in the game.
Lamine Yamal, The Next Lionel Messi?
Yamal is a La Masia product who is left-footed and plays as a winger, so the comparison was bound to be made with Lionel Messi.
The youngster joined Barcelona when he was only five years old. Growing up in Mataro, a suburb of Barcelona, Yamal quickly rose through the ranks.
When he was only 13, Yamal began playing for the U-16 side. He switched between being a No.9 and No.7, but his creativity would be at its peak when he played as a false nine.
Many expected Lamine to start the 2022 season with the Juvenil B team, but the club decided to promote the youngster to the Juvenil A team. Barcelona hadn't even taken this decision with Lionel Messi, so you can clearly understand how impressed the club is with Lamine.
On September 10, 2022, Yamal scored his first goal for the Juvenil A side. This made him the youngest scorer, breaking the record set by Ansu Fati.
The Juvenil A coach, Oscar Lopez, was already impressed with Lamine. So, the first-team coach Xavi wanted to test the youngster.
He called Lamine to the first-team training, and the youngster debuted for the first team on April 29, 2023. At 15 years, nine months, and 16 days, Lamine became Barcelona's youngest La Liga debutant.
To be compared to the greatest player of all time is a matter of privilege, but it also comes with tremendous pressure. Barcelona has also recently lost Ousmane Dembele to PSG, so Lamine has been handed a massive opportunity to prove himself.