Lauren James was born to her parents, Nigel and Emma James, on September 29, 2001, in London, England.
Her father, Nigel, is one of the reasons why Lauren pursued a soccer career.
Having played soccer himself, Nigel served as a coach and mentor for Lauren and her siblings.
On the other hand, her mother, Emma, also played a part in her children's success in professional soccer.
Lauren Elizabeth James is an English professional soccer player who plays for Chelsea of WSL and the England women's national team.
She started playing soccer early and was part of the Chelsea Academy from U10 to U14.
Moreover, by 13, she was training with the Arsenal boys' team.
On October 29, 2017, James debuted for Arsenal, becoming the second-youngest player to debut in Arsenal's history.
Later, she went on to play with Manchester United and joined Chelsea, signing a four-year contract on July 23, 2021.
Besides, her national team journey began at the U17 level and progressed to U19 before getting called up for the senior team in November 2020.
Lauren James Parents Nigel And Emma James
The England national team's "cheat code," Lauren James, was born to a father who played soccer.
He was an imposing central defender, but his dream of playing professional soccer was curtailed after a motorbike accident that broke his ankle.
In an interview, Nigel said, "After the injury I lost confidence in myself."
Nonetheless, he found his way back into the game but as a professional youth soccer coach.
He runs his soccer academy and uses his bitter-sweet experiences to guide young aspiring players and countless others.
Moreover, Lauren's father is her biggest supporter and critic. Having served as her first coach, Nigel knows the caliber of his daughter and denies anything less than the best.
Lauren's brilliant performance against China at the 2023 World Cup didn't surprise Nigel, as he expects similar performances from the forward.
Similarly, Lauren's brother, Reece James, plays soccer for Chelsea and England national team and is her role model.
First Brother-Sister Duo To Represent The National Team
The Lionesses forward, Lauren, grew up playing soccer with her brother, Reece, on the field outside their house.
She credits her brother as her inspiration and often shows her appreciation through social media posts.
After Reece helped Chelsea with the Champions League in 2021, Lauren took to Instagram to show her gratitude.
She wrote: 'What a performance in the biggest game in your career so far. Big game player! You inspire me every day and seeing you win the Champions League means I have to now do it too! Love you.'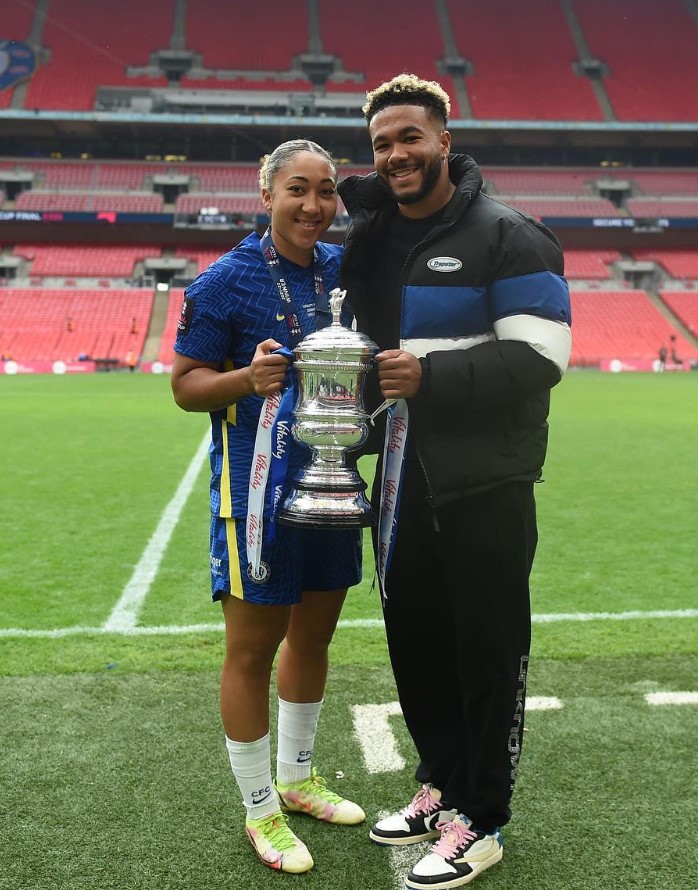 Moreover, they became the first brother-sister duo to play for England. Both of the James siblings were called to the senior team in 2020.
Reece, after having represented the national team at different levels, made his senior team debut on October 8, 2020, in a 3-0 win over Wales.
Similarly, Lauren's first cap was against Austria on September 3, 2022, in the 2023 World Cup qualification.