Tanner Foust, an American professional racing driver, stunt driver, and television host, competes in a rally, drift, ice racing, time attack, hill climb, and rallycross. Tanner has represented the USA at the X Games and Nitro World Games.
Are you into racing? Do you like speed? Do you live for the adrenaline rush? Well, Tanner Foust does. In all honesty, there might not be anything more gripping than being behind the wheels and commandeering the streets or, in this case, the race track.
As thrilling as it can get, Foust is an accomplished racing driver with multiple podium placements, national championships, and world records.
Besides, the professional racer worked as a co-host of the American version of the motoring television series Top Gear.
Tanner amassed a massive fan following in recent years with a successful racing career and equally commendable hosting skills.
After learning how to drive in rallycross as a teenager, nothing stopped the American from living his dreams.
Besides, he also performs stunts for different Hollywood movies. One of the major highlights of 2022 for him would be dressing up as Keanu Reeves for the 'John Wick Movie.'
Tanner was on the list of drivers for the Race of Champions 2023 along with F1 racers like Sebestian Vettel, Mick Schumacher, etc.
The article focuses on the life, career, net worth, and achievements of Tanner Foust. Firstly, let's get you started with a list of quick facts!
Quick Facts
Full Name
Tanner Foust
Date of Birth
June 13, 1973
Birth Place
Denver, Colorado, United States
Nick Name
None
Religion
Christianity
Nationality
American
Ethnicity
White
Zodiac Sign
Gemini
Age
49 years old
Height
5'10″/1.78 m/178 cm
Weight
72.5 kg/160 lb.
Hair Color
Brown
Eye Color
Green
Build
Athletic
Father's Name
Dave Foust
Mother's Name
Jane Foust
Siblings
1 sister, 1 step-sister, 1 step-brother & two half-siblings
Education
University of Colorado
Marital Status
Unmarried
Girlfriend
Katie Osborne (Former girlfriend)
Alicia Leigh Willis (current girlfriend)
Kids
A daughter (name unknown)
Profession

TV Show Host
Stunt Car Driver
Professional Drift Car Driver
Professional Rallycross Driver

Debut Season
2011
Affiliations

Volkswagen RX Sweden
Marklund Motorsport
Olsbergs MSE
Volkswagen Andretti Rallycross

Active Years

2014–2016 (FIA World Rallycross Championship)
2011–2014 (FIA ERX Supercar Championship)

Net Worth
$1.2 million
Social Media
Instagram, Twitter, YouTube, Website
Last Update
June 2023
Early Life, Education, & Racing
Tanner Foust was born in 1973 to his parents, Dave Foust and Jane Foust, in Denver, Colorado, USA, and as an infant, he moved with his parents to Denver, Colorado.
The American celebrates his birthday on June 13, which makes his horoscope sign Gemini.
Since Foust grew up in a naval family, the Denver native could travel to various places as a child.
However, the professional racing driver didn't have the happy and typical childhood that everyone has. To elaborate, he did not grow up with both his parents, as they got divorced and married someone else.
His biological father was a doctor, while his stepdad was in the Navy. Similarly, his biological mother was an actuary while his stepmother was in the medical field.
Foust as a child, spent several years in Scotland, where he discovered rallying and learned to drive on the country roads.
On his return to the United States, he worked as a golf caddy and school bus driver, from which he was fired.
Foust enrolled at the University of Colorado and earned a biology degree. Meanwhile, during summers, the Denver native could be found at the track, trading mechanic work, and driver coaching jobs to put him close to the racing industry.
After college, Foust worked as an instructor at an automotive marketing event and was competing in anything he could.
Finally, in 2003, Tanner decided to pursue his career as a professional racer but initially started doing stunt driving for Hollywood films. Foust eventually became one of the busiest professional drivers in the United States.
Age, Height, Measurements, & Other Stats
Born in 1973, the American is 49 years old as of 2023.
The professional racing driver is 5 feet 10 inches (1.78 meters) and weighs 52.5 kg (160 pounds).
Despite his stout physique and relatively lean frame, the Denver man does engage himself in physical training to keep his body fit.
Let me explain a little about that. Even if racing requires less strenuous efforts, a physically fit body is a must. It is because the racer is particularly cramped up in a small space for an extended period.
To avoid any stress on the body and remain flexible and alert, fitness is of utter importance. However, one does not need to be tall to be a race car driver; all you need is a sheer volume of passion and pure skills.
Adding to his physical features, the American racer has green eyes and a fair complexion, and is recognizable with his signature racing cap.
Foust's good looks and impeccable racing skills bode well with each other.
Race Car Driving
From the mid-2000s, Tanner participated in a variety of tournaments. Simultaneously, the professional racing driver became a regular in the Formula Drift series and won the 2007-2008 Formula Drift Championship.
He is the only racer in the competition's history to win back-to-back championships. In a similar fashion, Tanner also drove for Volkswagen Andretti Rallycross in the Global Rallycross series.
So far with the Rallycross team, Foust has had 68 starts and lifted two championships (2011, 2012), winning 17 times and finishing podium position 35 times. Tanner drives a number 34 car with the franchise.
Tanner also competed in FIA ERX Supercar Championship from 2011-2014. During this period, the Denver racer drove for Marklund Motorsport, Olsbergs MSE, and RockstarEnergy Rallycross teams.
Foust managed 21 starts with six wins and 12 podium finishes and recorded his best finish in second place in 2011.
Besides, the professional stunt driver participated in FIA World Rallycross Championship from 2014 to 2016. During this period, he drove for Volkswagen RX Sweden and Marklund Motorsport.
With these teams, Foust had nine starts, recording one win and two podium finishes, with the best finish in 13th place in 2014. However, he failed to lift any championship.
Apart from these, the Top Gear host also competed for Championship titles (Formula D, Global Rallycross, Americas Rallycross Championship) from 2007-2019.
Above all, Tanner is not limited to only racing. The American appeared in a fair share of movies and tv shows either as a stunt driver or a host.
Career Achievements
At the X Games and representing the US;
2007: Rally – Gold, Los Angeles
2008: Rally – Silver, Los Angeles
2009: Rally – Bronze, Los Angeles
2010: Rally – Gold, Los Angeles
2010: Super Rally – Gold, Los Angeles
2011: Rallycross – Silver, Los Angeles
2013: Rallycross – Bronze, Munich
2013: Gymkhana – Gold, Los Angeles
2013: Rallycross – Silver, Los Angeles
2018 Erda: Nitro Rallycross – Bronze (Representing USA At the Nitro World Games)
As A Stunt Driver In Movies
After college, he transitioned to professional racing and parallelly performed stunts for Hollywood films.
His some of the major gigs were for The Fast and the Furious Tokyo Drift, Ford vs Ferrari, Need For Speed, and The Dukes of Hazzard.
Besides movies, the American racing driver also made a television appearance as a co-host.
Foust was slated to become co-host for Top Gear. However, the series was dropped after the pilot was filmed. The series was picked up by the History Channel and was aired in the US in late 2010.
The Dukes of Hazzard (2005) stunt driver
Formula D (2005–2007) as Himself
Import Racers: "Bull Run" (2006) as Himself
Fast & Furious: Tokyo Drift (2006) stunt driver
Master of Champions: "Premiere" (2006) Contestant
Redline TV (2007) Host
The Bourne Ultimatum (2007) stunt performer
Top Gear (NBC) (2008) Host
SuperCars Exposed (2008–2009) Host
Street Customs: "GTO" (2009) as Himself
Iron Man 2 (2010) stunt double
Top Gear (U.S.) (2010—2016) Host
Hot Wheels: Fearless at the 500 (2011) as Himself
The Bourne Legacy (2012) stunt double
Octane Academy (2013) as Himself
Hitman: Agent 47 (2015) hitman stunt driver
Ford v Ferrari (2019) Ronnie Bucknum
Net Worth, Salary & Income
Racing like Formula 1 and other, during its inception, garnered slightly less revenue. Regardless of the audience size, the racers' pay was limited.
In recent times, the convention took a drastic turn. Generally, racing is considered highly profitable, amongst other sports.
Many online sources suggest that the American racer has an estimated net worth of around $1.2 million as of 2023.
After bagging several wins and establishing himself as one of the most prominent figures in the racing industry, Tanner was bound to see a rise in his pay. Apart from a racing career, Foust volunteered to be a stunt driver in many commercially successful movies.
His stints as a race car driver and a successful stunt rider are the reason for his accumulated fortune.
In particular, Red Dawn earned $50.9 million, Dukes of Hazard made $111 million, Fast and Furious: Tokyo Drift collected $62.5 million, Need for Speed generated $203 million, and Hitman: Agent 47 made $82 million.
Being a part of highest grossing movies, Tanner must have been paid quite handsomely for his gigs. In the same way, the Denver native also took home a considerable sum from his works on TV, such as SPEED, ESPN, and notably from Top Gear.
Relationship Status
To begin with, Foust is someone who believes in having his profile low-key. Thinking of it, he has been successful in doing so, in keeping the profile low, and has only limited information circulating.
Apparently, there were even rumors to the extent that fans had started questioning if he was gay. Although his relationship status might not be that elaborated and have mystery layers for sure, he is not gay.
In fact, let's look over the ladies he has been linked with.
Katie Osborne
To date, the racer has been linked with Ms. Katie Osborne plenty of times, as they were seen uploading pictures with each other quite often.
Foust and Osborne had uploaded heart-melting pictures that could make everyone think they were a couple. But the two never were vocal about their relationship.
For those who are unaware, Osborne is a sportscaster and television host who currently hosts PowerNation TV, airing on the History Channel and NBC Sports.
Born on July 30, 1982, she is a former national level swimmer and a member of Novaquatics Masters.
Katie completed her degree in Sports Communication-Broadcast from Indiana University and commenced her journalist career in 2010.
Since then, she has split her career between TV reporting/hosting for different channels, including Fox Sports, ESPN, NBC Sports, CBS Sports, NHL, NFL, and X Games, to name a few.
Additionally, they seem to have met while Osborne was covering one of the X Games. Unfortunately, there is no more information about the duo. Having said this, the duo seems to have broken up now.
Currently, Katie is married to Paul Wadensweiler (@sirwaddler).
Likewise, Foust is in a romantic relationship with Alicia Leigh Willis.
Willis is an American actress by profession. She has worked in many soap operas and films. She was born on March 1, 1978, and has a daughter named Simone.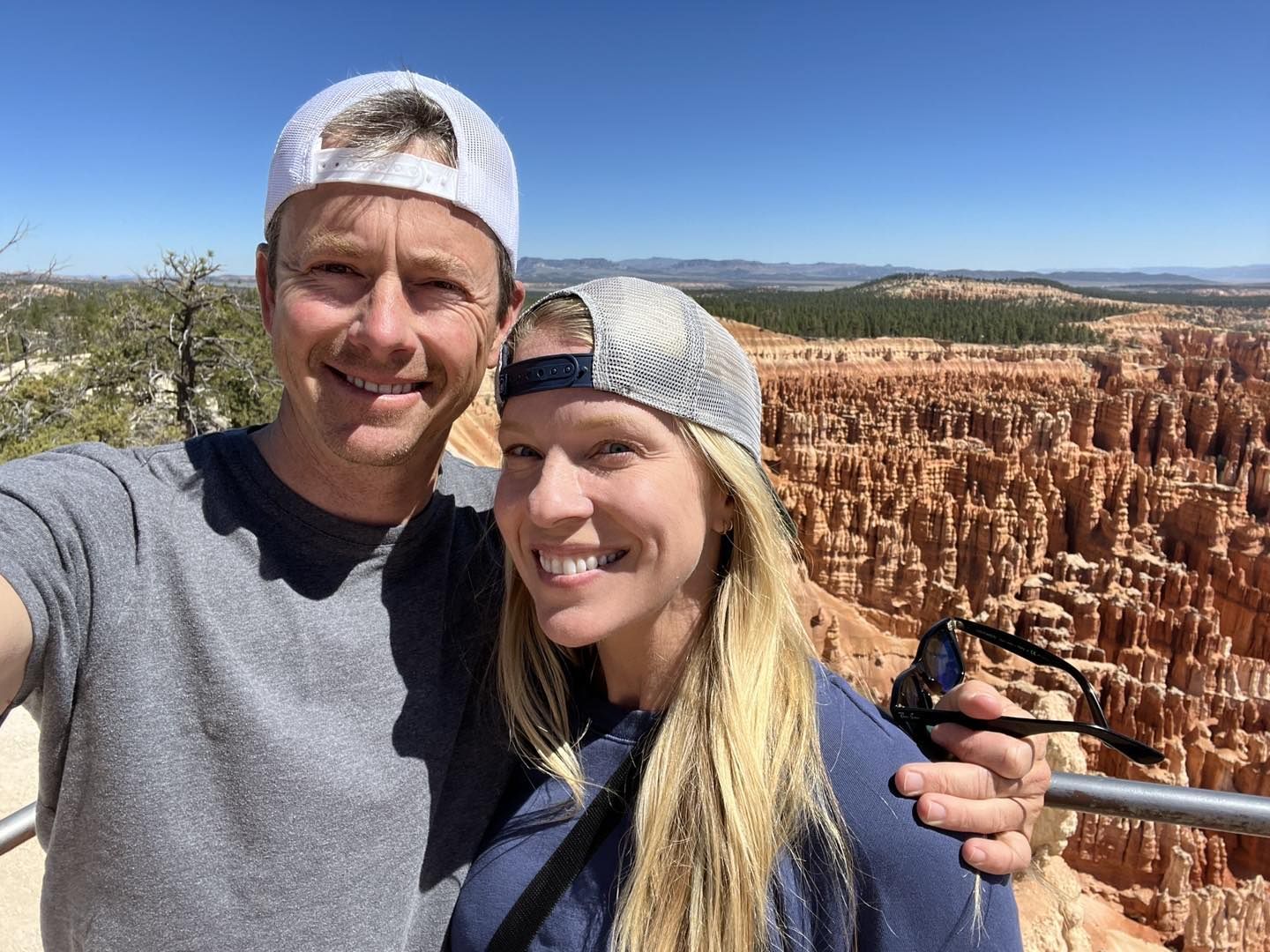 According to their Instagram accounts, Foust and Willis seem to be in a relationship, and in August 2022, Tanner finally asked the question and put a ring on her.
Kids
About the kids, there is no genuine news of Foust having any kids. However, his fiancee, Alicia, has a daughter, who appears to be from her previous relationship.
There were and are still many rumors that Foust has a child of his own. As per the claims by different online sources, Foust has a daughter of his own. However, Foust hasn't revealed anything about this.
All in all, even if he has a daughter of his own, he seems to be content about her and tends to keep her away from the public's eye.
Social Media Presence
The American racing driver is an avid social media user. Tanner is seen posting pictures of his races, vacation, and fiancee.
He is available on Instagram under the handle @tannerfoust, Twitter @TannerFoust, and YouTube @tannerfoustracing.
Instagram: 633k followers
Twitter: 172.2k followers
YouTube: 43.3k subscribers
Popularity
Professionally racing cars and performing stunts in different movies, Tanner Foust has earned thousands of fans from all around the world.
The above graph gives brief information about the popularity of Tanner Foust based on Google searches in the United States over a year.
Frequently Asked Questions
What is the car number of Tanner Foust?
The car number of Tanner Foust is 34.
Which are Tanner Foust's favorite cars?
The top five favorite cars of Tanner Foust are Koenigsegg CCX, Pagani Zonda F, McLaren F1, McLaren MP4-12 C, and Porsche Carerra GT.
Which car did Tanner Foust drive in Fast and Furious?
Tanner Foust performed the stunt in Fast and furious with the C8 Corvette.
What kind of ford does Tanner Foust drive?
Among his car collection, Tanner Foust has two 2007 Ford F450s and a 2006 Ford F350.