Labeled as one of the sexiest female athletes of the modern day, Allison Stokke became an internet sensation overnight.
Despite being a successful and awe-inspiring athlete, the American's performance got overshadowed by fanatics who sought to sexualize her.
Indeed, it was a heinous act that potentially challenged to shatter her reputation. The support of a few enthusiasts and fellow female athletes encouraged her to shove away the incidents as a minor setback.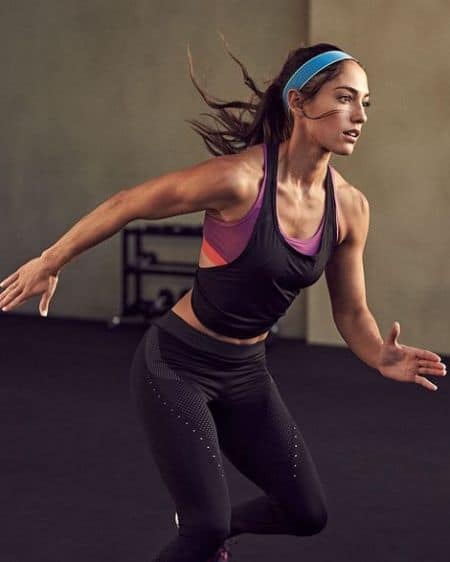 The 32-year-old athlete is a pole vaulter who, in the meantime, also works as a fitness model.
Being a record-breaker at the young age of 17, the time hasn't slowed Allison down, and she is still as adept as she was in her youth days.
Hilary Clinton once said," Women are the largest untapped reservoir of talent in the world." Truly, the woman of our discussion today, Allison Stokke, is one such talent.
Before getting into details about the pole vaulter's life and career, here are some quick facts about her.
Quick Facts
| | |
| --- | --- |
| Full Name | Allison Rebecca Stokke Fowler |
| Birth Date | March 22, 1989 |
| Birth Place | Newport Beach, California, US |
| Nick Name | Allison |
| Religion/Heritage | Christian |
| Nationality | American |
| Ethnicity | Caucasian |
| Education | Newport Harbor High School, University of California, Berkeley |
| Horoscope | Aries |
| Father's Name | Allan Stokke |
| Mother's Name | Cindy Stokke |
| Siblings | Yes (David Stokke) |
| Age | 33 years old |
| Height | 5'7'7 ″ (1.70 m) |
| Weight | 58kg (128 lb) |
| Shoe Size | 9.5 |
| Hair Color | Black |
| Eye Color | Hazel |
| Body Measurement | 34-27-34 inches |
| Build | Mesomorphic (Athletic) |
| Married | Yes |
| Husband | Rickie Fowler |
| Children | None |
| Profession | Track and Field Athlete (Pole Vaulting); Fitness Model |
| Net Worth | $500,000 |
| College Team | California Golden Bears |
| Active Since | 2005 |
| Initial Career | Gymnast |
| Honors | 2 NCAA Division I Championships, All-American NCAA Indoor Championships, All-Academic Honors |
| Social Media | Instagram, Facebook, Twitter |
| Merch | Posters, Autographed Picture |
| Last Update | July, 2022 |
Allison Stokke | Early Life, Parents, & Education
Celebrating her birthday on March 22 every year, Allison was born in the summer of 1989 in Newport Beach, California (U.S.). Also, Allan and Cindy were proud parents of two beautiful children.
Similarly, Stokke has an older brother named David, a youth gymnast who competed nationally. Eventually, a young Allison followed suit and entered gymnastics.
Frankly, Stokke's right decision was because it would pave the way for other athletic endeavors.
Similarly, after enrolling in a local high school, Newport Harbor High School, the Californian joined the pole vaulting group. Subsequently, over time, Allison became a country-wide sensation.
Additionally, at the age of just 15 years, the Newport native stood victorious in 2004's 15-16 United States title, making an astounding 3.81m (12'6″) leap.
In like manner, the high schooler went onto break the highest vaulting record by a freshman with a 3.86m (12'7 3/4″) leap.
Likewise, the record-breaking streak persisted as she surpassed a record set by a sophomore by ranking a 4.11m (13'5 3/4″) leap in 2005. However, great feats don't come without consequences; Stokke broke her leg twice after missed landings.
Nonetheless, after almost giving heart palpitations to all those who followed her avidly, then high schooler went on to get top rank at the CIF California State Meet.
Also, she concluded her senior years with the second rank in high school records and eighth place in the National Junior Championship the same year.
Allison Stokke | Age, Height, & Body Measurements | How Old Is Allison Stokke?
Born in 1989, Allison is 32 years old and is almost 31 years from the time writing. In like manner, the pole vaulter is just a bonafide hottie, and we say this with the utmost respect to the talented athlete.
Obviously, it is only likely for athletes to show off their physical prowess, be it on social media or in competitions. Frankly, a seemingly rotund person cannot aim to be a pole vaulter. While the sport looks appealing, it has its dangers.
Hence, the athletic frame of Allison is quite natural. Moreover, the Californian measures 34-inches of the breast, 25-inches of the waist, and 34-inches of the hips and weighs a proper 58 kg(128 lb).
Similarly, the American pole vaulter stands at a perfect height of 5'7″ (1.70 m) and wears a shoe of size 9.5. Most importantly, Allison is recognizable with a muscular physique, hazel eyes, and a smile that accentuates her beautiful face.
On the other hand, if one checks her Instagram, one can find many posts related to fitness and her pole vaulting career. Honestly, young girls and even boys can draw inspiration from this beautiful athlete who works incredibly hard to be better in every instance.
With an innate passion for Pole Vaulting, the Californian isn't going to quit it anytime soon. Allison finds time to work out even when she is enjoying a holiday. Furthermore, her marriage to a sports star preserves her career as a pole vaulter.
Training & Diet
Moving on, we will talk about the exercise routine and the dietary regime followed by Allison to keep up against younger aspirants, even at the age of 32.
Similarly, the Californian engages in weight training, cardio, flexibility movements, and underwater work.
Besides, while not practicing pole vaulting, Stokke enjoys power yoga, a form of yoga that aids in relaxation and boosting focus. Similarly, Allison promotes the ingestion of wholesome food products.
As such, the American pole vaulter occasionally eats an avocado toast seasoned with olive oil, sea salt, red pepper. Notwithstanding that, Stokke also dines on Macaroni and Cheese, Fresh Berries, Green Leafy Vegetables.
Allison Stokke | Career In Pole Vaulting & Job
From high school fame to subsequent professional growth, Allison never disappointed. Nobody would believe that one could make a career out of pole vaulting if someone wrote on the internet.
Indeed, Stokke is living proof. The more we talk about this heartthrob, the less it feels. Nonetheless, we will try to keep it short and let you enjoy the discussion on Californian's illustrious careers.
Before making stepping into a professional career, sudden overnight fame caused her to lose sleep. While it may indicate a more inhibited and demure nature, Allison had become an object of desire, and she was just 17 at that time.
Fame from the Internet | A 2007 Photo Incident
To illustrate, when you are a female athlete, people remain interested most of the time because of your looks and the amount of skin you put on display. In the 21st century, the objectification of women has clearly not stopped.
First, a journalist residing in California, with Allison's consent, took photos of her competing in a pole vaulting event. The images found their way to many websites, one particularly gained popularity when a website named With Leather reposted it.
The website remark about the sexiness exuded by the athlete. One heading read:
Pole Vaulting is Sexy, Barely Legal! "
In this instance, the photographer who took those photos was innocent and felt the images were inappropriately handled.
However, it was too late to do anything; the images made way to a broad audience and suddenly charted Stokke to a height of popularity.
The Californian came forth to express her deep disappointment after the incident. Consequently, the number of stalkers and perverts grew in numbers, and her emails started blowing up with many modeling requests.
Furthermore, Allison became an object of desire, a "sex symbol" against her own will.
In all honesty, these kinds of incidents nullify entirely all the achievements and sporting success obtained by a female athlete. Hence, awareness must be spread to reduce the sexualization of women in general.
Career After Unprecedented Fame
Above all, the newfound fame became both a curse and a blessing. As more photographic journalists attended Stokke's competitions, the internet remained, and the fan-following took a vertical climb.
Meanwhile, the American pole vaulter went on study at the University of California, Berkley, on a sporting scholarship to acquire a degree in Sociology.
At the same time, she participated in events like the Pac-10 Conference and the Mountain Pacific Sports Federation.
Being a part of the Californian Golden Bears collegiate track team, Stokke excelled at the collegiate level setting a 4.11 m (13'5 3/4″) jump record in her freshman years.
Similarly, the American pole vaulter found more success in the second year, as she topped a 4.21m (13'9 1/2″) leap.
Moreover, the Californian was under the guidance of a five-time former All-American, Scott Slover. Simultaneously, Stokke landed 8th place and 7th place at the Pac-10 and MPSF Indoor Championships, respectively.
Similarly, in Division I of NCAA Women Outdoor Track and Field Championships, Allison made a 19th place finish with the best vault being 3.90m (12'9 1/2″).
Unfortunately, the streak of lousy performance continued as she completed in the eighth position at the Pac-10, which dissolved her chances for NCAA Championships.
Even though Allison landed the 8th spot at the NCAA Indoor Championship in 2011, after clearing a 4.10m (13-05.25) jump, the association granted her All-American status. The event was held within the compounds of Texas A&M University.
Later that year, the American pole vaulter graduated from Berkeley and directed her absolute focus to pole vault. Despite having poor rankings among other American athletes, the endeavor persevered.
Eventually, Stokke recorded a lifetime best leap of 4.36m (14'3 1/2″) in 2012, as the American was desperately aiming to qualify for the London Olympics.
Unfortunately, the Californian had to return home after failing to impress at the U.S. Olympic Trials.
Thereafter, the athlete faced a decline in form as she managed 4.20m in 2013 and only a 3.95m jump in 2014.
However, after landing eighth at the Chula Vista OTC High-Performance Meet in 2016, Stokke found her form as she went to record 4.27m securing third place at the 2017 Austin Longhorn Invitational.
Allison Stokke | Net Worth, Salary & Incomes
In particular, starting her career in her junior years in school, Allison has come a long way to amass a staggering net worth of $500,000. Moreover, the money stems from prizes and her endorsement deals.
Additionally, Stokke partnered with the globally renowned sporting brand, Nike, to promote health and exercise requirements.
Hence, on Instagram, we can notice her draped in Nike sportswear, which, by the way, are incredibly comfortable.
Further, the fitness model also appeared in an ad campaign for GoPro. GoPro is a company that produces action cameras, mobile apps, and video-editing software.
At the same time, Allison is also GAP's face, a famous clothing brand, and Uniqlo Co. Ltd., which has its roots in Japanese designers.
Concurrently, the pole vaulter turned fitness model has a contract with agencies that grant her a $15k salary per photoshoot. The amount may vary from the nature, duration, and location of photoshoots.
Contrarily, Allison's husband, Rickie Fowler, has a whopping net worth of $20 million. In fact, the Fowler family doesn't have a hard time getting around.
Accordingly, Allison relishes a well-deserved vacation, traveling to different places, and accustomed to new and intriguing cultures.
Allison Stokke | Relationship Status, Husband & Kids | Is Allison Stokke engaged?
To answer the question of the large fandom, yes, Ms. Stokke is now Mrs. Fowler. Rickie Fowler is an American professional golfer who was born on December 13, 1988.
Besides, Fowler achieved full success in his amateur levels and is still washing out his opponents as a professional.
Likewise, Allison and Rickie first met in 2017 through mutual friends, immediately struck a chord, and began dating. For instance, their first public appearance as a couple during the Motocross Race event in 2017.
Thereafter, the couple has not shied away from expressing their love for one another on social media.
The lovebirds are head over heels for each other. At the same time, they support each other in any significant event they participate in.
Eventually, on a sunny month of June, Rickie braved himself, professed his love towards Allison, and popped the big question: Will You Marry Me? As the above Instagram picture suggests, the two are now a happily married couple.
Allison Stokke | Social Media Presence
Instagram: 604,000 followers
Twitter: 48,400 followers
Facebook: 128,602 followers
Allison Stokke | FAQs
Was Allison Stokke a caddy?
Yes, in 2018, she served as a caddy for her now-husband Rickie Fowler. Moreover, she went viral at the 2018 Masters.
How many medals had Allison Stoke won?
The former vaulter has not won any medals in her pole vaulting career. Nevertheless, she has received many honors and has set some records.
She had achieved All-American honors and regional level all-academic honors.
How are Allison Stoke's outfits?
The Nike model has an amazing fashion sense and often wears casual, comfortable, but trendy outfits. She can be seen in athletic wear a lot.