When Leroy Sane refused to extend his contract with Manchester City, he was utterly aware of missing out on the chance to win the Champions League.
Despite having a dilemma, he signed with the current Bundesliga champion, Bayern Munich.
Leroy serves as a star winger for the club and is excited to make the most of the opportunity with the team. Before this, he played for the Machester City for well over four years.
Likewise, in 2018, Sane was voted PFA Young Player of the Year award. Man with many possibilities and potential, his former club manager, described his game as on a different level.
For someone with such high standards, we are more than eager to see what he brings on the field with Bayern Munich.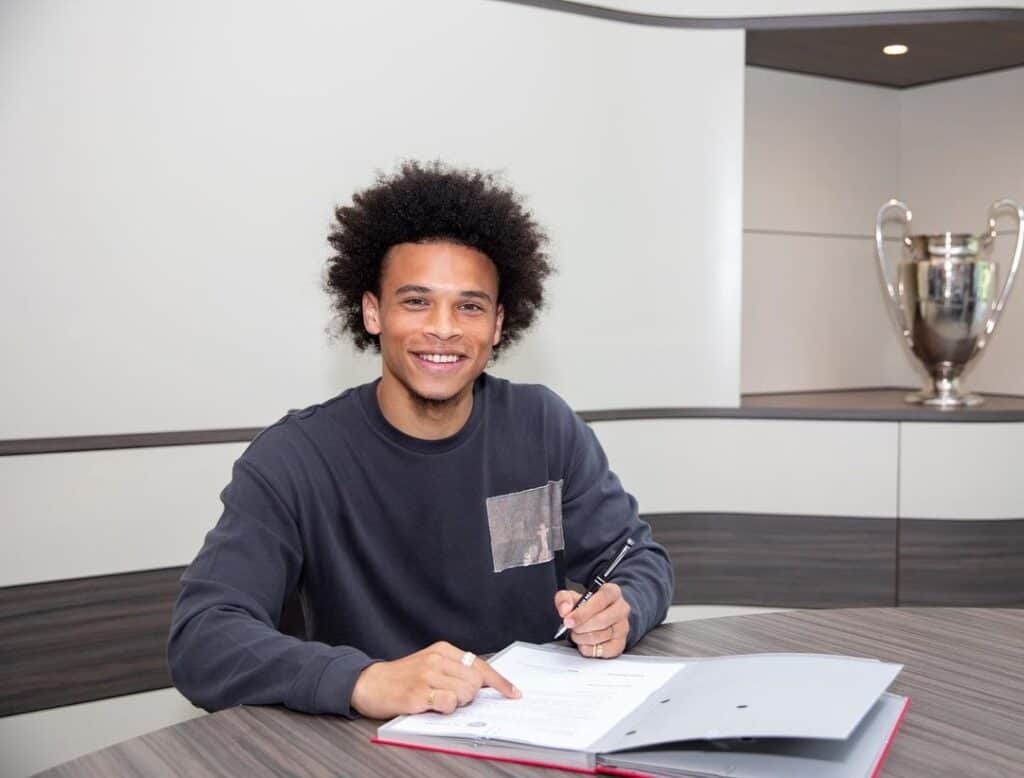 Today, let's take a look at his life from his humble beginning to his current status as a player. Along with that, we will also discuss his net worth, market value, transfer, and of course, love life. More on him right now.
Leroy Sane – Quick Facts
Full Name
Leroy Aziz Sane
Birth Date
January 11, 1996
Birth Place
Essen, Germany
Known as
Leroy Sane
Religion
Unknown
Nationality
German, French
Ethnicity
Mixed
Education
Updating Soon
Horoscope
Capricorn
Father's Name
Souleyman Sane
Mother's Name
Regina Weber
Siblings
Two brothers
Age
27 Years Old
Height
6 feet (183 cm)
Weight
75 kgs
Build
Athletic
Eye color
Dark Brown
Profession
Professional Football player
Active years
2014-present
Position
Winger
Club
Bayern Munich
Number
10
Marital Status
Not Married
Relationship Status
In a relationship
Girlfriend
Candice Brook
Children
A daughter
Daughter's Name
Rio Stella
Net Worth
€20 million
Social Media
Twitter
Merch
Jersey, Posters,
Funko Pop
Last Update
November, 2023
Early Life and Nationality – Who is Leroy Sane's father?
The stellar winger for Bayern Munich, Leroy Sane, is a German-born national. To be precise, he was born in Essen, Germany, and later raised near the Lohrheidestadion, Wattensheid.
Likewise, Sane is the son of Souleyman Sane, the Senegalese International Souleyman Sane, and Regina Weber, who is a former German rhythmic gymnast and bronze medalist of the 1984 Summer Olympics.
His parents met while Leroy's father was playing professionally for the SG Wattenscheid 09.
Also, Sane's full name is Leroy Aziz Sane. Not many know this, but he was named Leroy in honor of Claude Le Roy, a former head coach of his father.
Aside from his parents, Sane also has two brothers, Kim Sane and Sidi Sane; both have played for the youth side of major German football clubs. Putting it aside, Leroy has dual citizenship in Germany and France.
Leroy's father was raised in France and later moved to Germany to serve in the French Army. From the looks of it, his ethnicity is mixed.
How tall is Leroy Sane?- Height and Body Measurements
Born and raised in a family full of athletes, Leroy Sane is making his niche his way. Born on January 11, 1996, Sane is 24 years as of now.
His birthdate falls under the zodiac Capricorn, the sign known for being stubborn and competitive in almost everything.
It is safe to say; we can see the vigor to win the game in him. Furthermore, his desire is accompanied by his passion and movements as well. Blessed with agility and speed, Leroy stands at 6 feet(183 cm) and weighs around 75 kgs.
Aside from this, the German footballer has not revealed much of his training regime and diets to maintain a sound and stout body. But we believe it requires a lot of time in the gym and field alike.
Leroy Sane – Professional Football Career – Manchester City
Sane is a footballer who has been playing since his childhood days. Leroy might be influenced by his father, who is also a former footballer.
There are not many details about his early life, but in 2001 he started playing for the youth team of SG Wattenscheld 09. A year later, he joined Schalke 04 and Bayer Leverkusen, three years after.
Then on March 21, 2014, young Sane signed a three-year professional contract with Schalke 04. On April 20, Sane made his Bundesliga against VfB Stuttgart after replacing Max Meyer in 77 minutes.
Likewise, on August 2, 2016, Leroy joined Premier League club Manchester City where he signed a five-year contract for a 37 million pounds transfer fee.
The German player made his stellar debut against Manchester United in a 1-2 win. Compared to Schalke's time, Leroy shined as a player and got the opportunity to play against some of the strongest European clubs out there.
However, Sane suffered from multiple injuries and even confessed the debut season was not up to his standards.
Leroy believed it was due to his inability to breathe through his nose and often found the condition affecting his field's performance.
Following that, Leroy has corrective surgery during the off-season break, which cost him that year's FIFA Confederations Cup.
Opting to make the most of this season, Sane started the 2017 season with a bang. Right off, Leroy scored his first two goals of the seasons against the powerhouse Liverpool, followed by their win over West Bromwich Albion.
In October 2017, Sane earned his first Premier League Player of the Month award. His next season also started swiftly as their team defeated Burnley and then Liverpool, not to mention, Leroy contributed in each of those wins.
Likewise, Leroy continued playing his A-game in coming matches, which ultimately helped Manchester City win the 2017-2018 Premier League title.
Moreover, Leroy has voted the PFA Young Player of the Year for his part in the victory. But sadly missed out on winning the inaugural Premier League Playmaker of the Season, which went to fellow teammate Kevin De Bruyne.
Leroy Sane – Transfer to Bayern Munich
For the fans of the City, Leroy was not an unfamiliar name. In fact, he had contributed a lot to the club's victory.
Hence, it came as a surprise when Sane refused to extend his contract at Manchester City with manager Guardiola, stating he would join the club in the summer.
The rumors have been going around for his transfer, and his link with Bundesliga champions Bayern Munich were mentioned repeatedly.
Despite all that, Sane was listed in the starting line against Liverpool in the FA Community Shield. But he was substituted after ten minutes due to his torn ACL and spend the rest of the season recovering.
Finally, on July 3, 2020, Leroy signed a five-year deal with Bayern Munich for 55 million euros, with add-ons rising to 60 million euros. But to think the 24-year-old was not in a dilemma will be an understatement.
With the City, Sane had contributed for two Premier Leagues, one FA Cup, and two League Cups.
During his transfer, Sane had to consider being with the City to win the title or move on. Though many would have preferred him in the City, it merely did not work, according to Leroy.
"I thought about it, obviously, and City has the option to win the Champions League. But I made this decision and I'm totally fine with it. If City wins it, then I'm happy for the club and for all my friends there but this was the way I went. If it really happens, I don't think I will suffer from it a lot because I made the decision and nobody else."
Likewise, as he said, Leroy simply did not time to prepare for the games. The finals rounds of the Champions League were to be staged in Lisbon between 12-23 August, while the new Bundesliga season was set to start from September 18.
Added to that, Sane was still recovering from his injury. No matter the difficulty, Sane did think about the future and made the final decision.
"It was hard to say not to the Champions League. For everyone, it is a dream to play in that competition. But it made more sense just to come here, to settle in, find a new home, and to prepare really good for the next season. Everyone knows how difficult this season was for me."
Leroy Sane – Leaving Manchester City on a positive note.
With his departure from the City, Leroy has left a dent in the club's performance. In his outstanding 2017-18 season, he contributed 14 goals and 19 assists in all competitions as the PFA's Young Player of the Year.
Moreover, Sane said he had no regrets about his time at City. He said," I had good moments and good memories, and there is nothing I can say I regret."
However, Sane was not the only one to say good words; following his departure, Pep Guardiola only spoke fondly about the 24-year-old.
The City's manager described Sane's game was "on to a completely different level" and complimented his mental attitude and grounded nature.
Sane is recovering from his knee injury and is eager to play as a Munich player. He will take on the No 10 shirt, previously worn by Arjen Robben.
Excited, Sane said," Robben is a legend for this club, and there is a lot of pressure with the number, but I take it more with joy. I have my own targets, and I want to achieve my own goals."
Since he is in Bayern, many were eager to know his opinion about both teams and which he thought was better. To this Leroy answered,
"It's hard to compare the, they're in different leagues, playing not exactly the same football. You will see what will happen if they play against each other. After that, you can judge them.
Leroy Sane – Highlights
You can watch Sane's football highlights:
"How much is Leroy Sane worth? – Net Worth and Income
Leroy is a brilliant player on the field and has contributed a lot to the victory of the teams as well.
Since his transfer to Bayern Munich from Manchester City, Sane's income has catapulted. As of now, Sane has a net worth of 20 million euros.
At the same time, his market value is estimated to be around 80 million euros. During his stay with the City, Sane reportedly earned $6.2 million per year.
But after his transfer, many assume he will get more than $10 million a year; definitely, a hike compared to his former salary.
Aside from his club earnings, the German winger earns additional from his endorsements and sponsorship deals. At the moment, Sane is signed with major companies like Apple, Brats, Mercedes, and even Adidas.
Is Leroy Sane single? – Personal Life, Girlfriend, and Marriage
A stellar winger and probably a millionaire, Leroy is a total hunk both in and off the field. However, he is also a loving boyfriend and father to his girlfriend and daughter, respectively.
Yes, the 24-year-old is in a relationship with R&B singer, Candice Brook, who also happens to be the ex-girlfriend of Chris Brown.
Aside from resembling singer Rihanna, Candice is also known for dating high-profile stars such as French Montana, Nicki Minaj's ex Safaree Samuels, and even NBA player Andre Drummond.
Nonetheless, Sane profoundly cares about their relationship. And judging by their couple pics on his Instagram, Sane is totally smitten over his girlfriend.
Likewise, the couple is now proud parent of their baby girl, Rio Stella, born in September 2018. Apart from Rio, Candice also has a son named Tobias from her previous relationship.
Despite being together for a couple of years, they both have yet to tie the knot. As of now, both of them seem to be taking their relationship slowly and have no plans to marry any time soon.
Leroy Sane – Tattoo
Leroy Sane is a big tattoo geek. He has a total of six tattoos engraved on his body. Moreover, each tattoo on him holds a special meaning.
Back Tattoo
Sane tattooed himself on his back. He always had this dream of winning against Monaco. And the dream came true, motivating him to go get his huge ink.
He celebrated his victory during the 2016-2017 season against Monaco via this medium. In fact, the tattoo showcases all the efforts he made for his first goal for the Blues in the Champions League.
Sane remembers the time when he got this piece of art as extremely painful. He split it into four days. Nonetheless, he is extremely happy for doing it as the triumph is something very close to his heart.
Script Tattoo on the Chest
Sane tattooed a piece of writing which says, "Family we are never alone because we carry each other in our hearts. Family is where life begins and love never ends." on his left side.
He is indeed a family man.
Roman Numerals Tattoo on the Forearm
Sane tattooed roman numerals which say "XXVI-II-LXI-XII-IV-LXI-XX-I-XCV-XXI-IV-II r-rs" on his left forearm.
This tattoo must be carrying an important phase in Sane's life.
Liberty Equality Fraternity
Sane tattooed "liberte'.egalite'.frater" on his upper left arm which are the French words for liberty, equality, and fraternity.
S.R.M.K.S Tattoo on left wrist
Sane has a tattoo of initials 'S.R.M.K.S' inked on his left wrist.
Tattoo on Ring Finger
Sane has a ring tattoo on his left hand's ring finger. Observe closely on his left hand to have a glance of it,
Leroy Sane – Jersey
Sane wears jersey number 10 for Bayern Munich. You can purchase a copy of it on Soccer Pro.
Similalry, he wore number 24 jersey for the German National team at the World Cup.
Leroy Sane – Social Media Presence
Twitter– 1.7 million Followers
Common Queries about Leroy Sane
Why Leroy Sane is/was not in the Germany's national team?
Germany's head coach Löw called Sane an incredible player but crtiqued him for not catching fire for the team as he does in the premier league.
The team chose a to give new player a chance in the world cup instead of Sane. Nonetheless, Sane is an amazing player who knows his game extremely well.
How many goals does Leroy Sane have for Man City?
Sane scored a total of 5 goals for the Man City.
When did Leroy Sane join man city?
Leroy Sane joined Man City on August 2, 2016.