Ronnie Coleman is popularly known as one of the best bodybuilders in the world. He introduced the size game to a different level and is tied eight times with Lee Haney for winning the most Mr. Olympia titles.
Sometimes, life gives you unexpected opportunities that could change your whole life. It remains valid for Coleman, who never considered bodybuilding a career, and is now known as one of the best bodybuilders.
Ronnie gave his top 10 listing for 2022 Mr. Olympia, as he has developed a keen eye for the sport.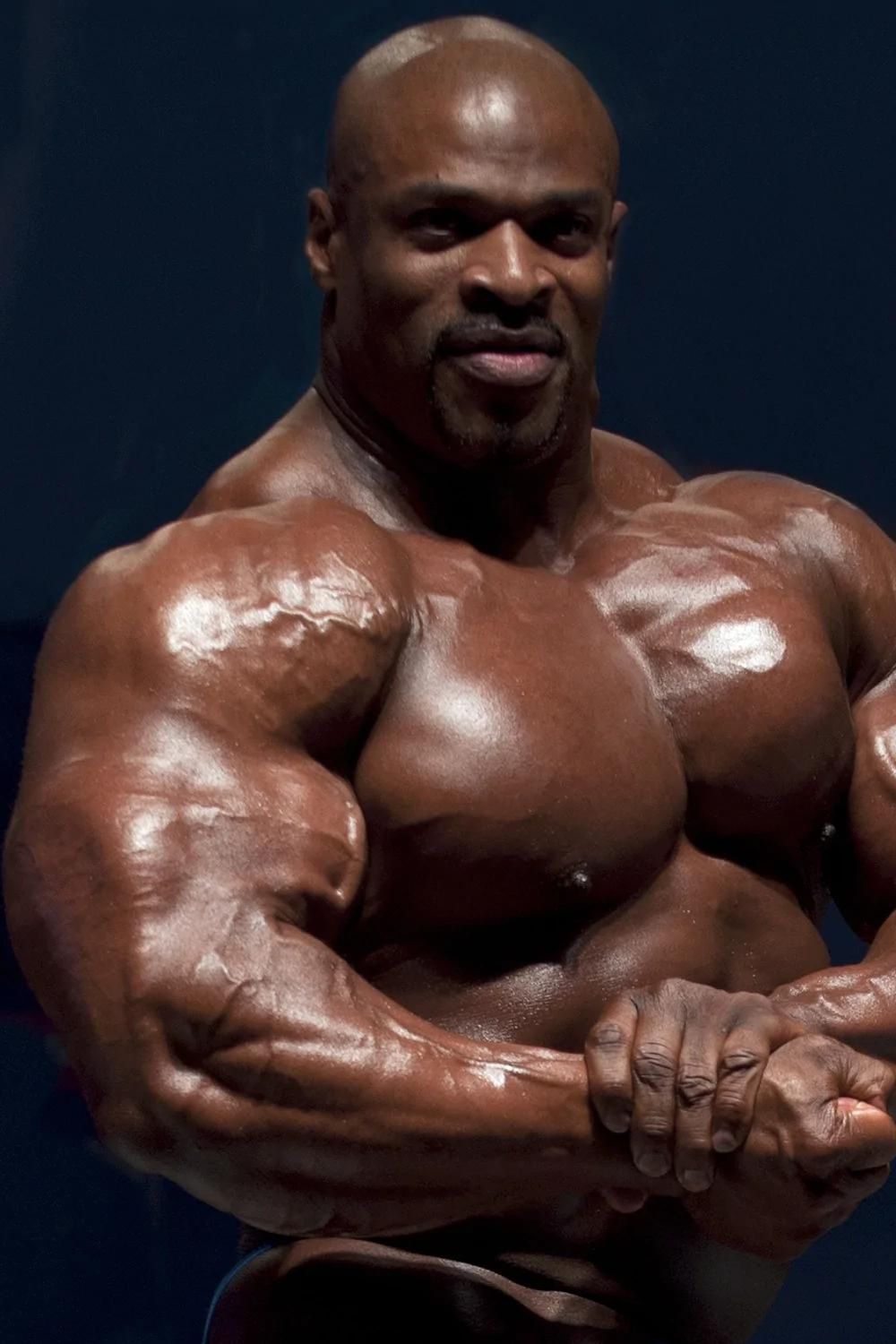 The eight-time consecutive Mr. Olympia winner, Ronnie, entered the world of bodybuilders for a free gym membership. That's how he fell in love with bodybuilding and left his stable job to pursue a career.
But, it wasn't easy for him to be a staple name in bodybuilding. It took tons of hard work, patience, dedication, and perseverance to be at the place where he is.
This article will uncover how a man who had never considered a bodybuilder as a career became one of the best in the bodybuilding world.
But, first, let's look at his quick facts before diving into the details.
Ronnie Coleman | Quick Facts
| | |
| --- | --- |
| Name | Ronnie Coleman |
| Full Name | Ronnie Dean Coleman |
| Nick Name | The King, The GOAT |
| Birthdate | 13 May 1964 |
| Age | 59 Years Old |
| Birthplace | Monroe, Louisiana, U.S. |
| Star Sign | Taurus |
| Nationality | American |
| Religion | Christianity |
| Body Type | Athletic |
| Hair Color | Bald |
| Eye Color | Dark Black |
| Height | 5 ft 11 in / 180 cm / 1.8 m |
| Weight | 300 lb / 136 kg (Contest), 315 lb / 165 143 kg (Off-Season) |
| Body Measurements | 24 inches (Biceps), 36 inches (Waist), 36 inches (Thigh), 22 inches (Calves), 60 inches (Chest) |
| Parents | Jessie Benton (Mother) |
| Siblings | Alain Lemieux, Richard Lemieux (Brothers) |
| Relationship Status | Married |
| Wife | Susan Williamson |
| Children | Jamilah Coleman, Valencia Daniel Coleman (Daughters) |
| School | Bastrop High School |
| College | Grambling State University |
| Educational Qualification | BSc In Accounting |
| Profession | Bodybuilder |
| Achievement | Mr. Olympia (1998–2005) |
| Debut | 1990 |
| Status | Retired |
| Net Worth | $2 Million |
| Social Media | Twitter, Instagram |
| Merch | Yeah Buddy! My Incredible Story |
| Last Update | November, 2023 |
Ronnie Coleman | Early life
On May 13, 1964, Ronnie was born to his mother, Jessie Benton, in Monroes, Louisiana. Coleman has two brothers, Alain Lemieux and Richard Lemieux.
There has not been much information regarding Coleman's childhood and education. But, it is known that he had to struggle financially to meet his ends.
He went to Bastrop High School and graduated with BSc in Accounting from Grambling State University in 1984.
Along with his academics, the athlete was in the college football team GSU Tigers. He played as a middle linebacker under the coach Eddie Robinson.
Things got hard after graduation as he failed to find a job related to his course. So, he started doing part-time jobs such as Domino's Pizza.
But, the pay was meagre to sustain himself. So, Coleman would eat the leftover pizza as he barely had the money to eat.
After joining the part-time jobs, he discovered those weren't enough for him; he started looking for jobs. But, unfortunately, his degree in accounting was useless as he couldn't find any job relating to it.
He then started to look for jobs in other fields; he was ready to do any job.
Fortunately, due to his fit athletic body, he got a job as a police officer in Arlington, Texas and served as a police officer until 2003.
Ronnie Coleman | Body Building Career
Ronnie's career started when amateur body Builder Brian Dobson offered him a free gym membership.
Brain wanted to train Coleman for the upcoming Mr. Texas bodybuilding competition. So he joined the gym for free with the condition of participating in the contest.
Coleman won first place in the heavyweight and overall category competition, he defeated Dobson.
After winning the competition, he competed in the NPC championships in 1990. He was placed third, which instead of demotivating him, made him more competitive.
Coleman started to take bodybuilding more seriously and worked hard on his physique to become a professional bodybuilder.
Professional Career
Coleman's professional career began when he won the Canada Pro Cup in 1995. He won the competition the next year as well.
Then, he went on to compete in the National level Russian Grand Prix in 1999 and won the competition as well.
Coleman took tiny steps to reach the top and is the epitome of not giving up. He participated for the first time in the Mr. Olympia contest, the most famous contest in 1992.
Unfortunately, he wasn't even ranked. But, it didn't demotivate him as he applied the following year. It was 1994 when he was finally ranked 15th.
Then, He slowly moved forward by ranking 10th in 1995, 6th in 1996, and 9th in 1997. Finally, after his perseverance and dedication, Coleman won his first Mr. Olympia contest in 1998.
He defeated Kenneth Wheeler in the competition to win that title. Afterwards, The Olympia King protected his title until 2005. As a result, he won the title eight times in a row.
But, as Kings have to give up their title at a certain point, the bodybuilder king gave up his title to three-time runner-up Jay Cutler in 2006.
Coleman appeared for the last time in Mr. Olympia in 2007, where he was placed 4th. He later retired from the championship.
Further
Here are the top ten lists for 2022 Mr. Olympia, which Ronnie Coleman gave on October 2022 as the Olympia contest is near.
Winner – Big Ramy Nick Walker
Second Place- Brandon Curry
Third Place- Hadi Choopan
Fourth Place- William Bonac
Sixth Place- Michal Krizo
Seventh Place- Andrew Jacked
Eight Place- Hunter Labrada
Ninth Place- Blessing Awodibu
Tenth Place- Shaun Clarida
It is not Ronnie's first time predicting the championship winner; he has been asked many times earlier for his view on the contestants participating in the contest.
He attended the 49th annual Grambling-Southern Bayou Classic game on 27 November 2022. He was pictured with the President of Grambling State University, Rick Gallot.
Coleman supported his college team as he posted on Instagram, "Go Tigers; we need this win real bad. Currently sitting at 3-7, it's been a long time since we've had a losing record."
He is also featured on a Youtube channel.
Ronnie Coleman | Surgeries
During his career as a bodybuilder, Ronnie ignored the major injury, a herniated disc. He said to one of the reporters, "There was a loud crunching sound," and he continued, "I lost a little strength. I heard it, but the athlete in you is like, 'Let's go on'."
He had to go through multiple back surgeries and hip surgeries, ultimately ending his career as a bodybuilder.
Coleman's condition worsened as he quickly started training after the surgery without completely resting his body.
He said he had to undergo many surgeries due to surgical errors. As a result, Coleman had to spend many of his hard-earned fortunes on the surgery.
The last three surgeries were botched medical surgery, which left him unable to walk unassisted.
But, when asked if he regrets that heavy training that has jeopardized his life, Coleman says he doesn't regret it for a moment.
The heavy training made him one of the greatest bodybuilders of all time, but he wishes he could have gone farther if not for the condition.
Now he can walk after several treatments and has travelled to Dubai for the contest.
Ronnie Coleman | Filmography
Ronnie's journey to becoming an international name in bodybuilding results from hard work and perseverance. He is an inspiration to many others not to give up.
His inspiring life story has been made into a movie, namely Ronnie Coleman: The first Training Video. Mitsuru Okabe directed the film about his life as a police officer who later became a famous bodybuilder.
Larry Wheels Hits New PR in DUBAI…Yeah Buddy:
Watch Now: https://t.co/PsmiyOhZSJ pic.twitter.com/DAOojvBPyc

— Ronnie Coleman (@BigRonColeman) November 11, 2022
Similarly, he was featured in Ronnie Coleman: The Unbelievable, which showed his intensive training and diet to prepare for bodybuilding competitions.
The documentary released in 2001 was mainly about the struggles he had to face to become Mr. Olympia.
Many producers portrayed Coleman's life events in several movies; in 2003, Ronnie Coleman: The Cost of Redemption showed the Olympia campaign as his redemption.
Ronnie Coleman: Relentless, the 2006 documentary showed his journey for Mr. Olympia 2006 contest. Also, he was featured in Ronnie Coleman: Invincible and Ronnie Coleman: The Last Training Video.
Most recently, the movie Ronnie Coleman: The King was released on Netflix in 2018. This documentary features his whole life story, from rising unemployed and poor to becoming one of the world's greatest athletes.
You May Also Like Reading Waldemar Baszanowski Bio >>
Ronnie Coleman | Autobiography
Ronnie Coleman's life is inspiring as he is a self-made athlete with perseverance and dedication.
He has written several books on bodybuilding and weightlifting. The most famous book of Ronnie Coleman is his Autobiography, Yeah Buddy! My Incredible Story.
The book is like his personal diary, where he has written everything about his life, victories, defeats, most challenging time, and proud moments.
Thus, the book summarizes his entire life, starting from his birth, teenage, and adult life.
The book is one of the best-selling books of Coleman in 2019 and has been critically praised for writing the exact fact and not exaggerating things.
Along with autobiographies, he has been featured in other books as well.
In 2007, Michael Berg wrote Hard Core: Ronnie Coleman's Complete Guide to Weight Training. It is a complete guide to bodybuilding.
Ronnie Coleman | Charity
Ronnie Coleman might have reached the mountain of success, but he knows his roots and where he started.
Likewise, Coleman faced extreme poverty and unemployment and barely had anything to eat. He used to eat leftover pizzas at his workplace and knew what hunger was like.
So, when he established a foundation named Free the world from hunger. It is a charity that aims to fight the need for medicines and clean water globally.
He has also joined Noah and Perris for an NGO named Noah's Arc Foundation, which helps children to build self-confidence through arts and sports.
Ronnie Coleman | Wife and Children
Ronnie Coleman married Rouaida Christine Achkar in 2007. Achkar was a personal trainer who was originally from Lebanon. The couple met at the Paris Sports exposition in 1998.
However, the marriage didn't turn out well, and they decided to part ways. The couple had two daughters.
After the first marriage failure, Coleman remained single until he met Susan Williams. She was also a personal trainer, and they married on April 11, 2016.
The couple is happily married and is blessed with four children.
Ronnie Coleman | Net Worth
The estimated net worth of Ronnie Coleman is around $2 million. He has earned his net worth from his career as a bodybuilder.
Apart from this, he earns handsome money from endorsements, investments, and royalty from books and movies.
He owns RC Signature Series (supplements for bodybuilders) and Coleman Athletics (clothing).
Coleman also has a Youtube channel where he shows his evolution of bodybuilding.
Check Out This Article For A More Detailed Dissection Of His Net Worth>>
Ronnie Coleman | Social Media Presence
Ronnie Coleman has a huge fan following on his social media. His Instagram account has more than 5.6 million followers.
View this post on Instagram
You can follow Ronnie Coleman on social media to get updated about his personal life.
Instagram: 5.6 million Followers
Twitter: 262.8 k Followers
Popularity Graph
Ronnie Coleman is a renowned bodybuilder who has secured Mr. Olympia Championships eight times.
His search rate hiked as 2022 Mr. Olympia is on the way, and people are curious about his new worth.
Frequently Asked Questions (FAQs)
Is Ronnie Coleman paralyzed?
Ronnie was almost paralyzed, as he had around 13 spine surgeries. But his last three surgeries left him crippled as he could not walk without assistance.
How long was Ronnie Coleman a cop?
Ronnie Coleman was a cop for 11 years. He started his job as a police officer in 1989 until 2000. Then, he left his job as police to become a full-time professional bodybuilder.
What are some of his famous workout catchphrases?
Ronnie Coleman is known for his legendary catchphrase, Yeah Buddy. Other than that, his slogans "Ain't nothin' but a peanut!," "Lightweight!" are famous.
How much does Ronnie Coleman eat per day?
Ronnie Coleman ate 5332 calories/546 grams of protein per day. His diet would consist of 65% protein, 20-25% carbs, and 5-10% fat.
You May Also Like Reading Mariusz Pudzianowski Bio >>