While F1 driver Alex Albon is often in the spotlight, Alex Albon's brother Luca Albon and his sisters are also stealing the spotlights.
Alexander Albon Ansusinha, popularly known as Alex Albon, is a young and talented Thai-British racing driver currently tearing up the tracks in Formula One for Williams Racing.
Alex Albon joined Williams in 2022 as a replacement for George Russell after being released from his reserve driver duties at Red Bull.
During the 2022 season, Alex impressed the team with stand-out performances, including his debut points-scoring race in Melbourne and placing 9th in Miami and 10th in Belgium.
As a result, Williams Racing announced that Albon will continue to be part of their driver lineup for the 2023 FIA Formula One World Championship and beyond.
With a passion for speed and a fearless attitude, Albon has quickly made a name for himself on the racing circuit.
He races under the Thai flag and has previously driven for Scuderia Toro Rosso and Red Bull Racing in Formula One.
Albon's impressive driving abilities have also led him to participate in the prestigious DTM racing series for AF Corse.
Who Is Luca Albon? Alex Albon Brother- Sister Zoe, Chloe, And Alicia
Alex Albon was born on March 23, 1996, at the Portland Hospital in London, England.
His father, Nigel Albon, is a former British racing driver who participated in the British Touring Car Championship and Porsche Carrera Cup, while his mother, Kankamol, is from Thailand.
Albon grew up in Bures, Suffolk, with his younger brother, Luca, and three sisters, Chloe, Zoe, and Alicia.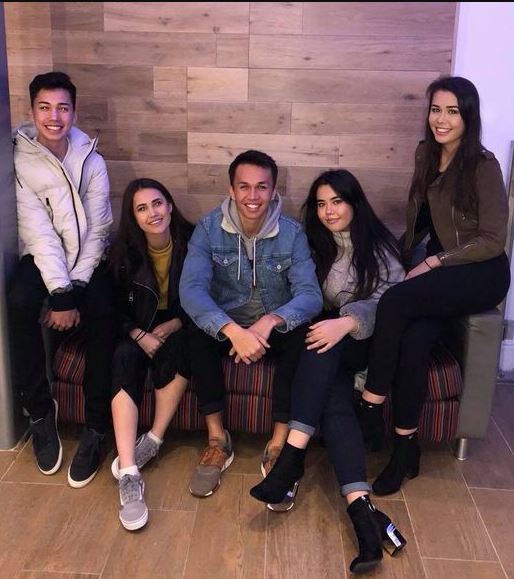 He attended Ipswich School but left to pursue his professional racing career, inspired by legendary figures like Michael Schumacher and Valentino Rossi.
In addition to his racing achievements, Albon is also known for his fascinating personal life. He holds dual British and Thai nationality and practices Buddhism.
Furthermore, Albon and his family have a passion for animals, and they own a menagerie of eight cats, a dog, and a horse.
With his impressive driving skills and intriguing personal life, Albon is undoubtedly one of the most exciting figures in the world of motorsports today.
Alex Albon Eyes Success For Williams in F1 Sprint Races
Alex Albon has been making headlines in the world of Formula 1 with his bold statements.
In the first instance, Alex expressed his thoughts on the points system for the F1 Sprint, a new format introduced this season.
After finishing in ninth place in the inaugural Sprint race, Albon suggested that the points system might need tweaking to reflect the competition level better.
Albon has also made it clear that he is looking to emulate the success of Fernando Alonso and Aston Martin this season.
The Thai-British driver has expressed his desire to compete for podium finishes, just as Alonso has achieved with his three consecutive podiums this season.
Furthermore, Albon has stated his hope for a lot of drama in the Sprint races as long as he can avoid any trouble.
He is eager to put on a show for the fans and add excitement to the new format.
As the season progresses, Albon hopes to play a significant role in helping Williams improve and compete with the top teams in the championship.
As the Formula 1 season continues, all eyes will be on Albon and his team to see if they can make significant strides forward and challenge the top teams in the championship.