Sedale Threatt, AKA The Thief, is one of the renowned basketball players known for his rare ability to steal balls. As a former NBA player, 'The Thief' has played for numerous teams, including Los Angeles Lakers, Philadelphia 76ers, Chicago Bulls, Seattle SuperSonics, and Houston Rockets.
Further, Sedale has won several awards during his career. For instance, he was three times First-team All-WVIAC from 1981 to 1983.
The retired point guard scored 9,327 points per game, 3,613 assists per game, and 1,138 steals per game.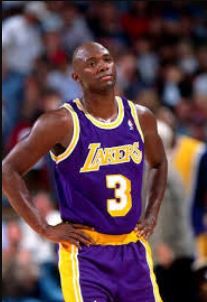 The former professional athlete, Sedale, has been highlighted for his professional and personal life. Let's jump to the article below to learn more about him.
Quick Facts
| | |
| --- | --- |
| Full Name | Sedale Eugene Threatt |
| Nick Name | The Thief |
| Age | 61 Years Old |
| Height | 6'2″ (1.88m) |
| Weight | 79 kg (175 lb). |
| Horoscope | Virgo |
| Date Of Birth | 10th September 1961 |
| Birth Place | Atlanta, Georgia, United States |
| Religion | Unknown |
| Nationality | American |
| Ethnicity | Afro-American |
| Hair Colour | Black |
| Eye Colour | Black |
| Skin Colour | Black |
| Gender | Male |
| Sexual Orientation | Straight |
| Marital Status | Married |
| Wife | Britt Johnson |
| Former Wife | Nicole Young (1992-1996) |
| Kids | More than 14 |
| Father's Name | Unknown |
| Mother's Name | Unknown |
| Siblings | Not Available |
| High School | McLaughlin Therrell High School |
| University | West Virginia University Institute of Technology (1979-1983) |
| Graduated Year | 1983 |
| Profession | Retired Basketball Player |
| Teams | Los Angeles Lakers, Philadelphia 76ers, Chicago Bulls, Seattle SuperSonics, and Houston Rockets. |
| Position | Point Guard |
| Awards | First-team All-WVIAC (1981-1983) and several more |
| Net Worth | $12 million |
| Salary | $650,000 (1990-1991) |
| Social Media | None |
| Number | 9,3,4,2 |
| NBA draft | 1983 / Round: 6 / Pick: 139th Overall |
| Playing Career | 1983-2002 |
| Merch | Basketball Trading Card |
| Last Update | March, 2023 |
Who Is Sedale Threatt?
Sedale Threatt is a renowned name in the NBA world who played professionally from 1983 to 2002.
During his tenure as an NBA player, the Georgia native played for teams like the Philadelphia 76ers, Chicago Bulls, Seattle Supersonics, Lakers, Houston Rockets, and many more.
Early Life And Education
The retired player Sedale Threat was born as Sedale Eugene Threatt in Atlanta, Georgia. The NBA icon celebrates his birthday on the 10th of September. Hence, his zodiac sign is Virgo.
As of now, the current year, he is 61 years old as he was born in 1961.
Family And Siblings
Sedale was born to his unnamed Father and a mother. Due to his secretive nature, the detail of his parents and siblings are out of reach.
Sedale Threatt Body Measurements | Height And Weight
Moving on to Sedale's physique, he is decently tall. The former player stands at a staggering 6 feet and 2 inches (1.88m). And his listed weight is 79 kg (175 lb).
No wonder, as a professional NBA player, Threatt had a stunning physique and topped in athleticism. The team always admired his agility and power play.
However, his other measurements are out of public knowledge at the moment. But despite that, we can say that Threatt is athletically built and fit.
Sedale Threatt Other Personal Info
Famous as 'The Thief,' Sedale belongs to the Afro-American ethnic group. The native of Georgia, he holds citizenship of America. Other details like his religious beliefs and so on are unknown.
As of 2023 update, Sedale Threatt's love life is dry and single.
Detail On Sedale Threatt's Education
Talking about Sedale's educational background, he went to Daniel McLaughlin Therrell High School back in Atlanta.
Later on, Sedale enrolled at the West Virginia University Institute of Technology in 1979. He played basketball for the college team until 1983.
Sedale Threatt Married Life | Wife, And Children
Most of the time, Sedale's romantic life became a trending topic in the media. He had several relationships; however, many of them were not surfaced. Being one of the top NBA players meant many lovers and admirers.
Sedale has been living happily with his wife, Britt Johnson, for several years. The couple has been the support system of each other since they decided to spend life together.
Who Is Britt Johnson?
Sedale's better half, Britt, is the TV personality and the host who is well known for covering the sports news for KADN and KLAF in Louisiana. Also, she is the producer and content creator of her sports news channel, The Fumble.
Britt Johnson was born in California. She originated from a Military background and spent her childhood in different parts of the country. As a result, the sports host has explored many cities and places.
To pursue higher education, she attended the California State University, Fresno. Britt holds a degree in Communication and Special Event Planning from the University.
Moreover, Britt is also a social-media personality. She handles about 64.8k followers on her Instagram account, @ambrittjohnson.
Further, the host, Britt, has a website, Brittanijohnson.com. On the website, she uploads videos and photos related to sports. She also has a Youtube channel with 36.1k subscribers.
Despite popular belief, this is not the only marriage of Sedale. The NBA star has dated many gorgeous women and has been married twice in his life. Here we will talk about them in detail.
Sedale Threatt's First Marriage
The retired point guard, Sedale, was first married to Nicole Young for more than four years. The former partners tied the knot in 1992. Everything was normal between them, but their marriage began degrading within a time.
In late 1995, Sedale and Nicole got legally separated. As per many sources' reports, the former player's estranged wife left him for another man.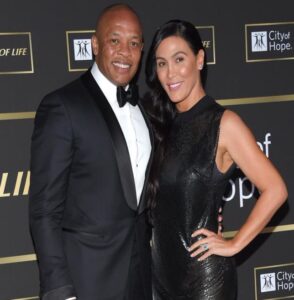 Similarly, the man was none other than hip-hop mogul Dr. Dre. After separating from Sedale, Nicole married the musician in 1996.
However, Nicole's second marriage also didn't last for a lifetime, as she ended the marriage almost after two decades. The divorce between her and Dr. Drew was finalized in 2020.
Sedale Threatt's Children
The NBA star, Sedale is the Father to at least 14 children from numerous relationships and marriages. He has named two of the sons Sedale Threatt Jr. One of the Sedale Threat Jr., born from Desiree White, was a professional basketball player.
Whereas another son, Sedale Threat Jr., was born to Nadine Jackson. He is an actor and has been actively pursuing his career in entertainment.
Similarly, Sedale has one daughter and a son from his second wife, Britt Johnson. Yet, the remaining children's identity is unknown to date.
It might be as revealing the names would also spill the details on his past relationship. Hence, both Sedale and his current wife have been silent about it.
Why Was Sedale Threatt Jailed?
Before 2000, Sedale Threat was accused of not providing child support for many of his children, including one of Sedale Threat Jr. 2000. However, the former guard was proven guilty.
As a result, Sedale was sentenced to jail for almost six months. Threatt had a plea deal with the prosecutors and recommended five months of probation. Unfortunately, the court refused the appeal but instead sent him to prison.
Likewise, the U.S. District Judge, Mark L. Wolf, also ordered Threatt to comply with five other outstanding child-support orders for children in other jurisdictions.
Sedale Threatt | Stats
| | | | | | | | | | | |
| --- | --- | --- | --- | --- | --- | --- | --- | --- | --- | --- |
| Year | G | PTS | TRB | AST | FG% | FG3% | FT% | eFG% | PER | WS |
| Career | 951 | 9.8 | 1.8 | 3.8 | 48.5 | 29.3 | 81.5 | 49.6 | 14.7 | 48.0 |
How Rich Is Sedale Threatt?
Sedale played basketball for almost fourteen years, so it is evident he has a considerable fortune. Not to mention, his career and income are flourishing. All thanks to his successful career as an NBA player.
Since he has played for numerous teams, it is evident that he earned handsomely.
Per the report from reliable sources, Sedale Threatt has accumulated a net worth of $12 million via his profession as a basketball player.
Besides, his total career earnings are $9,258,000. Aside from this, Threatt also made additional from his advertisements and other gigs, such as solo brand deals, sponsorships, etc.
Fragmentation Of Salaries
Sedale earned about $650,000 by playing for the Oklahoma City Thunder in his 1990-1991 season.
Likewise, the retired player earned about $612,000, $796,000, and $2.4 million from the team, Los Angeles Lakers, from 1991-1994. Sedale was paid about $2.4 million in the 1994-1995 and 1995-1996 seasons.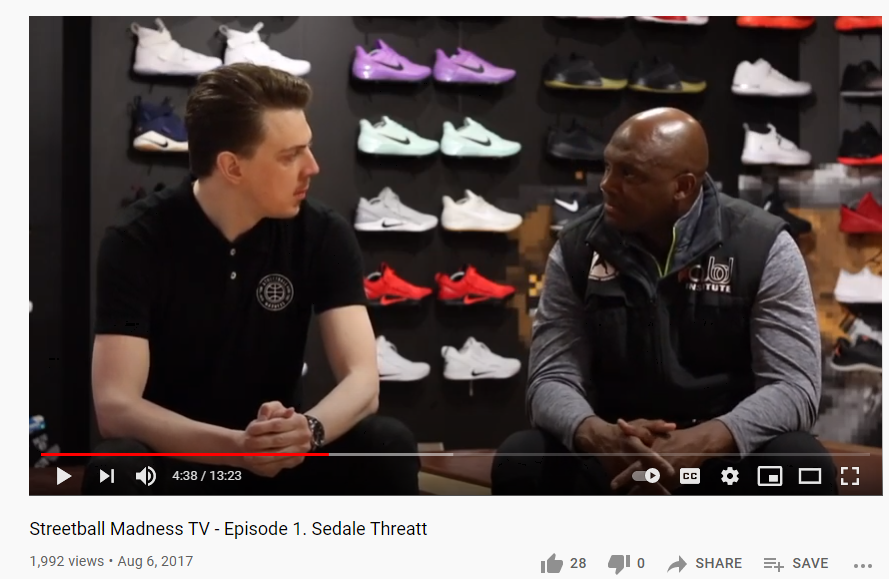 Similarly, Sedale also made a considerable income from his other numerous teams. However, the data is out of reach.
Furthermore, Sedale was also featured in episode 1 of Streetball Madness TV, where Karl sits down with him at Kickz101 to talk all things Streetball, NBA, Michael Jordan, and more.
Career Highlights | NBA And Retirement
Threatt started the professional journey with the National Basketball Association in 1983. The NBA's Philadelphia 76ers selected him. The Thief played for the team till 1986.
The Philadelphia 76ers traded Sedale to the Chicago Bulls. He represented the team for two seasons, i.e., from 1987-1988.
After playing for the Chicago Bulls, the retired player joined the Seattle SuperSonics in 1988. He was with the team until 1991.
Similarly, Sedale became the rising player for the Los Angeles Lakers from 1991 to 1996. Also, he played shortly for the Houston Rockets.
The legend announced his retirement from the National Basketball Association in 1997 by leaving a memorable remark.
Sedale Threatt's Life After Retirement
The Thief announced his retirement from sports in 2002. Soon after ending his sports career, he began working at Australian Basketball Development. His eldest son, Sedale Threatt Jr., owns the company.
Detail On Sedale Threatt Jr.
Sedale Threat Jr., Son of Sedale Threatt, was the point guard for the Australian Basketball Association. He played for Waverley Falcons, Sandringham Sabers, Melbourne Tigers Championship Men, and Latrobe City Energy.
After playing for a decade, he got retired in 2016.
Similarly, Sedale Jr. has a record of getting the awards like Big V Golden Hands (2011-2015), Big V Finals MVP (2010), Big V Champion (2010-2011), and Big V All-Star Five (2006).
Sedale Threatt Basketball Card
Threatt's basketball cards are available in at least 2 sets.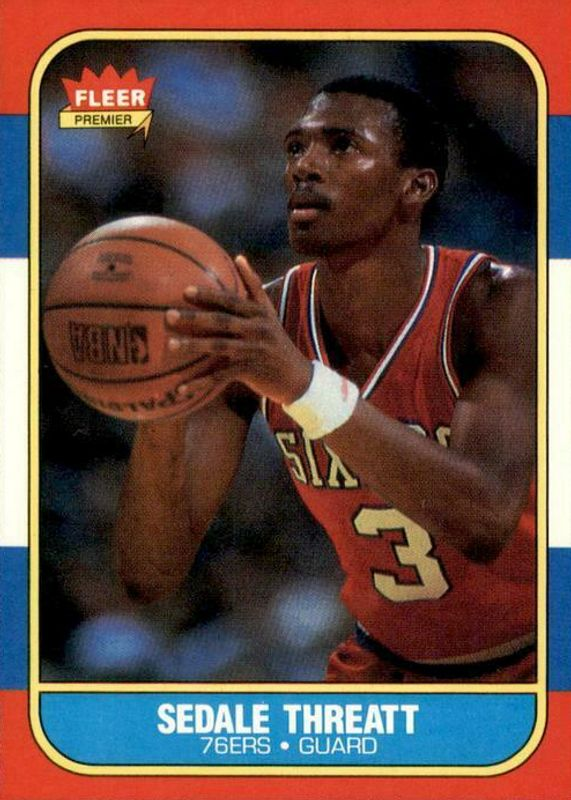 Sedale Threatt's biggest 7-day price movers are 1986 Fleer Base and 1987 Fleer Base. The most significant 30-day change Sedale Threatt cards are 1986 Fleer Base and 1987 Fleer Base. Sports Card Investor is currently tracking 2 Sedale Threatt basketball cards
Social Media Presence
After his retirement, Sedale has kept his private life out of the media. Threatt is not active on social media like Facebook, Instagram, and Twitter.
However, his fans have created an account on Facebook and Instagram. In those fan-based accounts, you can find many old photos and videos of Sedale.
Sedale's Autograph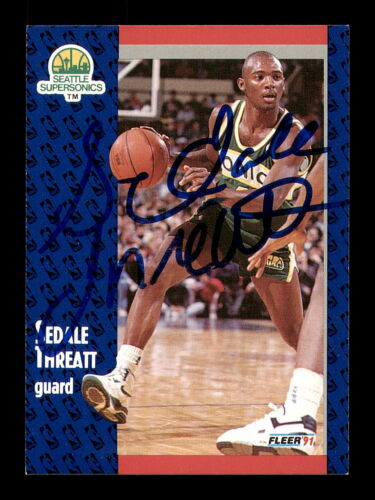 Exciting Facts About Sedale Threatt
Sedale's nickname is The Thief. He got his name from the commentators, Chick Hearn and Stu Lantz, for his astonishing ability to steal the ball.

After retiring from the NBA, Sedale shortly played for the Gymnastikos S. Larissa.
Frequently Asked Questions (FAQs)
What is Sedale Threatt currently doing and his whereabouts?
Sedale Threatt is now working at Australian Basketball Development. He took retirement from sports in 2002. He lives in Melbourne, Australia, along with his elder son.
How long did he maintain his valuable presence in NBA?
Sedale Threatt, after leaving the NBA during the 1996–1997 season, played basketball with the Gymnastikos S. Larissas in Greece before calling it a career in 2002.
He played for fourteen seasons with various NBA teams during his entire career, including the Philadelphia 76ers, Seattle SuperSonics, Los Angeles Lakers, Chicago Bulls, Paris Basket Racing, and Houston Rockets. He finished his basketball career overseas.
What jersey numbers has Sedale Threatt worn?
The former basketballer has worn numbers 9, 3, 4, and 2 while playing in the National Basketball League.
Did Sedale Threatt suffer any significant injury during his playing career?
As injuries are a part of a professional athlete's life, Threatt did not suffer any significant injury during his playing career. However, he did sustain a knee injury in 2019 that led him to miss a few NBA games.
What were the reasons for divorcing Nicole Plotzker?
Sedale and Nicole parted ways on the grounds of Irreconcilable differences between them.