Clearly, the tennis fandom won't have any trouble knowing who Mari Osaka is! Indeed, she is the proud representation of Japan in the tennis court, who has been in the field since her teenage days.
Apparently, she debuted through the 'Bank of the West Classic' professional tournament in the 'Woman's Tennis Association' (WTA). Currently, she has yet a long way to go as she stands in the world ranking No. 305.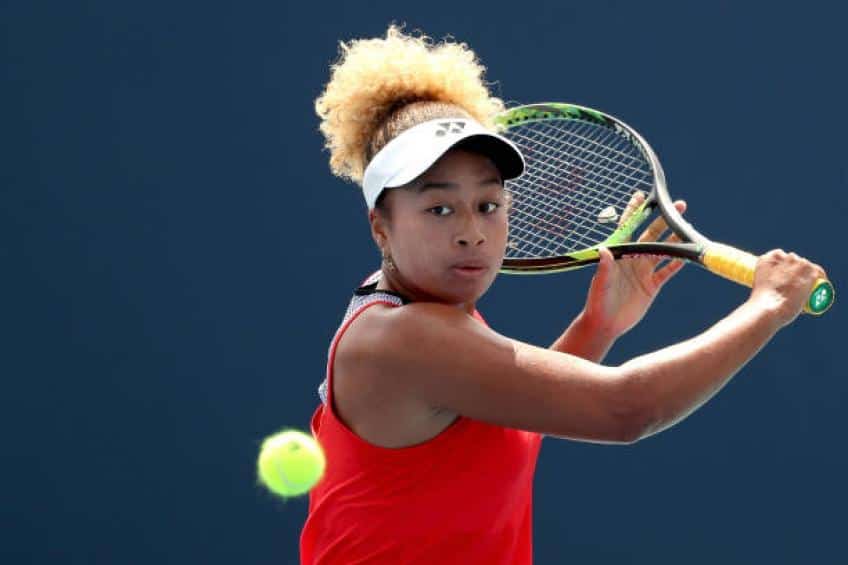 Furthermore, she has been going strong through the ups and downs that followed. All in all, Mari is a right-handed (two-handed backhand) player.
Let's get to know her more, but first, through a quick dive into her general facts.
Quick Facts
Full Name
Mari Osaka (

大坂 まり)

Date of Birth
April 3, 1996
Birth Place
Osaka, Japan
Nick Name
None
Religion
Christianity
Nationality
Japanese
Ethnicity
Black Asian
Zodiac Sign
Aries
Age
26 Years Old
Height
5'11" (1.8 meters)
Weight
Unknown
Hair Color
Black
Eye Color
Black
Build
Athletic
Father's Name
Leonard Francois
Mother's Name
Tamaki Osaka
Siblings
A younger sister, Naomi Osaka
Education
Elmont Alden Terrace Primary School
Broward Virtual Middle High School
Marital Status
Unmarried
Boyfriend
None
Profession
Tennis player
Training from
Florida Tennis SBT Academy
ProWorld Tennis Academy
Plays
Right-handed (two-handed backhand)
Current Ranking
No. 305 (August 26, 2019)
Active Years
2014-present
Net Worth
$1 million
Social Media
Instagram
Merch
Naomi Osaka Poster
Last Update
March, 2023
What is Mari Osaka best known for?
Just as the Williams sister, the Osaka sisters have put their name forward in the world of tennis. Among the two sisters, Mari Osaka is the elder one who plays tennis representing her homeland, Japan.
Osaka had commenced playing tennis at an early age, thanks to her father, who devoted himself to his girls' betterment.
Thus, Osaka eventually started learning from their father at the local level to the national going for the international level.
Although starting young and with training, Osaka hasn't been able to bag any international title to date. Having said this, it may be the effect of the continuous injuries that she has faced in her journey.
As in local games, the far Osaka could go up to the runner-up position at Amelia Island, US, in September 2012.
Following it, she made her debut in the international arena through the 2014 WTA at the 'Bank of the West Classic' professional tournament.
Back then, she had paired up with Marina Shamayko from Russia, unfortunately losing against Varvara Lepchenko and Ajla Tomljanović in the first round.
However, the doubles event didn't slow her down; instead, it boosted her overall confidence.
Overall Gameplay and Rankings
Although Mari hasn't claimed the titles under her belt as her younger sister, she is not bound to comparisons. Mari has been thriving and learning to settle in.
As of now, she has been only close to the top.
Some of her notable tournaments resulted as the runner-up at Goyang, South Korea, in May 2017; at Denain, France, in July 2017; and at Florence, US, in October 2018.
Altogether, today's single career ranking stands as No. 335, which had gone highest till No. 280 in 2018.
Likewise, Mari portrays the singles career record of 196–162 (54.7%). Moving onto her doubles in the world ranking, Mari stands in No. 907 with a career record of 4–16.
Mari Osaka | Early Life
Osaka was born on April 3, 1996, under Aries' sun sign to her parents, Tamaki Osaka and Leonard Francois. Furthermore, Mari was born in Osaka, Japan, and also has a younger sister, Naomi Osaka.
Brief Glance on her Parents
Osaka's parents, as everyone clearly knows, are from different regions and came together to bonding. Ultimately, their parents' duo set-asides the typical norms and practices and beautifully depicts their love story.
Being two different people from different ethnic groups and cultures as a whole was a difficult move for them.
Mari's mother, Tamaki Osaka, is a Japanese (Asian group), while her father, Leonard Francois, is Haitian (Black group).
As they both were raised in completely different zones and visions, their relationship at first was acceptable. As a flashback, they met in Japan, Sapporo, for the first time, and after brewing feelings for each other, they dated in secret.
Of course, the love wasn't an easy come, and Tamaki only revealed her secrecy when her parents talked about her arranged marriage.
As expected, her father was outrageous and denied the relationship. However, she married the love of her life anyways and thus, remained estranged for more than ten years from her family.
Mari Osaka Education and Introduction to Tennis
Apparently, Osaka is a Black Asian, and she is proud to represent it. After her birth in Japan, she, alongside her family, moved to New York on Long Island, the US, at the age of four.
However, they later moved to Fort Lauderdale in Florida for better opportunities, where she accomplished her basic education from 'Elmont Alden Terrace Primary School.' Later, she attended the Broward Virtual Middle High School.
Back in the early days, Osaka's family had rough days, even financially. Also, as a matter of fact, Mari Osaka was first introduced to tennis by her father alongside her sister.
To elaborate, her father was inspired by the Williams sisters (Serena Williams and Venus Williams).
As they grew up with interest in the outdoors, Mari commenced early for the games. Additionally, she had both Japanese and American citizenship and could speak both English and Japanese well.
However, Mari represents her native land as it feels closer to her and because during the time, funding was easier in Japan.
Eventually, they enrolled at the Florida Tennis SBT Academy and the 'ProWorld Tennis Academy for professional exposure.
Cairo Santos Bio: Stats, Education, Career, Net worth & NFL >>
Sister, Naomi Osaka
Naomi Osaka has marked her name on the tennis court as No. 1 in the Women's Tennis Association (WTA). Indeed, she has been bagging titles and ranking all along.
For instance, she is a three-time Grand Slam singles champion.
Altogether, Osaka also took the victory over 3-time Grand Slam singles champion Serena Williams in the US Open's final. Furthermore, she has been titled as one of the most marketable athletes in the world.
Not to mention, she is also one of the highest-earning female athletes of all time. Osaka claimed success in her hands at a young age through her aggressive playing style with a powerful serve.
The Sister Duo
As often explained by Naomi Osaka, she describes the sister duo as the biggest support and the hardest enemy. Indeed, they have the cutest bond that no one would love to miss.
Apparently, they have been facing one other even in the court since their beginning days. Even now, they have been playing against each other while equally supporting each other off the court with their little things.
With these, Mari had even opened up about their early days and her continued struggle with the shoulder injury.
Net Worth
At present, Mari hasn't marked herself as the top contender; thus, she has yet to earn a huge amount. As of now, Mari's net prize money is worth $90,891, while her net worth is $1 million.
Face Masks
Recently, Mari Osaka, alongside her sister, Naomi Osaka, introduced a fashionable face mask during the global pandemic. Mari explained that the idea was first introduced by her younger sister, and she helped her with it.
To elaborate, they are making masks into fashionable accessories added with the awareness of prevention. All in all, the gist of the project is to push a creative instinct while protecting oneself.
Furthermore, their project is affiliated with UNICEF Japan. Therefore, the profit earned is to donate to the disadvantaged Japanese youth.
Mari Osaka | Personal Life
Osaka is pretty single! Yes, she is; as of now, she is not in a relationship with anyone. Furthermore, she hasn't been stuck in any scandals or controversies.
Body Measurements
Mari Osaka is a pretty young lady with a tan chocolaty complexion with back curls. Furthermore, she has black eyes and stands at the height of 5 feet 11 inches (1.8 meters). However, her weight isn't updated yet.
Social Media
Mari Osaka is quite updated with her social media platforms, and thus, you can get her uploads now and then. Her Instagram handle goes by her real name Mari Osaka (@mari.osaka), where she has 48.7k followers.
Mari Osaka | FAQs
What did Naomi Osaka say to Mari Osaka on the Australian Open camera?
After securing a 6-3, 6-4 victory over Serena Williams in the Australian Open, Naomi Osaka came to the camera with a grin.
All in all, she wrote, "Mari stop sending weird images in the group chat!" with a blue marker and signed it.
Why did Mari Osaka retire?
Recently on March 9, 2021, Mari Osaka retired from the tennis industry to focus on other projects. In the meantime, she also stated that she doesn't enjoy sports.
Alongside this particular statement, her major reason was the knee injury that did force her way to retirement.