Sometimes, it's good to take risks, if it's something you love. Rodney Mullen did the same.
"Do what you love and try not to look at what other people occupy themselves with," stated the skater Rodney Mullen.
Rodney Mullen has loved skateboarding since he was young, but his father opposed this idea as he thought Rodney would fall and get hurt. However, Rodney didn't fear falling, and that's how he reached the height of success.
Known as Godfather of Skateboarding, this is the story of Rodney Mullen, who started off skateboarding in his garage to become one of the legends in skateboarding.
But, before that, let's take a look at Rodney Mullen's Quick facts.
Quick Facts
| | |
| --- | --- |
| Full Name | John Rodney Mullen |
| Nickname | Godfather of Skateboarding |
| Birth Date | August 17, 1966 |
| Age | 57 years old |
| Birth Place | Gainesville, Florida, United States |
| Religion | Christian |
| Nationality | American |
| Ethnicity | White |
| Education | Chemical engineering Drop out |
| University | University of Florida |
| Star Sign | Leo |
| Father | John Mullen |
| Mother | Ann P. Mullen |
| Siblings | N/A |
| Height | 5'11" (181 cm) |
| Weight | 73 kg (161 lb) |
| Eye Color | Grey |
| Hair Color | Light brown |
| Marital Status | Divorced |
| Ex-Wife | Traci Mullen |
| Girlfriend | Lori Guidroz |
| Profession | Skateboarder, Entrepreneur, Inventor & Public Speaker |
| Debut Year | 1978 |
| Skateboarding style | Freestyle, Street Skateboarding |
| Coach | Jim McCall |
| Net Worth | $40 million |
| Social Media | Facebook, Instagram |
| Merch | Shoes, Skateboard |
| Last Update | November, 2023 |
Who is Rodney Mullen?
Rodney Mullen aka The Godfather, is an American professional skateboarder, inventor, and businessman. Known as Godfather of Skateboarding, Mullen is credited for his tips and tricks in street skateboarding.
Mullen is also an investor and owner of a skateboarding company named Almost skateboards. He is also an influencer and public speaker.
Rodney Mullen | Early Life & Education
Rodney Mullen was born on August 17, 1966, in Gainesville, Florida, US. He was born to his father, John Mullen, and mother, Anna P.Mullen.
Mullen's mother was a pianist, and his father was a dentist who always wanted him to be a dentist like him. When Mullen chose sports, he was devasted as he thought sports was not a promising career. It was an unstable career and had a considerable risk of getting hurt.
His father tried Rodney not to pursue sports as his career but eventually gave up knowing how much Rodney loved sports. He became a strong supporter of Rodney since then.
For education, Mullen enrolled in Chemical engineering at the University of Florida. But, he dropped in his senior year to focus more on skateboarding.
Skateboarding Career
How did Rodney Mullen get into skateboarding?
It was new years day of 1977; Rodney was out with his friends, playing and enjoying the new year. That's when he was introduced to skateboarding by his neighborhood friend.
He tried skateboarding for the first time and instantly fell in love with it. After that, he started skateboarding more often.
He wanted a skateboard of his own, but his father was against the idea of skateboarding. He felt it was risky and that Mullen would get hurt.
Mullen promised his father that he wouldn't skateboard, but skateboarding had already captured his heart, and it was tough for him to let go.
So, he started practicing skateboarding in the garage of the home, wearing good pads to prevent him from getting hurt. His father wanted to make sure Mullen wouldn't be injured, and it was a condition that allowed Mullen to skateboard.
By this time, Mullen was obsessed with skateboarding and started practicing the whole day. He wanted to master it and become a professional skateboarder.
Becoming Professional Skateboarder
Mullen participated in a skateboarding competition in US Open Championship in 1978. He competed under Boy's freestyle category though he had practiced skateboarding for just a year. Surprisingly, he finished fifth in the competition.
He amazed everyone with his passion for skateboarding and skills. This caught the eye of skateboard manufacturer Bruce Walker who decided to sponsor him.
He was coached by Jim Mc Cell, the professional skateboarder, once coached by Bruce Walker. Mc Cell helped to carve that skateboarding skills out of Mullen.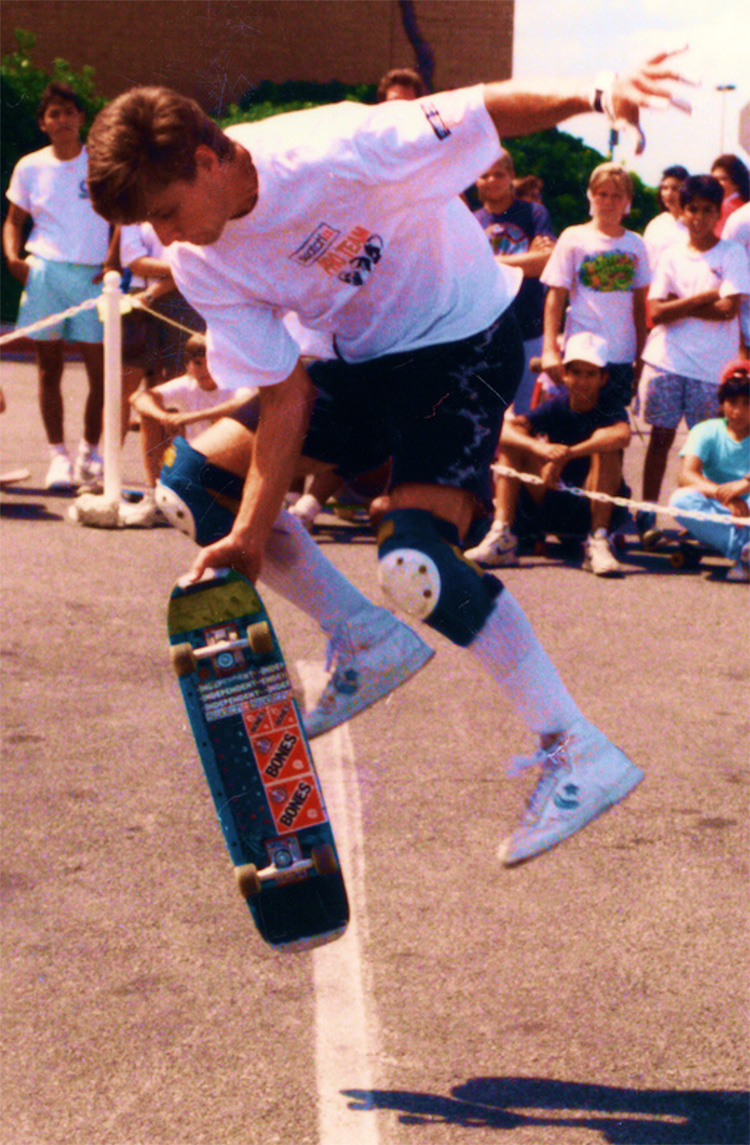 In the 1970s, Mullen won thirty-four amateur competitions before winning Oceanside Nationals in June 1979.
At 14, Mullen participated in the Oasis Pro Competition and won the competition against world champion Steve Rocco.
Shortly, Mullen was renowned as the professional skateboarder and member of the professional skateboarding team Bones Brigade created by Powell Parata.
Inventing 'the flat ground ollie.'
Alan Gelfand originally invented the ollie as performed it on the wall. Mullen adopted the same technique to create his version of the flat ground ollie.
He realized he had been doing the same thing for years. All he needed was just a punch and a little hop.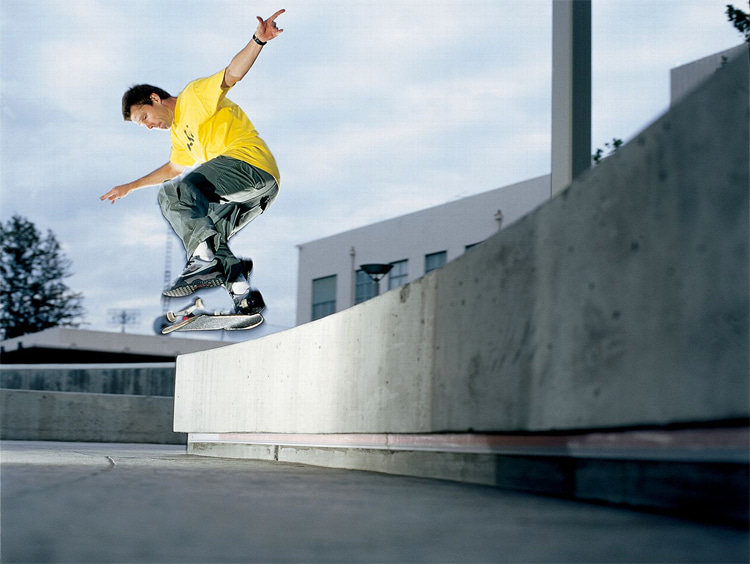 He said that the real key of this technique is to drag the foot and level it out, bringing the board up.
This technique brought evolution to street skateboarding forever. After this, Mullen created several tricks and variations of skateboarding.
Saquon Barkley Bio: Career, Girlfriend & Net Worth >>
Shift to street skateboarding
Mullen joined Plan B skateboards in 1991. Mullen, who initially started as a freestyle skateboarder, was now more of a street skateboarder.
He invented several tricks to street skateboarding, including the following:
Godzilla rail flip
540 shove-it
50/50 Saran wrap
50/50 Casper
Helipop
Gazelle flip
No-handed 50/50
Ollie kickflip
Heelflip
Ollie Nosebone
Ollie finger flip
Half flip darkslide
Handstand flips
But, the company was in complete chaos after the sudden death of its founder in a car crash. This put an end to the street skateboarding career of Mullen.
Becoming an entrepreneur and investor
In 1989, Mullen left his skateboarding team Bones Brigade to become a principal investor at World Industries.
He co-owned the company with his long-time friend and his former rival Rocco. They established a skateboarding company. But, it struggled to face rivals to well-established company Powell Peralta.
Later, they thought to sell World industries to Globe International for US$46 million. However, Mullen started to work for Globe under Dwindle Distribution. Today, it is the world's largest skateboard manufacturer.
Rodney Mullen started a new company, namely A team with Marc Johnson, Gershon Mosley, Dave Mayhew, and Chet Thomas in 1997.
They wanted to form a super team. He later left A team to co-found a new company Almost Skateboards with Song. The duo was popular way back then.
Rodney VS. Daewon
Mullen planned on making a competition video with his friend Daewon's song. The video Rodney Vs. Daewon was released in 1997, which was loved by the audience, and the duo instantly rose to fame.
The concept featured two skaters competing with their skateboarding skills. The video was so hit that it was later developed into a series.
Erick Gutierrez Bio: Early Life, Career, Injury, Stats & Clubs >>
Rodney Mullen's Autobiography
Mullen wrote his autobiography named The Mutt: How to Skateboard and Not Kill Yourself in 2003.
The book was trendy and had 4.5 ratings. He wrote about his journey of skateboarding in the book and his perceptions towards skateboarding.
Rodney Mullen's Public Speaking
Rodney Mullen is also a motivational and public speaker who has been invited to several shows to talk about his skateboarding career, innovation, and views regarding skateboarding.
MIT invited mullen to visit the Lemelson center to discuss the invention and innovation of skateboarding.
Also, he was invited to a TED show where his talk was entitled How context shapes content. He talked about his perspectives, experience, and views regarding skateboarding.
In 2014, Mullen was also invited by O'Reilly Media to a conference titled The art of good practice, where he spoke about his skateboarding career and his failure, pain, injury, recovery, which are embedded in Skateboarding journey.
Rodney Mullen's Awards and Achievement
Transworld Skateboarding Reader's Choice Award for Skater of the year 2002.
Third position in 30 Most Influential Skaters of All Time 2011.
Skateboarding Hall of Fame in 2013.

Rodney Mullen | Relationship
Rodney Mullen was married to Traci Mullen, a former saleswoman of World Industries, Mullen co-founded. They fell in love at work and tied the knots in April 2000.
But their relationship started to turn sour, and they decided to part their ways after thirteen years of marriage in 2013.
After a year of divorce, Rodney started to date Lori Guidroz. She is a hair designer in the film industry.
The couple has been spotted several times together in various events and shows. Both seem to be supportive of each other and express their love for one another.
Rodney Mullen's Net Worth
The net worth of Rodney Mullen is estimated to be $40 million.
He collected his net worth from being a professional skateboarder, businessman, public speaker, author, and inventor of skateboarding tricks.
For a more detailed dissection of his net worth, check out this article >>
Rodney Mullen's Injury
Rodney Mullen had to cope with the tissue scar built up in his hip due to constant skateboarding. As a result, he was unable to skate.
His failed marriage and the injury had a bad impact on his mental health. He was afraid because he thought he wouldn't be able to skate anymore. Skateboarding meant so much to him that he felt he would be nothing without skateboarding.
He was overthinking, and it was the most challenging phase of his life. But then, his friend introduced him to coding and tech-related stuff, which helped him divert his mind and escape negative thoughts.
After healing, he came stronger than ever.
Rodney Mullen | Social media
Facebook: 848k Followers
Instagram: 513k Followers
FAQs
What disability does Rodney Mullen have?
Mullen was born with a pigeon toe; it is a condition where both feet point inward. It was a significant drawback for Mullen because in sports, especially in skateboarding, feet are everything. But, he never let the world know about his disability as he won the world with his ability.
Are Rodney Mullen and Tony Hawk friends?
Yes, Rodney Mullen and Tony Hawk have been good friends since when they were kids. The two legends of skateboarding met each other at a skateboarding tournament from where they got close and became lifetime friends.