Mark Pollock is an explorer, kayaker, motivational speaker, and author. Pollock, in his lifetime, has faced numerous difficult circumstances and has still managed to fight them all.
Mark was honored as a Young Global Leader by the World Economic Forum and was assigned to the Global Futures Council on Human Enhancement.
Further, he is also a board member of the Christopher and Dana Reeve Foundation (USA). Likewise, Mark is also a Wings for Life Ambassador (UK).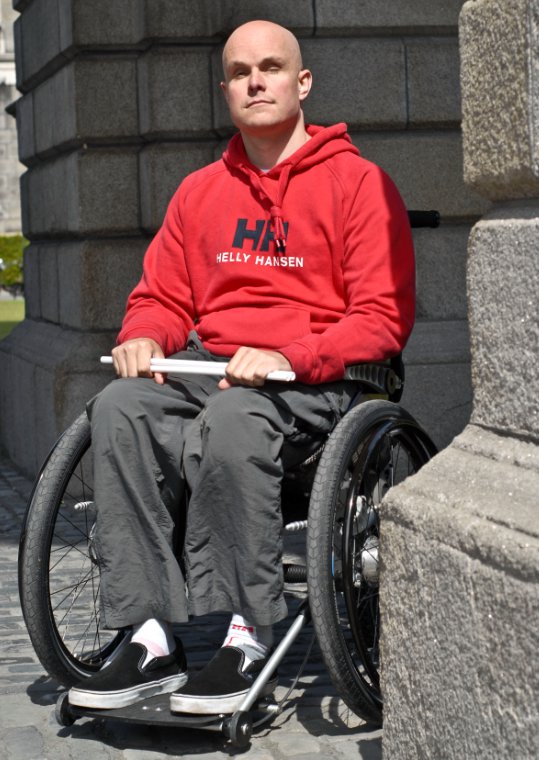 He is also a keynote speaker and an optimist. This article has gathered all the personal and professional information about Mark Pollock, including his battle with blindness and paralysis.
First, let us have a glance at the quick facts about him.
| | |
| --- | --- |
| Full Name | Mark Pollock |
| Nickname | Mark |
| Date of birth | February 29, 1976 |
| Age | 47 years old |
| Nationality | Northern Ireland |
| Ethnicity | White |
| Religion | Christianity |
| Horoscope | Aquarius |
| Chinese Zodiac sign | Dragon |
| Place of birth | Holywood, County Down, Northern Ireland |
| Residence | Dublin, Ireland |
| Hobbies | Rowing, Adventurous activities, Writing |
| Food Habit | Non-Vegetarian |
| Sexual Orientation | Straight |
| Father's name | Jonny Pollock |
| Mother's name | Barbara Pollock |
| Siblings | None |
| Profession | Motivational Speaker (former rower, explorer) |
| Height | 5 ft 7 in |
| Weight | 176.3 lb (80 kg) |
| Shoe size | 13 (US) |
| Hair color | Not Available |
| Eye color | Not Available |
| Partner | Simone George (Married) |
| Children | None |
| Salary | Under Review |
| Net worth | $3 Million |
| Social Media | Twitter, Facebook, Instagram, Youtube |
| Website | markpollock.com |
| Merch | Making it happen (Paperback) |
| Last Update | June 2023 |
Mark Pollock: Early Life and Education
Mark was born on February 29, 1976. His hometown is Holywood, Northern Ireland.
His father's name is Jonny Pollock. Likewise, his mother's name is Barbara Pollock. Mark does not have any siblings.
Pollock lost sight of his right eye at the early age of five. As a result, he had a difficult childhood.
Mark attended the Royal Belfast Academical Institution. He was a very keen rower. Later, he moved to Trinity College, Dublin, to study Business and Economics.
Further, Mark received honorary doctorates from the Royal College of Surgeons in Ireland and Queens University Belfast.
Additionally, he has a certificate from Harvard University in Global Leadership and Public Policy for the Twenty-First Century.
When Mark was at Trinity, he became a champion school rower. Further, he also became the captain of the University's rowing club.
However, at the age of 22, Mark's life took a new turn. Growing up, Mark had two detachments from the retina.
When he was 22, he had his third detachment. But, unfortunately, after the third, he lost sight of his left eye too and turned completely blind.
Turning blind was a very tragic thing to happen for a 22-year-old. At that time, he was a college student and had just got his driving license.
However, Mark didn't lose hope. On the contrary, he kept pushing and struggling to achieve his goals and succeed in life.
Trek to the South Pole
Irishman Mark Pollock is the first blind person ever to make it to the South Pole. In 2009, Mark successfully completed his south pole trek and returned to Ireland.
Mark and his teammates, Norwegian Inge Solheim and Dubliner Simon O'Donnell, took part in the first Amundsen Omega 3 South Pole Race. Mark's team came fifth overall of the six teams that participated.
Taking part in the race itself was quite a courageous act, given that Mark is one of the 10% of people on the planet with no vision at all.
Mark Pollock is the world's first blind person to record the achievement. Moreover, he accomplished it in one of the world's most challenging climates, with temperatures as low as -50 degrees Celsius.
Following his traumatic experience of completely losing his eyesight, Mark became more determined to set a mark in the world.
In 2002, he earned bronze and silver medals for rowing for Northern Ireland at Commonwealth Games. Further, he ran six marathons in one week in China's Gobi Desert in 2003.
What a kind gesture it was, the marathon helped raise funds (tens of thousands of euros) for the charity Sightsavers International.
Additionally, Pollock competed in the North Pole marathon against British explorer Sir Ranulph Fiennes.
His list of adventures does not end here. The Irishman has also completed the Ironman Switzerland challenge and kayaked across the Irish Sea.
Further, he is also the first blind person to complete the world's lowest and highest marathons, the Dead Sea Ultra in Jordan and the Tenzing-Hillary Everest Marathon from Everest base camp in Nepal.
Learn more about Top 10 Craziest Extreme Sports in the world>>
Mark Pollock: Age and Body Measurements
The motivational speaker, Mark Pollock, was born in the year 1976. So, he is currently 47 years old.
He was born in the Dragon year, according to the Chinese calendar. It is the fifth year of the 12-year cycle of animals of the Chinese zodiac.
Talking about Mark's physique, he has 32 inches of chest, 32 inches of Waist, and 15 inches of Biceps. Moreover, he weighs about 80kgs and stands 5 feet 7 inches in height.
He wears shoes of size 13(US). Likewise, he does not have any tattoos on his body. Additionally, Mark has a very charming personality and greets everyone with a wide smile on his face.
Further, Mark's zodiac is Aquarius. Sapiens with the air sign Aquarius is visionary, intelligent, and optimistic. They are also courageous and independent. Mark Pollock is no different.
Mark Pollock: Paralysis
The Irish explorer was already having a hard time dealing with his blindness. However, he gathered all the motivation and pushed himself through the hard times.
In 2010, he had his marriage fixed and was ready to move towards another phase of life. However, his life took another unexpected turn in July 2010.
The injury happened a few weeks before his wedding. Mark fell through a second-story window onto a patio. The fall was severe, and critically it seriously injured his spinal cord.
As a result, Mark was paralyzed from the waist down. Pollock thus, lost the ability to walk, and life forced him to use a wheelchair.
According to Mark, he is now living his third life. He says before he lost his sight, was the first life he had.
Likewise, the second life was the phase when he could not see anything but at least was free to walk and move around.
Now, after the paralysis, he got to his third life, where he could neither walk nor see.
However, Mark is not someone who gives up easily. He is now set on his path toward finding the cure for spinal cord injuries.
He has done various research. Further, Mark now uses a robotic leg, which helps him move around voluntarily.
Mark Pollock: Movie Appearances
The inspirational story of Mark Pollock was documented in 2018 in a documentary called "Unbreakable: The Mark Pollock Story."
The documentary was directed by Ross Whitaker and is 1 hour and 6 minutes long. The documentary is available to watch on Amazon Prime.
It took six years to film this interesting movie. The movie depicts Mark's rehabilitation and his pursuit of new remedies in robotics and science.
In addition, in 2009, Mark also appeared on the RTÉ One chat show called Tubridy Tonight.
Further, Mark hosted the documentary series Yes I Can. The documentary was aired in November 2011 on Setanta Sports.
Mark Pollock: Author
Yes, Mark Pollock is also an author. In 2010, Mark Pollock and Mr.Ross Whitaker published a book called 'Making It Happen.'
Mark had a life full of struggles and challenges. Making it happen is a book that depicts the story of how he overcame the odds to rebuild his life.
The book contains practical, valuable lessons that are not taught in universities. The book is all about stopping to make excuses, identifying one's goal in life, and working out how to 'make it happen.'
Taking responsibility for one's own life is the first step toward achieving their dreams. The book contains a 'step-by-step' plan for success.
Further, the book also talks the reader through Mark's story and the stories of other successful people and stresses the fact that small steps can lead to big achievements.
Is Mark Pollock Married?
Mark was very lucky to find Simone, his partner for life! Simone George is the true definition of what a life partner should be like.
Mark and Simone were all set to get married before the paralysis of Mark brought a huge storm in their relationship. Four weeks before the marriage, Mark was lying in the intensive care unit because of the tragic incident.
Mark felt terribly sad for Simone because he knew it was not something she had signed up for. He also tried to break up with her.
However, Simone did not leave Mark in his hard times. Rather, she decided to be there for him through all this thick and thins.
Simone is a Dublin-based human rights lawyer and activist. She is driven by her desire and motivation to be fair and just. As a human rights attorney, Simone works for women and children subjected to oppression and cruelty.
A decade after the incident, Simone and Mark are still together. They have also appeared together on various shows.
A relationship rarely survives paralysis. However, Mark and Simone have proved that nothing can tear them apart when two souls love each other.
Quotations
The Irish motivational speaker is an inspirational figure for many in the world. Some of the major quotations of Mark Pollock are:
"To get the important things done, you have to ruthlessly stop doing unimportant things."
"Acceptance is the springboard to the next step."
"Human beings are designed to explore and push the boundaries."
"When you're at zero, get to one."
"More time won't lead to increased output, but the better allocation of time will."
Julius Yego Bio: Early Life, Javelin Throw, Wife & Net Worth>>
Mark Pollock: Social Media
Pollock has a significant social media presence. He uses social media to voice his thoughts and reach out to his followers.
Mark is present on Twitter and has more than 15k followers there.
Likewise, the explorer can also be found on Facebook and has more than 4k friends. Apart from his Facebook account, he also has an official Facebook page with more than 11k followers.
Additionally, Mark also has an Instagram account. He has more than 7k followers on Instagram. His Instagram bio mentions, "On a way to cure paralysis in our lifetime."
Once in a while, Mark interacts with his Instagram followers with #AskMeAnything. He answers all the questions about health and exercise.
Further, he also provides answers to various personal and professional questions.
Moreover, Mark Pollock also has a Youtube channel. He has almost 400 subscribers on his YouTube.
Feel free to know more about Mark and his life by following him on social media.
Mark Pollock: Net Worth
It is no surprise that Mark, an extraordinary personality, has a net worth of millions. He makes most of his money through public and motivational speaking.
The motivational speaker and explorer, Mark, has a net worth of $3 million.
Mark has a high demand at international conferences. As a result, he is paid excessively well at such conferences.
Further, Mark also made some money as a sophomore by winning several rowing contests.
In addition, he also ran marathons in both the North and South Poles, which helped him raise finances. Though he donated most of his earnings, he kept some for himself.
However, Mark also has a lot of expenses as he spends a lot of money on his treatment.
Mark Pollock Trust
The Mark Pollock Trust is a discretionary trust set up to help Pollock. The Trust assists Mark in raising funds to cover the ongoing physical, financial, and psychological effects of his spinal cord injury.
The Trust is separate from Mark. Further, in the case of Mark's complete recovery or death, the Trust will hand over its assets to a registered charity. The charity must be the one working in the field of spinal injury or blindness.
The money earned through the Mark Pollock Trust is currently covering the costs of his devastating spinal cord damage.
Also, find out about "Kaye Cowher's Battle with Skin Cancer."
Frequently Asked Question
Did Mark Pollock and his wife appear in a TED talk together?
Yes, the exemplary couple appeared in a joined TED talk in 2018 in Vancouver, where they spoke about sorting out the tension between acceptance and hope. They also disclosed the hustle they went through to find a cure for paralysis.