Mark Schlereth is a former professional football player for the Washington Redskins and Denver Broncos of the National Football League (NFL).
He spent twelve seasons in the NFL and was a starting guard on three Super Bowl championship teams.
So what was the reason for his retirement? How many injuries did he sustain during his playing career?
Before we dive right into details, here are some quick facts about Mark Schlereth.
Quick Facts about Mark Schlereth
Full Name
Mark Frederick Schlereth
Known As
Mark Schlereth
Birth Date
25 January 1966
Birth Place
Anchorage, Alaska, U.S.
Zodiac Sign
Aquarius
Nick Name
Mark, Stink
Religion
Christianity
Nationality
American
Ethnicity
White
Father's Name
Herb Schlereth
Mother's Name
Janette Schlereth
Siblings
Unknown
Education
Robert Service High School, University of Idaho
Age
57 Years Old
Height
6 ft. 3 in. (or 191cm)
Weight
246 pounds (or 112 kg)
Body Build
Muscular
Hair Color
Black
Eye Color
Blue
Married
Yes
Spouse
Lisa Schlereth
Children
3; Alexandria Schlereth, Avery Schlereth, Daniel Schlereth
Profession
Former Football Player; Television and Radio Sportscaster
Position in team
Guard
Jersey Number
#69
Affiliations
Washington Redskins, Denver Broncos
Business Ventures
Green Chile
T-shirt line
Net Worth
$6 million
Social Media
Twitter
Instagram
Website: https://stinkingood.com/
Merch
Trading card
Last Update
June, 2023
Mark Schlereth | Early Childhood and Education
Mark was born on 25 January 1966 in Anchorage, Alaska, U.S. He was taken to parents named Herb Schlereth (Father) and Janette Schlereth (mother).
It is not known whether he has any siblings or not. His nationality is American, and his ethnicity is White. Mark follows Christianity.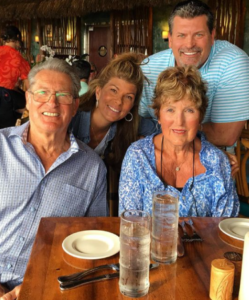 When he was young, he struggled with dyslexia, and as a result, he did not learn how to read until he was seven years old. In 1984, he graduated from Robert Service High School.
Since he was from Alaska, he did not gain much coverage as a college football prospect.
The only NCAA Division I Football Bowl Subdivision (FBS) school that offered him a scholarship at the time was the University of Idaho and the University of Hawaii; he went with the former University.
You might be interested in reading: Shannon Sharpe's Bio: Early Life, College, NFL & Controversies.
Mark Schlereth | Career
College Football
From head coach Dennis Erickson, Mark took the scholarship offer from the University of Idaho.
After Erickson's departure in 1985, Mark started playing for the new head coach Keith Gilbertson at the left guard on the Vandals' offensive line, blocking for Scott Linehan and John Friesz quarterbacks.
During his senior year in 1988, the Vandals progressed to the national semifinals, and he was second-team all-Big Sky.
In 2005, he was inducted into the Idaho Athletic Hall of Fame. In 2008, Mark was inducted into the University of Idaho Vandal Athletics Hall of Fame.
Professional Career
During the 1989 NFL draft, Mark was selected in the tenth round (#263 overall) by the Washington Redskins.
He has played twelve NFL seasons, of which six with the Denver Broncos (1995-2000).
Mark became a member of one Super Bowl championship team with the Washington Redskins and two Super Bowl championship teams with the Broncos.
He was then selected for the Pro Bowl for his 1991 and 1998 seasons performances.
About stink heads, an Eskimo delicacy made from rotting fish heads, his former Redskin teammates refer to him by the nickname "Stink."
Mark aided in the Broncos win a 31-24 victory in Super Bowl XXXII against the Green Bay Packers on 25 January 1998, which also happened to be his 32nd birthday.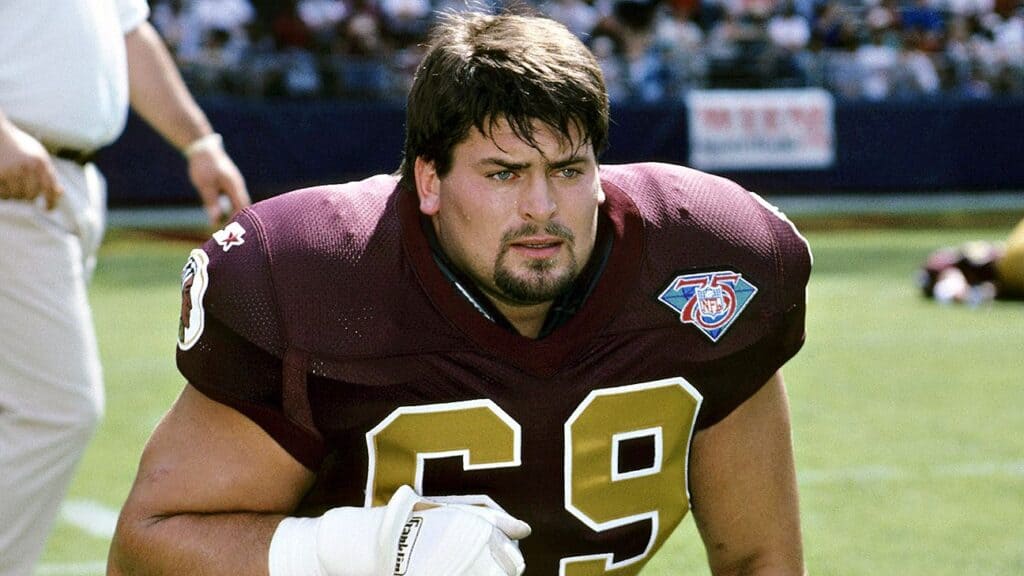 Throughout his playing career, Mark sustained several injuries and endured twenty-nine surgeries. 15 surgeries were performed on his left knee and 5 on his right knee.
The sports medicine television show Athlete 360, hosted by Mark's former Redskins teammate Dr. Mark Adickes, documented all of Mark's injuries.
He was inducted into the Alaska High School Hall of Fame in 2006 and the Alaska Sports Hall of Fame in 2008.
You might also be interested in reading: Sterling Sharpe's Bio: Career, Family, Injury & Net Worth.
Post Football
Schlereth announced his retirement on April 18, 2001. He announced
"I came out today to announce that I have just signed a six-year, $42 million contract to extend my career with the Denver Broncos.
After going through my 15th operation on my left knee last November, it became painfully obvious that I couldn't sign a six-year contract for $42 worth of Tupperware.
I started to realize in the last three months of free agency that there is not a lot of market for a 6 ft 3 in [1.91 m], 245-pound [111 kg] guard that is 35 years old and beat to a pulp."
On Denver AM radio 760 The Zone, he anchored afternoon sports talk radio show with fellow former Broncos lineman David "Doc" Diaz-Infante.
During this time, he was a part-time analyst with ESPN. However, he left 760 to work full-time with ESPN in 2004. He was an analyst on NFL Live (2004–2017) and SportsCenter.
And Then
On 11 July 2017, Mark moved from ESPN to Fox Sports. Fox Sports was turbulent as they had just fired Jamie Horowitz a week before due to a reported sexual harassment investigation.
Yet he made a move and pushed his Fox Sports 1 debut by appearing on "Undisputed" with Skip Bayless and Shannon Sharpe, his former Broncos teammate.
Mark has been a color commentator for NFL games broadcast on Fox NFL, with Adam Amin on the #3 team since 2017.
Also, he co-hosts a radio show in Denver on Sports Radio 104.3 The Fan. He also works as an analyst on FS1 television programming.
He has been a frequent guest and substitute for radio shows such as Mike and Mike in the morning and Kim Rome is Burning.
In 2019, Mark was offered a "generous offer" to return to ESPN. However, he turned it down and signed a three-year extension to remain with Fox Sports 1.
Brent Venables: Football, Coaching, Family & Hardships>>
Acting Career
Mark has appeared on Athlete 360, a sports medicine television show. He considered acting, mainly in soap operas under the name of Roc Hoover.
On 4 May 2007, he was cast as Detective Roc Hoover on the soap opera Guiding Light. He also appeared in Red Dawn and Home Game.
On the Discovery Channel show American Guns, Schlereth appeared in 2012. He consulted with Gunsmoke gun shop employees to find an acceptable weapon he could use with his son on a hunting trip.
Since 2015, he has been featured in several episodes of HBO's Ballers as himself.
Mark Schlereth
| Stink (Nickname)
Mark got his nickname Stink, which is popular among his fans, colleagues, and well-wishers. There are two stories about how Mark got this name.
The first story hails from Mark's childhood in Anchorage, Alaska. The indigenous Yupik population of southern Alaska consumes a traditional food known as stink heads.
The stink heads comprise fish heads, usually king salmon. They are buried underground and left to ferment until they get a stinky delicacy.
The second story might sound disgusting to some of us. It starts with a 1990 preseason game against the Cleveland Browns.
Mark sat on the bench while he miserably wanted to pee. He could not control it and let nature's call flow on the court.
Moreover, it is said that he developed the habit of urinating in his jersey every time he felt the need. If the story has any truthfulness, his teammates are disgusted by the pattern, calling him Stink.
The reliability of these stories is not known. They might be entirely accurate, partially true, or wholly hypothetical.
Mark Schlereth
|

Exit Interview

Mark Schlereth has been featured in 'Pardon My Take Exit Interview.' It is a podcast that is uploaded on Barstool Sports' YouTube channel.

The interview is quite popular owing to Mark's wit and instant response.
Mark Schlereth | Net Worth
Mark was a famous American professional football player and is currently a sportscaster.
According to online sources, his current net worth is approximately $6 million.
His salary is said to be $75,000 per year.
Mark Schlereth | Personal Life
Mark has been married to Lisa Schlereth since 1991. He has three children; two daughters, Alexandria Schlereth and Avery Schlereth, and a son, Daniel Schlereth.
Children
Alexandria Schlereth is an Actress and has been featured in the series Desire on MyNetworkTV, Dakota Blue, and the movie Oh Baby! Avery Schlereth was on a reality dating show Catching Kelce, where the contestants would date the Kansas City Chiefs Travis Kelce.
Son – Daniel Schlereth
Daniel Schlereth was a relief pitcher at the University of Arizona. In 2008, he was drafted in the first round by the Arizona Diamondbacks with the 26th overall selection in the 2008 Major League Baseball's first-year player draft.
He currently plays for the Sugar Land Skeeters.
He has previously been a member of the Seattle Mariners, Miami Marlins, Toronto Blue Jays, Pittsburgh Pirates, Baltimore Orioles, Detroit Tigers, and Chicago Cubs organizations.
He is a graduate of Highlands Ranch High School. He was named to the top 50 All-Star game players his senior year.
Daniel was also named Colorado Gatorade Offensive Player of the Year his senior season.
He initially attended the University of Nevada, Las Vegas but later transferred to the University of Arizona.
While at Arizona, he pitched for three seasons alongside his former Detroit Tigers teammate Ryan Perry.
He is a two-pitch pitcher; he features a curveball in the high 70s and a fastball in the low 90s.
Daniel married his longtime girlfriend, Breanne Workman (a collegiate gymnast at Arizona), on 14 November 2010. Together they have two daughters: Quinn Brielle Schlereth and Drew Sera Schlereth.
Learn more about Howie Long's Bio: Age, Career, Net Worth, College, Wife, IG Wiki >>
Green Chile
Mark is the president and co-owner, with creator David Bloom, of "Mark Schlereth's Stinkin' Good Green Chile." According to their website bio, Mark and David were just casual acquaintances.
"David ran a landscaping business and regularly handled Mark's yard work. One day, David brought Mark his family's green chile recipe. Mark immediately fell in love with it and convinced David that the recipe belonged on the shelves of supermarkets."
Once they got USDA approval and perfected the recipe, the first batch hit market stores' shelves.
A portion of their profits goes to charities and nonprofit organizations to help churches, schools, teams, and nonprofits.
T-shirts
Marks owns a t-shirt line along with his son, Daniel Schlereth. You can purchase it at Chubhousegear.
Mike Tomlin Bio: Football, NFL, Coaching & Controversy>>
Mark Schlereth
| Weightloss
Athletes gaining weight after retirement sounds normal, but Mark Schlereth lost tremendous weight.
He weighed almost 300 pounds while he played on the ground. He has now slimmed down.
Mark looks fit and healthy now. His weight loss helped his health improve, and then his personality.
Social Media Presence
Twitter: 599.1k followers
Instagram: 35.2k followers
Mark Schlereth | FAQs
Where does Mark Schlereth live?
Mark Schlereth has lived in Colorado since 1995.
What is Mark Schlereth worth? How many Super Bowls has he won?
Mark Schlereth has a net worth of $6 million approximately.
As for the Super Bowl games, Mark has won three of them (XXVI with Washington, XXXII, and XXXIII with the Broncos).
Where did Mark Schlereth go to college?
Mark Schlereth went to the University of Idaho.
What is Mark Schlereth's NFL career statistic like? What is his bench press?
At the moment, Mark Schlereth has played a total of 156 games on the NFL field, starting at 140 of them. Right then, he has had a total of three fumble recoveries.
Well, he maintains a bench press of 26 times.