Mark Andrew Spitz, a former American professional swimmer is the first athlete to win seven medals in the same game at the 1972 Munich Olympics. Honored with nine Olympic and five Pan American Games gold medals under his name. In addition, he is often considered one of the best swimmers in history.
He started swimming at a very young age while growing up in California and Hawaii. By the age of six, he was already participating in swimming competitions.
And, when he was ten, he earned 17 different swimming records in the USA for his age group competitions.
Despite the applaudable swimming career, Mark Spitz retired from the game at the very young age of 22.
But shortly after his retirement, he was inducted into the International Swimming Hall of Fame.
It is a fact that Mark forever changed the importance of swimming sport. He is a true legend who will be forever remembered for that unique mustache and competition dominance.
In the 2022 update, they did a documentary series 72 – A Gathering of Champions that looked back on the sporting highs and terrible lows of an unforgettable Games.
He even has a biography book and is also known as a motivational speaker spreading awareness for heart disease.
This article brings you Mark Spitz's early life, his road to fame, his personal life, his net worth, and other lesser-known facts.
But first of all, let's sneak peek into his quick facts.
Mark Spitz | Quick Facts
Full Name
Mark Andrew Spitz
Common Name
Mark Spitz
Date of Birth
February 10, 1950
Place of Birth
Modesto, California, United States
Nickname
"Mark the Shark"
Religion
Jewish
Nationality
American
Ethnicity
White
Father's Name
Arnold Spitz
Mother's Name
Lenore Sylvia Spitz
Siblings
One
Local Swim Club
Santa Clara High School
University
Indiana University
Zodiac Sign
Aquarius
Age
73 years old
Height
6 feet (1.82 m)
Weight
83 kg (182 lb)
Eye color
Brown
Hair Color
Black
Build
Athletic
Body Measurement
Unknown
Marital Status
Married
Wife
Suzy Weiner (married in 1973)
Children
Two Sons, Matthew and Justin
Profession
Professional Swimmer
Stroke
Butterfly, freestyle
Active Year
1965-1972
Coach
Sherm Chavoor, Doc Counsilman
National Team
United States
College Team
Indiana
Wins

Olympic Games: 9 Golds, 1 Silver, 1 Bronze
Pan American Games: 5 Golds
Maccabiah Games: 10 Golds

Awards and Achievements

US Olympic Hall of Fame
James E. Sullivan Award
Associated Press Athlete of the Year

Net Worth
$20 Million
Residence
Los Angeles, California
Hobbies
Sailing, Skiing, and collecting arts
Social Handle
Instagram, Twitter
Merch
Mark Spitz T-Shirt, Skipper Jacket, Portrait
Last Update
November, 2023
Mark Spitz | Early Life And Parents
Spitz was born in a Jewish family to Arnold Spitz and Lenore Sylvia on February 10, 1950. He was the eldest child and grew up with two siblings with love and care from his parents.
Mark's father was from Hungary, and his mother was from Russia. So, he grew up in a family with mixed backgrounds.
The family has a Jewish background. His family moved to Honolulu, Hawaii, when he was two years old. Later, they moved to California.
He was gifted with swimming potential from a very young age; thus, he was given complete support to pursue a career in swimming. When Mark turned six, he started competing at the local swimming clubs.
After three years, little boy Mark met coach Sherm Chavoor of Arden Hills Swim Club, California. With Chavoor, Mark trained hard and started performing very well in the competitions.
Only at the age of 10, the prodigy set a world record for his age group and 17 national records.
Successfully, he made his way towards more records and wins.
Not only was Mark talented in swimming, but he was also a good student academically. He attended Santa Clara High School and later enrolled at Indiana University.
He completed his graduation from Indiana University in 1972 with a dental degree.
Mark Spitz | Age, Height, And Weight
Mark was born on February 10, 1950. As of now, he is 73 years old, and his zodiac sign is Aquarius. He stands at 1.8 m and weighs around 160 lb.
Apart from his legs' power and exceptional techniques, his mustache is set apart.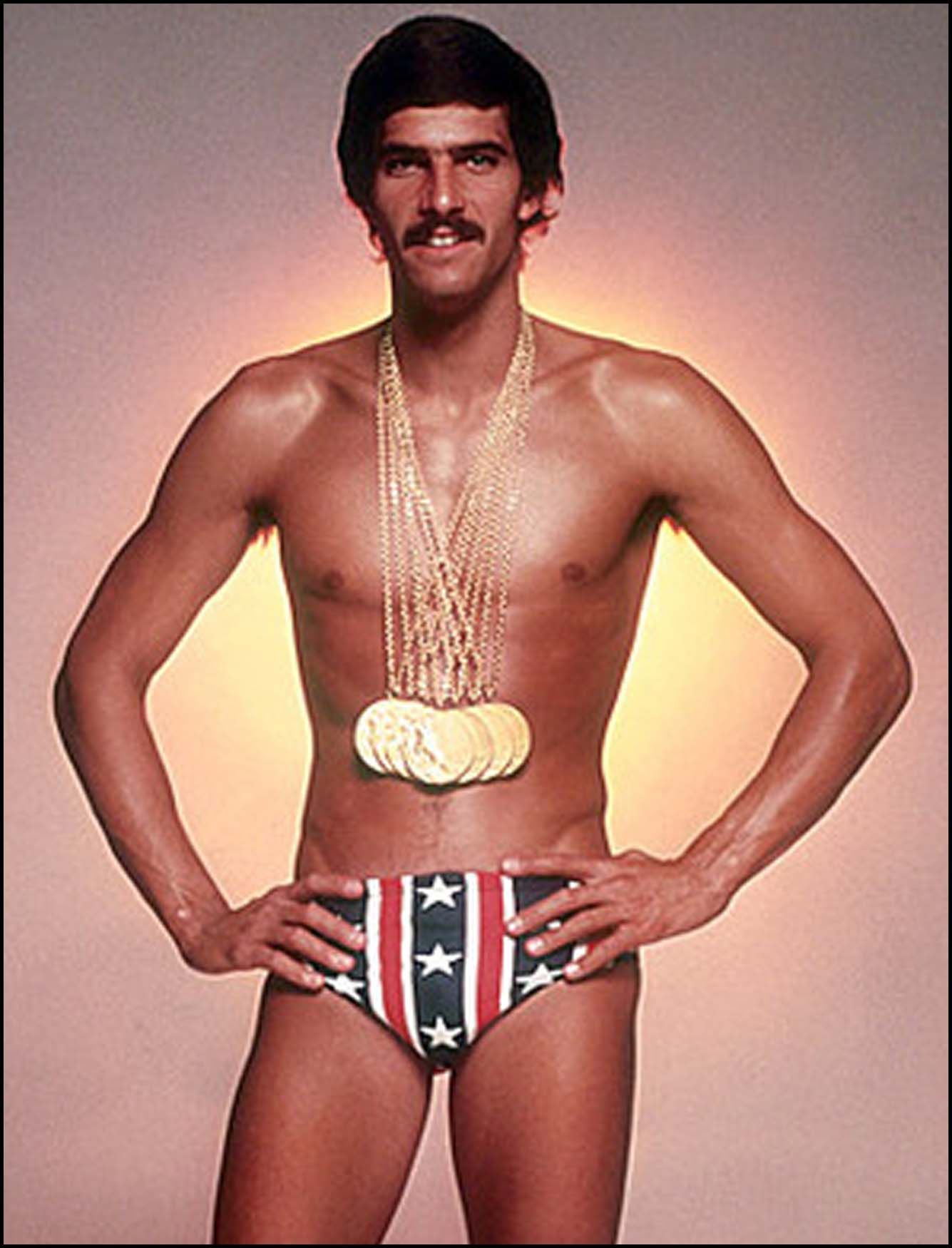 Mark Spitz's trademark identity is a unique outcropping of hair amidst the clean-shaven body and the miniature trunks he wore at Munich events.
Mark Spitz | Career
After the 1972 Olympics, Mark took the World of swimming by storm with mind-blowing techniques. Before that also he was ruling on the continental level.
In 1965, the American swimmer showed excellent performance in various events at Maccabiah Games and dominated the competitions.
In 1966 (at the age of 16), he earned his first Amateur Athletic Union(AAU) Title in the 100-meter butterfly.
Later, he was introduced to International swimming competitions and won the game with a timing-worth world record in the 400-meter freestyle.
In the 1967 Pan American Games held in Winnipeg, Canada, he won five medals and defeated several regional competitors.
Because of his record-breaking performance at the Pan Am Games, Mark got selected for the 1968 Mexico Olympics.
The swiftest swimmer was able to experience the taste of the first Olympic gold medal win in the 1968 Olympics. He won two gold in the 100-meter relay and 200-meter freestyle relay.
He experienced success in the Olympic Games by winning two gold medals in the 100-meter and 200-meter freestyle relays.
In addition to two gold, he won a silver in the individual 100m butterfly and a bronze in the 100m freestyle.
Although Mark had bagged four Olympic medals, he was not satisfied with the result. So he began to train harder than ever to make history in the upcoming Munich 1972 Summer Olympics.
Road To Fame
Spitz returned to compete in the Maccabiah Games of 1969 in Israel. Again, he trained with coach Doc Counsilman who helped him sharpen his strokes and other techniques.
Under the guidance of coach Doc, he earned eight individual NCAA titles and set numerous world records during the US Olympic Swim Trials.
In the 1972 Munich Summer Olympics, Mark had a goal to win at least six gold. But, initially, he had no intention to take part in 100 m freestyle.
However, because of the excellent start in the games, he also changed his mind and participated in the 100 m freestyle.
His decision to take part in 100m freestyle helped him make history. Throughout the two weeks of the Olympics, the talented swimmer set a new World Record in all seven events he competed in.
In each swimming event at the 1972 Olympics, he was standing at the top of the podium each time. Before Mark, no one had won seven gold medals at a single Olympic Games.
The result of the 1972 Olympics took his professional career to the next level and made him an international sports icon.
Mark Spitz | Awards And Achievements
Spitz is entitled the World Swimmer of the Year in 1967, 1971, and 1972 by Swimming World.
Mark was honored with the James E. Sullivan Award in 1971. In addition, he earned the Associated Press Athlete of the Year for his swimming performances in the following year.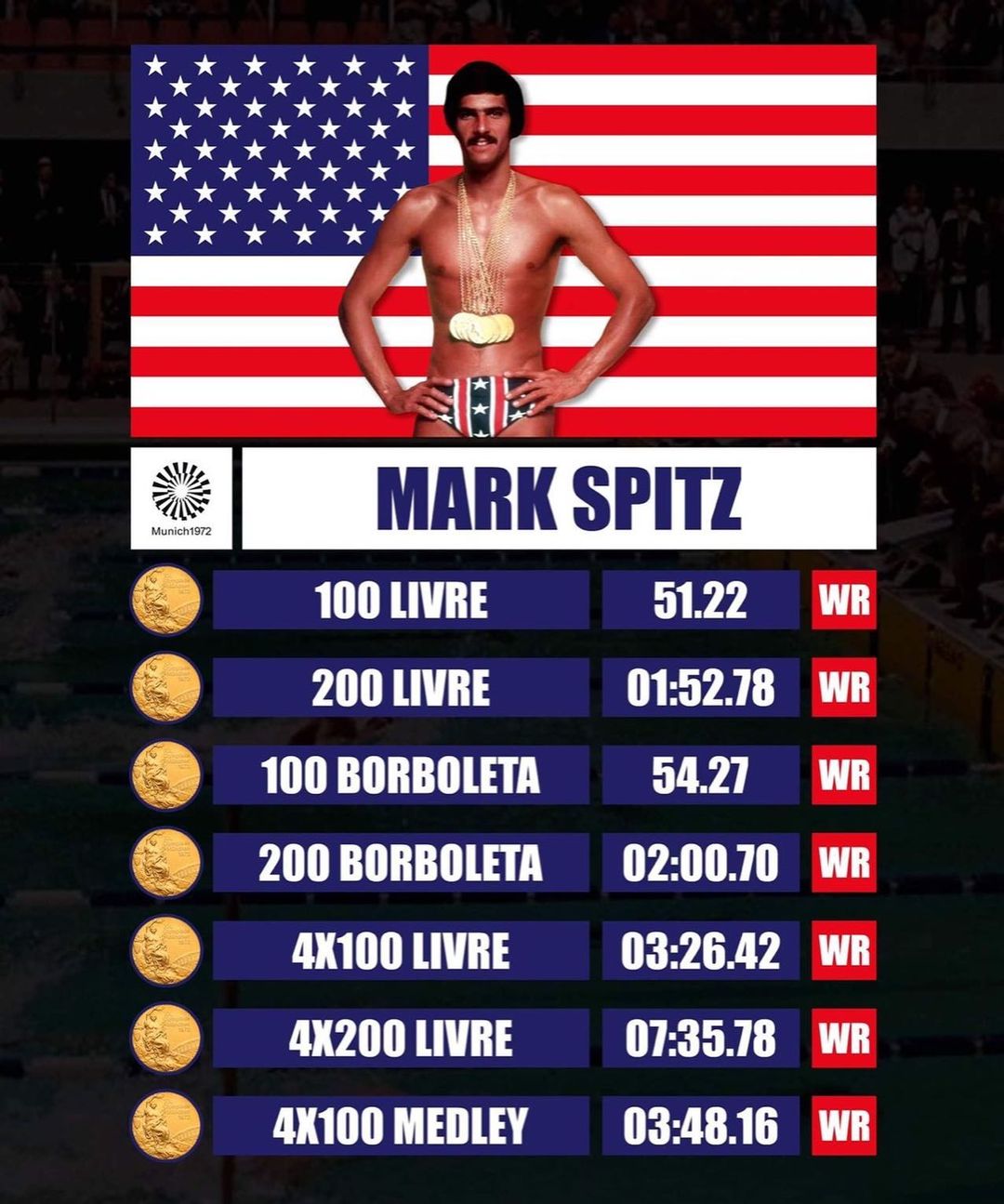 In addition to all those titles, the American swimmer owns 8 National Collegiate Athlete Association (NCAA) titles, and 31 Amateur Athletic Union (AAU) titles in a span between 1968 and 1972.
Mark Spitz | Retirement
After his Munich Olympics performance, Mark Spitz proved to the World that one could achieve their goal and succeed if only one had a true passion and craving.
But as soon as he returned home after the 1972 Mexico Olympics, the all-time quick swimmer announced his retirement from the sport. He might want to retire from the games when he still was at the peak of his career.
After retirement, Spitz got involved in different fields and sectors. He became a motivational speaker and encouraged people worldwide with his own life story.
He also initiated his real estate company and got busy with lucrative endorsement contracts.
Although Spitz ended his swimming career unexpectedly at the very young age of 22, his performance and accomplishments are incomparable to many athletes out there who have been waiting for one Olympic medal their whole life.
Mark Spitz | Wife And Children
Spitz has been married to Suzy Spitz for over five decades. His relationship with Suzy started after retirement at the age of 22.
On May 6, 1973, the couple tied the knot after dating for a while. It was a lavish wedding ceremony at the Beverly Hills Hotel, following Jewish rituals with close friends and family.
Before marriage, Suzy was Susan Ellen Weiner, born and raised in the USA. She was a UCLA theatre student who was working as a part-time model.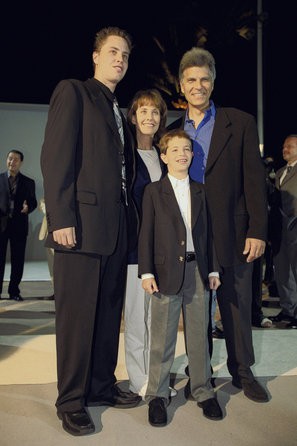 The couple was blessed with the eldest son Mattew Spitz in October 1981 and the youngest son Justin Spitz in September 1991.
As per some reports, Mark's youngest son Justin is also a professional swimmer.
Know this swimmer Olympic swimmer Madeline Groves: Bio & Net Worth>>
Mark Spitz | Net Worth & Book
As of 2022, Spitz has a net worth of $20 million.
Besides his competitive games, Spitz also made money from endorsement deals and as a motivational speaker.
According to The Hollywood Reporter, the American swimmer's phenomenal win in Munich Olympics landed him a $50,000 poster deal.
Similarly, he was arranged $5 million more in endorsement and sponsorship deals by Norman Brokaw of William Morris Agency.
Thus, he became an original pioneer for an enormous amount (money) of Olympic endorsements.
Book
Several of Richard J. Foster's best-selling publications, such as Celebration of Discipline, Streams of Living Water, and Prayer, have achieved worldwide success.
The book Mark Spitz: The Extraordinary Life of an Olympic Champion offers details about Spitz's professional life,
behind-the-scenes stories about him and his rivals, and untold tales that reveal his complex nature and relationship with his father.
The richness and specifics of this swimming icon's life story will be appreciated by both longtime and new admirers.
Get to know detailed facts on Mark Splitz Net Worth and Endorsements>>
Documentary – 72 – A Gathering Of Champions- 2022
In a moving episode of "72 – A Gathering of Champions," Mark Spitz returns to Munich, the location of his Olympic victory in 1972. Record-breaking One of the sportsmen that returned to Germany 50 years after winning the Olympic gold was American swimmer Spitz.
They did so for a documentary series that looked back on the sporting highs and terrible lows of an unforgettable Games.
Diagnosed With Heart Disease
9-Time Olympic Champion Diagnosed with Atrial Fibrillation (AFib), which the American Heart Association describes as "a quivering or irregular heartbeat (arrhythmia)
that can lead to blood clots, stroke, heart failure, and other heart-related issues," has been diagnosed in Olympic champion swimmer Mark Spitz.
According to Johns Hopkins Medicine, the illness affects at least 2.7 million Americans.
Partners With AliveCor To Spread Awareness
Spitz wants to illustrate by his experience that anyone, including an Olympian, may experience anything similar to this.
Spitz has partnered with market leader AliveCor, maker of KardiaMobile, the FDA-cleared personal electrocardiogram (ECG),
to ensure that people have access to an affordable, precise ECG that can be used whenever and wherever in order to raise awareness about the seriousness of AFib and heart health in general.
Mark Spitz | Facts
Spitz's impressive gold medals in Pan American Games in Winnipeg set a new Pan Am Games record for nearly 40 years. Thiago Pereira breaks his record only at the Rio 2007 Pan Games swimmer.
His Olympic win record lasted for 36 years, and it was broken by fellow American Michael Phelps, who won eight golds at the 2008 Summer Olympics in Beijing.
In 1985, Mark Spitz was one to light the honorary torch opening ceremony of the Maccabiah Games.
He is the 3rd athlete to win nine Olympic gold medals.
The genius swimmer has the national high school record for every stroke and distance during his four-year span there.
September 4th was the day he won his 7th Gold Medal.
Eight golds at the 2008 Summer Olympics in Beijing- Michael Phelps Net Worth: Vacations, Investment & Charity.>>
Mark Spitz | Social Media Presence
Spitz is active on Twitter and Instagram. He keeps updating him on social media platforms to his fans and well-wishers.
On Instagram, he has 7,560 followers and on Twitter, he has 4,735 followers as of December 2022. He uploads pictures of him swimming and other memorable events.
MY IOC PROPOSAL: Sports icon Mark Spitz shares his Olympic blueprint to save Tokyo Games https://t.co/yH8MnIjZ3d

— Mark Spitz (@markspitzusa) January 27, 2021
He tweets his motivational speeches and other stuff related to sports.
Frequently Asked Questions(FAQs)
Is Mark Spitz ill?
Spitz has atrial fibrillation, commonly known as AFib. It is a condition where the heart beats erratically.
After being diagnosed with AFib, he is educating others about the condition.
Why did Mark Spitz have a mustache?
His mustache was a source of curiosity for other competitors in the old days. The poster of Spitz sporting his mustache and seven gold medals around his neck was a best seller product.
He grew a mustache in college on a bet with a coach that he couldn't grow one.
Learn more about other swimmers All About Hall of Fame Swimmer, Jenny Thompson >>