Mark Spitz is an American former swimmer and nine-time Olympic champion. One of the greatest athletes, Mark Spitz, has a net worth estimated at $20 million as of 2023.
Spitz endorsed the health supplement Relief Factor in 2022.
On August 2022, Mark Spitz traveled back to Germany 50 years after Olympic glory, where he saw his triumph in the 1972 Munich Olympics, an emotional episode of '72- A Gathering of Champions', a documentary series.
It was portrayed on the sporting highs and tragic of an unforgettable Games.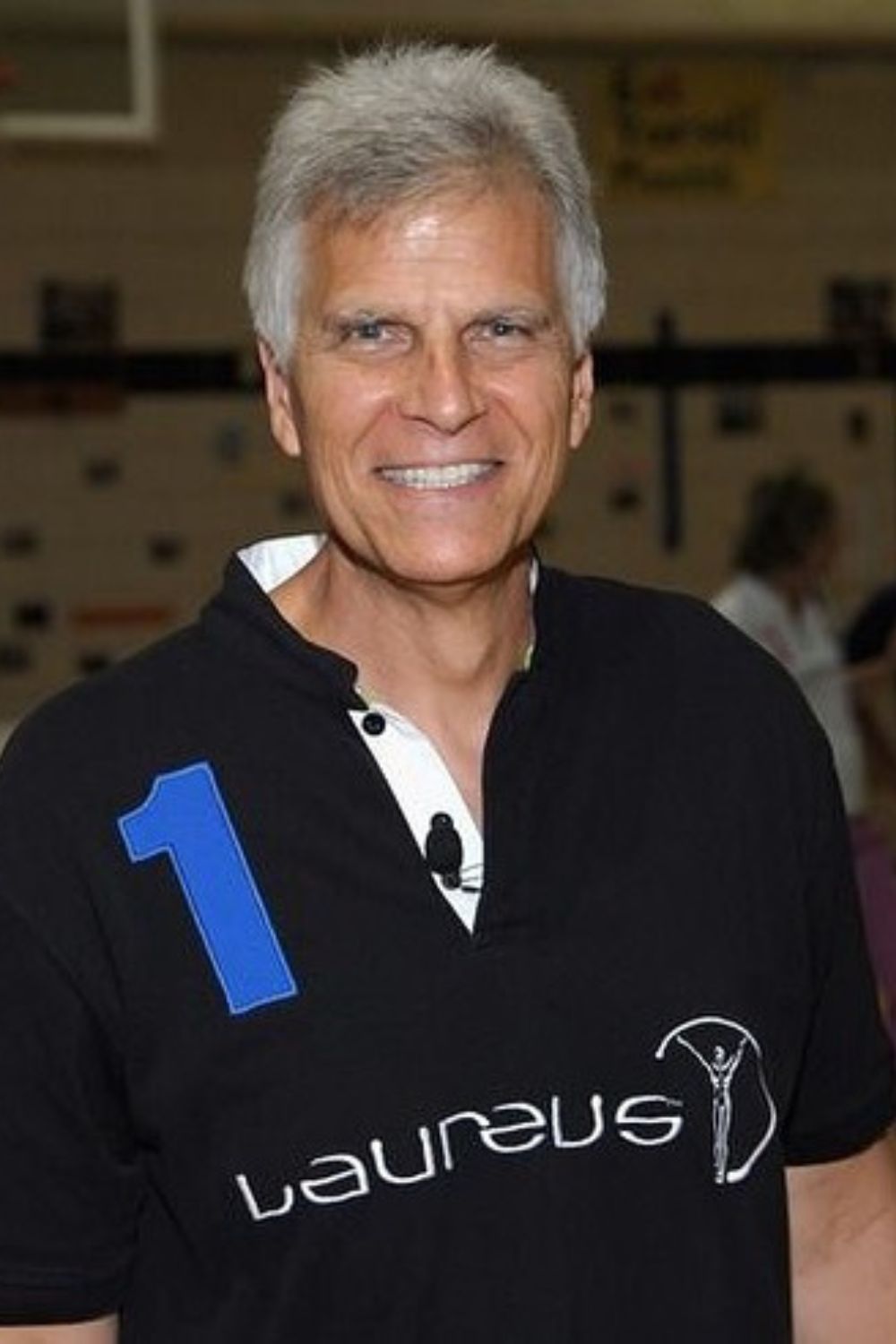 In 2007 he was inducted into the National Jewish Sports Hall of Fame and also won the Sullivan Award as the top amateur athlete in the USA.
Mark Spitz is a retired swimmer known for winning seven Olympic gold medals at the 1972 Munich Summer Olympics.
Michael Phelps surpassed his record of winning gold medals by securing 8 gold medals in the 2008 Beijing Olympics.
Mark was gravely offended when he wasn't invited to watch Phelps break his seven Olympic gold records. He considered it demeaning and insulting that he wasn't invited to watch.
He won a silver and bronze medal at the 1968 Mexico City Olympics in 100 meters butterfly and freestyle events; then, he decided to retire when he was 22.
However, after film producer Jonah J. "Bud" Greenspan offered Mark $1 million to qualify for the 1992 Barcelona Olympics, he came out of his retirement momentarily at 41.
The swimmer did not qualify as he was two seconds slower than the Olympic standard. Nevertheless, he still managed to make it to the finals of the American Olympic trials.
Before getting into details about the legendary Olympic athlete, here are some quick facts about him.
Quick Facts
| | |
| --- | --- |
| Full Name | Mark Andrew Spitz |
| Birth Date | February 10, 1950 |
| Birth Place | Modesto, California, The United States |
| Nick Name | Mark The Shark |
| Religion | Jewish |
| Nationality | American |
| Ethnicity | White |
| Education | Indiana University |
| Horoscope | Aquarius |
| Father's Name | Arnold Spitz |
| Mother's Name | Lenore Spitz |
| Siblings | Two; Heidi Rose Spitz And Nancy Spitz |
| Age | 73 Years Old |
| Height | 6 ft / 1.83 m/ 183 cm |
| Weight | 161 lb / 73 kg |
| Hair Color | Black |
| Eye Color | Brown |
| Build | Athletic |
| Profession | Former Swimmer Olympian, Buisnessman Broadcaster (Present) |
| Club | Former Arden Hills Swim Club |
| Strokes | Butterfly, Freestyle |
| Active Years | 1965 – 1972 |
| Marital Status | Married |
| Wife | Susan Ellen Weiner |
| Kids | Two; Matthew Spitz and Justin Spitz |
| Net Worth | $20 Million |
| Social Media | Instagram, Twitter |
| Merchandise | Jacket, T-shirt |
| Olympic Medals | Eleven |
| Last Updated | March 2023 |
Net Worth, Income & Endorsements
Income As An Athlete
The American swimmer has earned most of his wealth as a stockbroker and motivational speaker through his post-swimming career. Mark Spitz's net worth is roughly estimated at $20 million.
According to some sources, he is ranked as the sixteenth richest Olympian.
However, details regarding his career earnings as an elite swimmer are limited. As a result, there is no definite number to his prize money or salary.
Mark the Shark was no joke when making money, as he landed a $50,000 deal for a poster, as the deal came during the 1972 Munich Olympics when he was twenty-two years old.
He was a scorching household topic as he won seven of his nine Olympic gold medals in Munich. So naturally, most companies wanted him and approached him for multiple deals.
The William Morris Agency managed him during that time, and they were a top-class agency that knew the worth of their client.
Hence, his agent Norman Brokaw landed a $5 million endorsement contract. The nine-time Olympic gold medalist made $7 million in two years after the Munich Olympics.
Besides that, he also had multiple lucrative deals, but they didn't pay him as much high as the ones he dealt with after the Munich Olympics.
Therefore, the Munich Olympics proved to be very fruitful for the athlete.
Post-Swimming Career Income
After Spitz retired from competitive swimming at age 22, his agency tried to get him into show business, considering his fame.
He appeared in multiple TV shows and movies and started hosting TV shows for ABC sports. As a result, he also made a fair amount from his appearance.
The endorsement never lasted as they receded in time, just like his achievements; however, he was hardly seen as a public figure after a few years, leading him to drop out of show business.
Spitz leaned more into business, started a real estate company in Beverly Hills, and made more than $1 million as a successful real estate broker.
Moreover, he was a do-more kind of guy, and he never settled for anything. Hence, he got into the stock market and soon became successful in the 'water business,' as he calls it.
In 2002, he officially became a stockbroker and has since moved into the equity business.
However, he did not leave any stone unturned as he found good income from being a corporate spokesperson and motivational speaker.
He charged from $20,000 up to $30,000 for one lecture. Not to mention, he travels the world, delivering about 25 lectures a year.
Above all, he has pursued multiple entrepreneurial projects which are set to increase his net worth.
In 2007, he appeared in the infomercial hosted by Christopher Steele and Mindy Mylera for the "Orbitek Elite" fitness workout.
Mark Spitz's Net Worth In Different Currencies
| | |
| --- | --- |
| Currency | Net Worth |
| Euro | €16,813,080 |
| Pound Sterling | £14,315,300 |
| Australian Dollar | A$27,040,920 |
| Canadian Dollar | C$24,873,600 |
| Indian Rupee | ₹1,486,642,000 |
| BitCoin | ฿504 |
House & Cars
Mark the Shark resides in a beautiful house in Los Angeles, California, with his wife and two sons.
The property owned by him is a 2050 square feet mansion with 4 bedrooms and 3.5 bathrooms.
Also, the house features a stunning kitchen, a cozy living room with a fireplace, and a study room, all of which have a great interior design.
The former Olympian bought the house for $1,698,000. Hence, being a real estate agent, he has good taste in house and interior designs.
Spitz also has good taste in cars. Hence, he owns a $276,550 Ferrari F8 Tributo view 1 trim, a beast on the street.
The 6.0 Liter engine car has a stunning design and a panoramic roof. No doubt, Spitz mentioned it to be one of his favorite purchases.
He has always been into Ferraris, as his first purchase after entering the real estate business was a Ferrari.
Besides that, he also owns a Mercedes Benz, which he uses for his daily need.
Lifestyle And Vacation
The nine-time gold medalist has a luxurious lifestyle. Likewise, he lives in a million-dollar mansion with his equally expensive cars.
Even in his early 70s, he exercises daily to stay fit and healthy, and he picks up many dumbbells, stretching, and jogging as his workout routine.
He swims almost three times weekly in the UCLA facility alongside his friends.
Mark the Shark has mentioned being a morning person who helps his lovely wife do everything except kitchen chores. However, he is rarely at home, constantly traveling due to his work.
If he is not flying across the globe, Mark goes to his son Matt's golf tournament to see him qualify for a professional tour.
Also, he goes to his second son Justin's basketball game to see him turn into a fine young basketball player.
Aside from that, being a spokesperson and a motivational speaker has taken him to Japan, China, Hong Kong, and most of Europe and America since he began in 1973.
Mark traveled all around the globe because of his work; he goes on vacation often.
As a result, he has been seen going on a trip to Budapest, Greece, France, and Australia with his entire family to enjoy quality time.
Charity
Throughout Spitz's career, he has been generous enough to support multiple charities. Mark the Shark has always made sure to give back to the community he belongs to.
He has partnered with UCLA to help provide food and shelter to many American families. Moreover, in November 2016, he became a board member for Fit Kids.
Fit Kid is a nonprofitable organization aiming to improve the global physical inactivity epidemic through sports, health, education, and science.
Mark the Shark also joined as a spokesman for the Holocaust Education Film
Foundation in 2018. Therefore with his celebrity status, he promotes Holocaust Documentaries.
Professional Career
Mark was always one of the fastest swimmers in competitive swimming. Even when he was a kid, he beat his friends in a swimming race.
As he grew older, he became nearly undisputable as no one among his peers could have beaten him in swimming.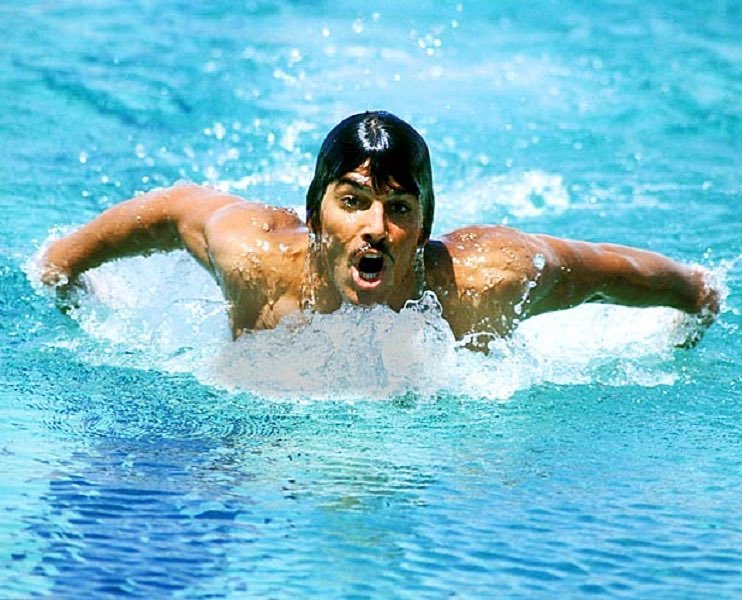 The same outcome followed in his first international competition at the 1965 Maccabiah Games. The 15-year-old Spitz won four gold medals and was named the most outstanding athlete.
Moreover, he became so good that he represented his country in the 1968 Mexico Olympics. As expected, he won two gold medals in the 4×100-meter and 200-meter freestyle relay.
This was just the beginning for the athlete as he won seven gold medals while setting a new world record in each event at the 1972 Munich Olympics.
As a result, this made him one of the greatest swimming athletes of his generation. Also, he became the first athlete to win multiple titles in a single Olympics.
On September 4, 2022, Mark shared his thoughts that Olympic greatness came amid tragedy for him.
It was "like an out-of-body experience" when he won seven gold medals at the 1972 Munich Games, but it was overshadowed when he discovered that terrorists had attacked Israelis at the Olympic village.
Facts About Mark Spitz
Mark suffered from acid reflux disease.
He was the third athlete overall to win nine Olympic gold medals.
Spitz grew a mustache during the Olympics because a coach in college said he couldn't grow one.
Social Media Presence
Mark is on Instagram and is on Twitter. He posts a lot about his career and other venture on these platforms.
View this post on Instagram
Instagram (@Markspitzusa): 7526 followers
Twitter (@Markspitzusa): 4878 followers
Popularity Graph
Mark Spitz is a former swimming Olympian who is regarded s one of the greatest athletes of all time.
The above graph shows Spitz's popularity over the past twelve months.
Frequently Asked Questions (FAQS)
Are Mark and Suzy Spitz still married?
Yes, the couple has been married since 1973. Moreover, the two have been together for almost 48 years now. The pair have two children, namely Matthew Spitz and Justin Spitz.
Who was better, Spitz or Phelps?
Both of the swimmers are great in their own place. Spitz was the most successful athlete in the 1972 Olympics. Mark the Shark was the first American athlete to win nine gold medals and the third in the world. His record has since been broken by Micheal Phelps, who won 23 gold medals from 2004 to 2016. Besides that, Michael has three silver medals and two bronze medals. Although many would consider Phelps a better swimmer considering his gold medals, Spitz paved the way.
Is Mark Spitz a dentist?
No, Mark is not a dentist. However, he played a dentist in a Bob Hope skit.
What is the view of Mark Spitz on drug testing?
Mark Spitz has criticized the two swimming world bodies, FINA and the IOC, in their incomplete attempts to keep drugs out of the sport. He thinks that not enough actions are taken to monitor and encourage drug-free participation.