From having a tough childhood and opting for being part of the gang to having a successful football career, Marqise Lee has done it all.
Marqise Lee is an American professional football athlete of the NFL who plays in the position of wide receiver.
The Jacksonville Jaguars drafted him during the second round of the 2014 NFL Draft.
Before his professional career took off, Lee played college football representing the University of Southern California.
Moreover, Lee has earned numerous significant honors under his name, like- the Biletnikoff Award- awarded to the nation's outstanding receiver, Pac-12 Offensive Player of the Year, Pac-12 Co-Offensive Freshman of the Year, etc.
Furthermore, let's jump into the insights regarding Marqise Lee. First, let's look into some quick facts about Lee.
Marqise Lee | Quick Facts
Full Name
Marqise Lee
Birth Date
November 25th, 1991
Birth Place
Long Beach, California
Age
31 Years Old
Nickname
Albino Tiger
Religion
Christianity
Nationality
American
Education
Morningside High School, Junipero Serra High School, University of Southern California
Horoscope
Sagittarius
Father's Name
Elton Lee
Mother's Name
Anfernee Williams
Siblings
Donte Reid,

Terreal Reid,

Stacy Lee

Height
6 ft (1.83 m)
Weight
196 lbs (89 kgs)
Build
Athletic
Shoe Size
Not Available
Eye Color
Dark Brown
Hair Color
Black
Marital Status
Unmarried
Girlfriend
Vanessa Vargas
Children
Alia Lee
Profession
Professional Football Player
Draft
2014
Net Worth
$5 million
Awards and Achievements
Fred Biletnikoff Award 2012

Unanimous All-American 2012

Pac-12 Offensive Player of the Year 2012

2012 First-team All-Pac-12

2011 Second-team All-Pac-12

Pac-12 Co-Offensive Freshman of the Year 2011

Social Media
Twitter, Instagram
Last Update
June, 2023
Marqise Lee | Early Life, Family & Education
Marqise Lee was born in Long Beach, California, on November 25th, 1991, to his parents Elton Lee and Anfernee Williams.
Marquise's parents are both deaf, and he communicates with him through sign language.
Growing up, Marqise had a very tough childhood. His father, Elton, was not always involved in his life.
He had to spend his first twelve years repeatedly moving between his grandparents and mother as both homes had low incomes.
Moreover, when Lee completed sixth grade, his grandfather passed away, and his grandmother moved to Baldwin Village, Los Angeles.
Lee has three siblings named Terreal Reid, Donte Reid, and Stacy Lee. Both of Lee's brothers were involved in gangs, due to which his oldest brother, Terreal, was murdered during a gang killing.
His other older brother, Donte, was held imprisoned in Arizona for the case of attempted murder.
Initially, Marqise also wanted to join the gang, but his brothers stopped him from doing so.
According to the horoscope, Lee's date of birth falls under the sun sign of Sagittarius. People with Sagittarius as their sun sign are known for their spontaneous and intellectual traits.
Age, Height, and Body Measurements
Lee turned 31 Years Old] years old in [current year]. He belongs to the Sagittarius sun sign. Sun signs people are optimistic and honest.
The wide receiver has an outstanding height of 6 ft with 196 lbs (89 kgs) weight. Overall, Marqise possesses an athletic build with dark brown eyes and black hair.
Likewise, he belongs to the American nationality and follows the Christianity religion.
Education
Lee attended Morningside High School, located in Inglewood, California while living with his foster parents.
He played basketball in school, and right after his freshman year of high school, he met Steven Hester Jr. and became good friends with him.
Moreover, Steven attended a private school located in Gardena, California, called Junípero Serra High School.
Steven'sparents liked Lee a lot, and he soon started living with the Hester family. Likewise, Marqise also started attending Junípero.
The Hester family wanted to help Marqise's sister as well. However, they couldn't do so due to financial and space constraints. They were always very supportive of Lee's life and very involved as well.
Isiah Thomas: Childhood, Career, Net Worth & Personal Life >>
Furthermore, in 2011, Marqise was one of the top high school recruits. He had several NCAA Division I FBS college football programs offer him athletic scholarships.
As for college, Lee decided to attend the University of Southern California after visiting several other colleges like- the University of Florida, the University of Miami, and the University of Oregon.
Marqise Lee | Career and Profession
Before jumping into Lee's professional career and achievements, let's look into his college career.
College Career
Freshman
Lee earned a place as the wide receiver as a true freshman from Robert woods, his former high school teammate.
The joined receptions of 184 by Woods and Lee and receiving yards of 2,435 in 2011 were the highest stats that a pair in Trojans achieved in a season.
Marqise won the Pac-12 Freshman Offensive Co-Player of the Year honors because of his exceptional achievement, also becoming part of the All-Pac-12 second team.
Sophomore
While playing against the University of Arizona during the 2012 season, with two touchdowns and 345 yards with 16 receptions, Marqise set the record for receiving yards in a game in the Pac-12 Conference.
He again set a new record the next week while playing against the University of Oregon.
Because of his achievement, he won the Pac-12 Conference offensive player of the year honors and the 2012's Fred Biletnikoff Award given to the nation's top wide receiver.
Lee was the first Trojan to win the Fred Biletnikoff Award. Additionally, he also became part of the unanimous All- American team.
Junior
Lee decided to enter the 201 NFL Draft and not complete his senior year of college. Altogether, he played for three seasons representing the Trojans and played in 11 games.
Furthermore, during his junior year, Lee also represented USC's track and field team.
He competed in the sprint relay and long jump, qualifying for the NCAA championships for the 2011 NCAA West preliminary rounds. There he set a career-best leap record of 7.76 meters.
Professional Career
After Draft
In the 2014 NFL Draft, the Jacksonville Jaguars selected Marqise during the second round as the 39th overall pick.
Lee signed a four-year contract worth $5.14 million, including a guaranteed $3.18 million and a $2.08 million signing bonus with the Jaguars on June 16th, 2014.
Moreover, Lee made his debut as a professional player during a season-opener game against the Philadelphia Eagles.
Unfortunately, he had to leave the game because of a hamstring injury. The injury caused Lee to sideline from three games.
Likewise, Lee was inactive in 2015's season opener with another hamstring injury sustained during camp and again missed five more games due to his aggravating hamstring injury.
In total, Lee finished his second season with 191 receiving yards, 15 receptions, one start, and one touchdown during ten games.
You might be interested in Patrick Mahomes: Net Worth, Contract, Girlfriend & Parents>>
Career- High Receives
Marqise became one of the starting wide receivers for the season after Allen Hurns received a hamstring injury. Lee caught his career-high of five passes for 113 receiving yards on December 11th, 2016.
Moreover, Marqise caught his 2017's season-high of seven passes for 76 receiving yards while playing against the Tennessee Titans.
Similarly, Lee caught another season-high of 75-yards with eight passes and a touchdown while playing against the Cincinnati Bengals on November 5th, 2017.
Furthermore, Marqise suffered from an ankle injury and left the week 15 game with the Houston Texans during the second quarter. He didn't play for the upcoming two games.
The Jaguars finished the AFC South games and secured a playoff berth with a 10-6 record. Marqise started his career's first playoff game with a five-yard rush while playing against the Buffalo Bills.
Contract Extension and Release
The Jacksonville Jaguars signed a four-year contract extension worth $38 million with Lee on March 13th, 2018.
Moreover, after his extension during the third preseason game on August 25th, 2018, he suffered from a severe knee injury and had to undergo surgery.
Furthermore, the Jacksonville Jaguars placed Lee on the injured list on October 29th, 2019. During the season, he only recorded 18 yards with three catches.
The Jacksonville Jaguars released Marqise on April 20th, 2020.
New England Patriots
After being released from the Jaguars, Marqise signed a one-year contract worth $1.04 million with the New England Patriots on April 28th, 2020.
However, Lee decided not to participate in the 2020 season because of the Covid-19 pandemic.
Later on, he was released from the Patriots on March 18, 2021.
San Francisco 49ers
After releasing from the Patriots, he signed a contract with the Francisco 49ers on May 17, 2021. He was released from the Patriots after four days of the contract signature.
You might also like Aaron Rodgers: Net Worth, Girlfriend, Stats & Contract>>
Marqise Lee | Career Stats
Year
Team
Games
Receiving
Rushing
Fumbles
GP
GS
Rec
Yds
Avg
Lng
TD
Att
Yds
Avg
Lng
TD
Fum
Lost
2014
JAX
13
8
37
422
11.4
37
1
3
9
3.0
5
0
0
0
2015
JAX
10
1
15
191
12.7
30
1
5
38
7.6
12
0
0
0
2016
JAX
16
6
63
851
13.5
51
3
6
35
5.8
11
0
1
1
2017
JAX
14
14
56
702
12.5
45
3
1
17
17.0
17
0
1
0
2018
JAX
0
0
Did not play due to an injury
2019
JAX
6
1
3
18
6.0
8
0
1
1
1.0
1
0
0
0
2020
NE
0
0
Did not play due to the Covid-19 opt-out
Total
59
30
174
2,184
12.6
51
8
16
100
6.3
17
0
2
1
Marqise Lee | Net Worth
From being one of the top high school recruits and a successful college athlete with impressive achievements and playing for a famous NFL team like Jacksonville Jaguars, Lee has accumulated a fair amount of wealth.
Looking back at his contract details, Lee signed a four-year contract worth $5.14 million, including a guaranteed $3.18 million and a $2.08 million signing bonus with the Jacksonville Jaguars.
Furthermore, Lee also signed a four-year contract extension worth $38 million with the Jaguars.
However, after two years, he was released by the team, and the details about his acquired net salary from the Jaguars after his release are unknown.
Likewise, he signed a one-year contract worth $1.04 million with the New England Patriots.
Thus, the presumable net worth of Marqise Lee falls around $5 million.
Net Worth of Marqise Lee in Different Currencies
Here is the net worth of Marqise in different currencies, including the cryptocurrency BitCoin.
Currency
Net Worth
Euro
€

4,234,000

Pound Sterling
£

3,604,275

Australian Dollar
A$

6,713,120

Canadian Dollar
C$

6,267,325

Indian Rupee
₹

372,772,500

BitCoin
฿

157
Marqise Lee | Girlfriend
Marqise Lee is currently in a romantic relationship with Vanessa Vargas. Lee keeps most of his life private, so not much information is available regarding his love life and relationship.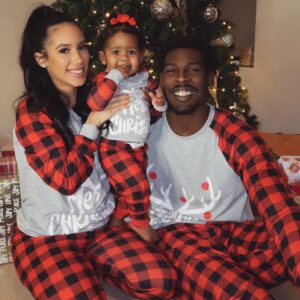 The time when the couple started dating is also unknown. Together Lee and Vargas have a baby girl named Alia Lee, who was born in March 2020.
Marqise Lee | Social Media Presence
Marqise is not quite active on social media. He rarely posts about his personal or professional life on his accounts.
Instagram – 37.3k Followers
Twitter – 38.3k Followers
Interesting Facts about Marqise Lee
In school, Marqise Lee was also a jumper and a sprinter for the school's track team. He has recorded a career-best of 10.74 seconds in the 100-meter dash and was in the second-best rank amongst all 2011 prep classes.
Common Queries about Marqise Lee
What happened to Marqise Lee?
After Jacksonville Jaguars released Marqise Lee, he signed a contract with the New England Patriots. However, he did not participate in the 2020 season because of the Covid-19 pandemic.
Is Marqise Lee hurt?
The Jacksonville Jaguars placed Lee on the injured list on October 29th, 2019, and it was the last record of him being injured.
Currently, there is no specific information that states that Marqise Lee is injured.
What number is Marqise Lee?
Marqise Lee holds No.13 while representing the New England Patriots.
Is Lee a Free Agent?
Yes, he is an unsigned free agent.
When did Marqise Sign the Patriot's Contract?
Marqise signs the contract with the Patriots on April 28, 2020.