Mary Joe Fernández is a former professional tennis player. Moreover, she also serves as an analyst and commentator for the ESPN network. She represented her country, the United States, in the Olympics.
Fernandez has won the gold medal two times and is also a one-time bronze medalist. The Dominican Republic-born is the winner of several titles in the Women's Tennis Association.
Along with fellow professional tennis player Lindsay Davenport, she won the year-end WTA championship title in 1996.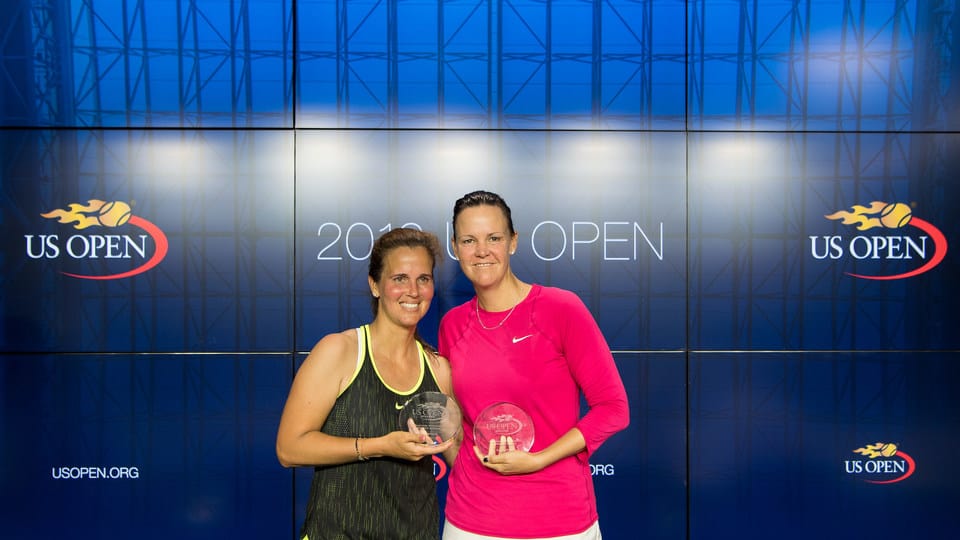 The legendary player retired in 2000. Besides that, she was one of the names in Sports Illustrated's article titled "100 American Athletes Who Failed Drug Tests." Nevertheless, US law didn't prosecute her for the misconduct.
Also, prosecutors didn't pursue any legal actions as she was retired, and not enough proof.
However, she received several bad presses following the article. The pro player denied all the allegations. Apart from tennis, she also plays golf, waves running, and water skiing.
Furthermore, the gold medalist player loves to be outdoors.
Before getting into details about the Dominican American player, here are some quick facts about her.
Quick Facts
| | |
| --- | --- |
| Full Name | Mary Joe Fernández Godsick |
| Birth Date | August 19, 1971 |
| Birth Place | Santo Domingo, Dominican Republic |
| Nick Name | Mary Joe |
| Religion | Christian |
| Nationality | American |
| Ethnicity | Mixed |
| Education | Carrollton School of the Sacred Heart |
| Horoscope | Leo |
| Father's Name | José Fernández |
| Mother's Name | Silvia Pino Fernández |
| Siblings | One; Sylvia Fernández |
| Age | 51 Years Old |
| Height | 5 feet 9 inches |
| Weight | 141lbs |
| Hair Color | Brown |
| Eye Color | Brown |
| Build | Athletic |
| Profession | Tennis Player, Analyst, and Commentator |
| Former Team | The US team |
| Broadcasting Network | ESPN |
| Active Years | 1986-2000 |
| Marital Status | Married |
| Husband | Anthony "Tony" Godsick |
| Kids | Two; Isabella and Nicholas Godsick |
| Net Worth | $10 million |
| Merch | Photos, Autographs |
| Last Update | February, 2023 |
Mary Joe Fernández | Early Life, Family, And Education
The analyst was born in the Dominican Republic's capital and largest city, known as Santo Domingo. She is the daughter of attorney José Fernández and real estate broker, Silvia Pino Fernández.
Furthermore, her father has a real estate firm in South America.
Her parents are immigrants; José is from Spain, while Silvia is from Cuba. The ESPN commentator went to the Carrollton School of the Sacred Heart in Miami, Florida.
She was as good at academics as she was in sports. Moreover, she maintained an above 3.0 GPA in high-school.
Since she was an active professional tennis player even before graduating high school, she might've not attended college. Also, there is no information about her college tennis career or education.
Mary Joe Fernández | Age, Height
The two-time gold medalist is 50 years old and born under the Leo sun-sign. She weighs around 141 lbs, approximately 64 kgs, and is 5 feet 9 inches high. When talking about her personal appearance, she had got Brown hair with Brown pair of eyes.
Unfortunately, the body measurement of the professional tennis player is unavailable at the moment. Mary belongs to American nationality with Mixed ethnicity and follows the Christian religion.
Mary Joe Fernández | Tennis And Broadcasting Career
Tennis Career
Professional Career From 1995 To 1992
The analyst started her professional career when she was just 14 years old. The then-teenager went on to four-time Orange Bowl Champion, which opened several doors for her.
She defeated an English tennis player named Sara Gomer in the United States Open Tennis Championship.
Doing so in 1985, she was the youngest tennis player who won the main draw. By 1986, she was already a professional tennis player.
The 49-year-old won her first double with Betsy Nelsen. Moreover, in 1989, she made it to the semifinals of the Grand Slam tennis tournament called the French Open.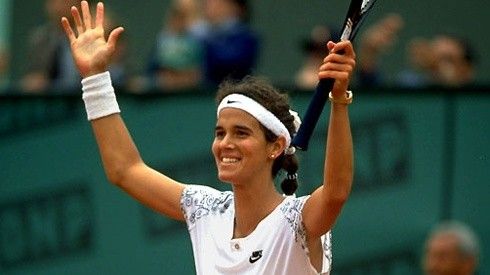 However, in the 1990 Australian Open, the Dominican American player made it to the Australian Open's finals but lost. Although later that year, at the Tokyo Indoor Championship, she won a single Women Tennis Association (WTA) title.
Furthermore, she ranked No. 4, a career-high in single matches in the world.
The next year, she could only be the Australian Open's semi-finalist. In the singles match, she lost to Monica Seles.
Nevertheless, she won the Australian Open's Doubles' when paired up with Patty Fendick. Again, in The Championships, Wimbledon, she lost after reaching the semifinals.
In the 1992 Australian Open, she managed to reach the finals once again before being defeated. Also, in the US Open, she made it to the semifinals before her loss.
However, when she represented her country, the USA, in the 1992 Olympics, she went home a gold medal in doubles and a bronze in the singles match.
Also, Check Out the Former 14 Year Old Tennis Player, Belinda Bencic Bio: Ranking, Career, IG, Boyfriend, Age, Net Worth Wiki.
Professional Career From 1993 To Retirement
The analyst won the WTA Indian Wells Open in 1993 and further defeated world No.3 and world No.5 in the French Open.
However, she lost in the finals, although she started strong. Nevertheless, in 1996, she won the French Open's Grand Slam Doubles.
She also won the year-end WTA Tour Championships in the doubles match with former World No.1 Lindsay Davenport.
Mary was also part of the US team in the 1996 Olympics. She won her second gold with her previous Puerto Rican American partner Gigi Fernández.
Besides that, she played against the world No. 2 player to reach the singles semifinals; however, she lost and failed to make it to the finals. Along with the US team, she also won the Federation Cup.
Later in the 1997 Australian Open, she lost in the semifinals, but she won her only WTA Tier I tournament in May.
Later on that year, she won against then-No. 2 Lindsay Davenport. Further, a year before her retirement, she had a victory against Serena Williams.
Fernández lost her last Grand Slam in 1999. Eventually, in the year 2000, she retired from the Tennis World.
Broadcasting Career
Following her retirement, she serves as a tennis analyst and commentator for the ESPN network. Furthermore, she is going to cover the US Open 2020 with other commentators.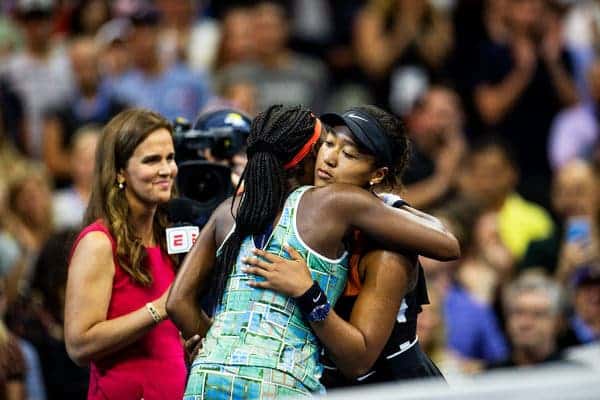 Moreover, she is also reporting the ongoing Southern And Western Open. She travels at least two months every year to attend the WTA tennis tour. She has also interviewed many famous tennis players like Serena Williams, Naomi Osaka, Coco Gauff, etc.
You Might Also Like Fellow Tennis Player, John Isner Wife Bio: Madison McKinley, Age, Net Worth, Kids, Wiki
Drug Use
In 2003, rumors were suggesting that the 49-year-old had used drugs in the Olympics. A report from the former United States Olympic Committee (USOC) director, Dr. Wade Exum, showed Mary's name.
According to the report, despite showing a positive response to banned drugs, they were still allowed to play. Moreover, several people and critics, including the World Anti-Doping Agency head Dick Pound, always suspected the USOC of covering up.
Before winning gold and bronze in the 1992 Olympics, the ESPN analyst received a positive result for pseudoephedrine; nevertheless, she was allowed to play and faced no consequences.
However, USOC called Dr. Exum's accusation and reports released to the press 'baseless.' Like everyone on the list, she later addressed she took cold medicine that included a trace of the drug in it.
As a result of the reports released to the Sports Illustrated and Orange County Register, she received a lot of bad press. Nonetheless, The US law didn't take decisive or disciplinary actions against her.
Mary Joe Fernández | Marriage And Kids
The ESPN commentator is married to sports agent Anthony "Tony" Godsick. Tony is the CEO and president of the sports and entertainment company Team8. Besides that, he is also an agent for professional Swiss tennis player Roger Federer.
The duo tied the knots in April of 2000 at the Roman Catholic Cathedral of St. Mary in Miami. All of their loved ones, including their parents and siblings, were present at the wedding.
The pair have two children, namely Isabella Godsick and Nicholas Godsick. Both of their kids play tennis.
Isabella has won the Ohio High School's Division II doubles state tournament, while Nicholas had ranked in the top 15 nationwide when he was 13.
Mary Joe Fernández | Net Worth And Salary
Fernández has a net worth of over $10 million. She earned most of her wealth through tennis matches and winning games.
Besides that, she is also an analyst for ESPN. Though her exact salary is not available, an average analyst earns $70,959 annually.
Since she is very well experienced, we can only expect her earns more than that. Moreover, her sports agent husband has a net worth of $17.3 million. On top of that, Tony is also the CEO of Team8 and represents three top tennis players.
You Might Be Interested In Top 79 Serena Williams Quotes.
Mary Joe Fernández | Social Media Presence
Since Mary Joe has a massive chunk of her life in the limelight, the tennis player likes to keep parts of her life away from the media attention. Moreover, she is a little old school and is not active on any social media platforms.
Nevertheless, you can always see her on the ESPN network interviewing and reporting. Apart from her, neither her husband nor children have active or public social media accounts.
Common Queries: