Matt Hasselbeck is a former professional football quarterback who retired from the NFL after 18 seasons in 2016 as a member of the Seattle Seahawks. He was honored by the Seattle Seahawks Ring Of Honour in 2021.
As of the year 2022, he is working for ESPN's Sunday NFL Countdown as an analyst.
Matt set many records and won several awards during his football career, including three Pro Bowl selections in 2003, 2005, and 2007.
Professionally, he played for teams like Green Bay Packers, Tennessee Titans, and Indianapolis Colts.
Despite being drafted by Green Bay Packers in 1998, he indeed found his play with the Seahawks and grew as a player.
Likewise, at the moment, Matt is happy serving as an analyst for the ESPN network with his younger brother, Tim Hasselbeck.
Aside from his professional records, we will also focus on his personal life.
Before that, let's look into the quick facts table.
Matt Hasselbeck | Quick Facts
| | |
| --- | --- |
| Full Name | Matthew Michael Hasselbeck |
| Birth Date | September 25, 1975 |
| Birth Place | Boulder, Colorado, U.S. |
| Known as | Matt Hasselbeck |
| Religion | Unknown |
| Nationality | American |
| Ethnicity | American |
| Education | Xavierens Brothers High School /Boston College Eagles Football |
| Horoscope | Libra |
| Father's Name | Don Hasselbeck |
| Mother's Name | Mary Beth "Betsy" (Reuve) Hasselbeck |
| Siblings | Two |
| Age | 47 Years Old |
| Height | 6 feet 4 inches / 193 cm / 1.93 m |
| Weight | 107 kgs / 235 lbs |
| Build | Athletic |
| Eye color | Brown |
| Profession | Former quarterback, Current ESPN Analyst |
| Active years | 1998-2015 |
| Team | Indianapolis Colts |
| Marital Status | Married |
| Spouse | Sarah Egnaczyk |
| Children | Three |
| Salary | $18 Million |
| Net Worth | $200,000 |
| Social Media | Instagram, Twitter |
| Merch | Trading Cards, Jersey |
| Last Update | May, 2023 |
Matt Hasselbeck | Early Life & Education
Matt Hasselbeck was born in Boulder, Colorado, in the United States of America.
His full name is Matthew Michael Hasselbeck. Also, Matt was born to his parents, Mary Beth "Betsy" (Rueve) and Don Hasselbeck. Matt has two younger brothers named Tim and Nathanael.
Likewise, his father is also a former New England Patriots tight end.
The three brothers grew up in Norfolk, Massachusetts, and attended Xaverian Brothers High School in Westwood.
As a high school senior, Matt was picked as an honorable mention All-American by USA Today.
After his graduation, Hasselbeck enrolled at Boston College. There he played for the Boston College Eagles football team from 1994 to 1997.
Not to mention, Matt even played in Eagles with his brother Tim for two years.
Hasselbeck graduated with a degree in marketing in 1997.
Find More About David Fizdale Age, Height, Wife, Coaching Record, Bulls, Contract, Net Worth >>
Matt Hasselbeck | Age And Height
Not only a world-class athlete but also an attractive individual, Matt was born on September 25, 1975. It means the now-retired athlete is 46 years as of now. Also, his star sign is Libra, and they are known for being competitive, a bit showoff but talented no less.
Aside from that, Matt stands at 6 feet 4 inches (193 cm) and weighs around 107 kg (235 lbs). Despite being in his 40s, Matt is still healthy and robust, thanks to his years of training and strict diets.
No wonder Hasselbeck is youthful in his recent activities. To add up, he has dark brown eyes and dark hair.
Matt Hasselbeck | Net Worth
Matt Hasselbeck, a former quarterback, has been working as an ESPN analyst for years now.
During his prime years as a footballer, Matt not only amassed fame but wealth as well.
As of 2023, he has an estimated net worth of $18 million, which is impressive, considering how Matt retired four years ago.
From his 17-year-long NFL career, Hasselbeck made around $8.80 million including more than $10 million alone from the Colts between 2013 and 2015.
Similarly, he signed a two-year contract with the Colts worth $7,250,000 with an annual salary of $3,625,000.
At the moment, Hasselbeck makes around $200,000 annually from his work as an analyst for ESPN. However, he has yet to disclose his assets and income in public fully.
Despite the restriction, we do know Matt owns a home in Massachusetts worth $5.6 million.
House
Back in 2016, Matt Hasselbeck, alongside his wife, bought a $5.6 million mansion in the wealthy Boston suburb of Weston.
His house resides on a 12,835-square-foot with 2.4 acres and features six bedrooms and two half-bathroom, the house was built back in 1996.
Matt Hasselbeck | Married Life & Children
Matt is a married man and has been for two decades now.
On June 17, 2000, Hasselbeck tied the knot with his college sweetheart, Sarah Egnaczyk. Sarah, who was on a field hockey team, met Matt at Boston College.
Together, they have two daughters named Annabelle (19) and Mallory (17) and a son named Henry (15).
Just like their parents, both daughters are part of the women's lacrosse team at Boston College.
Even after two decades of being together, Matt and Sarah never have been in controversy.
He never got divorced, as a happily married man; the couple and their family are living a happy life.
Matt Hasselbeck | Struck By Lightning
It may come as a surprise, but both Matt and his wife were struck by lightning.
Matt was first struck in 1996, twice, but suffered only minor injuries.
Professional Career
Matt's NFL career began after being selected by the Green Bay Packers in the sixth round of the 1998 NFL Draft during high school.
Right after that, Hasselbeck started as a backup quarterback for Brett Favre in the 1999 and 2000 NFL seasons.
Matt then joined the Seattle Seahawks on March 2, 2001, under the former head coach, Mike Holmgren.
But he was traded to the Packers for their first, and third-round draft picks. Little did he know, Matt truly shined with the Seahawks.
Despite less playing time, and his strong finish in 2002, Hasselbeck entered the next season.
He started all 16 games, leading Seattle to a 10-6 record for the first time since 1988 and a Wild Card Berth.
Matt was also picked for the Pro Bowl; also, he won the 2004 NFL Quarterback Challenge while leading Seattle to their first NFC West title since realignment in 2002.
But 2005 proved to be the career-defining year for Hasselbeck, where he earned the NFC's highest passer rating.
Moreover, young Matt also led the Seahawks to the third consecutive year's playoffs in the NFC's top seed.
They also qualified for the Super Bowl XL but lost to the Pittsburgh Steelers.
For Matt 2007 was no different; he led Seattle to their fourth consecutive division title and fifth successive playoff.
He finished the season with an impressive 3,966 passing yards, 28 touchdowns, a 62.6% completion percentage, and a 91.4 passer rating.
Matt Hasselbeck | Super Bowl Ring
Despite starting strong in 2008, Matt suffered from several injuries, including his back injury that affected a nerve in the lower back.
This ultimately created a weakness in his leg, resulting in a knee injury. Along with this and his bulging disk, Matt missed most of the 2008 NFL season.
The series of unfortunate events continued in the 2009 season as well. During Week 2, Hasselbeck fractured his rib and missed two games against the Bears and the Colts.
However, he pulled strong in the 2010 season, defeating the Chicago Bears and San Diego Chargers.
Despite being injured, Seattle made the playoffs with their fifth NFC West division championship.
Seattle became the first team to lose as a host in a playoff game. Even after that, Hasselbeck had one of the most memorable and clutch performances in his career.
Having created a legacy and large fanbase with Seattle, you can imagine the shock when Hasselbeck announced his departure from the team.
Matt has emphasized his desire to retire from Seattle on countless occasions, but he left due to some agreement issues between him and the team.
Many fans even started a campaign to bring Matt back and created a website called www.bringbackmatt.com.
Sadly, their efforts did not pay well, and even Matt described the feeling as "worse than breaking up with an old girlfriend."
Read More About Zion Williamson's Parents: Bio, Age, Stepdad, Early Days, Duke, NBA Wiki >>
Matt Hasselbeck | Tennesse Titans & Indianapolis Colts
After he departed from Seattle, Matt signed a three-year contract with Tennessee Titans worth $21 million.
Mike Reinfeld, the former vice president of football administration for the Seahawks, recruited Matt for the team.
He was an executive vice president and the chief operating officer for the Titans.
On March 18, 2013, the Titans released Hasselbeck, and he made his way to the Indianapolis Colts.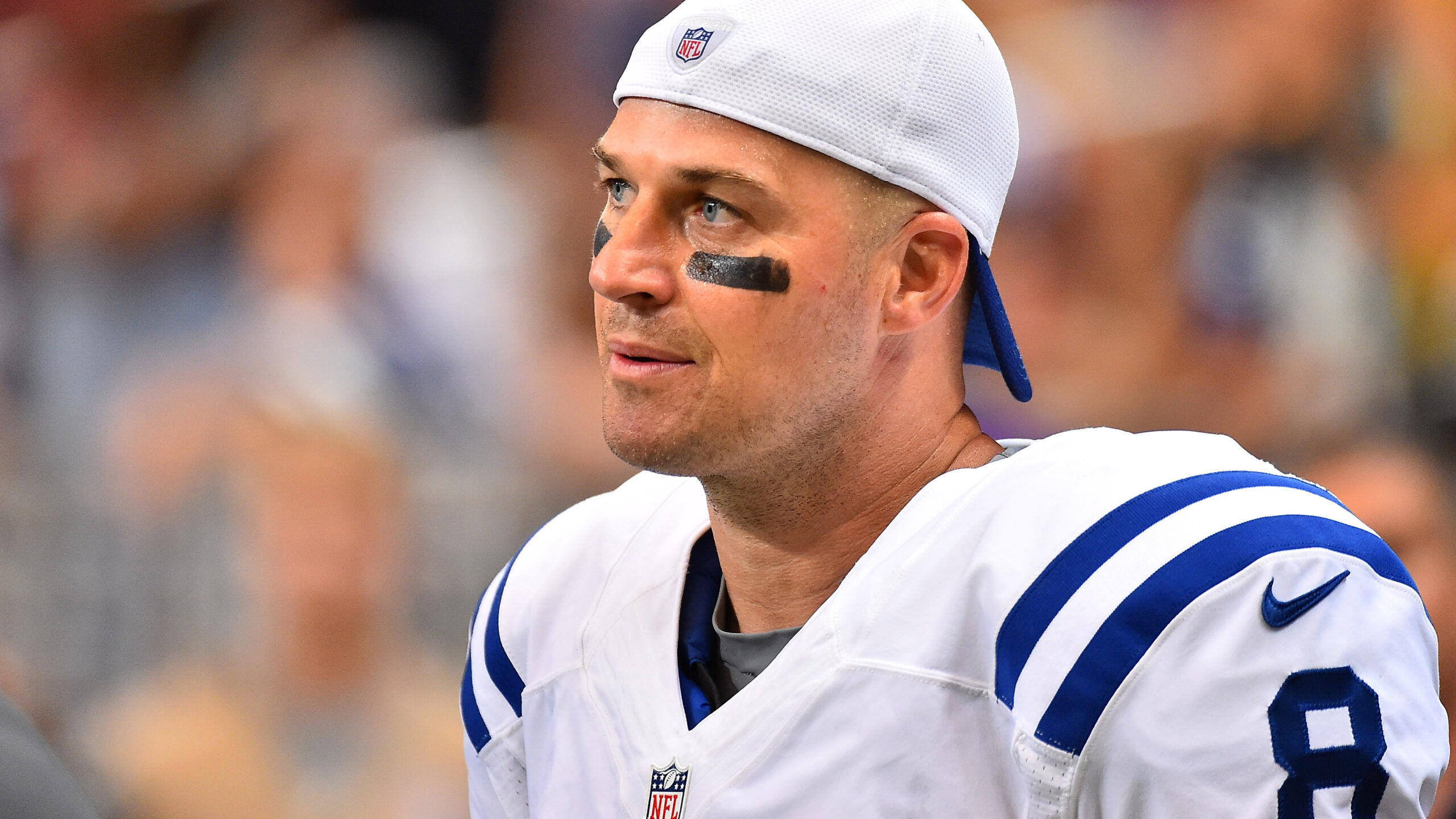 The next day, Matt signed a two-year deal worth $7.25 million with the Colts. However, his tenure ended without any fruitful ending for the team and himself.
Similarly, in February 2015, Hasselbeck re-signed with the Colts to remain for one more year.
He started strong this season, gaining victory against Jacksonville Jaguars in overtime. He also became the only second 40-year-old NFL quarterback to win back-to-back games.
Notably, he passed for 2013 yards with two touchdowns and two interceptions to win over the Atlanta Falcons.
The win helped Colts improve their record and lead the AFC South division. But his injured kept stopping Matt from performing to his fullest.
Overall, Matt was responsible for five of the eight wins of the Colts over the season.
After four years together with the Colts, Matt finally announced his departure from the team on February 28, 2016.
The following month, Hasselbeck announced his retirement from football.
Also, Matt stated that he would be joining his brother, Tim as an analyst for the ESPN Network, replacing Mike Ditka on Sunday NFL Countdown.
Keeping his wish, Matt signed a one-day contract with the Seattle Seahawks and officially retired as part of their organization.
Recently, he, alongside Mike Holmgren, joined the ring of honor as per the team's decision.
2022 Update
Currently, Matt works as an analyst for ESPN'S Sunday NFL.
According to news on 18 September 2022, Hasselbeck offered some blunt commentary on the Patriots' coaching staff which occurred in the aftermath of the team's Week 1 Loss to the Dolphins.
I know you're defensive gurus, fine. But you don't understand what it looks like and feels like for the quarterback," he explained.
"The hardest thing for a quarterback on the road especially is third-and-6 more, so what did they do? They made it complicated."
He pointed out several mistakes in Week 1, and also pointed out the performance of the assistant coach Matt Patricia and other offensive staff.
Hasselbeck said "You did this to yourself, Patriots coaching staff,"
"You did this to yourself. So stop trying to prove how smart you are. Simplify. This guy played- he was the best rookie quarterback in the NFL last year, because he had training wheels on most of the time, and he did a lot. He played really well. There's nothing wrong with that. You don't have to prove how much you know. Make it simpler."
Social Media Presence
Matt Hasselbeck is active on social media platforms like Twitter and Instagram, where he regularly posts about his life.
View this post on Instagram
Twitter– 256.9k Followers
Instagram– 70.2k Followers
Popularity Graph
The popularity graph of Matt Hasselbeck.
Matt is searched on google for his Super Bowl win and his son.
Frequently Asked Questions (FAQs)
What is Matt Hasselbeck's career statistic like?
Matt Hasselbeck maintained a career statistic of 5,330 passing attempts, 3,222 pass completions, and 36,638 passing yards.
Likewise, he depicts 212–153 TD-INT, a percentage of 60.5, and a passer rating of 82.4.
Did Matt Hasselbeck have had any affairs?
To this date, Matt never had an extramarital affair. He never came into any controversy regarding his romantic involvements. He is a happily married man.
What was Matt Hasselbeck's highest-paid contract?
Matt signed a six-year deal with Seattle Seahawks worth $47 million on February 22, 2005.
He retired as a Seahawks member in 2016. His second-highest deal was with Indianapolis Colts.
Learn More About Julian Edelman Bio: Age, Career, Net Worth, Instagram, Wife Wiki >>