Maurice Richard is the most iconic Canadian professional ice hockey player (born on August 4, 1921, and died on May 27, 2000). For 18 brilliant seasons, Richard played for the only team Montreal Canadiens that ever mattered to him.
Maurice was born in a low-income family in Montreal, Canada, and was the oldest of eight siblings. He held nearly 20 National Hockey League records while retiring, including the title for most goals scored.
Overcoming every level of adversity, Richard became one of the greatest players in NHL history.
Also, he is a person who had a significant hand in bringing hockey to an elite level and setting a high bar for every generation in Montreal.
Maurice was famous by nickname "Rocket," which was given by a former NHL left-winger Ray Getliffe because of his blazing speed. He was unbeatable from the blue line and would attack nets around the league single-mindedly.
Maurice Richard's skyrocketing career led his team Montreal Canadiens to win eight Stanley Cups in three different decades, and he became the central backbone of the team.
In this article, we will explore what kind of phenomenon player Maurice Richard was. Similarly, we will go through his early life, family, career, net worth, riot, and many other topics.
Maurice Richard: Quick Facts
But before we begin, here are some interesting quick facts about Maurice.
Full Name
Joseph Henri Maurice Richard
Common name
Maurice Richard
Nick Name

"Rocket Richard"

Birthdate
August 4, 1921
Deceased Date
May 27, 2000
Zodiac Sign
Leo
Mother's Name
Alice Laramee
Father's Name
Onesime Richard
Siblings

Four Brothers: Rene, Jacques, Henri, and Claude

Three Sisters: Georgette, Rollande, and Marguerite

Birthplace
Montreal, Quebec, Canada
Home Town
Montreal
Citizenship
Canadian
Residence
Canada
School
Montreal Technical School
Height
5 feet 10 inches
Weight
170 lbs
Eye Colour
Unknown
Hair Colour
Unknown
Shoe Size
Unknown
Wife
Lucille Richard (died in 1994)
Marriage Date
1942
Children
Five Sons & Two Daughters
Profession
Ice Hockey Player
Jersey Number
9
Position
Right Wing
Shoots
Left
Team
Montreal Canadiens
Playing Career
1942-1960
Awards
Hockey Hall of Fame, Canada's Walk of Fame, Hart Memorial Trophy, Stanley Cup, and Many Others
Net Worth
$1.5 Million
Retirement
1960
Last-Update
November, 2023
Maurice Richard: The Native Son of Montreal
Maurice Richard's genuine importance to his fans and well-wishers not only depends on his impressive statistics and career longevity but instead on what he symbolized. He was considered the epitome of French-Canadian pride.
Early Days & Family
He was born and grew up in the tough Bordeaux district of Montreal, Quebec. Born to parents Onesime Richard and Alice Laramee, Maurice came from a family of poor economic background.
Both his parents were from Gaspe and moved to Montreal after their marriage.
Onesime Richard was a carpenter by profession, and after the birth of Maurice, he got a job in the Canadian Pacific Railway.
Unfortunately, Onesime lost his job on the railway in 1930, and the whole family relied on the government. Luckily after six years, he got his job back.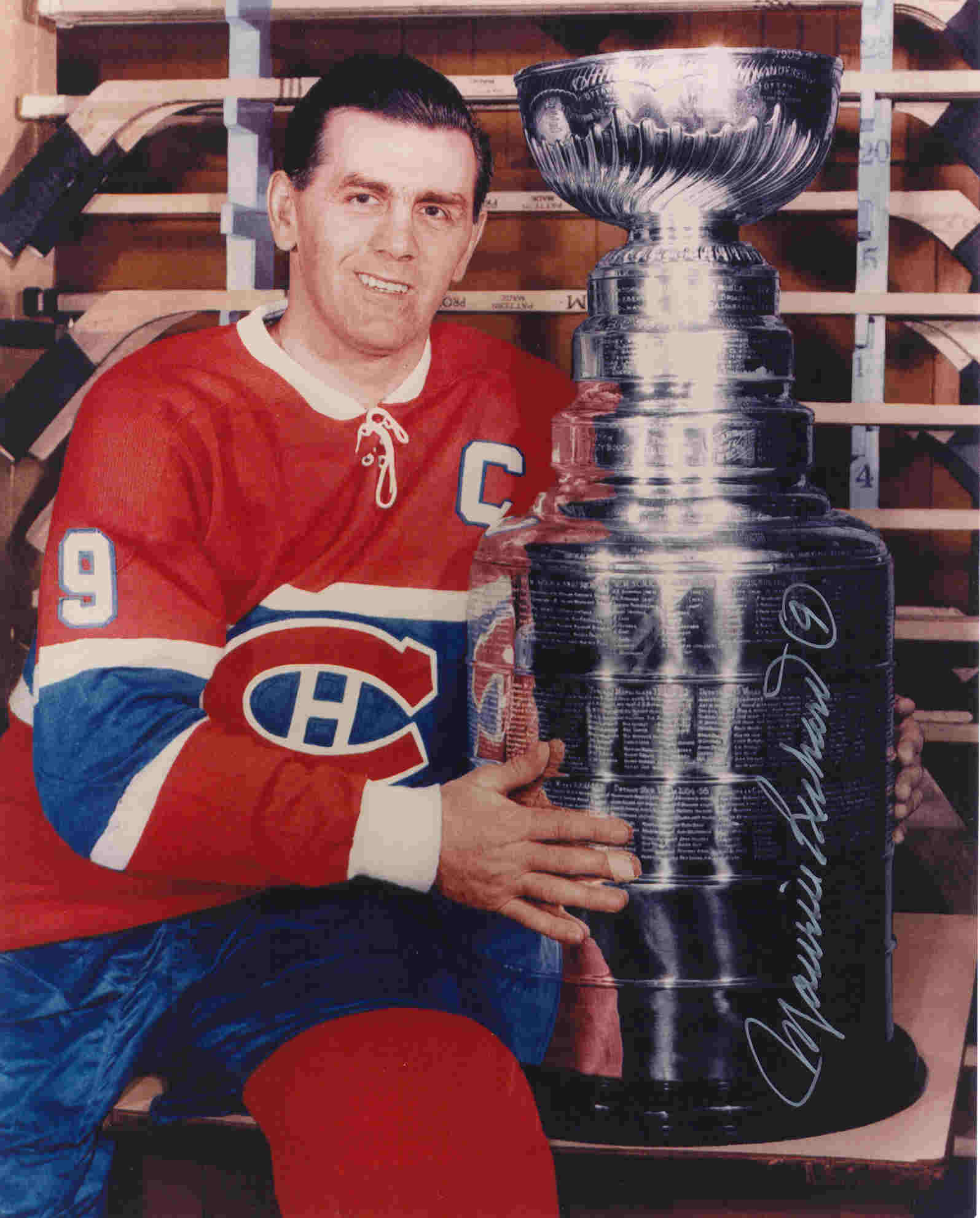 Richard had a pair of ice skates when he was only four, and he used to skate on local rivers and a small backyard ice surface made by Onesime.
In this way, Maurice Richard was introduced to ice hockey. He also used to play baseball and boxing, but ice hockey came in his best interest.
Maurice was the eldest of eight siblings, four brothers, and three sisters. The younger brother Henri Richard was also a hockey player nicknamed "Pocket Rocket."
During the last five years of Maurice's active years, both brothers played together.
Education
Richard went to the Montreal Technical School to become a machinist at the age of sixteen. The main reason behind joining technical school was to support the family economically.
As he was interested in hockey from an early age, he played for school and neighborhood teams.
In Montreal Technical School, he played for the Parc Lafontaine team. Richard's brilliancy in the game was unbeatable. Because of such talent, various school teams wanted to take Richard on their sides as a left-winger.
Maurice used various names to play more hockey games every day since he could not play for more than one team the same year.
Click Here to Read About Ku Bon Chan Bio >>
Maurice Richard: Physical Appearance
The former ice hockey player Maurice Richard was 5 feet 10 inches tall.
His weight was around 170 lbs during his active NHL career. But after suffering from cancer, Maurice lost some weight.
The fiercely competitive, virtual demon on ice was the oppositely shy and reserved person in real life.
Maurice Richard Team Montreal Canadien
Montreal Canadiens is a Canadian professional ice hockey team based in Montreal. It is one of the oldest continuously operating teams in the National Hockey League.
Formed in 1909, it is as one of the founding teams of the National Hockey Associations before NHL was formed.
It was also the home team for a great hockey player of the pre-World War II era, Howie Morenz. He joined the team in 1923.
Compared to other NHL teams, the Canadiens have won nearly 24 Stanley Cup titles, making them the most successful franchise in league history.
The Montreal Canadiens signed Maurice Richard in 1942 as of right-wing. Later, Richard became the franchise's career leader by scoring unique goals and was eventually named Hall of Famer.
Maurice Richard: Professional Career
Initially, because of the poor economic family background, Maurice was unable to begin playing hockey.
However, later, he started playing for some local teams at the age of fourteen and led the team to three straight league championships.
Maurice started his professional ice hockey career by playing for Verdun Juniors.
After completing his rookie season, Henri was promoted from Verdun Juniors to the Quebec Senior Hockey League (QSHL) and played for Montreal Royals.
NHL Debut
In 1942 Richard made his debut in the Montreal Canadiens of NHL and scored his first NHL goal on November 8, 1942, against the New York Rangers.
After playing nearly sixteen games and scoring five goals, there was a short break in his debut year because of an ankle injury.
In 1944, Richard led Montreal to the Stanley cup over Chicago by contributing 12 scores in nine contests. Also, during his first entire season, Richard scored 32 goals in 46 games.
In the same year, Richard became the first player in NHL history to score eight points in one game. This achievement remained standard until Darryl Sittler's 10-point night in 1976.
During the 1952 semifinals against Boston, Maurice was knocked unconscious by a check courtesy of Leo Labine. But Maurice scored the most dramatic winning goal while he was revived but was still in a semiconscious state.
This score became the most iconic moment that defined Maurice's image in the mind of hockey fans across the league.
Even when injuries slowed down Maurice just before the end of his career, his presence in the lineup would inspire other teammates and help them win their fourth and fifth championship in 1959 and 1960.
Awards and Achievements
The "Rocket" topped the goal-scoring four more times in his career. From 1944 to 1957, he gained a place on the NHL All-Star Team 14 consecutive times. From 14 times, eight of those selections were for the First All-Star Team.
In November 1952, by scoring his 325th regular-season goal against Chicago, Richard surpassed Nels Stewart as the NHL's All-Time Leader.
On October 19, 1957, Maurice became the first NHL player to score 500 regular-season goals. This history was assisted further in the future by hockey players Dickie Moore and Jean Beliveau.
In 1961, he was elected into the Hockey Hall of Fame just one year after retiring though this recognition is given to other players only after five years of retirement.
Moreover, the Montreal Canadiens, in honor of Maurice, retired his jersey number 9 in 1960.
In addition to that, in 1998 NHL decided to name the award after the name of Maurice for the highest goal scorer.
Maurice himself presented the inaugural Maurice Rocket Richard Trophy to another hockey star, Teemu Selanne, in the following year.
Maurice Richard: Wife & Children
Henri met his wife Lucille Norcet when he was seventeen. Lucille was a younger sister of Maurice's one of teammates and was fourteen years at that time.
Maurice's quiet, reserved personality and the bright, outgoing personality of Lucille somehow complemented each other. The couple got married at the young age of twenty and seventeen on September 12, 1942.
Lucille and Maurice are parents of seven children; five sons and two daughters.
In Montreal, the couple raised their children Huguette, Maurice Jr., Norman, Andre, Suzanne, Polo, and Jean.
Richard was blessed with his first daughter at the onset of the 1943-44 season, which prompted him to change his number to nine. Henri changed his number from 15 to 9 in honor of his daughter Huguette, nine pounds at birth.
Lucille died in 1994 because of cancer, two years before the couple's 50th wedding anniversary.
Mel Hall: Bio, Early Life, Stats, Career, and Crime >>
Maurice Richard: Overcoming Injuries
When Richard enjoyed a fine start in his career in the Canadiens, he suffered his first significant injury. He got crashed into the boards and broke his ankles.
During the same time, Richard was called to the Canadian Military Recruitment Office for duty, but the offer was turned down because of an injury.
After resting for almost an air, Maurice returned to the QSHL team in 1941. Unfortunately, after playing nearly thirty-one games of the season, he again suffered a wrist injury.
Even suffering from various injuries, Maurice would rejoin the team during the playoffs, would perform great, and even got an opportunity to earn a tryout for the Montreal Canadien NHL team.
Because of the lack of French-Canadiens players in the NHL because of War, Richard was called up to the NHL in 1942. Unfortunately, this time also only after playing sixteen games, Richard broke his leg.
Maurice tried to join the Canadian army to defend his country during World War II but was declared ineligible for combat because of a leg injury.
During the War, it was a matter of pride for man to serve and fight for his country.
Thus Richard experienced lots of humiliation and doubt, so he started training hard during the off-seasons to give his best in the new season.
The Richard Riot
On March 13, 1955, Richard was given a match penalty for intentionally injuring Harold Laycoe in a game against the Boston Bruins.
A formal inquiry took place, after which NHL president Clarence Campbell suspended Richard for the remainder of the season.
This decision came when Richard was at the peak of his career and leading his team Montreal Canadiens for first place in the NHL in scoring.
Richard would be off the game, including the last three games of the regular season and all of the playoffs. His well-wishers thought the suspension decision was unfair and taken as an injustice to Richard.
The outraged fans of the Canadiens threw eggs at Campbell when he was trying to take his seat at the Montreal Forum for the next game of the regular season between the Canadiens and the Red Wings the following St. Patrick's day.
The crowd became so infuriated that the game was forfeited to the Red Wings, evacuating the building.
Unfortunately, a riot occurred afterward, causing damage worth $500,000, also leaving some deep wounds among the French community.
Several scholars maintain that this exceptional demonstration of national pride was the prelude to the Quiet Revolution.
Maurice Richard: Net Worth
Maurice Richard earned enough fortune from his professional NHL career.
After retirement from the game, Maurice put his hand into business also. Firstly, he bought a pub in Montreal and sold the pub three years of twice the price he purchased. Later, he reinvested that money in a fishing-line business.
Maurice was an elite celebrity hockey player known across the country and known overseas also. Thus, he went to various sport and other events in Canada, the USA, and Europe.
Coming from a low-income family, Richard made lots of money solely of his talent and hard work.
During the 1980s, Maurice also wrote a sports column for Montreal's La Presse.
Unfortunately, the exact net worth of Maurice Richard is not known, but he sure lived quite a luxurious lifestyle in his later days.
Maurice Richard: Death
On May 27, 2000, Maurice Richard left the world while struggling with abdominal cancer. A day before the funeral, his body was kept at the Molson Centre in Montreal.
Almost 115,000 well-wishers came to see the casket and signed a book of remembrance for Maurice.
On May 31, Maurice was given a State funeral in Notre Dame Basilica, where his thousands of admirers came to pay respect to the Hockey legend.
His former teammates, including brother Henri, carried his coffin while veteran Canadiens, prominent politicians, former opponents followed the funeral procession.
Dmitriy Balandin Bio: Swimming, Gold Medal and Wife >>
Frequently Asked Questions (FAQs)
At what age did Maurice Richard retire?
After suffering from several injuries, Maurice Richard retired in 1960 at the age of 39.
After retirement, Richard became a front-office official for the Canadiens and continued his famous Sunday Column in Le Journal de Montreal.
How fast was Maurice Richard?
Rocket Richard was honored as one of the 100 Greatest NHL Players. His speed and tenacity helped him to become the first skater to score 50 goals in a season.
His nickname "The Rocket" was also named when one of the teammates joked Maurice "went in like a rocket" when he charged the net for a scoring opportunity.