It is tough to leave our nation and family at the age of 15. But if it is for a better life for us and our dreams, which are just some distance far, we consume this agony and move forward.
Getting into the same condition, Mauricio Dubón made it from Honduras to the USA and secured his name as a rising baseball star.
Young, energetic, and mellow-natured, Mauricio has excellent stats to his name. These all aided in making him play from Minor league to Major leagues. Being traded helped him a lot.
At present, he is in San Francisco Giant, a reputed team of MLB.His growing audience loves and follows him on various social media.
Mauricio is a firm believer in every action that happens for good yours. He further quotes, "It does not happen to you. It is what happened for you".
Now let's know about Dubón's personal and professional life in detail.
Quick Facts – Mauricio Dubón
Full Name
Mauricio Andre Dubón
Nickname
Mauricio

Dubón

Birth Date
July 19, 1994
Birth Place
San Pedro Sula, Honduras
Age
28 Years Old
Religion
Christianity
Nationality
Honduran
Ethnicity
Latin
Horoscope
Cancer
Father's Name
Danilo Dubón
Mother's Name
Jeanette Doblado
Siblings
Brother, Danilo Dubon
Host Parents in The USA
Andy and Sandy Ritchey
Height
6 Feet, (183 cm)
Weight
78 kgs
Shoe Size
N/A
Education
Sacramento's Capital Christian High School
Career in Sports
Professional Baseball
Currently Works At
San Francisco Giant
Position in Sports
Centerfielder, Second Baseman, and Shortstop
Net Worth
$ Half million (approx)
Salary
$ 555,000 (approx)
Affiliations
Boston Red Sox, Milwaukee Brewers, San Francisco Giants, Major League Baseball (MLB)
Active Since
2013
Present Status
Active
Relationship Status
Married to Nancy Herrera
Social Media
Instagram, Twitter, Wikipedia
Merch
Autographed baseball
Last Update
June, 2023

You might want to read Jose Altuve Bio: Early Life, Career, Net worth, Personal Life
Mauricio
Dubón

| Early life Parents & Education
Family
Mauricio was born on July 19, 1994, in San Pedro Sula, Honduras. Danilo and Jeanette are his parents. Mauricio's father, Danilo, was also a sports enthusiast.
Dubón's mom says that Mauricio has gotten sports in his blood like that of his father.
He has a brother named Danilo Dubón. Danilo is one of the pillars of success for Mauricio. He has always supported and motivated Mauricio to do better.
In the past, Mauricio belonged to an average family.
Dubón's parents did everything possible to keep their children happy and offer them a good life. They were supportive of Mauricio's sports as well.
Education
Dubon connected with Andy Ritchey, a Christian Mission member, who donated baseball equipment in Honduras.
As a foreign-exchange student, Dubón graduated from Sacramento's Capital Christian High School. Here Andy's family became his host family.
Vital Body Stats
Mauricio stands 6 feet tall. He has a lean and muscular body weighing 78 kgs. His active training and workout contribute to making this physique.
Interested to learn about Bubba Starling: Bio, Age, Career, Girlfriend, Net Worth & Social Media
Mauricio
Dubón

| Professional Life and Career
Early Struggle
Dubón used to play baseball against men twice his age, as old as 35 or 40. He had attended many baseball clinics, but none of them approached him for a baseball career in the United States.
Dubón's brother motivated him when Dubón was almost done with visiting the clinics. Thus he took his steps and got to a clinic in his hometown.
Meet with Andy Ritchey
On June 23, 2010, Dubón arrived at the baseball clinic. There he met Andy Ritchey. Andy was distributing baseball equipment donated by a Christian Mission.
Immediately after the meet, they chatted for a while.
Dubón expressed his passion for baseball and his love for his motherland, Honduras. Andy got impressed, and he helped Dubón.
Andy's family became the host family for Mauricio in the USA. Further, Dubón got enrolled at Capital Christian High School, where he played baseball.
High School
Mauricio played baseball and soccer in high school. He was happy to play with the players of his age. His fair and impressive games attracted many sports teams to trade him into their teams.
A career at The Boston Red Sox
The Red Sox eventually selected Dubón in the 26th round of the 2013 MLB Draft. In the minor leagues, players were supposed to have their equipment and buying gloves and bats.
Since Dubón was having a financial crisis, he could not afford them. But His older brother got him six wood bats. Eventually, Dubón used them.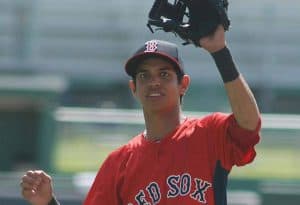 Dubón had a tough time in the first year. His batting was .245, with six errors in 20 games. He did better next year by hitting .320.
In 2015, Dubón hit .301 and stole 18 bases in half a season. Then he got promoted to high-A Salem. Later in 2016, Boston traded Dubón to Milwaukee.
A career at Milwaukee Brewers
In 2016, Dubón had owned better skills. He did better in the Brewers' system. There he batted .343 in 27 games with Triple-A Colorado Springs.
In October, Milwaukee Brewers recalled Mauricio Dubón from San Antonio Missions.
Dubón spent just under two years in the Brewers' system. He was on the Milwaukee Brewer's 40 man roster. He had a great shot at playing for the team as well.
Appearance in The Miller Part Minute
Mauricio Dubón gave an interview to The Miller Part Minute Show. Here He told about his workouts for spring training. He answered a few questions from fans and talked about injury last season.
Injuries
He tore his ACL(ligament near the knee) in the Triple-A game. Mauricio was sick for quite a time. Losing his weight and strength became a curse to him.
But he got up back. He came back in form as he did not want to lose his first love, the baseball ground, and the audience.
A career at San Francisco Giants
In July of 2019, Dubón started playing for San Francisco Giants's Sacramento River Cats. Finally, On August 29, Mauricio Dubón made his debut as a San Francisco Giant.
He created history as Dubón became the second Honduran born player in Major League Baseball history.
Mauricio also shared his experience back in Honduras, his struggle, and his feelings during the game against the Miami Marlins at Oracle Park Fellowship Day on September 14, 2019.
Don't miss Top 25 Brandi Chastain Quotes
Mic'ed Up
Dubón had a mike with him during his training. It recorded his conversations with others. He was talking about his life in Honduras, small-talk with his teammates.
Appearance in Ask Any Player
In a segment called Ask Any Player of Giants' FanFest AMA, Dubón appeared and answered the following question.
| | |
| --- | --- |
| Favorite Karaoke Song | Faithfully |
| Favorite Concert | Arizona |
| Favorite Away City | Miami |
| Favorite Bay Restaurant | Bubble Gum pier 39 |
| Finest Teammate you have met | Alex Dickerson |
| Guilty Pleasure Song | Tusa Song (By Carol G and Nicki Minaj) |
| Best Pitcher You have faced | Pirates |
| Wildest Baseball fight You have ever been | Never |
| Another professional sport if you could play | Soccer |
| Do you believe in Extraterrestrial Life | Yes |
| Do you believe in Ghosts? | Yes |
Let's know more about Don Sutton Bio – Early Life, Career, Personal Life, Sickness, Net worth
Appearance in Inside This Giant Moment
In this program, Dubón shared his enthusiasm for playing center field. Along with that, he showed his eagerness to learn from all of his teammates.
He also expressed his perspective of having grown up in Honduras and his insights on 2020 baseball's uniqueness.
Read More About Francesca Cumani: Age, Height, Career, Husband & Net worth
Interview with abc10 Sports
Likewise, Mauricio Dubón spoke with reporters of abc10 Sports via Zoom. They discussed the preparations for the 60-game season ahead.
Also, he told his intentions to gain wisdom from big leaguers during the pandemic shutdown.
He had to practice at his Miami apartment's balcony during the lockdown period. Along with that, he expressed his excitement for the team's young talent.
Awards
Mauricio Dubón has received the following awards to date:
He got AFL Rising Star award for the Surprise Saguaros team in 2016.

In 2016, Mauricio received CAR Mid-Season All-Star for Salem Red Sox.

Dubón got the SOU Mid-Season All-Star award for Biloxi Shuckers in the year 2017

From 2015-2019 Mauricio has got MiLB.com Organization All-Star for Red Sox (2015-) and Milwaukee Brewers (2017,2019)
Know more about Hyun Jin Ryu Bio – Early Life, Career, Nationality, Net Worth
Stats
Here are Mauricio Dubón's stats to date-
MLB statistics
(through 2020 season)
Batting average
.274
Home runs
8
Runs batted in
28
Mauricio
Dubón

| Personal Life
Wife
Dubón's female fans may get sad by knowing that he is now happily married to Nancy Herrera.
Nancy is a 27-year-old woman who is into International Business and Management. She stands 5 feet and 5 inches tall with brown hair and black eyes.
Both have been in love for quite a long time. On a trip to Disneyland on October 15, 2019, they got engaged.
They spend their quality time vising new places, going out for dinners, attending family functions together. Mauricio and Nancy make a cute couple.
Mauricio
Dubón

| Net Worth

Dubón's estimated net worth is around half a million dollars.

Some sites claim that Dubón gets $555,000 as his salary.
Mauricio
Dubón

| Social Media Presence

Dubón's official Facebook page is not found, but San Franciso Giant's page uploads his pictures and videos.

He seems to be active on social media platforms like Instagram and Twitter.

On Instagram, he shares pictures of himself with his fiance, host family members, fans, fun moments with teammates, childhood memories, practice, and many more.

His Twitter account has videos of him playing football, his interview, hilarious memes, and other things related to himself.

Instagram : 25K followers (@mauriciod10)

Twitter: 16.6K followers (@MauricioDubón10)
FAQ About Mauricio
Dubón
Is Mauricio gay?
No, He is happily married to his wife.
Did he grow up in Honduras?
He spent his childhood there till the age of 15.
Is Mauricio a Right-handed batsman and thrower?
YES
Can Mauricio speak English and Spanish?
YES. Both fluently.
What are the contract terms with Mauricio?
Ans. Arb. eligible (Salary on Negotiation)
What is Mauricio's Jersey number?
He used to have jersey number 19, but he switched to 1 recently.
Who is Mauricio's favorite sportsman?
Christiano Ronaldo of Soccer.